The 2-0 New Orleans Saints are turning into a defensive powerhouse.
If one were to read that the defense is giving up only 12 points per game, they would be thoroughly impressed. When you factor in that both offenses they've faced thus far were in the top 10 of total offense in 2012 (No. 8 and No. 9 for the Atlanta Falcons and Tampa Bay Buccaneers, respectively), your impression may be even more heightened.
With their 16-14 win over the Tampa Bay Buccaneers, the Saints have officially re-emerged on the scene after a disappointing 2012 season.
Led by Rob Ryan's multiple-scheme defense, the Saints implemented a similar game plan that the New York Jets unleashed on Tampa in Week 1. Known as a 3-4-based scheme, both the Jets and Saints relied more on an even-front alignment on base downs.
In addition, in clear pass-rush situations the defense never fully declared its hand until the snap of the ball. This confused Tampa's quarterback, Josh Freeman, while rendering its pass game helpless for most of the contest.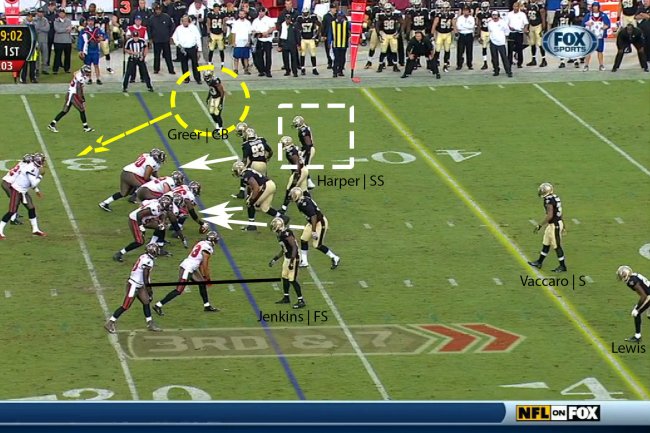 Here's what Freeman was looking at before the snap of the ball.
By not getting a declaration of what the defense is doing in his pre-snap read, it forces Freeman to make up his mind rather quickly whether the defense gets home or not. Freeman is developing the mental side of his game; this type of scheme works well against players of his ilk.
Take note of Jabari Greer blitzing from his corner spot.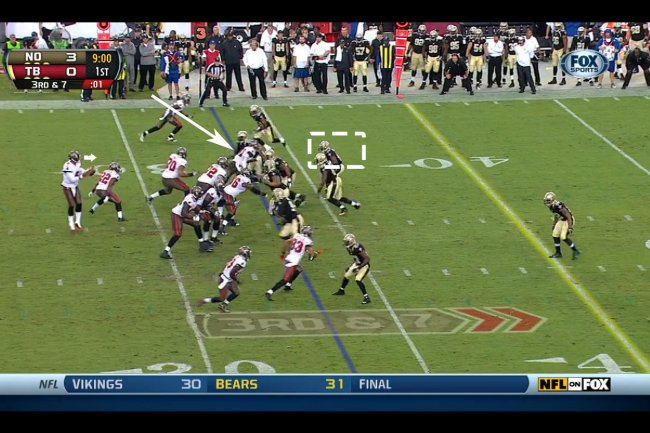 Initially, Freeman locks in on his tight end. You can tell he was expecting him to flash, bailing him out of this jam quickly. The only problem is the tight end is being defended in man coverage by safety Roman Harper. The perceived pressure forces Freeman to move on to the next receiver in his progression rather quickly.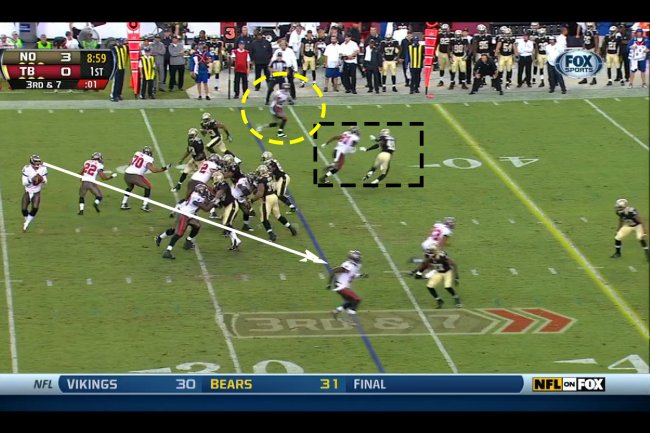 Freeman then focuses his attention on the outside receiver who initially looked like he would be free—due to safety Malcolm Jenkins originally lining up in front of the inside receiver, Vincent Jackson.
If Freeman were as cerebral as quarterbacks Peyton Manning or Drew Brees, he would've noticed the receiver clearing after Greer vacated his corner post. The deep safety Rafael Bush (not pictured) is too far downfield to affect the quick throw to that particular outside receiver.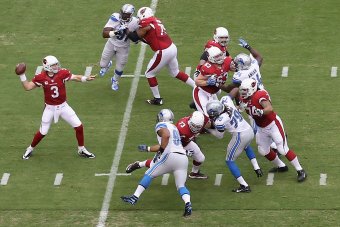 Christian Petersen/Getty Images
Schemes like this are extremely effective as they hurry along the quarterback's mental approach to each play.
Looking forward to this weekend's matchup with the Arizona Cardinals, Ryan might want to play more coverage, rather than scheme.
Arizona Cardinals QB Carson Palmer is very adept at the mental part of the game. He's able to make quick decisions and is pretty fearless in the pocket.
The Cardinals have one of the most talented rosters in the NFL across the board, with impact players at each level. They will give the Saints all they can handle.

Division Standings
NFC South division standings

| | | | | |
| --- | --- | --- | --- | --- |
| Team | Wins | Losses | Points for | Points against |
| New Orleans | 2 | 0 | 39 | 31 |
| Atlanta | 1 | 1 | 55 | 49 |
| Carolina | 0 | 2 | 30 | 36 |
| Tampa | 0 | 2 | 31 | 34 |
NFL.Com
New Orleans remains at the top of the NFC South with wins over both Atlanta and Tampa. The Saints can't afford to falter as none of these teams are going away anytime soon.
The Falcons initially looked good in a home win against the St. Louis Rams, but their inability to put away teams has to be disheartening. After falling behind 21-0 (24-3 at the half), the Rams were able to essentially solve the riddle while implementing a no-huddle offense against a leaky Falcons defense.
Atlanta is starting to pile up injuries of its own, which is a departure from its predominately healthy season of 2012 when the team mostly avoided injuries to key players.
The Carolina Panthers lost a heartbreaker to the Buffalo Bills. The Panthers were the popular pick to unseat the Falcons as the division champs prior to this season. You have to think it's only a matter of time before the Panthers come together collectively. They are too talented not to.

Injury Report
Injury Report Prior to Tampa Game

| | | | | |
| --- | --- | --- | --- | --- |
| Name | Position | Injury | Practice Status | Game Status |
| Roman Harper | SS | Knee | DNP | Questionable |
| Curtis Lofton | LB | Knee | LP | Probable |
| Brodrick Bunkley | DT | Calf | DNP | Out |
| Tyrunn Walker | DT | Knee | DNP | Out |
| Isa Abdul-Quddus | S | Ankle | DNP | Out |
| Martez Wilson | LB | Elbow | FP | Probable |
| Junior Galette | LB | Hamstring | FP | Probable |
| Corey White | CB | Illness | LP | Questionable |
| Akiem Hicks | DE | Knee | LP | Questionable |
| Tom Johnson | DE | Foot | LP | Questionable |
| Jahri Evans | G | Back | FP | Probable |
| Khiry Robsinson | RB | -- | LP | -- |
| Patrick Robinson | CB | Foot | LP | Questionable |
| Marques Colston | WR | Foot | FP | Probable |
| Zach Strief | T | Neck | FP | Probable |
| Jabari Greer | CB | LP | LP | Questionable |
| Glenn Foster | DE | Ankle | DNP | Questionable |
Saints.com
Can you imagine if the Saints were even slightly healthy as a team? It's the NFL and every team is dealing with injuries, but very few have it as bad as this.
Both Tom Johnson and Patrick Robinson exited the contest against Tampa with injuries. I'm not into speculation on the injury front, but let's just say Robinson's lower leg injury did not look promising. No further information was provided by Coach Payton on Monday.
Cart is coming out for Patrick Robinson. Doesn't look good.

— Larry Holder (@LarryHolder) September 15, 2013
I'm mostly interested in the return of defensive linemen Glenn Foster and Tyrunn Walker. The Saints need to refine their run defense; these two particular linemen are two of the better run defenders on the team. Playing Miami, Chicago, New England, Buffalo and New York will test the run defense tremendously.

Things to Improve Upon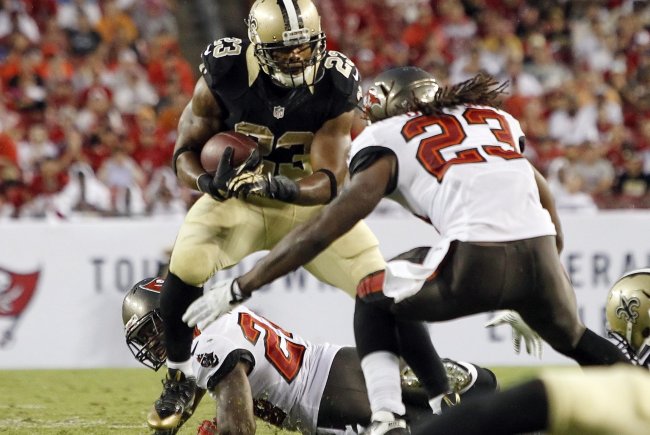 Kim Klement-USA TODAY Sports
The Saints should redefine the roles of the running backs. Mark Ingram is a flat-out liability. Relying on Ingram as a starter is not smart football. Depending on him to move the chains is now borderline insanity. With every carry he garners, that's one carry that is probably in the benefit of the opposing defense.
Now would be the best time to promote Pierre Thomas to the primary role, while moving rookie Khiry Robinson into his vacated role.
Thomas is one of the more well-rounded running backs in the entire NFL. He can be a short-yardage back, he's nifty in space and his screen-game prowess is second to none. He's proficient in the between-the-tackles game and is pure perfection running the outside zone.
Why wouldn't you make Thomas the focal point of the backfield?


Accept no imitations; follow me on Twitter.