Jaguars vs. Raiders: Full Roster Report Card Grades for Oakland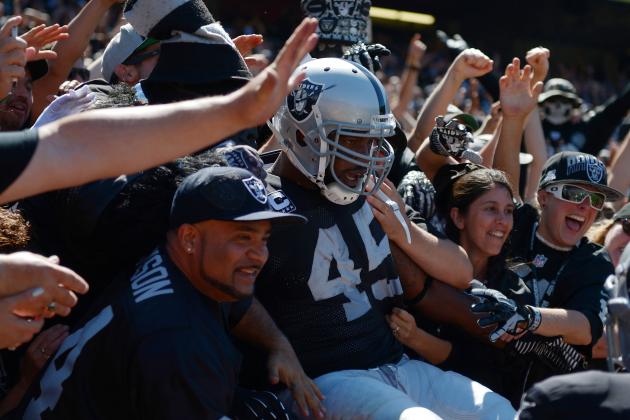 Kirby Lee-USA TODAY Sports

Save for a few breakdowns offensively, the Oakland Raiders did just about what was expected in their 19-9 win over the Jacksonville Jaguars in Week 2.
They got decent enough play from the quarterback, a much-needed resurgence from Darren McFadden and a stellar performance from the defense, despite losing safety Tyvon Branch to an ankle injury early in the game.
All of it was encouraging for a team that now faces a much stiffer test Peyton Manning and the red-hot Denver Broncos, who have won three straight in the series between AFC West rivals.
Before looking ahead to the Mile High matchup, we offer up our positional reviews from Oakland's win over Jacksonville.
Begin Slideshow

»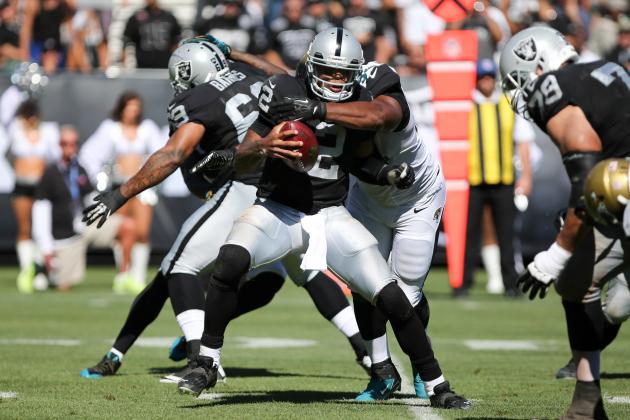 Kelley L Cox-USA TODAY Sports

Terrelle Pryor wasn't the explosive playmaker he was a week earlier, but did just enough to keep the offense moving. He passed for 126 yards and added another 50 on the ground, most of them coming on two big runs.
He also fumbled twice and had another pass attempt slip out of his hands with no one touching him. Pryor did avoid the really costly mistakes, however. Chalk this one up to part of the learning curve.
Grade: C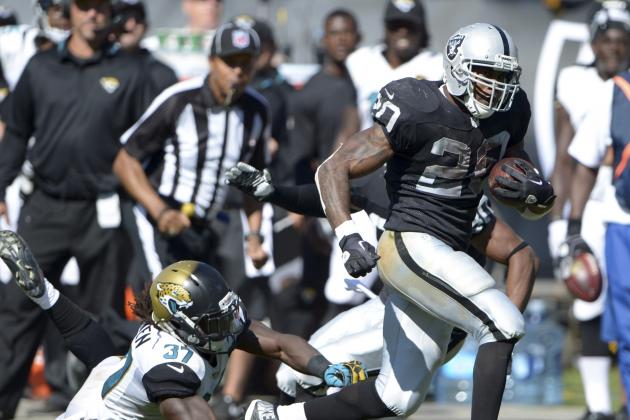 Kirby Lee-USA TODAY Sports

Darren McFadden's 13th career 100-yard game couldn't have come at a better time for the Raiders. Quarterback Terrelle Pryor came back to earth a bit in Week 2, but McFadden and the running game picked up the pace, grinding out a combined 226 yards on the ground.
McFadden had 129 of them on 19 carries, while averaging full four yards more per attempt. Rashad Jennings also provided a nice bit of relief, and fullback Marcel Reece scored the team's only touchdown on an 11-yard burst. That type of production from the backfield is critical for Oakland moving forward.
Grade: B+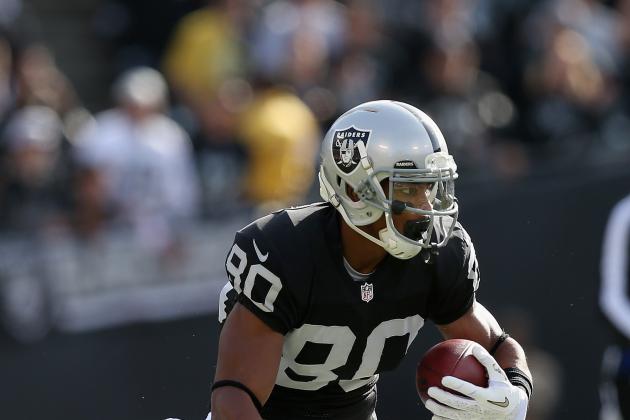 Ezra Shaw/Getty Images

There weren't many opportunities for the receivers to make plays, considering most of Oakland's offense was coming on the ground. Rod Streater continues to be quarterback Terrelle Pryor's favorite target.
Streater had three catches for 42 yards and had a fourth negated by an illegal-formation penalty. Brice Butler and Jacoby Ford had two catches apiece. Denarius Moore just was not a factor—two passes, two drops.
Grade: C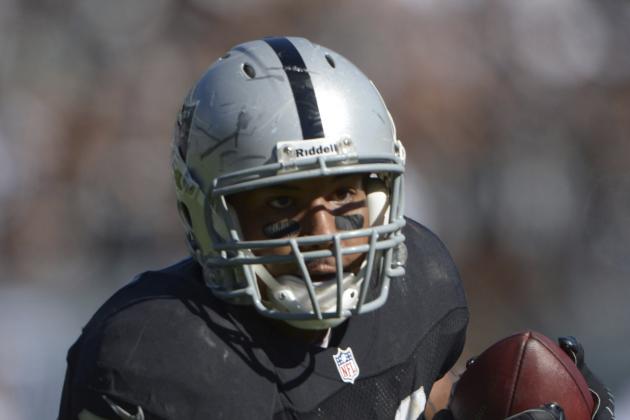 Kirby Lee-USA TODAY Sports

Limited passing opportunities meant more time blocking for Jeron Mastrud and Mychal Rivera. And anytime the team puts up more than 200 yards on the ground, the blocking is doing something right.
Rivera, however, is proving to be a pretty decent downfield threat. The rookie caught only three passes for 32 yards, but he continues to find huge seams in the coverages and does a good job getting upfield after catching the ball.
Grade: C+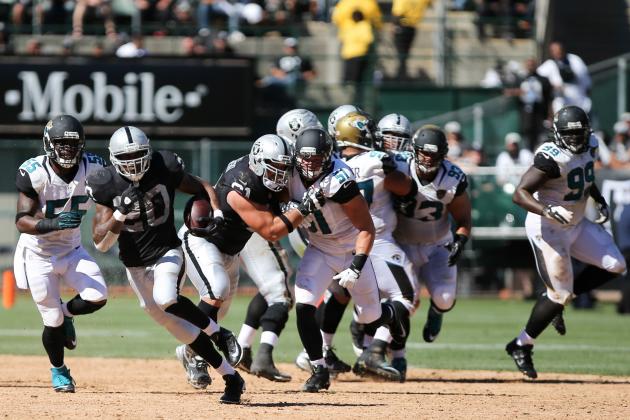 Kelley L Cox-USA TODAY Sports

The Raiders averaged 6.6 yards per carry on the ground, which kept the offense in good down-and-distance situations most of the afternoon. With a still developing quarterback like Pryor, that's huge.
There were a few breakdowns in the pass protection (three sacks), and left guard Lucas Nix went out with a minor ankle injury. Otherwise, it was a solid game all around. Only one penalty for the front five, and that was when the wide receiver lined up off the line of scrimmage, earning left tackle Khalif Barnes and illegal-formation call.
Grade: B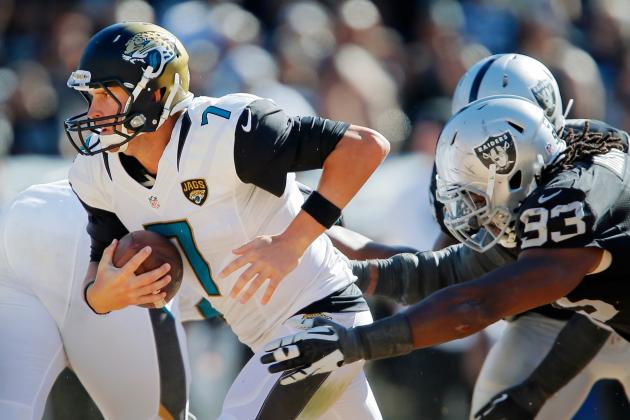 Brian Bahr/Getty Images

Defensive line
The Jaguars got nothing going at all on the ground when Maurice Jones-Drew was in the game and did even less once he was injured. Oakland held Jacksonville to less than two yards a carry and only three first downs on the ground.
The Raiders also did a good job keeping the pressure on Jags quarterback Chad Henne, with defensive end Jason Hunter getting a sack for the second straight week. Christo Bilukidi also got the first sack of his career.
Grade: B+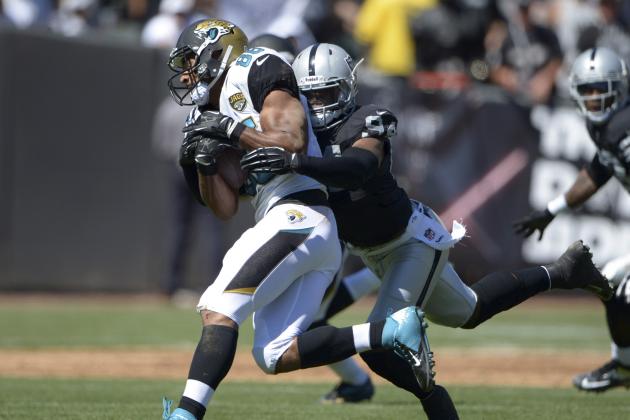 Kirby Lee-USA TODAY Sports

Sio Moore dropped Maurice Jones-Drew for a one-yard loss on the Jaguars' first play from scrimmage. Oakland's linebackers only made five tackles the rest of the way, three from Kevin Burnett.
Part of that is a credit to the defensive line which was much more active than in Indianapolis. Nick Roach, however, was shut out, which should never happen for a middle linebacker.
Grade: C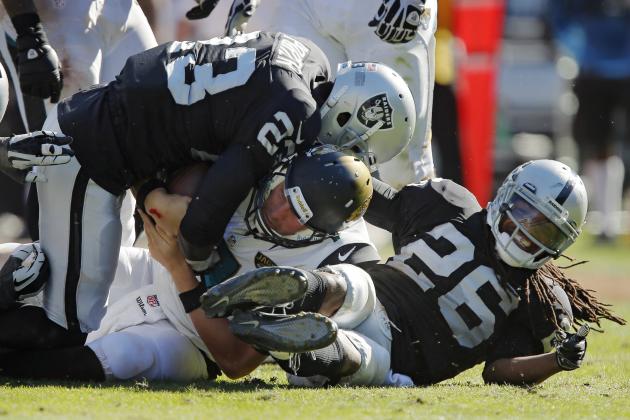 Brian Bahr/Getty Images

Mike Jenkins and Tracy Porter played as well as any two Raiders cornerbacks have in a few years, and rookie D.J. Hayden also seemed to improve his coverage, even though Jacksonville repeatedly went after him.
Jenkins had six tackles and just missed an interception that would have gone for an easy score. Porter had five tackles, was credited with a half-sack and had three passes defended.
Grade: B
Brian Bahr/Getty Images

Charles Woodson must have channeled his inner youth because he played like he was still in his 20s. Woodson had six tackles, at one point diving over a Jacksonville lineman to tackle Maurice Jones-Drew four yards shy of the end zone.
The Jaguars had a chance to tie the game, but, instead, they settled for a field goal and then spent the rest of the day playing from behind.
On the negative front, strong safety Tyvon Branch went down with an ankle injury early and did not return. His replacement, Brandian Ross, had three tackles, a sack and a hurry.
Grade: B+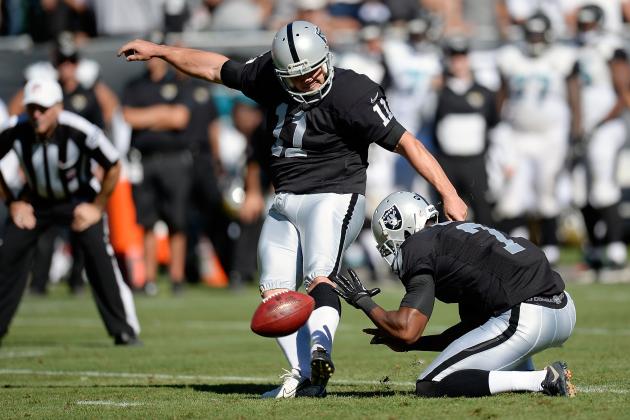 Thearon W. Henderson/Getty Images

Sebastian Janikowski made four straight field goals after inexplicably shanking a 35-yard attempt wide left in the first half. It was good to see Janikowsi rebound as well as he did, but the miss was definitely a head-scratcher.
Part of that is getting used to holder Marquette King, who had an up-and-down day punting. The returners didn't get much work, though Philip Adams' 30-yard punt return was a nice boost. The coverage teams were solid.
Grade: B