Bad Habits San Jose Sharks Stars Need to Drop in 2013-14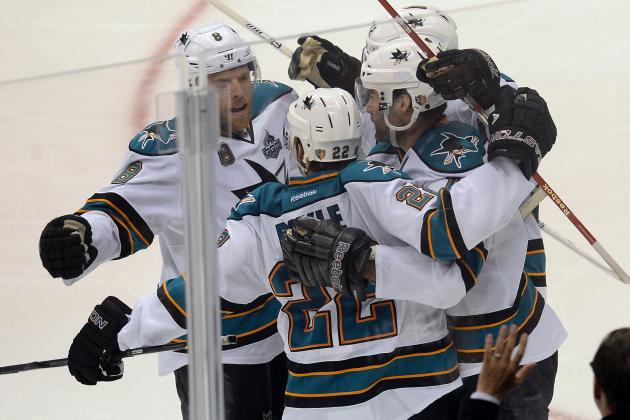 Jayne Kamin-Oncea-USA TODAY Spor

Every NHL player has their strengths and weaknesses, even star players. We will examine the bad habits that some of the San Jose Sharks' top players need to drop in 2013-14 to improve their games.
Keep in mind the fact that these players have bad habits or things they need to improve on should not be taken to mean they are not star players. No NHL player, not even Sidney Crosby or Alex Ovechkin, is perfect.
Feel free comment and to add any habits you feel have been omitted for these players. You can also add any player whom you would like to have discussed on this list. Each player was limited to only one habit for purposes of this list, but obviously they can and do have more than one thing they may need to improve upon.
Begin Slideshow

»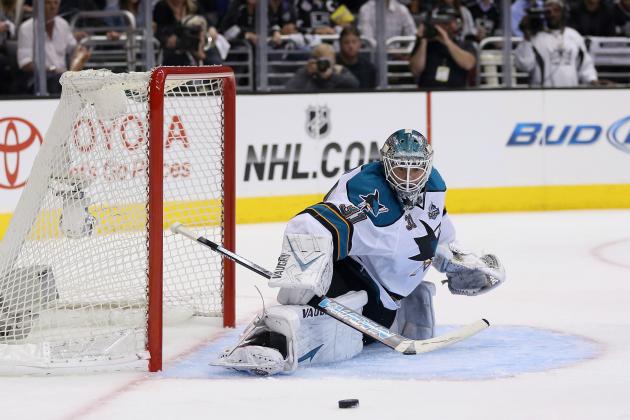 Jeff Gross/Getty Images
Niemi is coming off of his strongest season with the Sharks.
Antti Niemi was a Vezina Trophy finalist last season and put up impressive numbers along the way. He went 24-12-6 with a .924 save percentage and a GAA of 2.16.
Niemi continued his fine play in the playoffs, and he was not the reason the Kings eliminated the Sharks in the second round of the playoffs last spring.
Still, the one habit Niemi could stand to correct is improving his rebound control. When Niemi has an off game, it is usually because he allows too many juicy rebounds, often due to a failure to hang on to pucks with his glove.
Niemi has already won a Stanley Cup and been a finalist for the Vezina Trophy. If he rids himself of this bad habit, he can consistently be among the league's best goalies.
Ezra Shaw/Getty Images
Dan Boyle remains San Jose's top defenseman.
Dan Boyle remains the quarterback of the Sharks' power play and is still a very productive player at the age of 37.
Boyle led all San Jose defensemen last season with 20 points. Five of his seven goals came on the power play, where he is particularly dangerous.
If the Ottawa native has one particular bad habit, it's that he will at times overplay the puck and try to do a little too much on his own. When Boyle is pressing, he will lose possession of the puck or even "fake himself out." He led all San Jose defensemen with 42 giveaways last season.
Despite this occasional bad habit, Boyle remains one of the league's smarter offensive-minded defensemen.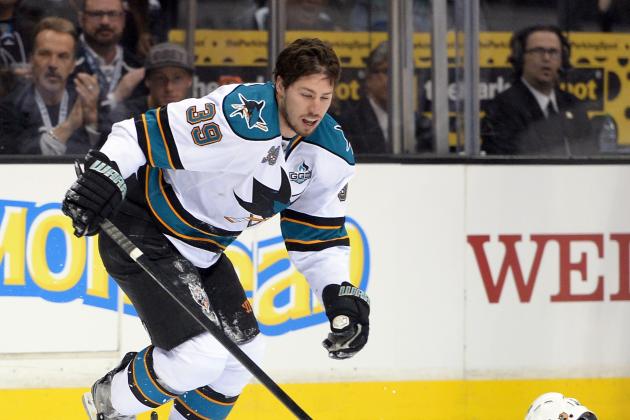 Harry How/Getty Images
Logan Couture is one of the Sharks' new leaders.
Logan Couture has improved his skating over the past two seasons, and that used to be the weakest part of his game. Even with the improvement, he's not a speed demon, but he is more efficient and quicker so that his skating is no longer a glaring weakness.
The bad habit that Couture still needs to work on is his refusal to play an aggressive, physical game. Obviously, the Sharks don't want their leading goal scorer taking dumb penalties, but Couture could stand to average a little more than .667 hits per game.
Paying a little more attention to the physical end of the game so that he is not a liability in that area would be the biggest issue Couture needs to address heading into the new season.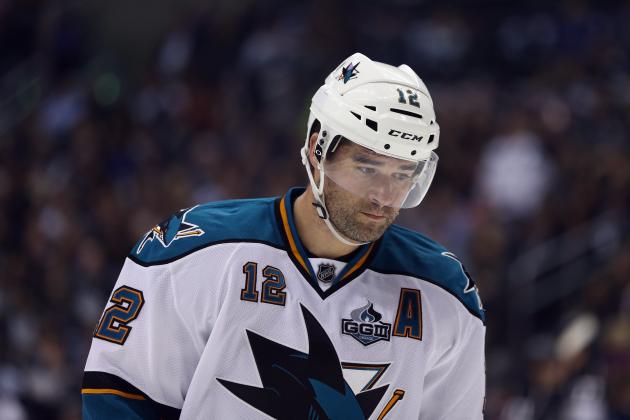 Jeff Gross/Getty Images
Patrick Marleau needs to be more consistent.
Like many high-scoring forwards, Patrick Marleau tends to be streaky. The habit of being hot and cold is the one thing the Sharks' all-time leading scorer needs to improve on.
Last season was a prime example. Marleau started the season red-hot, scoring nine goals and 14 points in his first six games of the season. He followed that up by scoring one goal and one assist in the following nine games and finished the regular season with 17 goals and 31 points in 48 games.
In the playoffs, it was a similar situation. Marleau scored in each of the four games against Vancouver but failed to even register a point in the final four games of the series against the Kings.
Marleau needs to be more consistent in the 2013-14 season.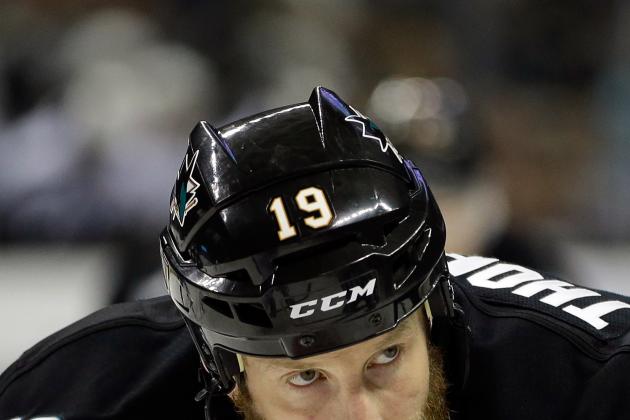 Ezra Shaw/Getty Images
Joe Thornton needs to shoot the puck more.
Joe Thornton remains one of the league's most dangerous passers. He led the Sharks and was 12th in the league with 33 assists in 48 games.
The habit Thornton needs to break is his unselfishness. The San Jose captain needs to shoot the puck a bit more.
Thornton had 85 shots in 48 games, an average of fewer than two shots on goal per game.
In his best NHL season back in 2005-06, "Jumbo Joe" had 195 shots on goal in 81 games, followed by 213 and 178 shots in the following two seasons.
The difference may be only one or two more shots per game, but it does seems to make a difference in Thornton's productivity.
And by shooting the puck a little bit more often, Thornton will make his passing even more dangerous by giving defenders something more to think about.