49ers vs. Seahawks: Takeaways from San Francisco's 29-3 Loss to Seattle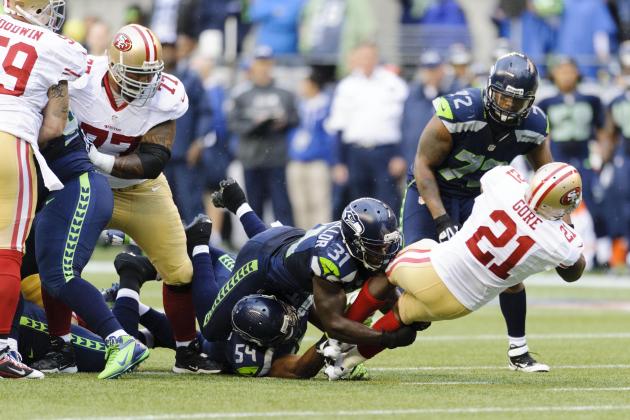 Steven Bisig-USA TODAY Sports

On Sunday Night Football, in front of the entire nation, the San Francisco 49ers took, perhaps, its worst beating in the Jim Harbaugh era. In a highly anticipated grudge match with their heated rival, the Seattle Seahawks, the entire team failed to show up, as the performance was off and out of sync.
The players lost their cool, got away from fundamental football and failed to execute a game plan that probably could have been better.
From the quarterback, to the linebackers and on to the coaching staff, we learned a lot about the 49ers. Following Week 2's lashing and a 1-1 standing in a highly competitive NFC West division, here is what we learned about San Francisco.
ICYMI: Here is a recap of the Seahawks - 49ers game. (via @minusthebear) pic.twitter.com/uOQ3ZMUtl1

— SportsNation (@SportsNation) September 16, 2013
Statistics are courtesy of NFL.com Game Center, unless specified otherwise.
Begin Slideshow

»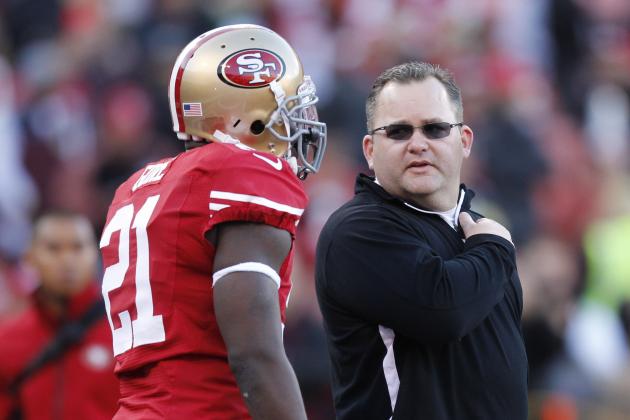 Cary Edmondson-USA TODAY Sports
Frank Gore is becoming less of a contributing member on game day.
This seems to be on offensive coordinator Greg Roman, who has ordered this offense to come out throwing in back-to-back matchups to start the 2013 season.
For a long time, running back Frank Gore was the heartbeat of this attack, which set up the pass quite nicely—even with Alex Smith at the helm. Since quarterback Colin Kaepernick has been thrust into the starting lineup, this team has all but abandoned the run game.
There may have been attempts on the ground, but there is a difference between registering carries and putting the ground game in a position to succeed. Roman has failed to do so in the past two games (fortunately, the 49ers were able to escape a shootout with Green Bay because its defense did not match up).
Against Seattle, Gore only had nine attempts for 16 yards, but even though the run was stuffed, they refused to stick with it.
Kendall Hunter was also nowhere to be found, finishing with only one carry for negative-seven yards. Apparently, the plan was to put this on Kap's shoulders, take multiple shots down the field and see who comes out the victor, which was not giving Seattle the credit it deserves.
This is a very tough football team with a very stout defense, and to defeat it, it is best to keep its defense honest by utilizing a balanced attack and making it defend the entire field.
If Roman does not tap back into this team's true identity, and put his quarterback in a position where he can be successful, San Francisco will be susceptible to getting spanked like this.
Frank Gore thru 1st two games of the season: 30 carries, 60 yards. I think you can figure out YPC. #49ersTalk

— CSN 49ers News (@CSN49ers) September 16, 2013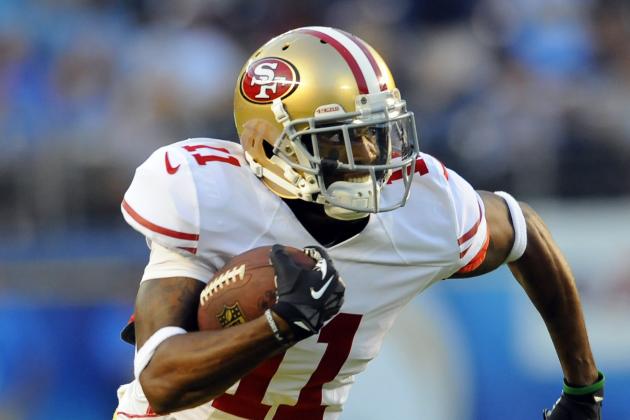 Christopher Hanewinckel-USA TODA
Why isn't San Francisco incorporating more players in the game plan?
This is a continuation of the last slide.
If you caught the game preview from Bleacher Report prior to Sunday night's matchup, you might've read about the 49ers coaching staff's proclivity to not show its entire hand on Sunday, but rather progressively revealing parts of the offense through the course of the season.
It is a methodical approach by San Francisco, which paid dividends last year when it unleashed Colin Kaepernick and the read-option in the playoffs. However, to hold back now, in a game like this, seemed ill-advised.
The 49ers failed to write in Quinton Patton, Vance McDonald and Kendall Hunter into the game plan, which cost them. All of these supplemental-type contributors would have certainly helped San Francisco field a more filled-out attack, making Seattle respect more than one or two offensive players.
The design versus the Seahawks was very vanilla and did not take advantage of the full gamut of their offensive firepower.
Patton and McDonald are newcomers, but with Anquan Boldin and Vernon Davis garnering so much attention on offense, these two were free on several passing downs, including a missed red-zone opportunity by Kaepernick.
Meanwhile, Hunter is a stellar all-purpose weapon, able to run inside and outside the tackles, while working as a great receiving outlet. Instead, the Niners were dumping the ball down to fullback Bruce Miller, whose ceiling is limited when it comes to yards after catch.
All in all, San Francisco's failure to creatively design ways to get their lesser known weapons the ball cost them.
They have to show more faith in the depth of this unit, as well as more respect for their opponents, and it starts with offensive coordinator Greg Roman.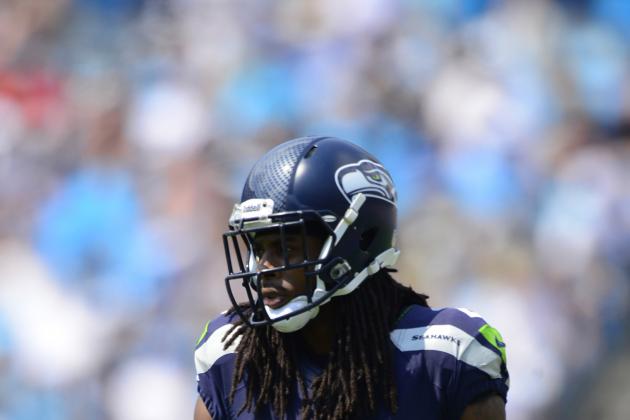 Bob Donnan-USA TODAY Sports

The Seattle Seahawks had a monotonous performance against the Carolina Panthers in Week 1, barely squeaking out a win.
It didn't matter—that was not a barometer for this week's matchup.
The rivalry between Seattle and San Francisco burns so deep, Pete Carroll and Co. will always show up when it comes to their division rival. And perhaps like the 49ers, the Seahawks are a club that plays up or down to its opponent.
After looking like a .500 team last week, the 'Hawks looked like the best team in the National Football League on Sunday night.
They completely dismantled the visiting 49ers, starting with shutting down their rushing attack. Whenever these two meet, it will be a battle.
That being said, San Francisco's toughest two games all season will probably be against this Seattle team. And if and when this matchup comes about in the postseason, the Niners sure don't want to have to play it at CenturyLink Field.
But given all that, I do believe the Seahawks are an outlier for the 49ers. They exploit every 49ers weakness in a way most teams can't.

— Tim Kawakami (@timkawakami) September 16, 2013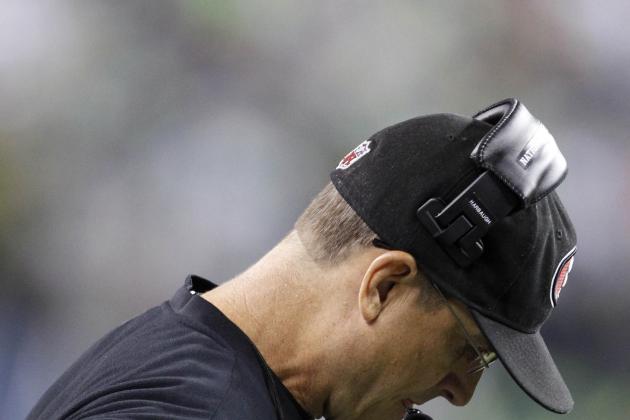 Joe Nicholson-USA TODAY Sports

Nothing worth having comes easy, especially a Super Bowl trophy, or even a division title for that matter.
While the 49ers have made enormous strides since coach Jim Harbaugh strolled into town in 2011, this entire division is on the up and up. The NFC West—once the laughing stock of the NFL—is now an utter powerhouse, with at least two Super Bowl contenders.
More than likely, it'll be a constant back and forth between the 49ers and Seahawks, but right now, it's looking the NFC champs might not even be a lock to win their own division. Is there a chance that Seattle surpassed them this offseason?
Then, under new management, the Arizona Cardinals and St. Louis Rams are also evolving before our very eyes.
These teams are going to make it hard for the Niners to win games within the division, which could help Seattle pull ahead and claim its first NFC West title under Carroll.
#Seahawks CB @RSherman_25 said post-game "we are the best secondary on the field." pic.twitter.com/KSPmU6ZCjN

— Liz Mathews 710 ESPN (@Liz_Mathews) September 16, 2013
Steven Bisig-USA TODAY Sports

The 49ers caught the injury bug badly in the offseason, losing their top wide receiver and their top player in the secondary.
After a convincing Week 1 win over Green Bay, it appeared as if the 49ers would be able to endure with several new additions on the roster. It was a pretty crisp performance that resulted in a win. However, it was only one game after all.
Replacing Chris Culliver, cornerback Nnamdi Asomugha is actually materializing as the clear-cut weak link in the cornerback unit, while a No. 2 WR has yet to truly emerge opposite Anquan Boldin. This is San Francisco's worst fear coming to life: Its stars have not been adequately replaced, and the regular season is underway.
Even worse? The injuries continued to mount in a physical contest like the one the Seahawks presented.
New starting nose tackle Ian Williams may have a very serious ankle injury, which may be revealed as a break. First-round pick Eric Reid, who was replacing All-Pro Dashon Goldson in spades, left the game with a concussion.
On top of that, tight end Vernon Davis injured his hamstring, and defensive tackle Ray McDonald went down with a leg injury, while running back LaMichael James hasn't even been able to play in a regular-season game this year.
San Francisco's injury list is almost half as long as its 53-man roster.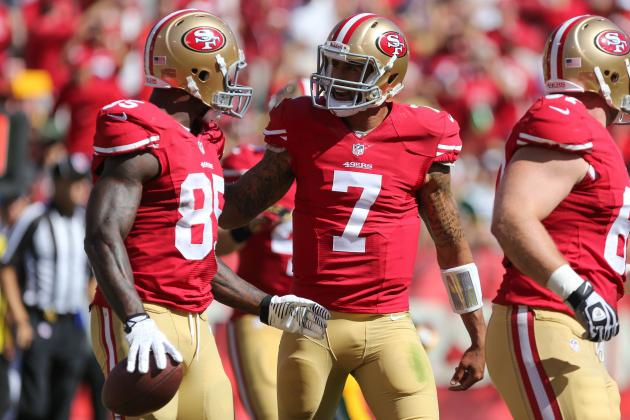 Kelley L Cox-USA TODAY Sports

Sure, something we already knew, but at times, they appear so dominant that it's easy to forget that they can be defeated.
On Sunday, not only were the 49ers defeated, they were embarrassed.
This is the sort of humbling loss that will send San Francisco's coaching staff back to the drawing board and its players to lick their wounds and work even harder. Early in the season, much like they did in 2011 against Dallas or 2012 against Minnesota, the 49ers learned they are mortal.
Perhaps, it is better that this lashing happened now, rather than down the line. A learning experience like this can be more valuable earlier in the season, unlike later on, when it can drastically affect seeding and be a demoralizer.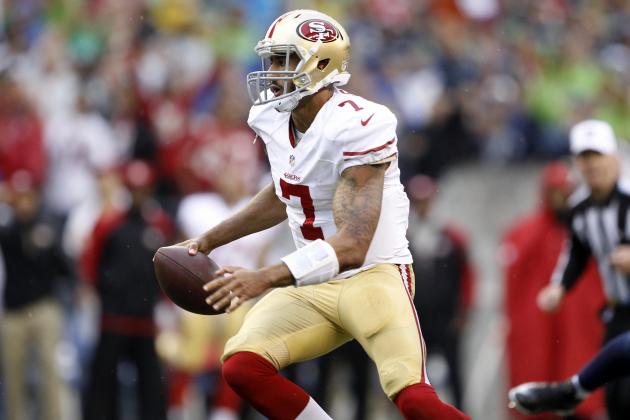 Joe Nicholson-USA TODAY Sports

This goes back to the fact that San Francisco needs to get back to its roots and preach balance week in and week out.
No matter how talented or how high the upside, the 49ers should not structure entire game plans around Kaepernick's ability because, if that does not work, the team as a whole is left out to dry.
People forget, Sunday night was only Kap's 12th-ever NFL start. It is still asking a lot to put the brunt of the work on his shoulders. He is still in the process of learning the intricacies of being a professional quarterback, which takes time. It also means a lot of trial and error.
For one of the most creative staffs in the league, they need to rely more on play design and putting Kap in a situation to succeed.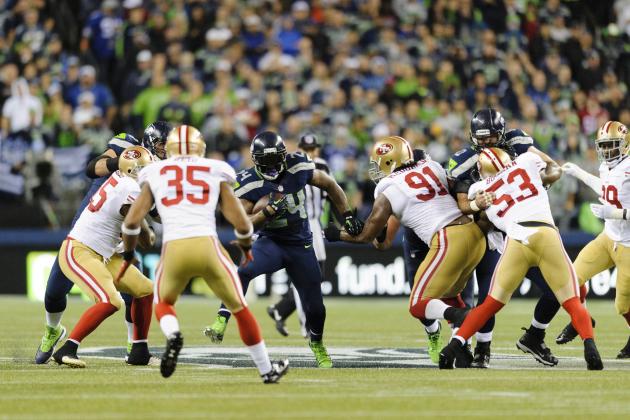 Steven Bisig-USA TODAY Sports

Consistently in the top five, San Francisco's star-studded defense is still one of the elite units against the run. However, it is a group that has performed much better and much more consistently in that aspect in years past.
With the evolution of the offense, the urgency on defense does not seem to be there the way it was in 2011.
In the past two games, All-Pro inside linebacker Patrick Willis did not have his name called as much as we are typically used to hearing. While No. 52 continues to be a monster in the middle, the elimination of the opponent's rushing attack is becoming less frequent.
A finesse team like Green Bay gave SF a bit of a fight in Week 1, while Seattle picked up where it left off and steamrolled this defense seven days later. This is way out of character for the 49ers and has hurt them on game day.
One could also point to Justin Smith getting up there in age, while the secondary has failed to come through and provide proper run support in 2013. The loss of Parys Haralson and the change from Isaac Sopoaga to the rotation of Ian Williams and Glenn Dorsey might've also contributed.
Hopefully, this is an element that can be fixed, but at the moment, it is mildly alarming.
Joe Nicholson-USA TODAY Sports

In the 2012 season, the Niners finished with a strange pattern of failing to win every third game.
Every so often, the team just did not show up. Not to take away from their opponents, but given the caliber of team they are, games against Minnesota, New York, St. Louis and Seattle were all winnable on paper.
Though, the 49ers played out of character, got away from fundamental football, failed to execute a poorly scripted game plan and continued to get called for foolish penalties.
This was the sort of game the 49ers played again on Sunday night.
Is this a continuation of last season? How does San Francisco avoid these cataclysmic drop-offs?
Troubling for a team that is thinking about a Super Bowl this year.
49ers now have 12 penalties for 121 yards. #SNF

— Liz Mathews 710 ESPN (@Liz_Mathews) September 16, 2013