Week 3 Fantasy Football Projections 2013: Studs and Duds at Every Position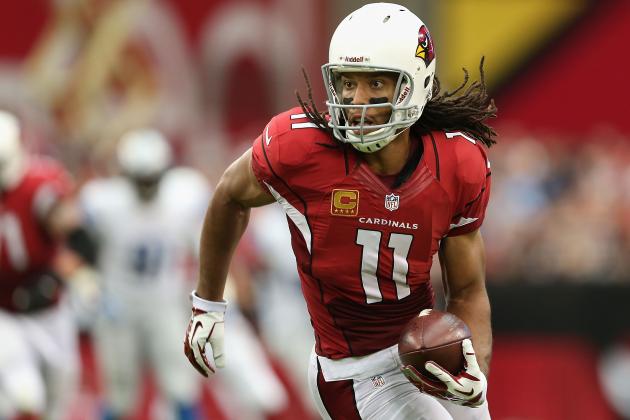 Christian Petersen/Getty Images

With an exciting first two weeks in the books, the NFL and fantasy football picture is starting to get a little clearer. There is some real information to go on to predict the studs and duds for Week 3.
One game can be an anomaly, but two games can be the start of a pattern, and there are a number of significant players whose trajectories are surprising, to say the least.
Some players are trending downwards, others waiting to break out, and a few have just plain unlucky matchups this upcoming week.
Here are the studs and duds at each position for fantasy football Week 3.
Begin Slideshow

»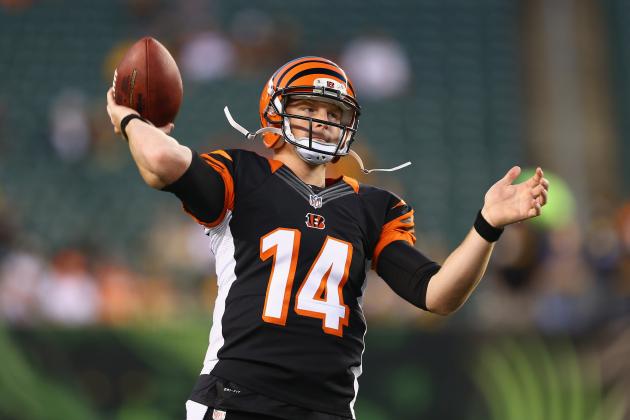 Andy Lyons/Getty Images

Studs: Alex Smith, Peyton Manning, Andy Dalton
Smith looks comfortable already in Kansas City with Andy Reid calling the shots. He threw for two touchdowns and was the Chiefs' leading rusher with 57 yards last week, and he gets a favorable matchup against the high-tempo offense and weak defense of the Philadelphia Eagles.
The Manning call is probably the easiest one in any position for Week 3. Everyone knows about his historic start to the season, and he has so many weapons that the Oakland Raiders will just be completely overwhelmed this week.
Dalton could be a sneaky good play against a Green Bay defense that gave up a huge game to Colin Kaepernick in Week 1 and took advantage of a weakened RGIII last Sunday. The Packers won't have any real answer for Jermaine Gresham and Tyler Eifert, so Dalton has the potential for a big game.
Duds: Matt Ryan, Tom Brady, Joe Flacco
Ryan put up big numbers against a St. Louis defense that was woefully overmatched in Week 2, but he runs up against a pretty solid wall in Miami for Week 3. The Dolphins have a great pass rush and athletic linebackers who will take away the short game which Ryan used to dominate the Rams.
It's no secret at this point that things are not what they used to be in New England. After narrowly beating the Bills in Week 1, the Patriots managed just 13 points against the lowly Jets in Week 2. Even if Gronkowski returns, Tom Brady is just not in a good place right now against Darrelle Revis and an underrated Tampa Bay defense.
Flacco runs into a Houston team in Week 3 that has been stingy against the pass in each of its first two contests. Ray Rice was hurt last Sunday, and the Ravens were already severely lacking offensive firepower. Not good news for Flacco's fantasy prospects.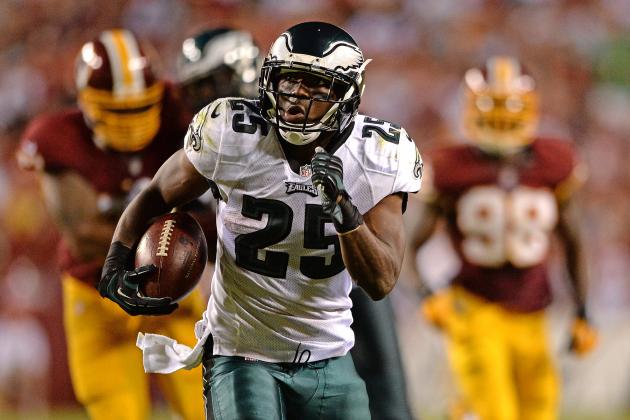 Patrick Smith/Getty Images

Studs: Bernard Pierce, Doug Martin, Marshawn Lynch
Bernard Pierce will look to step up with Ray Rice's injury. Even if Rice plays, one has to think that he'll be limited. Pierce is a really talented back and has the potential to be a monster if given a bigger workload.
Martin has essentially carried the Tampa Bay offense so far this season, showing the tremendous combination of speed and power that made him one of the league's best backs as a rookie last year. Look for him to be relied on against New England and have another big game.
Lynch is in full "beast mode" right now, and he's the focal point of Seattle's offense. He'll get a ton of touches against Jacksonville, which has one of the weakest defenses in the league, giving up an average of 173.5 yards on the ground the first two games.
Duds: LeSean McCoy, Daryl Richardson, C.J. Spiller
Kansas City has one of the best rush defenses in the league, and Andy Reid knows how to stop McCoy. With two weeks of film now on Chip Kelly's offense, it will be interesting to see what adjustments are made to slow down McCoy and the Eagles.
Richardson has not gotten much going in the rushing game, and Isaiah Pead returned from his suspension last week and predictably did not get much work. But if Richardson is ineffective again this Sunday, Pead could very well take over and eliminate Richardson's value.
Spiller has not sprinted out of the gates like many expected, and although he hasn't been bad by any stretch, Fred Jackson's success has to be a little concerning. The Bills are also going up against the Jets' underrated run defense.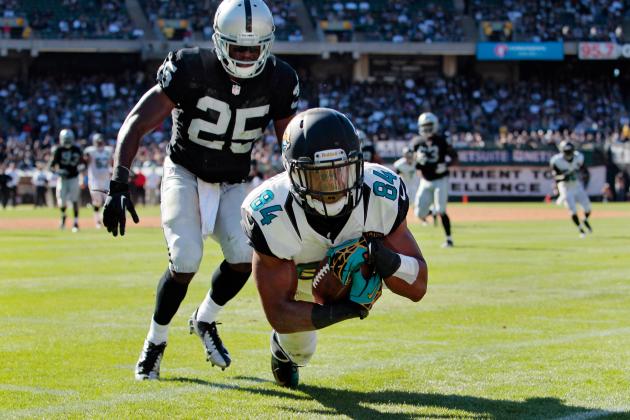 Brian Bahr/Getty Images

Studs: Jordy Nelson, Larry Fitzgerald, Wes Welker
Nelson has had an incredible first two games, with defenses often wrapped up with Randall Cobb and unable to account for Nelson's incredible speed. The Bengals and Packers could end up in a shootout, which benefits Nelson.
Fitzgerald slowed down last Sunday while nursing a hamstring injury, but there's no reason to think he won't play in Week 3 against a weak New Orleans secondary. Expect big things from Fitzgerald next Sunday.
Welker will run across the middle of the field at will on Oakland's defense,. The Raiders just have nowhere near enough talent to shut down all of the Broncos' options. Welker could easily have more than 10 catches.
Duds: Marques Colston, Eddie Royal, Cecil Shorts
Colston is already banged up, and the Saints have not played like the high-powered offense we are accustomed to. He also will line up against Patrick Peterson, who has emerged as arguably a top-three shutdown corner in the NFL.
Owners who picked up Royal on the waiver wire are rejoicing right now, but they won't be for long. The Chargers won't be able to sustain their offensive success, and Royal has five touchdowns on 10 total receptions, which is obviously a ridiculous anomaly.
Shorts has been one of very few bright spots in Jacksonville's first two games, but he will be matched up against Richard Sherman, which is essentially a death sentence for all but a couple receivers.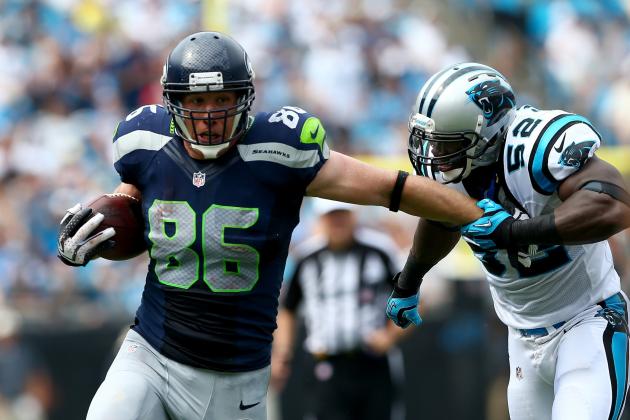 Streeter Lecka/Getty Images

Studs: Jimmy Graham, Greg Olsen, Julius Thomas
Graham had a monster Week 2 game, and I like his matchup against the Cardinals. Arizona has a very good rush defense and Patrick Peterson will shut down the top receiver, so Graham should be relied on.
Olsen also had a monster Week 2 game. He remains one of the most underrated pass-catching tight ends in the league. He has a favorable matchup against a Giants defense that has been unable to slow down anybody so far this season.
I feel like I am repeating myself now, but the Broncos offense will absolutely demolish the Raiders this week. Thomas seems like he has Peyton Manning's trust, so expect a big game from him this Sunday.
Duds: Tony Gonzalez, Antonio Gates, Zach Miller
Gonzalez has not looked very good so far this season in the passing game. Julio Jones and Harry Dougles have gotten all the downfield work, and Gonzalez has put up middling numbers. Gonzalez runs into a Miami defense that has the linebackers to stay with him.
Gates put up huge numbers against a meager Philadelphia secondary last week, but don't expect anything like that again this season, much less this week. He faces a sneaky good Tennessee defense in Week 3 and will come crashing back to earth along with the rest of the Chargers' offense.
Miller has just five catches for 64 yards through the first two games. He and Russell Wilson just have not gotten in sync. The Seahawks should go up quickly against Jacksonville and rely on their three talented backs to carry them for much of the game, so don't expect anything significant from Miller.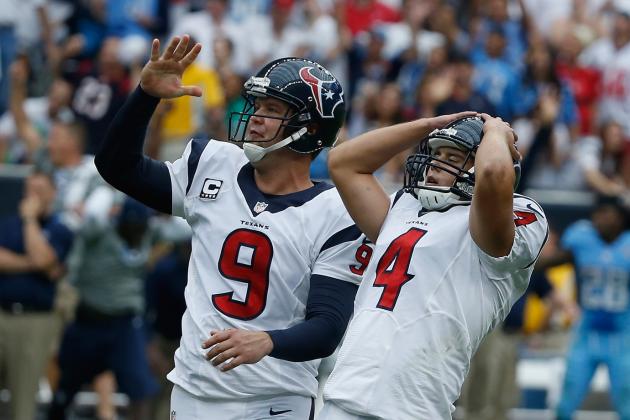 Scott Halleran/Getty Images

Studs: Caleb Sturgis, Steven Hauschka
Sturgis had a fantastic preseason and has continued his roll in the first two games, going 4-of-4 with makes of 54 and 49, and 6-of-6 on extra points.
Hauschka is also perfect so far this season, and the Seahawks should put up a lot of points on the Jaguars.
Duds: Josh Scobee, Randy Bullock
Scobee is a good kicker, but going against Seattle's defense, he may not have anything more than a very long field-goal attempt all game.
In his first season as a starter after spending his rookie year on injured reserve, Bullock has missed four of his first five field goals. They've all been over 40 yards, but kicking is very mental and that's not a good sign for the near future.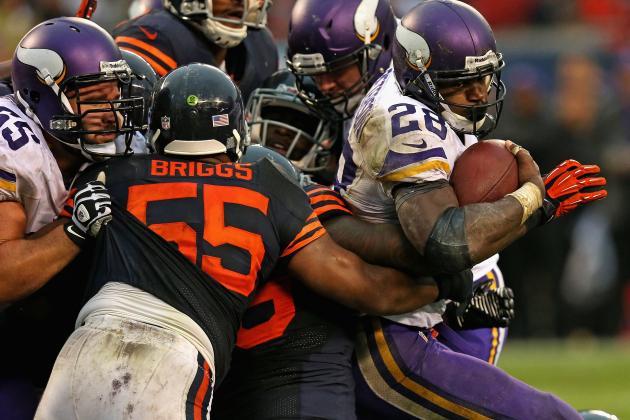 Jonathan Daniel/Getty Images

Studs: Seattle, Chicago, Minnesota
The league's best defense going up against the league's worst offense? Here's hoping Seattle can pull off the elusive shutout.
Chicago has also looked phenomenal, with Lance Briggs and Charles Tillman looking as strong as ever. The Bears will prey on a struggling Pittsburgh offense.
Minnesota's defense, led by the excellent Jared Allen, will look to rebound after two forgettable games that made it look weaker than it really is. Look for the Vikings to pounce all over an injured Brandon Weeden (or whoever replaces him).
Duds: New York Giants, Oakland, Philadelphia
The Giants have given up 36 and 41 points in consecutive losses to start the season, and the whole team really looks lost right now. Cam Newton could give them fits and light up the scoreboard.
Oakland's statistics look pretty good right now, but a lot of that is skewed from playing Jacksonville in Week 2. The Broncos will expose the below-average personnel they have all over the field.
The Eagles have gotten a lot of praise for their offense, but the defense has really struggled so far. Their secondary is weak, their linebackers aren't much better, and they have to go against the man most familiar with them in Andy Reid.