Titans vs. Texans: Full Roster Report Grades for Tennessee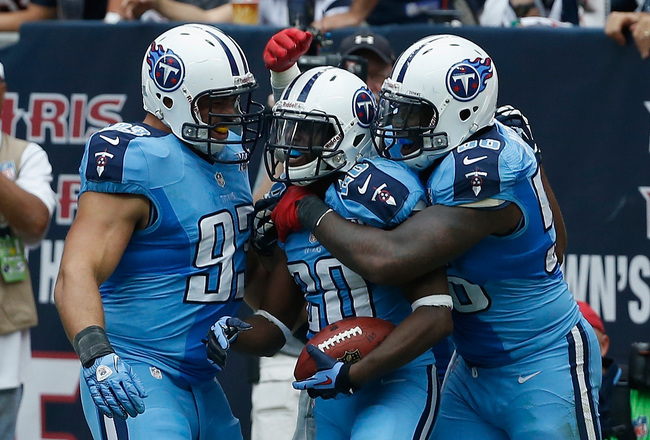 Scott Halleran/Getty Images
The Tennessee Titans came so close to shocking the majority of the NFL world, but the Houston Texans had other ideas as they prevailed for a key AFC South victory, 30-24.
Even with the loss, it clearly seems that the Titans are indeed an improved team from last season's 6-10 finish that nearly cost Mike Munchak his job.
It may have been a loss, but the Titans took another step toward gaining some national attention.
There were bright spots on both sides of the ball that almost led to a statement win in Week 2. Here are your full roster grades for the now 1-1 Titans.
Quarterback: B+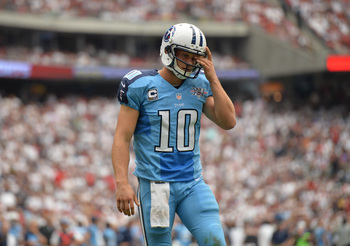 Thomas Campbell-USA TODAY Sports
Jake Locker
Locker exorcised some of his demons with the Texans in this performance. He managed the game effectively and did what he had to do to give the Titans every chance to win this game.
His numbers weren't eye-popping for the second week in a row as he finished 17 of 30 for 148 yards. The two touchdown throws to Kendall Wright and Delanie Walker were throws that Locker just couldn't be relied upon to make last season.
However, Locker was off target on a handful of throws that could have changed the whole complexion of the game.
Locker nearly threw an interception in the third quarter that could have easily led to a touchdown for the Texans defense. He was lucky that the throw was just out of the reach of the Texans defender.
Despite the final result, Locker still showed that he is an improved quarterback. He made several impressive throws, including one that didn't end up counting to Kenny Britt. It was called back on a penalty when they were backed up on their own 1-yard line.
What we saw from Locker against a very solid Texans defense is an encouraging sign for the Titans' playoff chances. If he turns in performances like this on a consistent basis, the Titans will win their fair share of games.
Running Back: B
Thomas Campbell-USA TODAY Sports
Chris Johnson, Jackie Battle
It was another respectable rushing performance for the Titans against a stout Texans rush defense that shut down the San Diego Chargers the week before.
Johnson finished with 96 yards on the ground, but Battle never really got going as he struggled to just 13 yards on six carries.
You still love how Johnson is running through the first two games. He's breaking tackles and showing us glimpses of his former self that rushed for over 2,000 yards in a season.
A safety early in the fourth quarter proved to be a critical two points in the game that allowed the Texans to eventually drive down the field to tie it at 24. Even if the blocking wasn't great on that particular play, you would expect your star offensive player to get you one yard out of the end zone to avoid the safety.
The Titans also had the opportunity to run the clock out with their run game late in the fourth quarter, but both Johnson and Battle failed to gain more than a yard apiece to gain a first down.
The running game is going to win this team plenty of games once some less formidable defenses come up on the schedule. Two tough defenses down, and the Titans are 1-1 with their running game fully established.
Wide Receiver: A-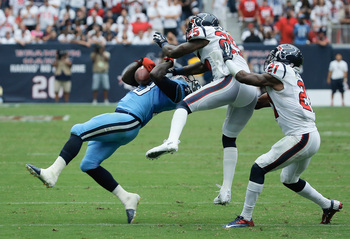 Scott Halleran/Getty Images
Kendall Wright, Nate Washington, Kenny Britt
Two gutsy performances from Wright and Washington really kept the Titans in this game and gave them every opportunity to get the win.
That hit that Wright took (pictured above) late in the game was a rough one. The fact that he managed to hold onto the ball and give the Texans defender an extra stare really makes you excited about what this receiving corps could be capable of.
Washington continued to be his reliable self, and Britt had a great catch taken away from him on a delay of game penalty that eventually led to the safety. It's still discouraging to see that Britt was mainly a nonfactor in the game.
Britt managed just four catches despite nine targets from Locker.
The absence of Damian Williams due to an unexpected hamstring injury also played a key role in this receiving corps not putting up more impressive numbers as a unit.
You still have to love what you saw from Wright and Washington against such a good defense.
Tight End: C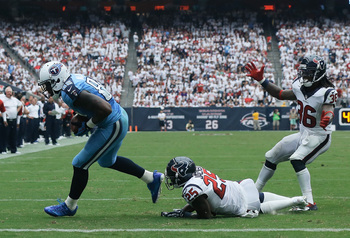 Scott Halleran/Getty Images
Delanie Walker, Craig Stevens, Taylor Thompson
You take out the touchdown catch from Walker to put the Titans up 17-16, and this was a complete swing and a miss for Titans tight ends.
Both Stevens and Thompson have yet to record a single catch through the first two games. That has to change quickly if this offense is going to reach its full potential.
The touchdown catch for Walker was more of a great throw from Locker than it was a great catch. It's nice to see Walker making such a big play as he's one of the new faces this season, but you want to see more involvement from the tight end position than just one single catch.
The Titans get the Chargers next week for their home opener, and hopefully these tight ends can start making a bigger impact on the passing offense than what they did against the Texans.
Offensive Line: C-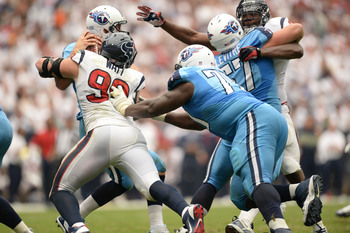 Thomas Campbell-USA TODAY Sports
Rob Turner, Andy Levitre, David Stewart, Chance Warmack, David Roos
The Titans offensive line really had its work cut out for it against J.J. Watt and the Texans. This offensive line may be much better than the 2012 offensive line, but it still struggled majorly against the Texans.
Locker was sacked four times and hit seven times. However, that wasn't the worst part. The Texans are a good enough defense that you figured they were going to get their licks on Locker.
What was disappointing to see from this unit was the critical penalties that pushed the Titans into giving up a safety. If that safety doesn't occur, the Texans end up having to recover an onside kick.
Two of those penalties came from center Rob Turner on back-to-back plays. The personal foul penalty negated what was a smart checkdown throw from Locker to Chris Johnson that would've gotten them out of the shadow of their own goalpost.
Andy Levitre also had a false start penalty in the fourth quarter that Locker made up for with a 14-yard connection to Wright.
This unit will bounce back next week, but this is a week where it just didn't live up to its potential.
Defensive Line: B+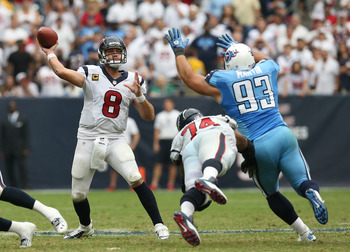 Matthew Emmons-USA TODAY Sports
Derrick Morgan, Kamerion Wimbley, Karl Klug, Sammie Hill, Ropati Pitoitua, Antonio Johnson
It was a strong effort from the Titans defensive line. The unit didn't really start breaking down until the overtime period when the players clearly seemed gassed.
They managed to take Arian Foster and Ben Tate largely out of the equation until late in the game. That's no easy task for any defensive line.
Foster still ended up getting his yards, but it was a valiant effort by the Titans defensive line. The line certainly didn't make life comfortable for Matt Schaub like it has been in recent memory between these two teams.
Derrick Morgan tallied up his second sack of the season, and Kamerion Wimbley notched his first of the season.
Linebacker: C+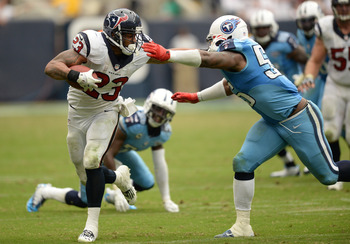 Thomas Campbell-USA TODAY Sports
Zach Brown, Akeem Ayers, Moise Fokou
It was a so-so performance from this unit. Zach Brown had another solid outing and is well on his way to leading this team in tackles when it's all said and done.
There were a handful of missed tackles that allowed the Texans to score on two drives late in the game. Most notably when Foster began to run free around the corner in overtime.
Ayers still hasn't managed to make an impact through the first two games. He needs to step up his game for this defense to really challenge the elite offenses.
They helped the Titans defense play with that bend-but-don'-break mentality for most of the game. They just didn't really show up toward the end, along with the rest of the defense.
Defensive Backs: A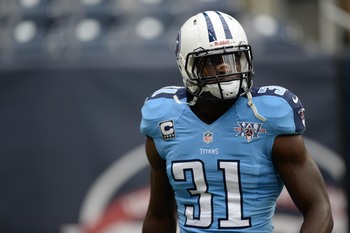 Thomas Campbell-USA TODAY Sports
Alterraun Verner, Bernard Pollard, Michael Griffin, Jason McCourty, George Wilson, Coty Sensabaugh
Sure, the secondary kind of folded on those last two scoring drives that the Texans mustered up to solidify their prowess atop the AFC South,
With that said, the secondary was really the key reason that the Titans came so close to pulling off this huge upset.
Verner's second interception of the season should have sealed the deal for the Titans when he returned it for a touchdown, but that's why the Texans are a Super Bowl-caliber team. Their offense is elite, and the Titans secondary got a little tired at the end. They're still worlds apart from the team that gave up a franchise-record 471 points in 2012.
Pollard also had his first memorable game as a Titan with his interception when the Texans had their starting field position at the 50-yard line. This was when the score was still tied 7-7, so that was a huge factor in keeping this game close early on.
Even in the loss, this performance by the secondary proves that this defense is so much better with defensive consultant Gregg Williams in the building.
Special Teams: C-
Thomas Campbell-USA TODAY Sports
It was another forgettable day for the special teams unit for the Titans, and that's especially true for Darius Reynaud. He was never able to get loose on his four punt returns.
Rob Bironas also missed a 48-yard field goal that was fully in his range. That's another big swing that would have forced the Texans to convert an onside kick to have any chance.
The punting game often gets overlooked, and Brett Kern is usually one of the best in the business. He had a busy day against the Texans that resulted in a couple of shaky punts that left the Texans offense in much better field position than you would expect from a punt off the foot of Kern.
The field position proved to be a critical one in the second half.
Keep Reading

Tennessee Titans: Like this team?