Green Bay Packers Ace Contest vs. Washington, RGIII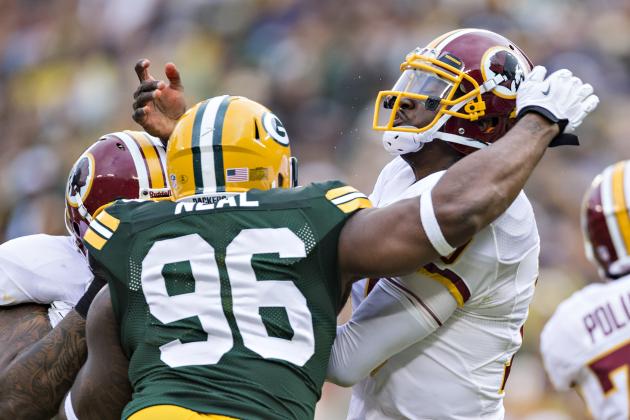 Wesley Hitt/Getty Images
Dyanmic quarterback Robert Griffin, III was held in check Sunday
While the Green Bay Packers played RGIII and Washington Sunday afternoon, a small group protested the team's use of a racial epithet as their name.
They will be referred to only by their city because the nickname is too offensive to use. Many fans are no doubt defensive about this and comments are welcome, but tradition does not excuse using a racial epithet and sports is no less an appropriate forum for discussing this issue than it was for integration.
However, that name does not reflect on the quality of the team or its quarterback. Both Robert Griffin III and team are certainly better than the effort that made Fox switch away from the game, causing those of us in outside markets recording the game to miss the final 19:05.
There is something wrong with NFL Sunday Ticket when the only way a part-owner can see the game is to tape both the local channel and a channel that is blacked out just in case the game is boring the rest of the nation. That eliminates the main advertisement for the package—the ability to see more than one game.
From what the national audience saw of this contest, the Packers were nearly perfect. Washington was able to draw close mostly because their opponent coasted to victory. Leaving Lambeau Field only 0-2 does not put them in a major bind because the weak NFC East has no team better than 1-1.
Perhaps ESPN should stop talking about RGIII in defeat. The story here is the 2010 champions have asserted themselves as a true Super Bowl contender through two weeks of the 2013 season with a tough road loss to the NFC champion San Francisco 49ers (humbled again in Seattle) and a convincing win.
Every unit contributed at least a little to Green Bay's success, helping the team ace a test that was not supposed to be easy.
Begin Slideshow

»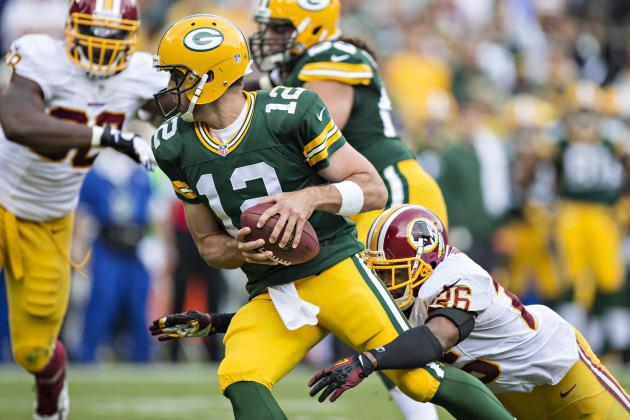 Wesley Hitt/Getty Images

Like the Green Bay Packers, Aaron Rodgers fell just short of perfection.
From a statistical standpoint, his passer rating was just 146—92.2 percent of the possible 158.3. He might not even have the highest total quarterback rating in Week 1 because his yards were not accumulated during clutch time. I guess the network that still employs Skip Bayless agrees with him that early Rodgers success should count against him.
He did miss on one pass to an open James Starks in the first quarter. He did not get the ball out quickly enough at first—sacked three times for 27 yards in the first nine minutes—though at least some of that has to be attributed to the game plan.
For the most part, he avoided pressure the rest of the day (one more sack, but for 12 yards) and picked apart the Washington defense: 34-for-42 (.810 completion percentage) for 480 yards (11.4 per attempt) with four touchdowns and no turnovers.
Even counting his three one-yard losses on kneel downs, he still provided 438 total yards on the 49 plays that he did not hand the ball off (8.9 yards per play).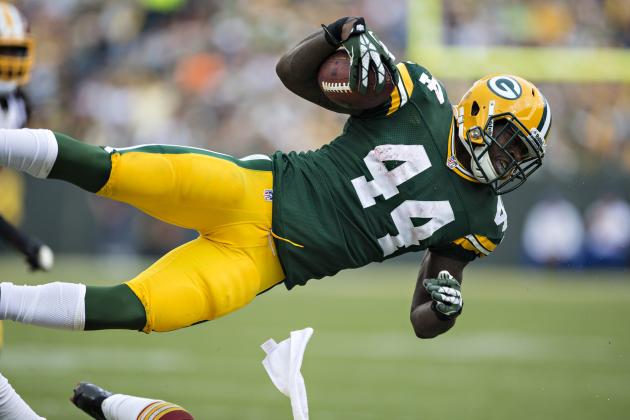 Wesley Hitt/Getty Images

The last time the Green Bay Packers had anyone rush for 100 yards in a game was in the Super Bowl XLV season. Washington was a victim of backup running back Brandon Jackson.
After being knocked out by a head-first, helmet-to-helmet hit on his first carry, Green Bay rookie Eddie Lacy had a concussion and his day ended with 10 yards. Ironically, the same spearing attack on injury-prone backup James Starks ended the game for Brandon Meriweather.
If the NFL is serious about ending the practice of tacklers leading with their helmets, why were no penalties called on him either time?
Starks looked like the same player that helped the Packers win back the Vince Lombardi Trophy in February 2011: 20 carries for 132 yards (6.6-yard average) and a touchdown.
He also had four catches for 36 yards, giving him 168 yards on 24 plays—exactly seven yards per touch. Counting Lacy's run, the unit had 178 on 25 for a 7.1-yard average, with a score and no turnovers.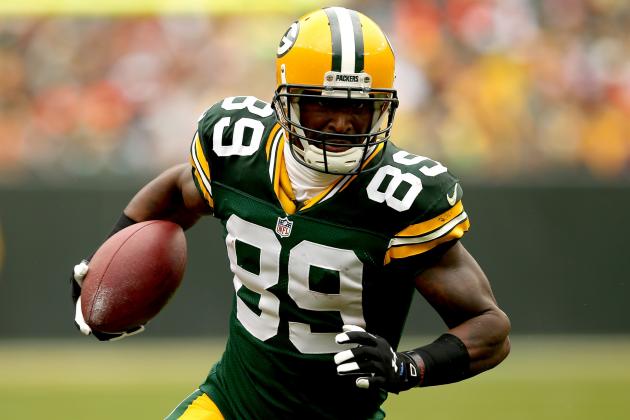 Matthew Stockman/Getty Images

The receiving corps gave Aaron Rodgers open targets all day. Three wide receivers and one tight end gashed the Washington defense for the Green Bay Packers.
Jermichael Finley had six receptions for 65 yards (10.8-yard average) and a touchdown. Andrew Quarless also had one catch for seven yards.
Jordy Nelson was not the primary target most of the day, catching just three passes. However, he had 66 yards (22.0) and two touchdowns.
Randall Cobb had nine catches for 128 yards (14.2) that included one touchdown. Yet that amazing day was one foot away from being dwarfed by James Jones.
After dropping the only catchable pass thrown his way in Week 1, Jones was an early focus against Washington. He was a foot away from getting a touchdown at the end of the first half—exemplifying why the stretch is too risky for many situations—but still had 11 catches for 178 yards (16.2).
No one else was on the field enough to expect production. They were not needed, as the rest of the corps was racking up 30 catches and 444 yards (14.8) and four touchdowns. Only the fumble keeps them from a solid A.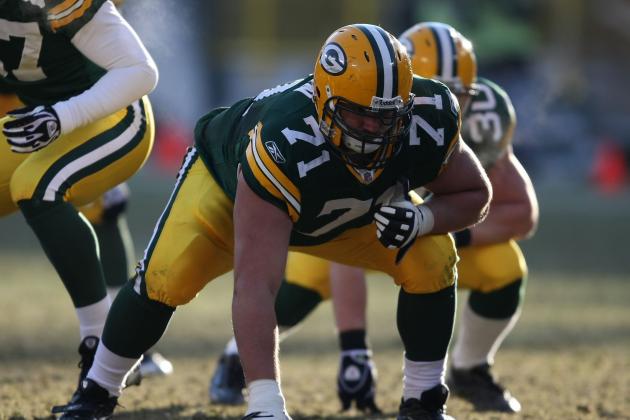 Jonathan Daniel/Getty Images

The offensive line was terrible in early pass protection. In one stretch of four plays, they gave up three sacks.
To coach Mike McCarthy's credit, he changed the approach to include more screen passes and quick hitters. He also began to call more runs that turned out to be very effective.
For the most part, the big guys did a good job opening holes—6.8 yards per carry for running backs that are not exactly elite. They at least kept Aaron Rodgers upright as long as he targeted the first open receiver.
Still, the line gave up 39 yards in sacks, had two holding penalties and a false start. The offense had to cover their weakness in order to make up for those lost 64 yards and generate 580 total yards.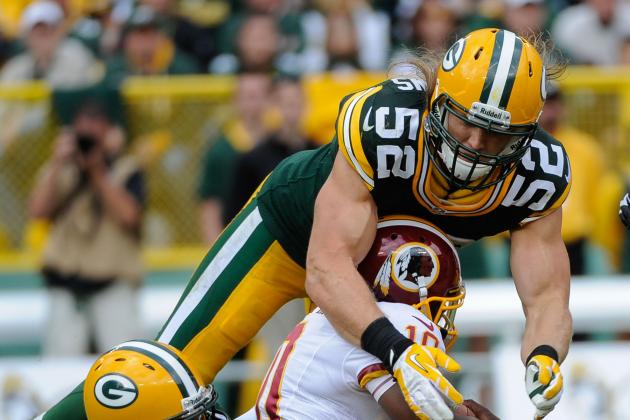 Benny Sieu-USA TODAY Sports

The defensive line of the Green Bay Packers did not see a lot of production. Counting Mike Neal at linebacker since that is where he made the biggest impact, this unit had just four tackles and four assists.
Still, the job of the line in a 3-4 defense is to either occupy blockers or find gaps to disrupt plays, and this unit did both. Unfortunately, a couple times they did not hold the point of attack and Washington was able to amass 108 yards on 17 carries for a 6.4-yard average.
Nevertheless, five linemen contributed with significant plays: Ryan Pickett's batted pass, Mike Daniels and B.J. Raji a tackle and an assist, rookie Datone Jones his first NFL tackle and Johnny Jolly a tackle and two assists despite missing time with an injury. They were instrumental in containing and pressuring Robert Griffin III.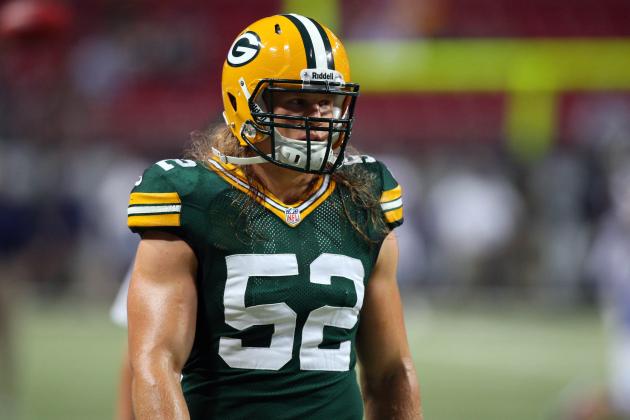 Scott Kane-USA TODAY Sports

The linebackers for the Green Bay Packers combined for just 12 tackles and six assists, with no sacks. Even Mike Neal's interception came right to him on a dropped pass.
They have to take a lot of blame for a couple big carries by Alfred Morris. They also deserve credit for containing the backs to three catches for 15 yards and the tight ends to just 34 yards despite five catches. However, one of those was for a touchdown.
Still, there was pressure on Robert Griffin III and he was contained—even if partially by last January's injury. The frustration of that pressure that resulted in three penalties for 35 yards was largely a result of linebacking play that exceeds what the numbers show.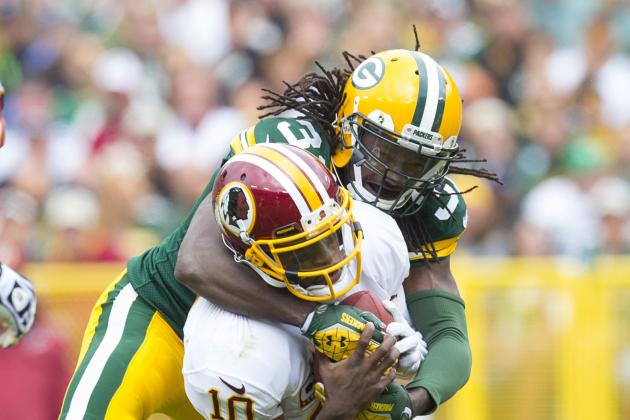 Jeff Hanisch-USA TODAY Sports

A quick look at the player statistics for Washington would seem to indicate a very poor game for Green Bay Packers defensive backs. Even if the short passes to the tight ends are not considered, they allowed five different wide receivers to collect 281 yards on 17 receptions (16.5 average) and two scores.
Many of those yards and both scores to the wide receivers came after the Packers had a 38-7 lead. This unit forced the only turnover of the year for the Green Bay defense with a pass defensed, came up with the team's only sack (and third of the season) and made 25 tackles with three assists.
They still need to get better, though. This will happen to some extent when Casey Hayward and Morgan Burnett return, but right now this unit was gashed by one wide receiver (Pierre Garcon had eight catches for 143 yards and a score) for the second week in a row.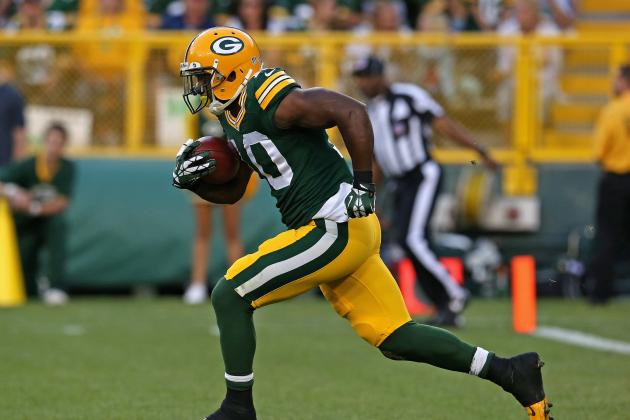 Jonathan Daniel/Getty Images

The special teams scored, statistically, very poorly for the Green Bay Packers.
Two kick returns managed only 10 and 14 yards. Even though it was for 11 yards, there was only one punt return.
Tim Masthay shanked one of his punts to have just a 37.3-yard average, making the nine total yards on two returns less impressive. Six of his seven kickoffs went into the end zone and he had four touchbacks, with the Packers giving up 59 return yards on the other three.
Mason Crosby hit all five extra points and his lone field goal attempt, but it was from just 28 yards. What makes this better than a barely-passing grade is the penalty differential: Washington was flagged three more times on special teams, losing 29 more yards.