Predicting Which NCAA Basketball Sophomores Will Take Biggest Leap in 2013-14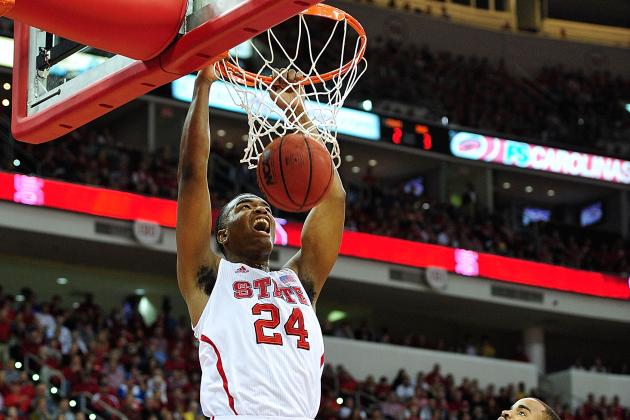 Grant Halverson/Getty Images

The word "sophomore" is almost a dirty one in this one-and-done era of college basketball. So much attention gets paid to the McDonald's All-Americans who can bail for pro ball after one season that those they leave behind are diminished somehow.
Lesser talents, if you will.
There are still a lot of very good players who, for a variety of reasons, didn't bolt after their first season. Many played with dominant—and now departed—teammates who have passed the torch. Some suffered through growing pains as freshmen and have emerged better for it.
These 20 players should be counted on for improved production in their second collegiate seasons. Whether they're now the best player on their team or among the best in their conference, we'll become a lot more familiar with them between now and March.
Begin Slideshow

»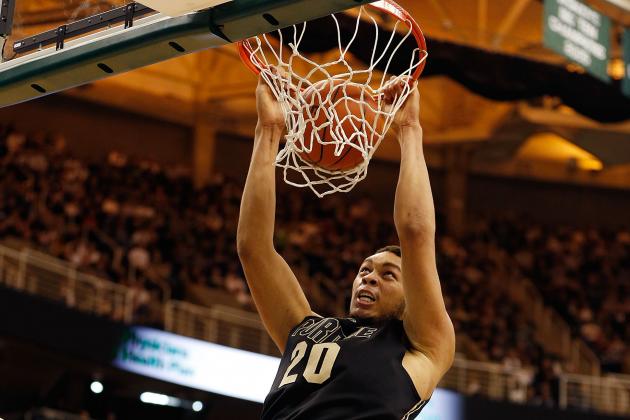 Gregory Shamus/Getty Images

The "next 10" candidates for a big sophomore step, presented alphabetically:
Zach Auguste, Notre Dame—The 6'10" Auguste is a better rebounder and shot-blocker than senior Garrick Sherman. ND's other senior big man, Tom Knight, is a bruiser who may see bench time if ACC referees are more whistle-happy than those in the Big East. Auguste is a tremendous athlete who may steal a starting spot from one veteran or the other.
Michael Carrera, S. Carolina—At 6'5" and 212 pounds, Carrera finished first in the SEC in defensive rebounding percentage (DR%) and second on the offensive end (OR%). He's a junkyard dog in a purse pooch's body. He may garner All-SEC votes whether the Gamecocks are relevant or not.
Willie Cauley-Stein, Kentucky—Speaking of tremendous athletes, Cauley-Stein can join former UK post partner Nerlens Noel as an NBA lottery pick. That is, if he can improve hideous free-throw shooting and beat out freshman beast Dakari Johnson.
Shaq Goodwin, Memphis—And speaking of beating out hyped freshmen, Goodwin has to fend off local product Austin Nichols for post minutes in a lineup that will frequently run with four guards. To that end, Goodwin has reportedly dropped close to 40 pounds, seeking the kind of fitness that will allow him to play 25-30 minutes a night.
A.J. Hammons, Purdue—With a line of 10.6 points, six rebounds and two blocks per game last season, Hammons proved he could do everything a team wants its big man to do. Now, Boilermaker coach Matt Painter has to get the 7-footer to do it every night (4.0 RPG over Purdue's final 10 games).
Przemek Karnowski, Gonzaga—Opponents will need a Caterpillar bulldozer to keep the "Polish Hammer" out of the lane, where he made 78 percent of his shots last season, per Hoop-Math.com. For his part, Karnowski will need to show improved conditioning and foul shooting (44 percent last season) to play full-time minutes.
Jake Layman, Maryland—Even at a 48.9 effective field goal percentage (eFG%) last season, Layman is the most efficient backcourt option that Maryland has coming back. The 6'8" swingman came within one board of a double-double in the Terps' ACC tournament win over Duke, then dropped 13 on Alabama in the NIT.
Cameron Ridley, Texas—On a team with one junior and no seniors, there are multiple breakout candidates. After all, someone will have to, right? The 6'9", 275-pound Ridley is a decent candidate after recording Big 12 top-20 OR% and DR% figures and the league's third-best block percentage. Now, about the 33 percent from the line...
D'Vauntes Smith-Rivera, Georgetown—Otto Porter's in the NBA and Greg Whittington is injured (again). The Hoyas need scoring. DSR proved he could do just that by dropping 33 on DePaul. That game started a seven-game stretch of 51-percent shooting from deep. Pay no mind to the combined 0-10 in GU's Big East and NCAA tournament losses.
Mike Tobey, Virginia—The 6'11" Tobey played 15 minutes or more 11 times from the start of ACC play to the season's end. In those games, he averaged 10.4 points and 4.6 rebounds, well above his season averages (6.8/2.9). Plus, he spent his summer playing for the USA at the U19 World Championships. He's being sharpened for bigger action this season.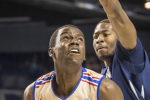 Courtesy TulsaHurricane.com
When D'Andre Wright got the ball for Tulsa last season, he made something happen with it.
Wright's 26.1 usage percentage (per StatSheet.com) would have ranked seventh in Conference USA had he played enough minutes to qualify. He played only 16.8 minutes per night and missed nine games altogether with a leg injury.
This year, Wright will hope to avoid further injury while carrying an extra 25 pounds. Now at 245, he'll be even harder to keep off the block and the glass. His OR% and DR% would have both ranked in CUSA's top 10.
As if Wright's already evident talent wasn't enough to anticipate for this season, he's working with one of the perfect mentors for a young big man—Golden Hurricane head coach Danny Manning. Manning oversaw the development of a string of good post players at Kansas, and he's ready to start one at Tulsa.
With graduate transfer Kauri Black departed, Wright will be a starter. He should be no less than a third option behind forward Rashad Smith, who returns from a season-ending injury, and sophomore guard James Woodard.
Both Wright and Woodard were members of CUSA's all-freshman team last season. Expect one or both to garner some votes for the real all-league team before they lead Tulsa to the American Athletic Conference in 2014.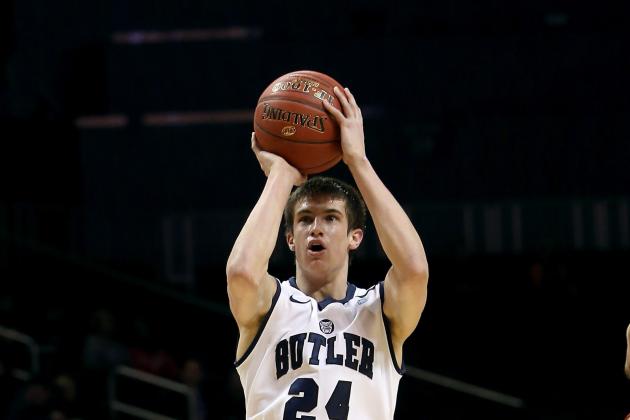 Mike Lawrie/Getty Images

Butler guard Kellen Dunham's experience at the Maui Invitational was a fine microcosm of his season.
First-round win over Marquette: 4 points, 0-1 FG
Semifinal win over North Carolina: 17 points, 5-9 3-pointers
Championship loss to Illinois: 4 points, 0-9 3-pointers
A touted shooting threat coming out of high school, Dunham struggled over the second half of his freshman season. A January 26 win over Temple was the last time Dunham shot better than 50 percent in a game.
With the departures of gunner Rotnei Clarke and center Andrew Smith—not to mention the season-ending injury to forward Roosevelt Jones—Dunham will be the closest thing to a centerpiece in the Bulldogs' offense. Getting his shots off and making contested looks will be essential.
Expanding the repertoire would help, as well. If Butler intends to be a factor in the new-look Big East, Dunham needs more to his game than the three. An 86-percent foul shooter, he'll subject opponents to a thousand tiny paper cuts if he can put the ball on the deck and draw contact in the lane.
Dunham's role on last season's Butler team was similar to another Hoosier State guard, Indiana's Jordan Hulls: get open and make shots. He played that part to mixed reviews. This season, he'll be relied on for much more of an all-around game, along the lines of Purdue's Terone Johnson.
Dunham will have all the shots he can handle on his new-look team. It's up to him to make them.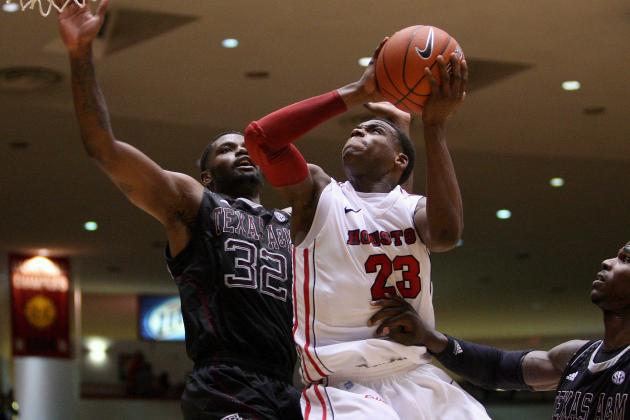 Troy Taormina-USA TODAY Sports

Houston's Danuel House finished his school's association with Conference USA in a little bit of style, walking off with the league's Freshman of the Year award.
This season, the Cougars join the American Athletic Conference, and they do it without leading scorer Joseph Young, who walked off to Oregon.
The 6'7" House will see his chances expand, as will 6'8" forward TaShawn Thomas. The two may comprise the AAC's most prolific scoring duo by season's end, no small feat in a league featuring UConn (Shabazz Napier/Ryan Boatright) and Louisville (Russ Smith/anybody).
House made his CUSA debut count, dropping 28 in a win over SMU. He played with little fear against the few big-name teams on the Cougars' schedule, putting up 16 on 6-of-9 shooting against Memphis and adding 11 points, nine boards and five assists in a CBI win over Texas. House capped that win by scoring the winning basket with 17 seconds to go.
With Baylor transfer L.J. Rose coming in to battle for the point guard position, Houston has four former top-100 recruits on this season's roster. Thomas and House, though, are the ones who have proven themselves formidable players in a Houston uniform. Both should be expected to produce at least 15 PPG and garner some All-AAC consideration.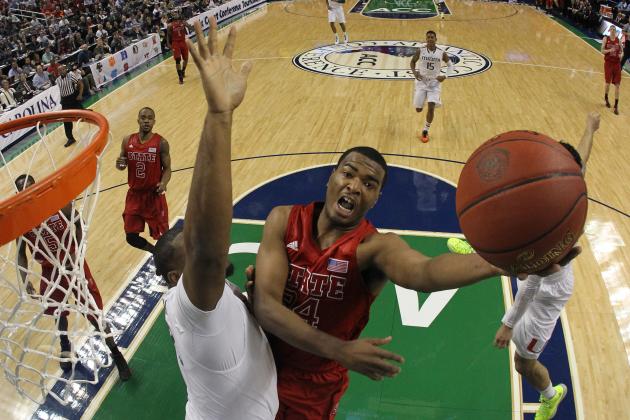 Streeter Lecka/Getty Images

North Carolina State had a difficult season under heavy expectations last season. The Wolfpack returned an array of veteran talent and added a skilled recruiting class to a Sweet 16 team. Considered an ACC favorite and Final Four contender, State slumped to a tie for fourth in the conference and a one-and-done appearance in the NCAAs.
Now all of that veteran talent has departed and one of those hyped freshmen has to become one of the ACC's most dominant forces. Luckily for coach Mark Gottfried, 6'8" forward T.J. Warren was already one of the nation's most efficient offensive players.
Warren's tempo-free scoring numbers were eye-popping last year. He ranked in the national top 50 in eFG%, TS%, raw field-goal percentage and offensive efficiency, according to StatSheet.
There were also plenty of individual games to excite Pack fans. Warren scored 22 against Penn State and 21 against UMass in his second and third college games. In his fifth ACC game, he hung 21 on Clemson.
It never got better, though, than February 19. Warren crushed Florida State for 31 points and 13 rebounds, eight of those offensive. Nights like that will need to be closer to routine if NC State is to rally back to the Big Dance, especially considering that the Pack could start three other underclassmen and LSU transfer Ralston Turner.
If Warren can improve his 54-percent foul shooting, there may be no way to keep him off the scoresheet. It is not unreasonable to consider him a threat for the ACC scoring title.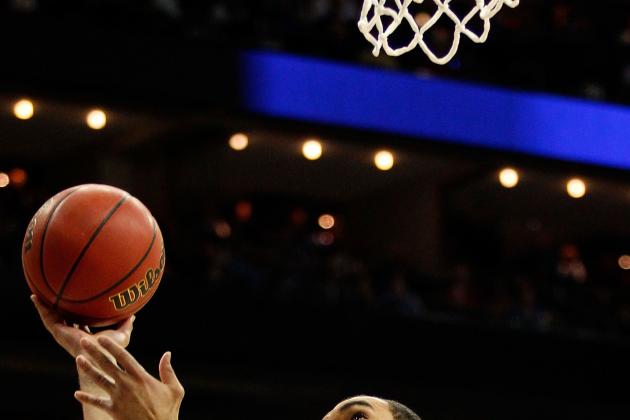 Ed Zurga/Getty Images

Earlier, we alluded to Danny Manning's role in Kansas producing a succession of talented big men. Let's look at one of those players and examine that man's freshman tempo-neutral stats compared to that of 2012-13 freshman Perry Ellis. (All numbers courtesy of StatSheet.com)
Ellis: 48.1 eFG%, 54.0 TS%, 11.3 OR%, 19.9 DR%, 10.7 TO%, 87.9 OR
Player X: 48.5 eFG%, 46.9 TS%, 17.1 OR%, 22.8 DR%, 25.4 TO%, 114.0 OR
(TS%=true shooting percentage; TO%=turnover percentage; OR=offensive rating)
While Player X dominated on the glass as a rookie, he was a highly remedial offensive player and a hideous foul shooter. Of course, Thomas Robinson would go on to All-American honors and the fifth pick of the NBA draft after his junior season.
Ellis will have to grow up one year sooner than Robinson did, since T-Rob got another season as a reserve to continue perfecting his craft. Ellis is unlikely to have that luxury this year, since he'll be relied upon to be a major factor in KU's post offense.
A 2012 McDonald's All-American, Ellis couldn't get out of his own way early in his freshman year. Late in the season, though, the coin appeared to drop. Over the regular-season finale and the Big XII tournament, a span of four games, Ellis averaged 13.8 points and 5.5 rebounds.
Although the Jayhawks' season ended with a Sweet 16 loss to Michigan, Ellis acquitted himself well there, as well. He produced eight points, five rebounds and three assists in 15 minutes of play.
While some guy named Wiggins is getting all the headlines, Ellis will be just as much a factor in Kansas' national title aspirations. If last March's Perry Ellis shows up from the start, Jayhawk Nation will likely have a fun start to April, making the manageable trip to Arlington, Texas.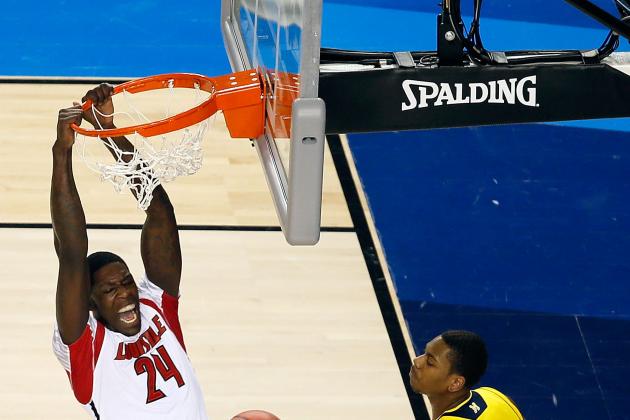 Kevin C. Cox/Getty Images

At 6'8" and 235 pounds, Montrezl Harrell has the build to be a low-post stud, if not the height. Still, don't bet your house on very many players in the AAC to outwork him or produce more thunderous dunks.
A player who averaged 5.7 points and 3.6 rebounds per game on the season, Harrell's numbers jumped to almost 10 and five when he played 20 or more minutes. That included a 20-point, seven-rebound decimation of Syracuse in the Big East championship game.
This season, Harrell should average nearly 30 minutes per game and see more than enough shot attempts to be a great second scoring option behind Russ Smith.
Harrell hit nearly 58 percent from the floor—largely thanks to 43 of his 97 baskets being dunks—but a chunk of his summer was spent extending his range out to 17 feet. He made two such shots in the title game of the U19 World Championships, staking the USA to the lead in a tight first half against Serbia.
Louisville coach Rick Pitino has called the development of centers Stephan Van Treese and Mangok Mathiang "the key to our team this year." If neither is ready to handle full-time starter's minutes, the Cards will start a short lineup with Harrell battling with opposing centers.
He won't sweat that assignment a bit.
Nate Shron/Getty Images

This season's definition of a sophomore leap may be summed up in three words: Syracuse's Jerami Grant.
Grant's playing time was highly sporadic until sweet-shooting forward James Southerland caught a six-game academic suspension in January. Grant filled in to the tune of 33 minutes, 10 points and 5.5 rebounds per game.
While he never touched double-figure scoring after Southerland's return, Grant did make his presence felt on the glass. He pulled nine boards against UConn, eight against Montana in SU's first NCAA tourney game and seven in only 17 minutes in the Final Four loss to Michigan.
Grant's 6'8" frame and 7'2" wingspan make him a perfect space-eater in Syracuse's infamous 2-3 zone. Athletic enough to aid his bigs on the glass and skilled enough to give his guards a potent mid-range option, Grant is already considered a first-round prospect by DraftExpress.
Where Grant differs from the rest of the players on this list may be in when he gets his minutes. He may be the only man among our top 10 who does not even draw a starting assignment.
Orange coach Jim Boeheim prefers a traditional two-big lineup, which could lock Rakeem Christmas and DaJuan Coleman into starting roles. Additionally, Boeheim loves to bring a stud scorer in as his sixth man. Talents like Kris Joseph, C.J. Fair, Dion Waiters and Southerland have been Syracuse bench assassins.
Grant's a natural fit to join that group. He should still see 25-30 minutes per game, even if he's more likely to be in at the finish than the start.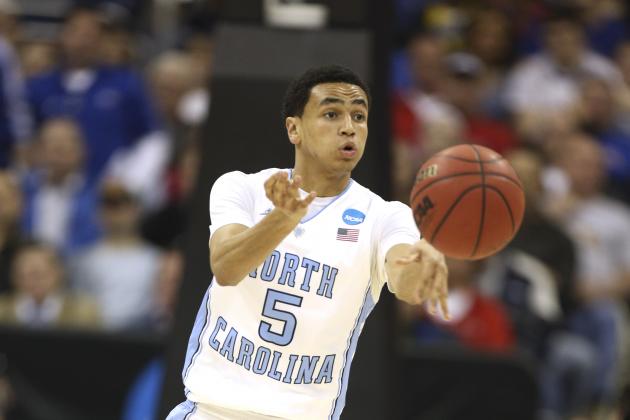 Ed Zurga/Getty Images

Many of our sophomore studs had to bide their time in supporting roles last season. Not so with Marcus Paige.
The North Carolina point guard started all but two games in his freshman season, diving straight into the pressure cooker of leading one of America's iconic college hoop programs.
As a floor general, he was up and down. The same man who turned the ball over eight times in his second meeting with Maryland produced 19 assists and only four giveaways in two March meetings with Florida State.
As a shooter, Paige mostly stayed down until a strong finishing kick. He only shot better than 50 percent in two games before February 28, but from then on, he hit 48 percent of his attempts.
According to StatSheet, Paige's offensive efficiency topped 100 nine times over Carolina's final 12 games. Not bad for a kid who only reached that mark three times in his first 11 ACC encounters.
The point of all this is that the Marcus Paige who ended the season was a better, more efficient player than the one who began it. After feeling his way through last year, Paige will be capable of leading the way for a UNC team that still harbors Final Four hopes.
That is, as long as his shot doesn't once again resemble a Ford Pinto left outside for the winter, taking four months to warm up.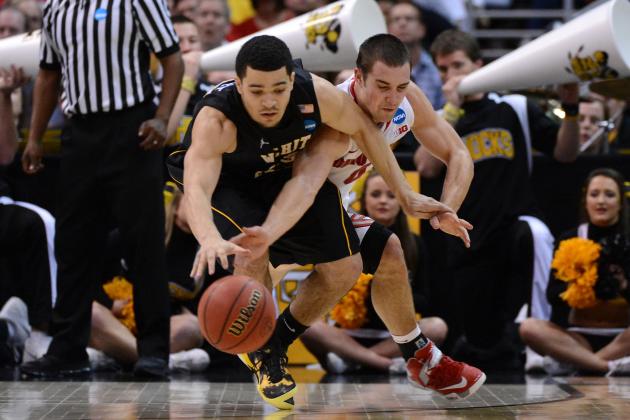 Harry How/Getty Images

Fred VanVleet may have started Wichita State on its wild ride to the Final Four with one shot.
VanVleet hurled up a prayer with the shot clock running down and a two-point lead inside the final two minutes of the Shockers' meeting with Gonzaga. When the shot splashed down, State led by five with 1:24 remaining and the top-seeded Zags could never recover.
That shot capped a 13-point night for VanVleet. He would go on to score 12 against Ohio State in the regional final, a solid night against the Buckeyes' feared point guard duo of Aaron Craft and Shannon Scott.
Those two double-figure games in the tournament were twice as many as VanVleet had in the regular season, which he spent backing up senior Malcolm Armstead. With Armstead gone, the Shockers are VanVleet's team to run.
To prepare, VanVleet has worked himself relentlessly in the offseason, according to Paul Suellentrop of the Wichita Eagle. The goal is to improve his quickness and endurance to handle 30 minutes of chasing opposing point guards, rather than last year's 16.
That quickness will help on offense, as well. Despite his heroic moment against Gonzaga, VanVleet still shot a mere 34 percent in the tournament and 38 percent on the season. He turned the ball over on 24 percent of his possessions per StatSheet.
If both of those figures improve, WSU will be the dominant force in the newly Creighton-less Missouri Valley.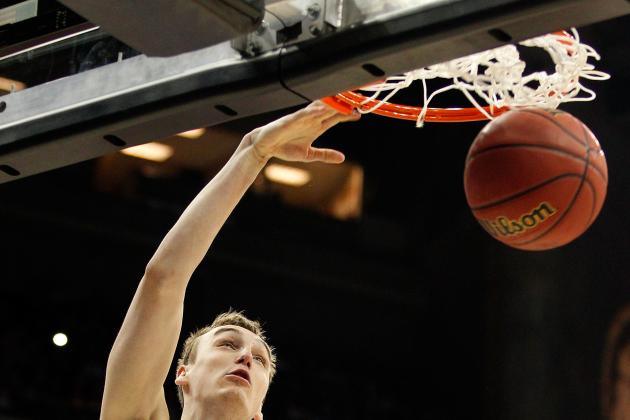 Ed Zurga/Getty Images

Under Bo Ryan, Wisconsin freshmen have largely failed to make major impacts.
Devin Harris, Alando Tucker and Josh Gasser are the only Badger freshmen to average more minutes than Sam Dekker's 22.3 from last season. Moreover, those three were the only baby Badgers to start a game for Ryan before Dekker came along.
Earning that kind of trust from Bo Ryan takes a special talent. With multiple veterans departed from last season's team, Dekker will now get a chance to show just how special he can be. Aside from senior guard Ben Brust, the Badgers don't have any other players who look like primary scoring options.
Despite taking more than half his shots from beyond the three-point arc last year, Dekker still carded an eFG% and a TS% that ranked among the Big Ten's top 10.
The one discouraging word is that Dekker finished the season in a three-point slump, shooting only 5-of-27 (18.5 percent) from deep over UW's last six games. In that span, however, he compensated by making 14-of-21 (66.7 percent) inside the arc.
That adaptability will make him hard to keep off the scoresheet this season. If Vegas took action on such matters and set the over/under on Dekker's single-digit scoring games at 5.5, bettors would be advised to take the under.
For more from Scott on college basketball, check out The Back Iron.