WWE Night of Champions 2013 Results: Biggest Highlights and Low Points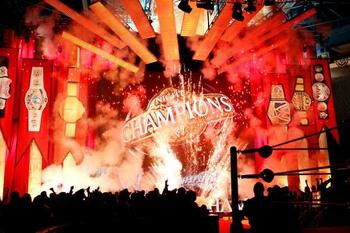 Photo courtesy of WWE.com
Night of Champions had all the potential in the world, but to my mind it would be an understatement to say that it came up short.
Overall, I found the pay-per-view to be extremely bland and boring to the point where I wanted to skip right to the end.
That being said, despite my overall disappointment in the event, I still think there were some things to check off in the "good" column.
What were the highlights that saved it from being a complete, utter disaster? What were the low points that prevented it from being halfway decent?
Let's take a look.
Low Point: Opening Promo with Paul Heyman, Curtis Axel and Triple H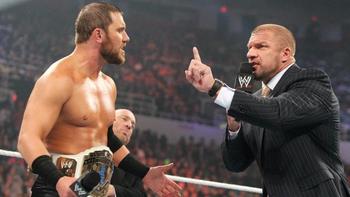 Photo courtesy of WWE.com
It's almost always a bad idea to start off a pay-per-view with a promo, and this case was no different.
As if it wasn't annoying enough that the promo was drawn out far too long and never seemed to end, it also rehashed a lot of what we had already seen in a promo earlier in the pre-show.
Triple H coming out to pump up the crowd was always going to be a bit counterproductive. If it had worked, he would have looked like a babyface, and if people were too confused and wanted to boo him, the show would have started off with a downer.
Paul Heyman's interruption turned into several minutes of the same begging and pleading that we've heard numerous times by now, and redundancy is never welcome.
If the first match is supposed to start a pay-per-view with a bang, all this promo did was put a silencer on it.
Highlight: Intercontinental Championship Defended and Not Forgotten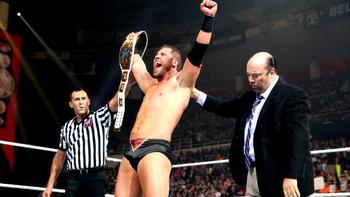 Photo courtesy of WWE.com
The one good thing to come out of the promo that started the show off was that the Intercontinental Championship was announced to be on the line.
Amongst my biggest gripes going into this event was that the Intercontinental title was not going to be defended.
Why would a pay-per-view dedicated to the concept of all the titles being up for grabs not have them all being defended?
It made no sense and bothered me, so when the announcement was made that Curtis Axel would have to wrestle another match and defend the title against someone, I was very happy.
The match itself with Kofi Kingston wasn't stellar, but the mere fact that they prevented a blotch on the record of the event's history was a highlight to me.
Low Point: So Many Botches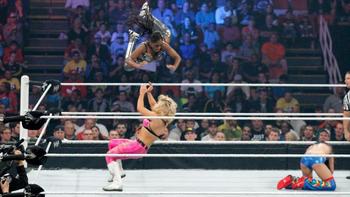 Photo courtesy of WWE.com
Night of Champions was unfortunately riddled with botches to the point where it became too frequent to ignore.
Everyone makes mistakes from time to time, and it's important to remember that, but some of the flubs were laughable.
Tensai overshooting his Sunset Flip attempt and Drew McIntyre waddling backwards to get into position was a bad way to kick things off.
The Divas Championship match had a string of about 10 botches in a row that looked like they could have been painful and were a result from someone directing traffic with their eyes closed.
Natalya's failure to catch Naomi after she leapt off the top rope was followed by one botch after another, completely taking away from the match's reality.
At least Botchamania will have fun recapping this event, right?
Highlight: Natalya's Double Sharpshooter on Naomi and Brie Bella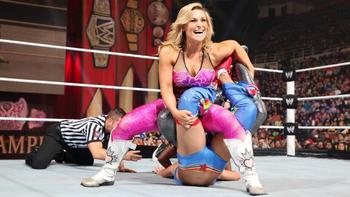 Photo courtesy of WWE.com
While the Divas Championship match was filled with messed-up moves and spots that didn't go as planned, a definite positive was Natalya's Sharpshooter.
With Naomi and Brie Bella tied up together, Natalya was able to perform a combination Sharpshooter and almost win the match.
Although she didn't come out on top, she flawlessly executed this move, which will perhaps be the main thing that people remember from the match once the dust has settled.
This is a major step up from a few weeks ago, when her Sharpshooter didn't even result in the referee calling the end of the match.
Low Point: Disqualification Finish to Alberto Del Rio vs. Rob Van Dam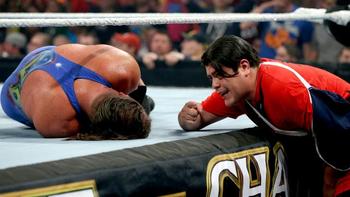 Photo courtesy of WWE.com
There is almost never a good enough reason for a world-title match at a pay-per-view to end with a disqualification.
This is the type of finish you would expect to see on an episode of Raw or SmackDown, not at Night of Champions.
Disqualification finishes are mediocre and best reserved for stalling and stretching feuds out until a pay-per-view, where things can end.
Considering how the match wasn't exactly tearing the house down, nor was the feud given the slightest bit of emphasis, enthusiasm or purpose, why would it be a good idea to incorporate such a mediocre ending just to drag it out?
Some programs are so good that they can withstand this type of booking, and people will still be interested to see more.
This is not one of those programs.
Highlight: Daniel Bryan Wins the WWE Championship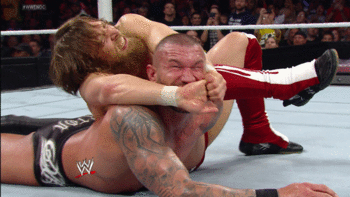 Photo courtesy of WWE.com
It seemed like a forgone conclusion that Daniel Bryan would put on a good show but ultimately end up shortchanged at Night of Champions.
After all, Randy Orton just won the title. Normally, the new champion retains at the next event.
We had no real reason to believe anything other than the norm, but lo and behold, Bryan is our new WWE champion.
For some perspective, I was talking to about a dozen people during the event, and every single one of us sat there waiting patiently for the decision to be reversed or something else to happen to put a twist to it.
After the event officially ended, everyone was pleasantly surprised and in a much better mood than they were before the WWE Championship match had started.
The majority of what came before this match ended up disappointing, but the main event of the night delivered and sent us home happy.
That in itself is a highlight to a rather lackluster pay-per-view.
What were some of your favorite and least favorite parts of the evening?
Tell us your thoughts in the comments below!
Anthony Mango is the owner-operator of the wrestling website Smark Out Moment as well as the host of its YouTube podcast show Smack Talk. You can follow him on Facebook and elsewhere for more.
Keep Reading