Biggest Surprises for South Carolina Gamecocks Through Week 3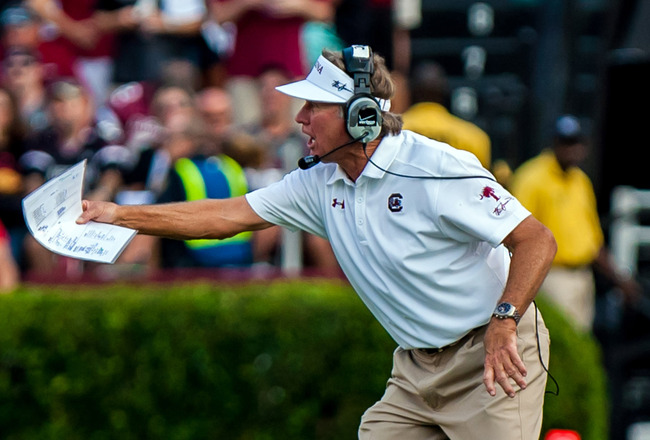 Jeff Blake-USA TODAY Sports
South Carolina did not plan for the start of the season to go like this, though the Gamecocks' season is still young. With an inexperienced team that is full of talent, there is still a lot of potential for South Carolina in 2013.
Three weeks into the year, South Carolina has faced adversity, a loss to rival Georgia and a few surprises.
Here are the biggest surprises for the South Carolina Gamecocks through Week 3.
Jadeveon Clowney's Slow Start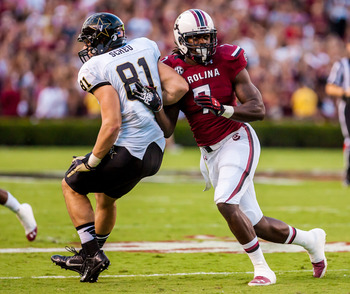 Jeff Blake-USA TODAY Sports
I don't care what people say, even with Jadeveon Clowney's slow start, he is still a beast on the football field.
The Heisman hopeful and South Carolina star has had a rocky start to the season. And with the slow start comes the naysayers and magnified criticism of college football's best player.
Clowney has just two sacks and 10 total tackles through the team's first three games, which does not meet his high standards. The statistics just aren't standing out right now. Many expected Clowney to break out and be explosive on every play by sacking quarterbacks left and right. It just isn't that easy to dominate at defensive end no matter how skilled you are.
Teams are running plays away from Clowney, which is creating some defensive disconnects and pressing the need to use the star defensive end in more creative ways.
Clowney will pick up his play, and the sacks will start to pile up. There is no reason to worry despite the news of offseason foot surgery.
No one saw Clowney starting the year in this way, but expect to see him silence his critics.
The Loss to Georgia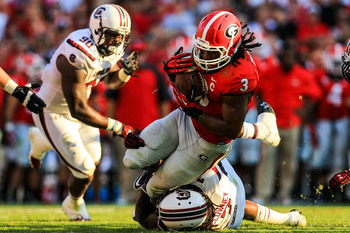 Daniel Shirey-USA TODAY Sports
Head coach Steve Spurrier had three straight wins over Georgia. He had Georgia head coach Mark Richt on his toes. So what happened?
The South Carolina defense struggled, and the Gamecocks fell to Richt's Bulldogs.
This rivalry game had monstrous implications for the season. Success hinged on this game.
Spurrier's string of wins against Georgia gave South Carolina the upper hand even though the game was in Athens. Everyone expected the Gamecocks to come out and win a fourth straight game between these two schools. While Georgia is a very good team, South Carolina is too, and the loss came as a surprise.
The season's high hopes rested on this game. The Gamecocks can bounce back, and they did by beating Vanderbilt, but the loss stings for the team and its fans.
The Quick Emergence of Mike Davis
Jeff Blake-USA TODAY Sports
Running back Mike Davis had to follow in fan-favorite Marcus Lattimore's shoes after winning the starting job.
Davis is explosive, compact and smart with his running. I expected him to be really good but thought it would take some time.
Davis has burst onto the scene as the team's most important offensive player and one of the studs of the SEC right now. Through three games, Davis has 341 yards rushing, including an astonishing 7.6 yards-per-carry average. He has broken free for two 75-yard touchdown runs and also scampered his way to 149 yards against Georgia.
Davis has been solid as a receiver in addition to his exceptional running. He is instantly looking like an elite running back and earning the respect of being a future star of college football as a top draft prospect at the position.
I am not surprised that Davis is having success, though I am surprised at how much success he is having.
Davis is a stud, and his emergence is a great surprise for South Carolina, especially when looking toward the future.
Keep Reading

South Carolina Football: Like this team?