WWE Power Rankings for 9/16/2013: Night of Champions Edition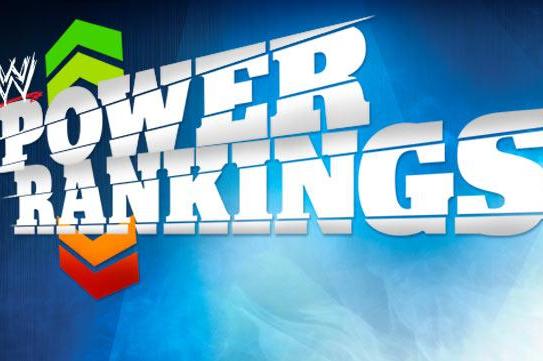 Photo Courtesy WWE
In case you haven't heard, we have a new WWE champion. Daniel Bryan beat Randy Orton, and in the process, shook up the top of the rankings.

But that wasn't the only change to the top 10. Since every title was defended at Night of Champions, some big matches took place. Who moved up and who dropped? Read on to find out.

But before you do that, here's a quick refresher about how these rankings work. Wins and losses account for most movement. Holding a title or a Money in the Bank Briefcase, or being a No. 1 contender can give a wrestler a boost, but does not necessarily guarantee a spot in the top 10. "Getting the better" of someone helps, but not as much as a win.

OK, on to the rankings...
Begin Slideshow

»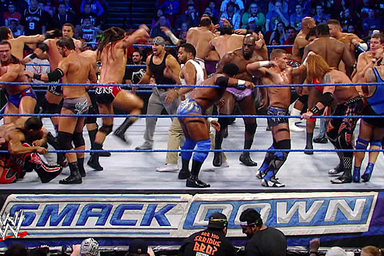 Photo Courtesy WWE
This week, there are four wrestlers on the Watch List. They are...
Damien Sandow
Just like last week, Sandow's saving grace is the Money in the Bank briefcase. He did pick up a rare win on Raw, but for an "uncrowned" champion, he sure loses a lot.
Wyatt Family
The Wyatts were moving on up the rankings until they did absolutely nothing of note this week. Sure they beat Dolph Ziggler, but who doesn't these days. It's not that they did anything wrong, but there are too many people better than them. They fall a ways, but a few good wins will put them right back into the top 10.
Prime Time Players
The Prime Time Players have been on a roll the last few weeks. With a win over 3MB on Main Event, their week was average...until Night of Champions. They won the Tag Team Turmoil match and earned a Tag Team Championship match against The Shield. Which they lost. But they're likely not done with The Shield.
Kofi Kingston
Kofi Kingston is the closest thing to a No. 1 contender the Intercontinental champion Curtis Axel has. But he lost to Axel at Night of Champions. We should still see him get another shot sooner rather than later.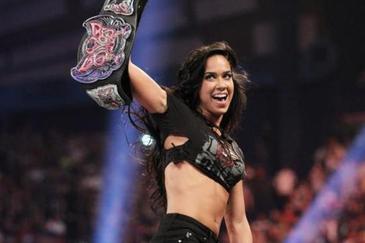 Photo Courtesy WWE
Previous Rank: Watch List
Movement: N/A
AJ Lee again backed up her tough talk with a win. This time, she defeated Natalya, Brie Bella and Naomi. She did so by forcing Natalya to tap to the Black Widow.
There really is not much of a Divas division to speak of, and she got the win over arguably the best pure wrestler in the division. AJ Lee continues to show she's the best Diva in WWE.
Is there any Diva in WWE that can defeat AJ at this point? So far, the answer has been no.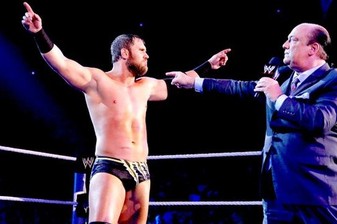 Photo Courtesy WWE
Previous Rank: 10
Movement: Up 1
Curtis Axel. ... What can be said about Curtis Axel. Never has someone looked so lost, yet win so frequently at the same time.
Axel lost via DQ to Kofi Kingston on Raw, but avenged that loss by retaining his Intercontinental Championship at Night of Champions.

Speaking of Night of Champions, Axel actually, technically, defeated CM Punk. As sickening as it is, Axel and Paul Heyman defeated CM Punk in an elimination handicap match. They got help from the newest "Paul Heyman Guy," Ryback, but they still got the win.
Axel did tap to CM Punk and was eliminated from that match, but just like any elimination tag match, the final result is all that matters.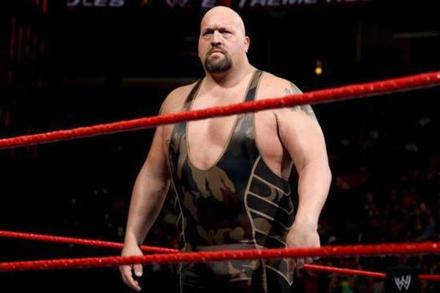 Photo Courtesy WWE
Previous Rank: 8
Movement: N/A
Big Show did not appear at Night of Champions. And he really didn't do much this past week. That said, Big Show has remained defiant.
He is showing signs of cracking, which could lead him to eventually side with Triple H. But whatever happens in the future, Show stays put this week.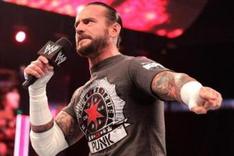 Photo Courtesy WWE
Previous Rank: 5
Movement: Down 2
CM Punk thought Night of Champions would be his opportunity to finally enact retribution upon Paul Heyman. Boy was he wrong.
Last Monday, CM Punk disrupted Heyman's scheme to get out of the elimination match. He ran off a supposedly-injured Heyman and beat down his doctor with a kendo stick.
On Sunday, most of the match appeared to go CM Punk's way. He handled Curtis Axel and eliminated him, forcing Paul Heyman to enter the match. It even seemed Punk would destroy Heyman, as he handcuffed his former "father figure."
Heyman took a beating, but Ryback appeared and put Punk through a table. Punk's future now seems to be filled with beatings inflicted by Ryback.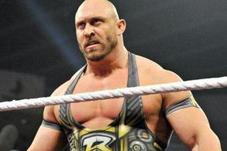 Photo Courtesy WWE
Previous Rank: 9
Movement: Up 3
Ryback is the newest "Paul Heyman guy," and for the first time in almost six months, it looks as though he has direction again. And Ryback, once a big star, needed this pairing.
On Raw, he got himself disqualified by pummeling Rob Van Dam to a five-count. A loss is a loss. But at Night of Champions, he made a huge statement by putting CM Punk through a table. Heyman has acquired a new beast.
CM Punk also got his next rival. And for his efforts on Sunday, Ryback climbs the rankings.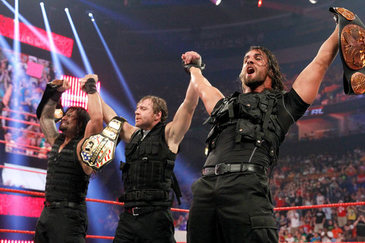 Photo Courtesy WWE
Previous Rank: 6
Movement: Up 1
The Shield has officially returned to their dominant ways. For the longest time, they simply did not lose. That ended months ago, and they appeared to be in a slow, steady decline.
No more. Since they aligned themselves with the new Triple H regime, they have been rejuvenated. And at Night of Champions, they all defended their titles—and retained.
Dean Ambrose handled Dolph Ziggler with relative ease, while Roman Reigns and Seth Rollins took care of the Prime Time Players. We'll likely see The Shield face the Prime Time Players again, but for now, The Shield makes a move up the rankings.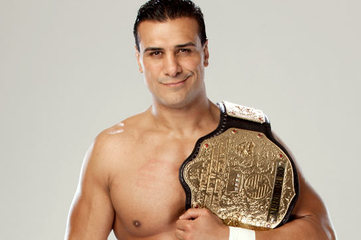 Photo Courtesy WWE
Previous Rank: 3
Movement: Down 1
Alberto Del Rio is still World Heavyweight champion, but he did not look good in retaining. He has not looked particularly good all week.
He defeated R-Truth on Raw, which is expected, and defeated Ricardo Rodriguez on SmackDown, which was also expected. He got beat down by RVD after that match, though, and neither win was impressive.
And at Night of Champions, he intentionally got himself disqualified to retain his title. While that was probably the smart decision for Del Rio to make, it was neither popular nor was it helpful to his ranking.
He drops one spot this week. But you can bet Del Rio doesn't care. He's still World Heavyweight champion, after all.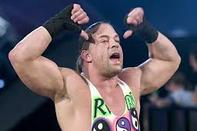 Photo Courtesy WWE
Previous Rank: 4
Movement: Up 1
Rob Van Dam had a pretty good week, but it didn't end exactly like he may have envisioned. He defeated Alberto Del Rio at Night of Champions, but did not win the title.
Earlier this week, he got beat down by Ryback in a match he won by disqualification. Not the easiest way to get a win, but a win nonetheless.
RVD is at the top of his game right now, and may be World Heavyweight champion soon. A DQ win over Del Rio likely ensures another match. Can he finally win the title?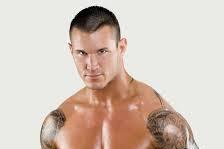 Photo Courtesy WWE
Previous Rank: 1
Movement: Down 1
Randy Orton was supposed to be the face of the WWE. He was supposed to be Triple H's chosen champion. Now, his future at the top may be in doubt.
Orton defeated Goldust on Raw, ensuring Cody Rhodes did not get his job back. But that's when the good times came to an end.
At Night of Champions, he was supposed to be proving he was the right choice. Instead, he lost to Daniel Bryan after a running knee.
Orton has a legitimate case that the referee counted too fast. Any fan would likely say the count was quick. How will that affect Daniel Bryan on Monday? Will Orton be awarded the title back after Triple H strips Bryan? Only time will tell.

Either way, he's due a rematch that will likely come at Battleground in just three weeks.
Photo Courtesy WWE
Previous Rank: 2
Movement: Up 1
Daniel Bryan can breathe easier today, because he finally regained the WWE Championship. A month ago, his dream of being WWE champion was shattered by Triple H and Randy Orton. At Night of Champions, he defeated Randy Orton in the middle of the ring.
But it's that finish that will likely fuel the next phase of his rivalry with Randy Orton. Everyone can see the count was fast. What does that mean for Daniel Bryan? Will he be stripped? Will that referee be fired? Was the fix in? If it was, who was behind it?
All those questions will likely be answered. But for now, Daniel Bryan can savor sweet victory.