Rams vs. Falcons: Full Roster Report Card Grades for Atlanta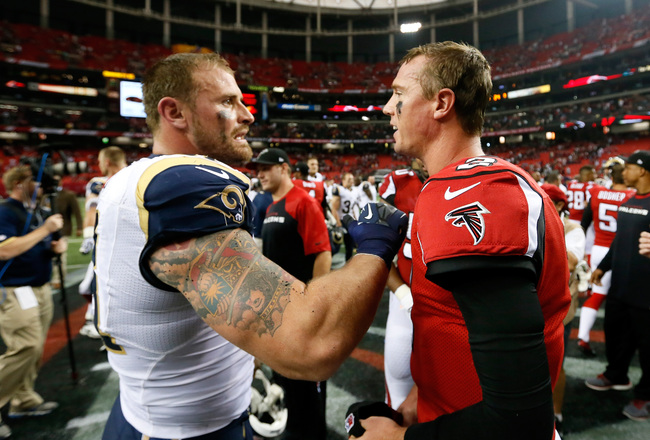 Kevin C. Cox/Getty Images
The Atlanta Falcons have evened their record at 1-1 with a 31-24 victory over the St. Louis Rams in Week 2 of this young 2013 NFL season. The much-needed win did not come without costs, as Atlanta's already crowded injury list appears to have added Steven Jackson, Kroy Biermann, Bradie Ewing and Sean Weatherspoon to its ranks. In addition, Asante Samuel left the game with an injury, and Roddy White was limited for the second week in a row.
Which players keyed Atlanta's win? How did Atlanta's offensive line hold up against the Rams defensive front? Who was the game's unsung hero? We answer all of those questions and more as we dive into our position-by-position game grades from the Atlanta Falcons' first win of the 2013 campaign.
All stats via ESPN.com
Quarterback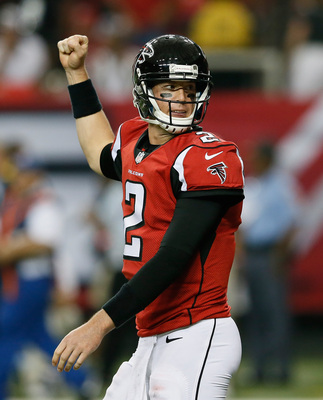 Kevin C. Cox/Getty Images
1. Matt Ryan
Grade: A
Matt Ryan distributed the ball to nine different receivers and put together his second straight 300-yard game. He did an outstanding job of executing Atlanta's offensive game plan that called for quicker throws to help the Falcons offensive line hold up in pass protection. Ryan and Julio Jones appear to have hit their stride together.
Running Backs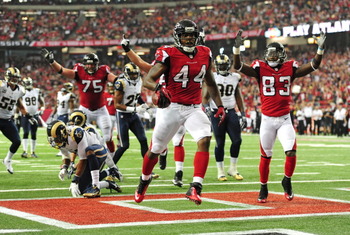 Scott Cunningham/Getty Images
1. Steven Jackson
Grade: Incomplete
Jackson didn't get much going on the ground before he left the game with a thigh injury, but he did start the scoring for Atlanta with his eight-yard touchdown reception in the first quarter. Jackson gets an incomplete grade because he did not return to the game after sustaining his injury during the Falcons' first drive.
2. Jacquizz Rodgers
Grade: C+
Rodgers didn't do a whole lot on the ground, but he avoids a lower grade here because of his contributions to the passing game both as a receiver and a blocker. He had four receptions for 28 yards, and he brought his lunch pail to work with him when he was called to help out in pass protection.
3. Jason Snelling
Grade: B-
Snelling continued to thrive in his role as the Falcons utility back when he iced the game with a fourth-quarter touchdown run and followed that with a late third-down reception that helped Atlanta run out the clock.
4. Bradie Ewing
Grade: Incomplete
Like Jackson, Ewing left the game early in the first quarter after he sustained a shoulder injury. He caught a 14-yard reception for a first down.
Wide Receivers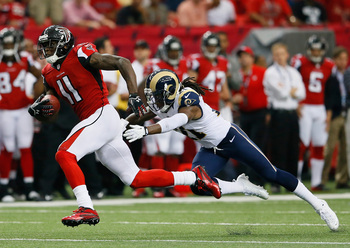 Kevin C. Cox/Getty Images
1. Julio Jones
Grade: A+
Julio Jones gave Falcons fans a glimpse of what life may be like for Atlanta's offense post-Roddy White, Tony Gonzalez and Steven Jackson. Jones' entire skill set was on display Sunday as he caught everything from screen passes to long balls en route to hauling in 11 receptions for 182 yards and a score.
2. Harry Douglas
Grade: B
Douglas played Robin to Julio Jones' Batman for the second week in a row. He extended a couple of drives with first-down catches and continued to show why he could be an X-factor for this offensive unit when Roddy White is completely healthy.
3. Roddy White
Grade: Incomplete
Roddy White had three receptions, but he appeared as though he may have been on a play count since he's still recovering from his ankle injury. The fact that White is still hampered by the ankle injury makes it difficult to evaluate his performance.
Tight End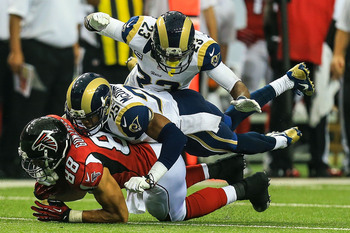 Daniel Shirey-USA TODAY Sports
1. Tony Gonzalez
Grade: B
Gonzalez had a couple of timely receptions, but it was Julio Jones' day. The future Hall of Famer had an offensive pass interference penalty go against him in the third quarter.
2. Levine Toilolo
Grade: N/A
He made his first career reception, but he was primarily used as a blocker. Toilolo's playing time was too limited to merit a fair grade here.
Offensive Line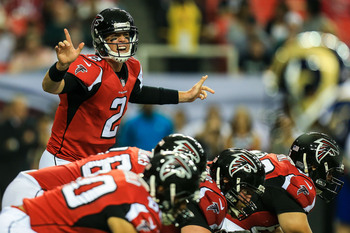 Daniel Shirey-USA TODAY Sports
1. Sam Baker
Grade: C-
Baker struggled with Rams defensive end Robert Quinn at times, allowing one sack. Quinn's damage may have been worse if Atlanta hadn't focused on getting the ball out of Matt Ryan's hands quickly as part of its offensive game plan. Baker is starting to look more and more like he did in 2011.
2. Justin Blalock
Grade: C+
Not a bad performance, but Blalock appeared to be a little lost on the play that led to Matt Ryan's second sack of the game. He has to do more in the run game too.
3. Peter Konz
Grade: B
Solid outing for the second-year man from Wisconsin. He didn't give up a lot of pressure up the middle in pass protection.
4. Garrett Reynolds
Grade: B-
Reynolds showed some improvement and he had a key block on Jason Snelling's last touchdown run.
5. Lamar Holmes
Grade: C+
Holmes didn't officially allow any sacks, but Chris Long did get some hits on Matt Ryan. Like Reynolds, he came off the ball and got a nice block on Jason Snelling's touchdown run.
Defensive Line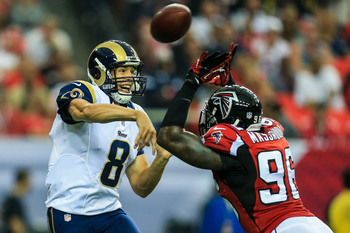 Daniel Shirey-USA TODAY Sports
1. Jonathan Babineaux
Grade: B-
Babineaux had a relatively quiet afternoon, but that was partly due to St. Louis getting into pass mode after falling behind 21-0.
2. Corey Peters
Grade: B-
Peters kept the Rams interior line busy and finished with two tackles and a quarterback pressure.
3. Peria Jerry
Grade: B-
Jerry is quietly off to a good start. He didn't have any sacks against the Rams, but he had a QB hit and displayed some ability as an interior rusher.
4. Osi Umenyiora
Grade: A-
Umenyiora showed off his athleticism by netting his interception on a play where he dropped back into coverage and then racing down the sideline for a 68-yard score. Beyond that, Umenyiora got his hands up to bat down a pass and had a QB hit on Bradford.
5. Kroy Biermann
Grade: Incomplete
Kroy Biermann played at linebacker and defensive end before leaving the game with an ankle injury. He got some pressure on Sam Bradford and forced a throw away after beating Rams right tackle Rodger Saffold (who also left the game with an injury).
6. Jonathan Massaquoi
Grade: B+
Massaquoi got some value time once Biermann left the game, and he didn't disappoint. He batted away a pass and had a tackle for a loss.
7. Cliff Matthews
Grade: Incomplete
Matthews joined Atlanta's injury caravan when a lingering neck injury appeared to come back after a special teams play.
8. Malliciah Goodman
Grade: C
Goodman got some playing time, but didn't do much to stand out.
Linebackers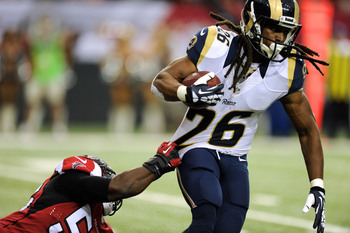 Dale Zanine-USA TODAY Sports
1. Sean Weatherspoon
Grade: Incomplete
Weatherspoon made a few nice stops and did a respectable job in pass coverage before leaving the game with a foot injury. He missed a tackle that nearly led to a Rams first down on St. Louis' opening drive.
2. Akeem Dent
Grade: B-
Akeem Dent had four tackles and drew a holding penalty in pass coverage. He was the defense's version of Harry Douglas. He didn't play a bad game, another player in his unit (Joplo Bartu) just shined more than he did.
3. Joplo Bartu
Grade: A
At times, undrafted free-agent Joplo Bartu looked like he was as good of a playmaker on defense as Rams first-round pick Alec Ogletree. He had two tackles for losses, displayed some athletic ability in pass coverage and also got a hit on Sam Bradford. Bartu played well enough to limit Stephen Nicholas' participation in the game.
4. Stephen Nicholas
Grade: Incomplete
Nicholas played a few downs, but like so many Falcons, he's been hampered by a nagging injury. Joplo Bartu stood out in his absence.
Secondary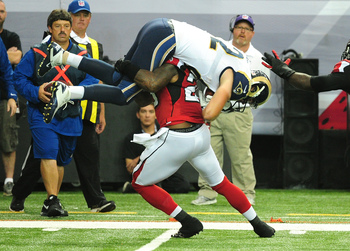 Scott Cunningham/Getty Images
1. William Moore
Grade: A
Moore continued his strong start to the 2013 campaign with a seven-tackle performance that was highlighted by the tackle he made on Rams tight end Mike McNeill pictured above. Moore also had a nice stop on a Sam Bradford scramble later in the game.
2. Thomas DeCoud
Grade: B-
DeCoud helped keep the Rams from getting too many big plays deep downfield in the air, but he missed a tackle that led to a Rams first down and took a bad angle on Sam Bradford's longest scramble of the game.
3. Robert McClain
Grade: B-
McClain led the team in tackles and broke up a couple of passes in coverage. On the negative side, McClain went behind a slant route that was designed to pick him off his receiver, which allowed Austin Pettis to score the touchdown that brought St. Louis within a touchdown at 24-17.
4. Robert Alford
Grade: B-
Alford held his own in pass coverage and didn't let Rams receivers gain much YAC when they caught the ball near him.
5. Desmond Trufant
Grade: B
Trufant's grade would be a lot higher if he had been able to catch the pick-six in the second quarter during the Rams field-goal drive that could have taken Atlanta's lead from 21-0 to 28-0. He had a tough pass interference call go against him in the fourth quarter.
6. Asante Samuel
Grade: Incomplete
Samuel left the game with an injury in the first quarter, but he did manage to make a stop on Rams running back Darryl Richardson that forced St. Louis to go three-and-out on its first drive.
Special Teams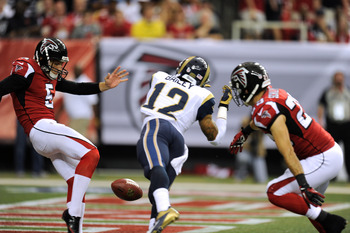 Dale Zanine-USA TODAY Sports
1. Matt Bosher
Grade: A
Matt Bosher helped Atlanta win the field-position game, and he avoided disaster by catching a high snap and getting the ball off of his foot when the Rams were looking to sneak their way back into the game. He's your unsung hero (Joplo Bartu surpassed "unsung status" with his performance).
2. Matt Bryant
Grade: A
Bryant nailed his only field-goal attempt. That's what he's paid to do.
3. Harry Douglas
Grade: N/A
Harry Douglas only had two punt returns, and there wasn't a whole lot he could've done with either one of them.
4. Jacquizz Rodgers
Grade: N/A
Rodgers was able to return one kick for 17 yards. He looks like he's earned the right to bring the ball out of the end zone if his instincts tell him to do so.
Coaching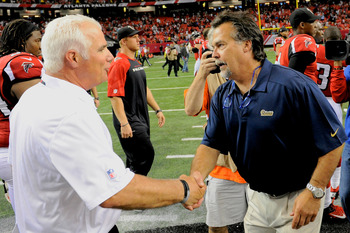 Dale Zanine-USA TODAY Sports
1. Mike Smith
Grade: B+
This was a solid bounce-back effort by Smith's crew. This was a game the Falcons were supposed to win, but they were vulnerable to an upset after last week's agonizing loss to the Saints and because of the number of injuries they're dealing with.
The Rams' second-half comeback was a little alarming, but Smith rallied the troops to the point that they responded with an impressive drive to stretch the lead back to 31-17 with just over six minutes to play.
2. Dirk Koetter
Grade: A-
Koetter had an excellent game plan in place to address Atlanta's pass-protection issues up front. He called shorter passes that allowed Matt Ryan to get the ball out of his hands quickly. Koetter also did a nice job moving Julio Jones around (he caught his long touchdown pass out of the slot).
Koetter's best play call was probably the short pass he dialed up for Jason Snelling on 3rd-and-1 late in the fourth quarter when St. Louis was trying to get the ball back.
3. Mike Nolan
Grade: B-
Nolan's defense gave up some yards through the air, but for the most part, the unit controlled Jared Cook and made the Rams execute extended drives to score their points.
Keep Reading

Atlanta Falcons: Like this team?