11 College Football Teams Recruiting Their Way to a Championship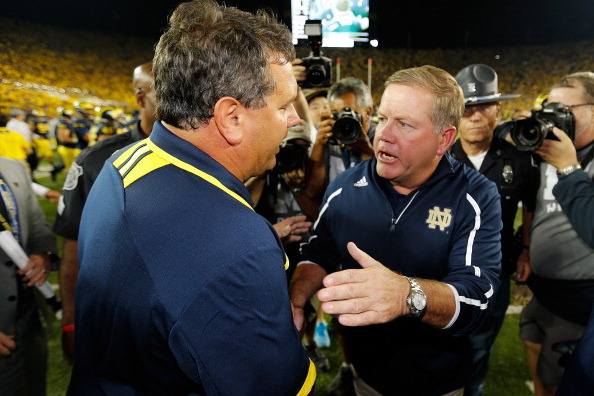 Gregory Shamus/Getty Images

Coaches recruit with intensity because it is how they build their teams for the future. A bad recruiting class can set a team up for a poor season three or four years down the line.
However, a great recruiting class, followed by another impressive haul, can set a team up to compete for a championship, which is the ultimate goal. While examining many 2014 recruiting classes, it appears several teams are recruiting their way to a championship.
A dominant program in the SEC has another class that will help them stay on top. A team in the Big 12 has a class that could get them over the hump, plus a Pac-12 program has a class of prospects that will help it compete for another conference championship and Rose Bowl.
Player evaluations are based on review of tape at Scout.com, Rivals, 247Sports and ESPNU.
Begin Slideshow

»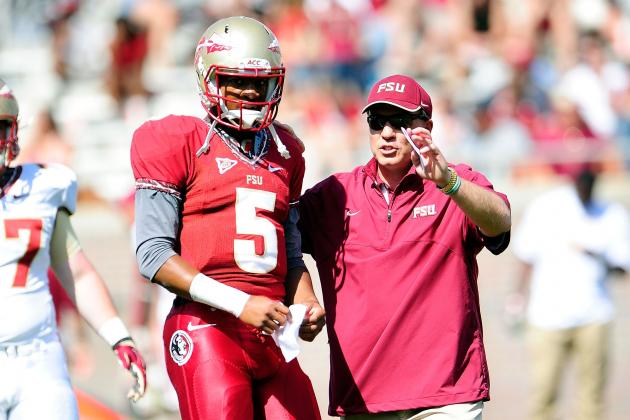 Stacy Revere/Getty Images

The Seminoles always compete for ACC titles, but their recruiting class could help get them to a national title game. Head coach Jimbo Fisher has 23 commitments, and Florida State has 10 4-star prospects.
Linebackers Kain Daub, Jacob Pugh and Delvin Purifoy are 4-star prospects who will lead the defense one day. Receiver Markell Pack is a 4-star recruit who is the top offensive player.
When FSU is contending for another ACC title along with national title aspirations yet again in a few seasons, this class will be instrumental in its success.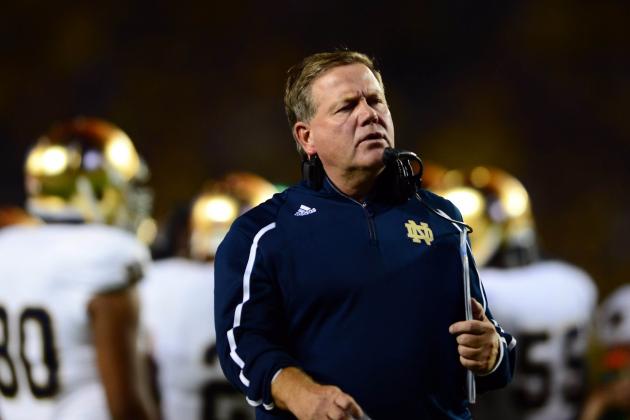 Andrew Weber-USA TODAY Sports

Head coach Brian Kelly almost won a national title in 2012, but Alabama taught him a lesson on how important it is to have size, strength and power on both sides of the line of scrimmage.
So it is not surprising that Kelly's 16-man class has 12 players who could potentially play positions close to the line of scrimmage. Notre Dame's trench-heavy class has many prospects with good size and bulk.
The Irish will compete for another title in the coming seasons, and this recruiting class could help them win a championship.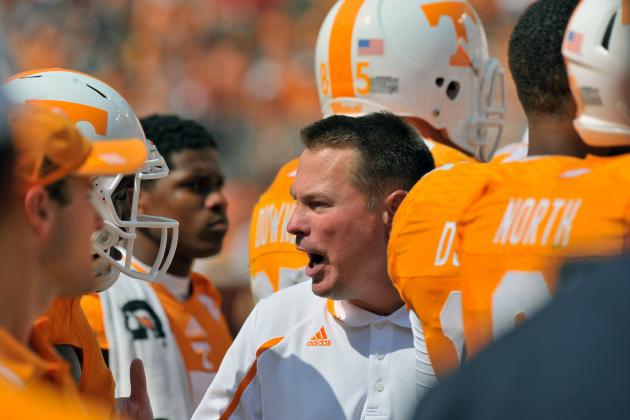 Jim Brown-USA TODAY Sports

Tennessee's 2013 team looks a squad that is a year away from seriously competing in the SEC East.
Head coach Butch Jones has the program pointed in the right direction and just needs a couple good recruiting classes to put the Vols in position to re-establish themselves as threats.
Tennessee has a top-10 caliber recruiting class led by 5-star running back/athlete Jalen Hurd. However, 4-star prospects such as a safety Todd Kelly, defensive end DaVonte Lambert and linebacker Dillon Bates are also future leaders of the team.
Tennessee will be in the hunt for an SEC East title in a few seasons, and it will be led by many players from this class.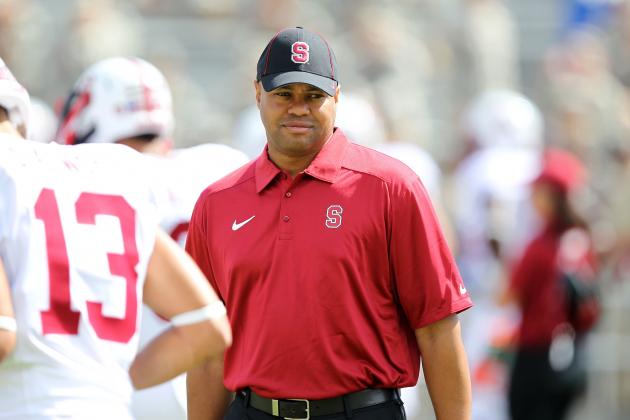 Danny Wild-USA TODAY Sports

Stanford has 16 commitments, with four being rated at 4-stars or higher. Quarterback Keller Chryst, a 5-star prospect, is the leader of the class and a future starter for head coach David Shaw.
Chryst is joined by 4-star recruits like running back Christian McCaffrey and safety Brandon Simmons. Shaw may not have a class that receives much national attention, but Stanford is set up to compete for Pac-12 titles in each of the coming seasons thanks to solid recruiting.
In three of four years, when Shaw's team is in contention for another Pac-12 championship, the squad likely will feature several members of its 2014 class in key roles.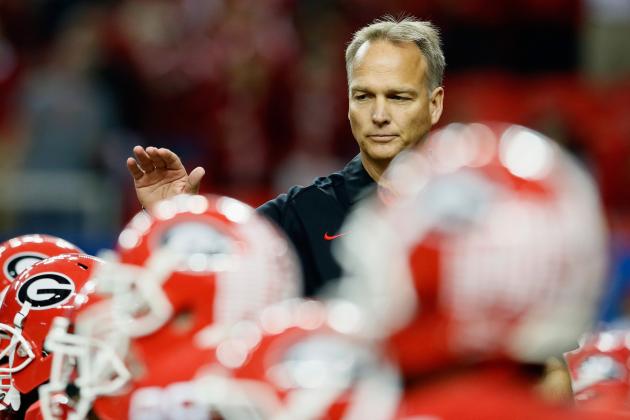 Kevin C. Cox/Getty Images

Like Stanford, Georgia also has 16 commitments. However, 10 are 4-star recruits, plus 5-star running back Sony Michel is pledged to the Bulldogs.
UGA is one of the top programs in the SEC and annually is in the hunt for SEC East championships.
Its 2014 class will do nothing to buck the trend, as it features 4-star prospects such as running back Nick Chubb, defensive tackle Lamont Gaillard and quarterback Jacob Park.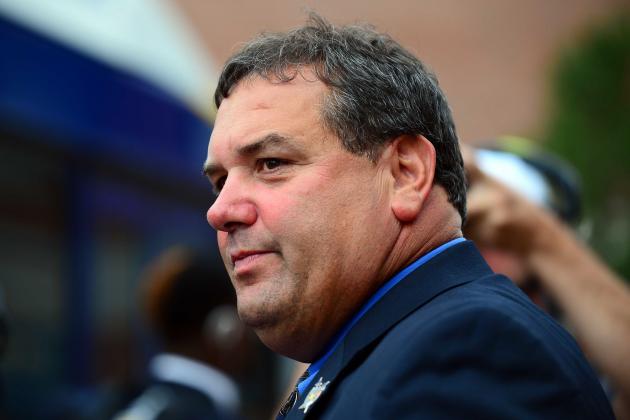 Andrew Weber-USA TODAY Sports

Another class with 16 commitments, Michigan separates itself from other groups by boasting a pledge from 5-star athlete Jabrill Peppers.
However, the class doesn't end there, as 4-star recruits like receiver Drake Harris, defensive tackle Bryan Mone and tight end Ian Bunting will all make their presence felt in time at Ann Arbor.
Head coach Brady Hoke has done a wonderful job recruiting since arriving at Michigan, as the roster has a ton of young talent. His 2014 class will add to that, which will give the Wolverines several seasons to win a Big Ten title.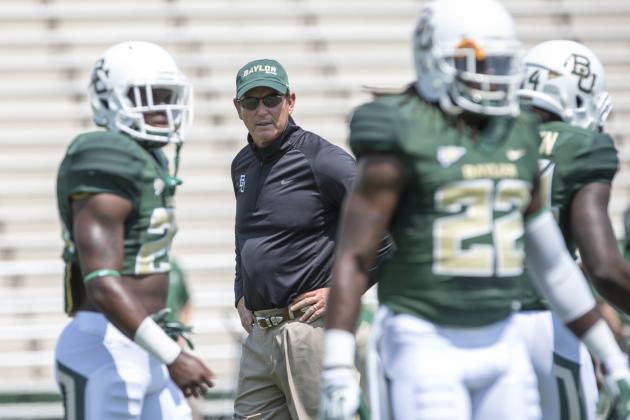 Jerome Miron-USA TODAY Sports

The Bears have a potent offense, plus have grown closer and closer to Big 12 foes Texas and Oklahoma. Head coach Art Briles is getting more and more confident on the recruiting trail, which has led to him constructing an impressive 23-man class.
Baylor has commitments from prospects such as 5-star receiver KD Cannon, 4-star safety/receiver Davion Hall and 4-star athlete Terence Williams.
The gap is closing in the Big 12, and Baylor is a team on the rise. The Bears will eventually ascend to the top of the conference in a few years, and their 2014 class will be the main reason.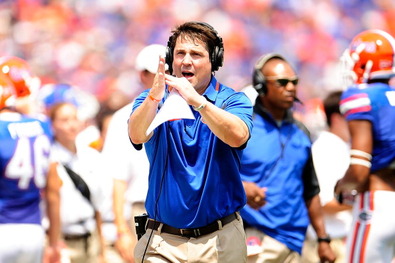 Stacy Revere/Getty Images

The Gators always recruit at a high clip, as their roster is among the most talented in the country. Head coach Will Muschamp has become an elite recruiter in Gainesville, plus has a staff of assistants who are stars on the trail.
Florida is a juggernaut program that annually competes for SEC and national titles thanks to having elite players. Muschamp's 2014 class is more of the same, as he has three 5-star commitments in a class of 14 prospects.
Receiver Ermon Lane, running back Dalvin Cook and quarterback Will Grier lead the class. Each player will start for the Gators within a few seasons as they will help Florida rule the SEC East.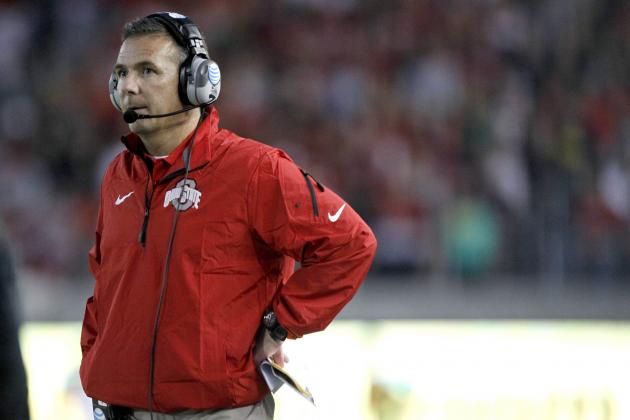 Cary Edmondson-USA TODAY Sports

The Buckeyes are led by head coach Urban Meyer, who recruited his way to a pair of national titles at Florida. Meyer knows what he is doing, and so does the rest of the country.
He recently stocked a wealth of young talent in Columbus and is doing it again with his 2014 recruiting class. Ohio State has 18 commitments, including pledges from 4-star recruits such as linebacker Dante Booker, athlete Curtis Samuel, offensive tackle Jamarco Jones and running back/receiver Parris Campbell.
The Buckeyes not only are building a team to compete for Big Ten titles, but for national titles against SEC programs.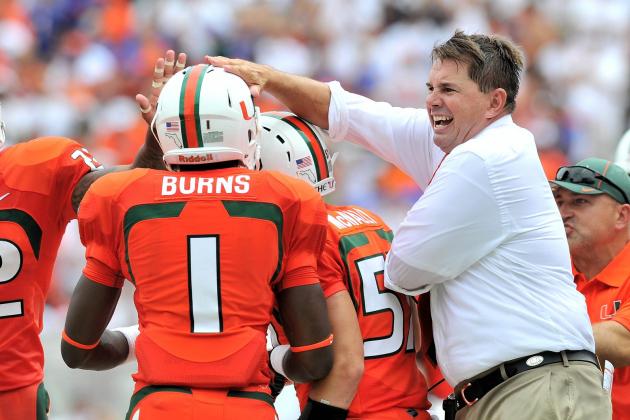 Steve Mitchell-USA TODAY Sports

The Hurricanes are on their way back to climbing to the top of the ACC mountain. Miami has recruited well under head coach Al Golden, and his 2014 assembly may be his best.
Joseph Yearby, a 4-star running back, 5-star offensive tackle Kc McDermott and 4-star defensive end Chad Thomas lead a class that also has players such as 4-star quarterback Brad Kaaya and 4-star defensive tackle Travonte Valentine.
Combine this great class with the previous groups Golden has brought to Coral Gables, and you see a program that is going to compete for championships soon.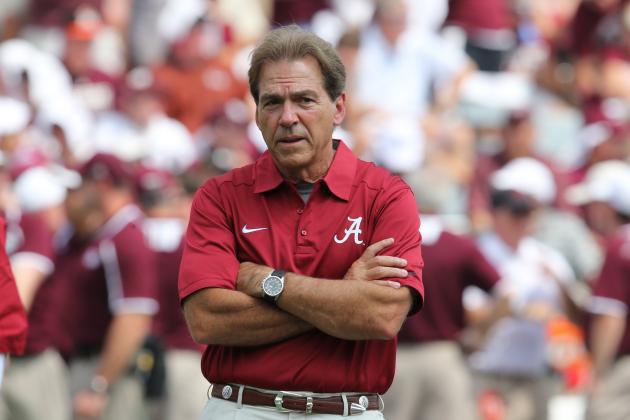 Matthew Emmons-USA TODAY Sports

The Crimson Tide basically sign talented players, develop them in their schemes and win championships with them.
Once the players leave for the NFL or graduate, they just replace them with other talented recruits that have been brought up in the program and repeat the process.
That is exactly what is expected to happen with the 20 commitments Alabama has for 2014. Cameron Robinson, a 5-star left tackle, headlines a class that also features elite 4-star recruits such as quarterback David Cornwell, cornerback Kalvaraz Bessent, athlete Bo Scarbrough and linebacker/defensive end Christian Miller.
This class has more than enough talent to help the Tide contend for another SEC and national championship.
The 2014 Bleacher Report College Football Recruiting Heat Map is now mobile-ready!
This interactive tool can be used by recruiting fans to locate the top talent in the 2014 recruiting class all across the country!
Edwin Weathersby is the College Football Recruiting Analyst for Bleacher Report. He has worked in scouting/player personnel departments for three professional football teams, including the New York Giants and Cleveland Browns.