Broncos vs. Giants: Takeaways from New York's 41-23 Loss to Denver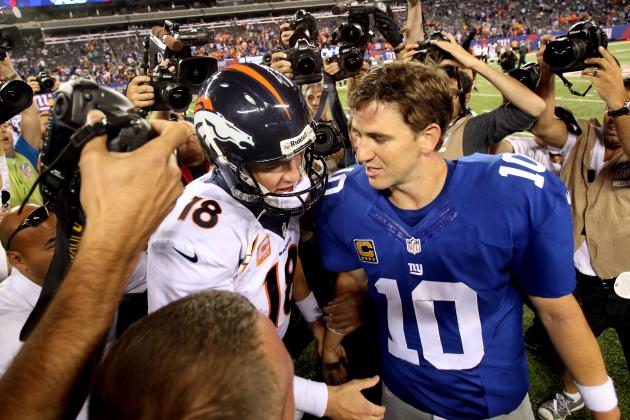 Brad Penner-USA TODAY Sports

The ship that is the New York Giants sunk even further in Week 2 as the Denver Broncos came to MetLife Stadium and served up a 41-23 shellacking. The Giants now stand at 0-2 on the season.
In the battle of the Mannings, Peyton had Eli's number yet again. It was his third career victory over his younger brother and his first as a Denver Bronco. While Peyton was nearly perfect, Eli threw four picks.
Did we learn anything from this Bronco-style beatdown?
Read on to find out.
Begin Slideshow

»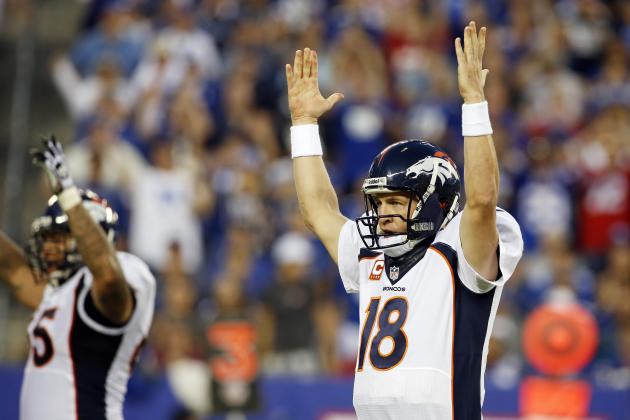 The Star-Ledger-USA TODAY Sports

There are many rarities in the professional sports world, but the fact that a pair of brothers happen to be the face of two separate NFL franchises may be the rarest of them all.
Eli has been compared to his older brother Peyton since the day he entered the league. In many ways, that has hindered his image. He is not the surgeon Peyton is. He is not the co-holder of the single-game touchdown pass record. He is not a four-time league MVP.
Eli is not perfect.
On Sunday, Peyton was. He completed 70 percent of his passes, eclipsing 300 yards while adding two touchdown strikes. Most importantly, he did not throw an interception for the second week in a row. He stayed upright, too, as the Giants failed to register a single sack of Peyton.
At 37 years of age, Peyton may never face his little brother again. If Sunday's game was, in fact, the final meeting, Eli's head-to-head record with his brother will forever begin with a dreaded "oh."
0-3.
So what if Eli has claimed an extra league championship? We're talking about a sibling rivalry bigger than Peyton's forehead. Comparing legacies? Come on, we're talking about two grown men who have not yet outgrown the competitive pickup basketball days of their childhood.
Although they will never admit it, when it comes to comparisons, Eli and Peyton will only care about who won the games in which they met on the same field.
Peyton has swept that series—a perfect 3-0.
Robert Deutsch-USA TODAY Sports

At the half, New York was still very much in the game.
Down 10-9 at the break, the Giants' defense had been steadfast in the face of a dangerous Broncos offense, spearheaded by Peyton Manning's deadly passing attack. Offensively, the first-half performance was not picture-perfect, but New York was still able to put together three scoring drives.
The game was competitive...until the second half began.
The Giants' first possession of the third quarter resulted in a 3-and-out; Denver's resulted in seven points. Although the Giants responded with a touchdown of their own on the ensuing possession, four Bronco penalties helped keep the drive alive. The momentum was clearly beginning to shift in Denver's favor.
The floodgates burst open shortly after Brandon Jacobs' one-yard touchdown run, which pulled the Giants to within one in the third quarter. Broncos running back Knowshon Moreno busted out a 25-yard touchdown on the final drive of the third frame, setting the stage for a final 15 minutes that would belong almost entirely to Denver.
Eli was intercepted on the first play of the fourth quarter. Peyton only had to drive 36 yards to take a two-possession lead, which he did on an 11-yard connection to tight end Julius Thomas. The game was essentially sealed less than two minutes later, when Trindon Holliday returned a Steve Weatherford punt 81 yards for a touchdown.
At one point, it looked like the game would come down to the wire. Then, suddenly, it was a blowout. In the span of about five football minutes, the Giants surrendered 21 points and lost the game.
Never mind the late-game squirt-pass to Da'Rel Scott, which ended up being Eli's only touchdown pass of the afternoon. Manning's three fourth-quarter interceptions were far more prominent, as the hope behind his many desperation heaves painfully waned as Denver's lead grew and time on the clock shrank.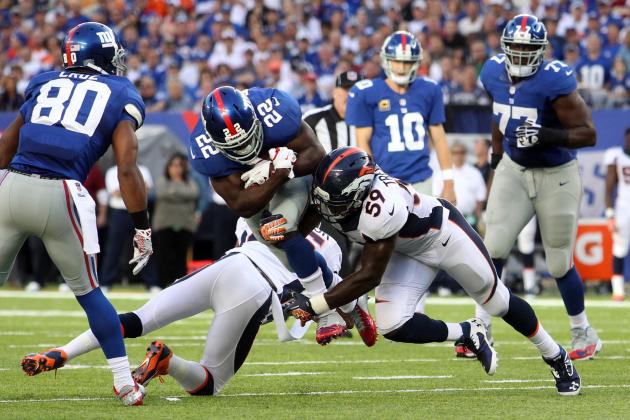 Brad Penner-USA TODAY Sports

For the second straight week, the Giants had an absolutely disastrous performance running the ball.
David Wilson, who was supposed to bounce back from a two-fumble outing in Week 1, only notched seven carries despite starting the game. He generated just 17 yards off of those seven carries, which averages out to be a measly 2.4 yards per carry. As pathetic as it is, Wilson was New York's most effective rusher.
Behind him, Brandon Jacobs carried the ball seven times for a total of four yards, but he did add a goal-line touchdown in his first game back. In garbage time, Da'Rel Scott totaled just two yards on five touches. Between Wilson, Jacobs and Scott, the Giants gained a mere 23 yards on the ground.
Compare that number to the 353 yards New York had through the air and you have a severely lopsided offense.
The Giants now have just 73 yards rushing through two weeks of play. That total accounts for just 8.5 percent of their overall offensive yardage output. That is simply not enough production from the New York ball-carriers.
Some may argue that a powerful running game is not as vital when you have a quarterback armed with a plethora of viable receiving targets. After all, the 2011 Giants won the Super Bowl despite possessing the league's worst rushing attack.
But that team only won nine games, and this year's team is not on pace to win any. The key to offensive consistency is a balanced approach. If Manning has to throw the ball more than 40 times a game, his yardage will mount but so will the mistakes.
The room to run is sparse; somehow, the Giants' ground game must reverse its field.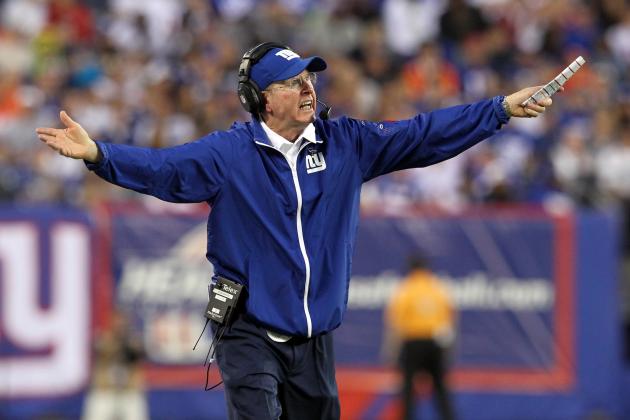 Brad Penner-USA TODAY Sports

The Giants were terribly inefficient in several aspects of the game.
They actually gained five more first downs than the Broncos (28-23), but only because New York was awarded 10 fresh sets of downs via Denver penalties. Considering the fact that the Broncos were penalized 116 more yards than the Giants were, it's surprising that the disparity was not even larger.
That's because the Giants were awful on third down, converting just one of 11 attempts. That's a nine percent third-down conversion rate. Oh, and throw in a failed attempt on fourth down, which just happened to be an interception. The Giants could not move the ball when it mattered most.
That includes the red zone, too, where the Giants punched the ball in just once on three trips. The sole red-zone touchdown New York scored, a one-yard plunge by Brandon Jacobs, was only made possible by several drive-saving penalties committed by the Broncos.
New York was inefficient moving the ball on the ground, averaging just 1.2 yards per rush. The Giants were also inefficient in their ball-handling, committing four turnovers on the afternoon. The pass rush was inefficient, as the defense failed to bring down Peyton Manning even once.
In fact, Big Blue was inefficient in just about every aspect imaginable.
Through two weeks, this team simply has not looked game-ready. The Week 1 sloppiness, which was originally brushed off as an anomaly, carried over into Week 2. If it continues any further, it officially becomes a trend.
Head coach Tom Coughlin will play housemaid this week—he has a lot to clean up.