Ranking the Indians' Top 10 Prospects After the 2013 Minor League Season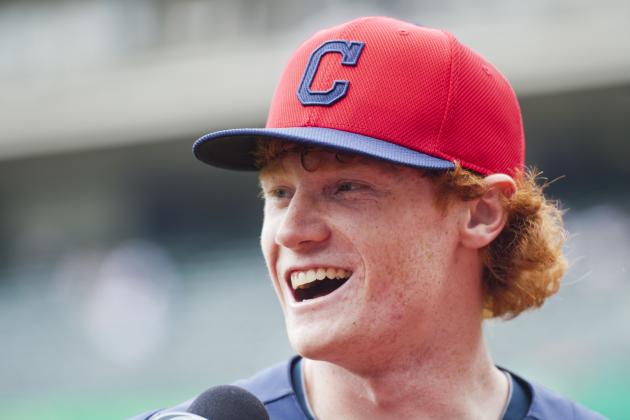 Jason Miller/Getty Images

The seasons of the Cleveland Indians minor league affiliates have all ended, and the time has come to re-rank the team's top prospects.
The farm system is full of interesting players, and while very few qualify as can't miss guys, there are some who, if things go their way, could become impact players at the big league level. Others are relative newcomers to the professional game and will require some seasoning before they are ready to make their marks in Cleveland.
No matter which way you classify these prospects, it's clear that there is some solid upside in the Indians' top 10 prospects. Among guys like Francisco Lindor, Clint Frazier, Trevor Bauer and others, the potential is there for a nucleus of young, talented players who occupy key positions on the diamond.
So, without further adieu, let's count down the team's top 10 prospects, beginning with No. 10: right-handed starting pitcher Mitch Brown.
Players with no rookie eligibility are not considered prospects. Therefore, due to the ever-increasing likelihood of Danny Salazar exhausting his rookie eligibility for the 2014 season, he was left off this list. Should he retain his eligibility, he would slot into the No. 3 spot, pushing every prospect back one space.
All stats come courtesy of Baseball-Reference.com and are current through play Sept. 18, 2013 unless otherwise noted.
Begin Slideshow

»
2013 Stats:
17 G, 15 GS, 6.78 ERA, 1.74 WHIP, 8.8 K/9, 5.3 BB/9, 1.65 K/BB, 10.4 H/9
Overview:
Mitch Brown, a 6'1", 195-pound starting pitcher, clocks in at No. 10 on this list. Drafted in the second round of the 2012 MLB draft, Brown carries a low-mid 90s fastball and a solid curve. His repertoire also includes a cutter/slider and a changeup, but neither of those pitches are on par with his first two offerings.
Brown struggled throughout the 2013 season. In his first stop with Low-A Lake County, the young right-hander allowed an 11.49 ERA with a 2.04 WHIP and ratios including 10.3 K/9, 6.3 BB/9, 1.64 K/BB, 12.1 H/9 and 2.3 HR/9.
After an injury that cost him essentially the entire month of May, Brown returned to the field, this time with the Tribe's rookie affiliate in the Arizona League. In 12 appearances—10 starts—with the team, Brown worked to a 5.37 ERA and a 1.65 WHIP while averaging 8.3 K/9, 5.0 BB/9, 1.66 K/BB, 9.9 H/9 and 0.3 HR/9.
Although his time in the Arizona League was nothing spectacular, it was a stark improvement over his time spent with the team's Low-A affiliate in Lake County.
Moving forward, Brown will need to work on his command in an effort to limit walks and get deeper into games.
ETA: 2017
2013 Stats:
116 G, .265/.291/.376, 5 HR, 6 3B, 25 2B, 52 RBI, 62 R, 12 SB, 76:16 K/BB
Overview:
Ronny Rodriguez owns the unfortunate distinction of being the fourth-best middle infielder in the Indians farm system. Even more unfortunate is the fact that he's the third-best shortstop of the group.
Rodriguez is a solid fielder with a build that could provide some additional power as he continues to fill out. Working against him, though, is his inability to draw a walk—evidenced by 48 walks over 1,375 career plate appearances.
This year, Rodriguez played 116 games with Double-A Akron—his second straight season of 100-plus games played. In those 116 games, the 21-year-old infielder managed a .265/.291/.376 slash line with five home runs, 25 doubles, 52 RBI, 62 runs scored and 12 stolen bases.
It's highly unlikely that Rodriguez plays a game for the Indians, given their huge pileup at middle infield, but he could make for a solid trade chip in the near future.
ETA: 2015
2013 Stats:
123 G, .272/.325/.349, 3 HR, 7 3B, 16 2B, 38 RBI, 83 R, 38 SB, 43:41 K/BB
Overview:
Jose Ramirez is the second straight middle infielder on the list. However, unlike Rodriguez, Ramirez has seen action at the big league level. The 20-year-old second baseman was called up when the rosters expanded at the beginning of September, and he's made good use of his opportunity.
In 11 games with the Indians, Ramirez has logged 11 at-bats with a .364/.462/.545 triple slash to go along with a triple, five runs scored and a 1:2 K/BB ratio. At the minor league level, the young infielder played in his first season of 100-plus games, all with Double-A Akron.
The fact that Ramirez played a full season of Double-A baseball at just 20 years of age is remarkable. His maturity both at the plate and in the field led to some impressive numbers over the 2013 season.
In Akron, Ramirez worked to a 272/.325/.349 slash line with 25 extra-base hits, three home runs, 38 RBI, 78 runs scored and 38 stolen bases.
He will likely be reassigned to Double-A Akron or Triple-A Columbus, where he will work on refining his plate vision. Ramirez is a free-swinger whose batting average will likely determine his worth at the major league level.
ETA: here now, full time in 2014.
2013 Stats:
9 GS, 0-2 W-L, 24.2 IP, 2.92 ERA, 1.42 WHIP, 9.5 K/9, 5.8 BB/9, 1.63 K/BB, 6.9 H/9
Overview:
The Indians took Dace Kime with their third-round selection—79th overall—in the 2013 MLB draft.
Kime was a three-year reliever at the University of Louisville, who transitioned into a starting role late in 2012, per ClevelandIndians.com. Standing at 6'4" and weighing in at 200 pounds, Kime has a perfect build for pitching. That, along with a solid four-pitch mix, should be enough for him to stick in a starting rotation.
The Indians allowed Kime to resume his work as a starter, and it looks to have paid some early dividends. In nine starts with the club's Low-A affiliate in the NY-Penn League, the 21-year-old worked to an 0-2 record with a 2.92 ERA and a 1.42 WHIP while averaging 9.5 K/9, 5.8 BB/9, 1.63 KK/BB and 6.9 H/9.
The thing to watch moving forward will be how Kime's command and secondary pitches develop. For now, though, in a worst-case scenario, he projects to be a mid-late innings reliever at the big league level.
ETA: 2016
2013 Stats:
26 GS, 9-4 W-L, 136.0 IP, 2.65 ERA, 1.18 WHIP, 8.1 K/9, 2.6 BB/9, 3.05 K/BB, 8.0 H/9
Overview:
We follow up Kime with another big right-handed pitching prospect: Cody Anderson. Anderson was the team's 14th round selection back in 2011—No. 428 overall.
Anderson's 6'4", 220-pound frame gives him the ability to reach back and throw some serious heat. He keeps his weight back well and delivers the ball straight over the top. Anderson combines a fastball that reaches the mid-high 90s, with a slider, change and curveball giving him a good four-pitch mix.
In 2013, Anderson posted his best all-around season as a professional. Over 26 starts between High-A Carolina and Double-A Akron, the 21-year-old worked to a 2.65 ERA with a 1.18 WHIP and per-nine ratios of 8.1 K/9, 2.6 BB/9, 8.0 H/9 and 0.5 HR/9.
It's important to note here that Anderson did show solid progression in his overall line, but more impressive is the fact that he did so against older, and more experienced, hitters in the Carolina League.
The young righty has increased his workload over each of the past two seasons, but 2014 will be a critical year in his development.
ETA: 2015
2013 Stats:
126 G, .269/.334/.405, 10 HR, 6 3B, 30 2B, 48 RBI, 78 R, 15 SB, 134:46 K/BB
Overview:
Tyler Naquin has some of the best upside in the Indians' system. His value in the field and on the basepaths is rather projectable with little room for growth. That's not to say that he isn't above average in those areas but rather that it's not where his upside lies.
Naquin and his final value as a big leaguer rests in his bat. The 22-year-old Texas A&M product has a very quick bat. On top of that, he has just enough leverage in his swing that, should he continue to fill out his 6'2" frame (he's currently only 175 pounds), Naquin has the potential to add enough power to be considered league average in that respect.
Naquin could shift to a corner outfield position, depending on his progression in the field and the status of Michael Bourn in Cleveland. However, for now, he fits the profile as a center fielder.
This season—Naquin's second as a pro—the young center fielder put together a .269/.334/.405 slash line with 10 home runs, 48 RBI, 78 runs scored and 15 stolen bases.
Naquin struggled in his initial call-up to Double-A Akron, but he'll be reassigned there for a full season in 2014 with the possibility for a late-season call-up to the show.
ETA: 2015
2013 Stats:
26 GS, 7-9 W-L, 141.1 IP, 4.20 ERA, 1.58 WHIP, 7.5 K/9, 5.7 BB/9, 1.31 K/BB, 8.5 H/9
Overview:
Trevor Bauer is easily the most frustrating prospect in the Cleveland Indians farm system. The 22-year-old has an immense amount of talent and a four-pitch repertoire that should have landed him in a big league rotation by this point.
Bauer, a product of UCLA and a rotation mate of Pittsburgh Pirates star prospect Gerrit Cole, utilizes a solid fastball, which has the chance to be a plus offering, along with a big overhand curveball.
In addition to these two already solid pitches, Bauer also throws a changeup and a slider, both of which have the potential to be at least major league average offerings.
Unfortunately, Bauer has struggled with arguably the most important tool of all: his control. The young right-hander has averaged 4.5 BB/9 as a minor leaguer, and that figure skyrockets to 7.8 BB/9 in his eight starts at the big league level.
This year, Bauer made 26 starts between Cleveland and Triple-A Columbus and experienced a terrible downturn from a somewhat solid 2012 campaign. Over said 26 starts, Bauer allowed a 4.20 ERA with a 1.58 WHIP while averaging 7.5 K/9, 5.7 BB/9, 1.31 K/BB and 8.5 H/9.
Bauer has been criticized in the past for his odd pregame routine, as well as his stubbornness on the mound—most notably by Diamondbacks catcher Miguel Montero, per ArizonaSports.com.
The 2014 year could make or break Bauer within the Indians organization, and it seems that his career has two paths from here. Either we see improvement in Bauer's overall ability—and he begins to listen to the advice of his coaches and teammates—or he continues in his stubborn ways and falls out of favor with another organization.
ETA: 2015
2013 Stats:
120 G, .246/.297/.349, 5 HR, 3 3B, 28 2B, 46 RBI, 56 R, 12 SB, 91:30 K/BB
Overview:
Much like Naquin—discussed two slides back—the upside to Dorssys Paulino lies in his bat. The 6'0", 175-pound shortstop has all but reached his potential in the field and on the basepaths, where his future run, field and arm tools grade out at big league average, per ClevelandIndians.com.
Paulino doesn't quite have the arm or the range really to stick at the big league level. Beyond that, though, Francisco Lindor is pushing his way through the minor league system at a quick rate and looks to be the future at the position. The Dominican Republic native looks to be a better fit at second base, where he is again blocked by the Tribe's current second baseman Jason Kipnis.
Paulino has potential for a good deal of growth at the plate however, including upside in his power tool, which could open the door for an opportunity at third base, where his fielding tools would certainly suffice.
After a dazzling debut season in which he split time between the club's Rookie League affiliate in the Arizona League and Low-A ball in the NY-Penn League, Paulino took a bit of a step back in 2013.
Over 120 games with Single-A Lake County, Paulino worked out a .246/.297/.349 slash line with five home runs, 46 RBI, 56 runs scored and 12 stolen bases. Paulino is not one to take a walk—with a 5.7 percent walk rate in 2013—and that will need to change over the next few seasons.
It's important to remember that Paulino is just 18 years old and has a lot of time left to work out kinks in his game at the minor league level. He'll need to work on his pitch recognition and plate discipline in order to be a steady producer at the big league level.
Additionally, the hope is that his power will develop to the point where he can be at least a moderate source of power at the hot corner, as it looks to be the only fit for him in Cleveland.
ETA: 2017
2013 Stats:
44 G, .297/.362/.506, 5 HR, 5 3B, 11 2B, 28 RBI, 32 R, 3 SB, 61:17 K/BB
Overview:
Clint Frazier was the Indians' first-round selection—fifth overall—in the 2013 MLB draft. The 6'1" Georgia native possesses plus-bat speed and power potential with the speed and arm combo needed to stick in center field.
What really stands out with Frazier, though, is his incredible bat speed. That, combined with his physical strength and swing leverage, should provide for a solid source of batting average and a plus power contributor at the big league level.
The young outfielder struggles slightly with pitch recognition—as seen here—but that's commonplace for a 19-year-old and shouldn't be any cause for concern.
According to MaxPreps.com, Frazier slashed .485/.561/1.134 in his senior season with 17 home runs, 45 RBI and 56 runs scored in 32 games.
Assigned directly to the club's Rookie League affiliate in the Arizona League, Frazier picked up right where he left off, slashing .297/.362/.506 with five home runs, 28 RBI, 32 runs scored and three stolen bases over 44 games played.
Frazier is an incredible talent and has the skill set, potential and physical ability to move quickly through the Indians farm system.
ETA: 2017
2013 Stats:
104 G, .303/.380/.407, 2 HR, 7 3B, 22 2B, 34 RBI, 65 R, 25 SB, 46:49 K/BB
Overview:
If Francisco Lindor could be described in just one word, that word would be "stud." Lindor possesses one of the best all-around games of any prospect in the minor leagues and is very close to breaking in at the big league level.
An assessment of his fielding ability shows some of the best range of any position prospect in baseball and an above-average to plus arm in the field. In short, Lindor is going to be clogging up highlight reels for a long time.
At the plate, Lindor possesses a plus hit tool with but very little power. The 19-year-old does possess solid gap power to all fields, though, as evidenced by his impressive bat speed. His plate discipline, however, is outstanding, as evidenced by his career 129:111 K/BB ratio.
Lindor made two stops in his 2013 season, first at High-A Carolina and then at Double-A Akron. Between the two levels, Lindor logged 104 games, slashing .303/.380/.407 with 31 extra-base hits, two home runs, 35 RBI, 65 runs scored and 25 stolen bases.
After three impressive seasons in the minors, Lindor is nearing the point where he has very little left to prove. Depending on what the Indians do with Asdrubal Cabrera between this offseason and the trade deadline next year, Lindor could find himself as the starting shortstop by mid-2014.
ETA: 2014