NFL Power Rankings Week 2: Complete Outlook Following Weekend Action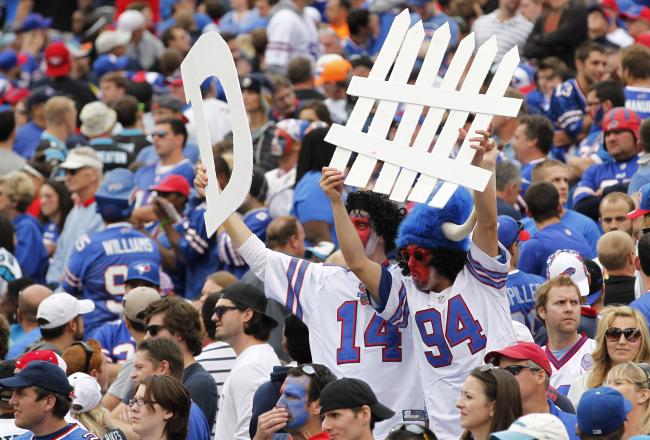 Kevin Hoffman-USA TODAY Sports
Week 2 of the 2013 NFL season is almost in the books, with the Cincinnati Bengals and Pittsburgh Steelers wrapping up the action on Monday night.
It was another wild Sunday across the league, complete with the usual mix of upsets, blowouts and thrilling finishes we've come to expect from the NFL. Although these rankings could change following Monday night, here is how all 32 teams stack up after Sunday's games.
1. Denver Broncos (2-0)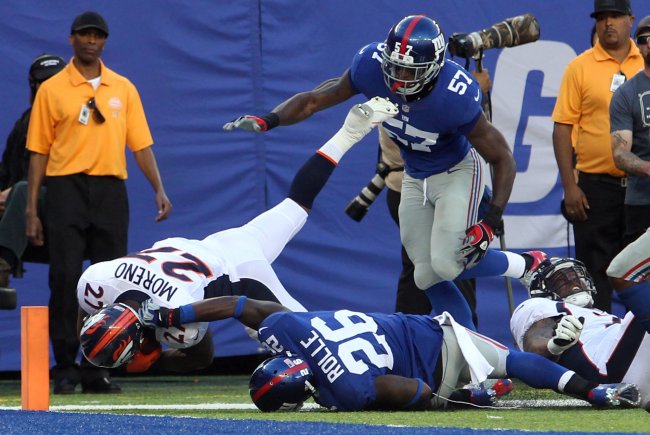 Brad Penner-USA TODAY Sports
After a dominant showing in Week 1, Peyton Manning and the Broncos were just as impressive on Sunday. They easily dispatched the New York Giants, picking off Eli Manning four times on their way to a 41-23 victory.
While Peyton was superb as usual, it was the Broncos running game that stood out in Week 2. Denver fans should be highly encouraged by Knowshon Moreno, who rushed for 93 yards and two touchdowns on just 13 carries.
2. Seattle Seahawks (2-0)

The Seahawks defense was incredible Sunday night, holding the explosive San Francisco 49ers to just 207 yards and three points.
Seattle controlled the game in the first half, then stomped on the Niners' throats in the second. Marshawn Lynch scored three touchdowns (two rushing, one receiving) in the second half, and Seattle picked off Colin Kaepernick three times to seal the victory.
Despite an ugly Week 1, Seattle proved they are the best team in the NFC on Sunday.
3. San Francisco 49ers (1-1)

Even though they were embarrassed on national television, I refuse to drop San Fran any lower than this. They looked terrible at times, but all the Niners really did was lose on the road to one of the best teams in football.
San Francisco will rebound next week versus Indianapolis, and I'm expecting them to exact their revenge on Seattle in Week 14.
4. Chicago Bears (2-0)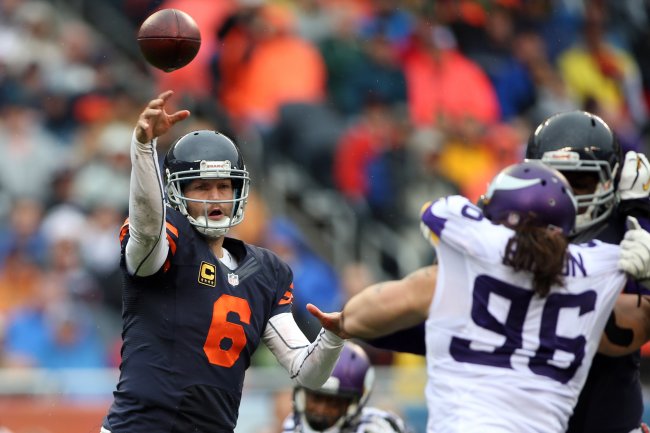 Jerry Lai-USA TODAY Sports
The Bears won their second consecutive close game against a quality opponent, beating their NFC North rival Minnesota, 31-30, on Sunday.
Jay Cutler tossed his second and third interceptions of the season, but he made up for it by connecting with tight end Martellus Bennett for a 16-yard score with just 10 seconds remaining.
5. Green Bay Packers (1-1)
Green Bay jumped on Washington early and never looked back, cruising to a 38-20 victory. Aaron Rodgers was magnificent (34-of-42, 480 yards, four touchdowns), and the Packers defense didn't allow a score until there was just 4:15 remaining in the third quarter.
6. New Orleans Saints (2-0)
The New Orleans Saints pulled off another narrow win on Sunday, beating the Tampa Bay Buccaneers, 16-14, thanks to a Garrett Hartley field goal as time expired.
Drew Brees struggled (26-of-46, 322 yards, one touchdown two interceptions), but it didn't matter. The Saints defense was able to force two turnovers, and the Bucs shot themselves in the foot by committing 10 penalties for 118 yards.
7. Houston Texans (2-0)
For the second straight week, the Texans were underwhelming. And also for the second straight week, the Texans were able to escape with a win.
After a comeback win over the San Diego Chargers last Monday, Houston took down the Tennessee Titans, 30-24, in overtime. DeAndre Hopkins, who scored the game-winning touchdown on Sunday, finished with seven catches for 117 yards.
8. Atlanta Falcons (1-1)
Matt Ryan and the Falcons picked up their first win of the season on Sunday, beating the St. Louis Rams, 31-24, at home. Julio Jones was the hero for Atlanta, as he caught 11 passes for 182 yards and a touchdown.
9. Miami Dolphins (2-0)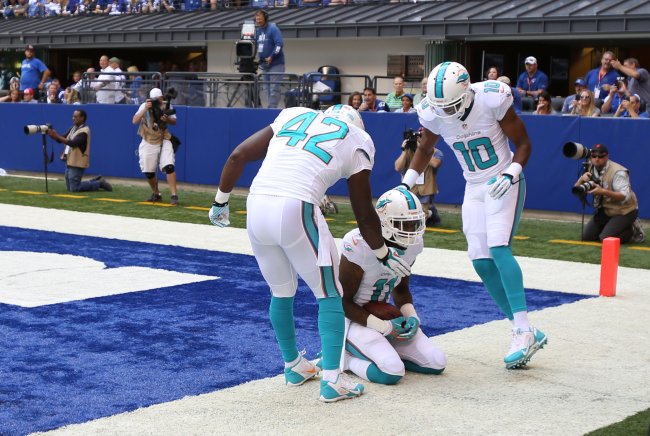 Brian Spurlock-USA TODAY Sports
The Dolphins continued their hot start to the season with an upset victory over the Indianapolis Colts. Miami played a very efficient game, committing zero penalties and turning the ball over just once.
With the win, the Dolphins set up an intriguing showdown with the Falcons next week.
10. New England Patriots (2-0)
The Patriots struggled offensively again in Week 2, but they were able to fend off the New York Jets for the 13-10 victory. Tom Brady's 185 passing yards were his lowest total since December 2010.
11. Kansas City Chiefs (2-0)
Andy Reid's Chiefs forced two Dallas Cowboys fumbles on their way to a 17-16 victory on Sunday. Kansas City has been impressive, thus far, but they will face a major test next weekend when they travel to face Reid's former team, the Philadelphia Eagles.
12. San Diego Chargers (1-1)
The Chargers have looked good early this season, challenging the Texans in a near loss in Week 1 and upsetting the Eagles on Sunday. Like the Saints, San Diego stole this game with a last-second field goal.
13. Philadelphia Eagles (1-1)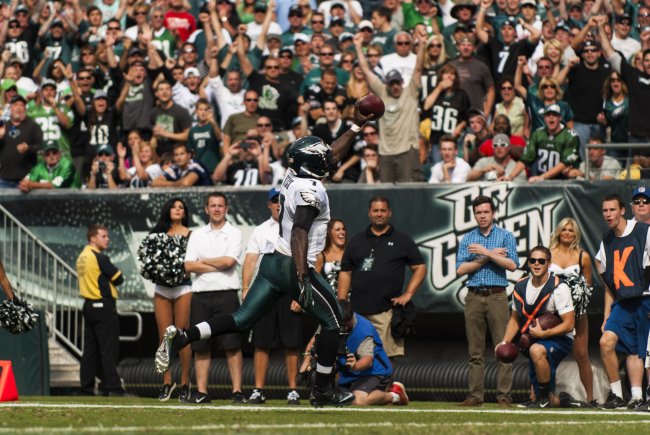 Howard Smith-USA TODAY Sports
Chip Kelly's fast-paced offense wasn't quite as successful against the Chargers as it was against the Washington Redskins, but the Eagles are still must-watch TV.
Michael Vick was excellent on Sunday, completing 23 of 36 passes for 428 yards, two touchdowns and no interceptions.
14. Baltimore Ravens (1-1)
The Ravens were unimpressive again in Week 2, but I'm going to give the defending champs the benefit of the doubt. If Ray Rice continues to struggle (36.0 rushing yards per game this season), though, they won't be as lucky in the future.
15. Buffalo Bills (1-1)
The Bills have been surprisingly good this season, challenging the New England Patriots in Week 1 and fending off Cam Newton and the Carolina Panthers on Sunday. EJ Manuel impressed again, tossing a clutch two-yard touchdown to win the game in the waning seconds.
16. Indianapolis Colts (1-1)
The Colts lost at home to the Dolphins, but I'm still expecting double-digit wins from Andrew Luck and Co. We'll get a better sense of where they're at after they travel to San Fransisco in Week 3.
17. Tennessee Titans (1-1)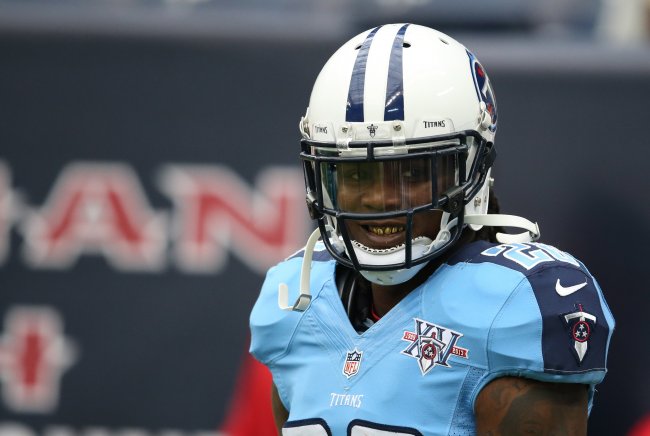 Matthew Emmons-USA TODAY Sports
The Titans are looking like a dark-horse playoff team through two weeks. After beating the Pittsburgh Steelers in Week 1, Tennessee almost upset their AFC South rival Houston Texans on Sunday.
With winnable games coming up against the Chargers, Jets and Chiefs, don't be surprised if the Titans are 4-1 heading into their Week 6 tilt with Seattle.
18. Arizona Cardinals (1-1)
The Cardinals picked up a close win against the Detroit Lions on Sunday, prevailing 25-21. Jay Feely converted four field goals for the Cardinals, who will take on the Saints in New Orleans next week.
19. Detroit Lions (1-1)
The Lions fell to the Cardinals on Sunday, and after Reggie Bush tweaked his knee in the second quarter, they have some serious questions in the backfield. Don't be surprised if Joique Bell sees most of the action next week when Detroit faces the Redskins.
20. Dallas Cowboys (1-1)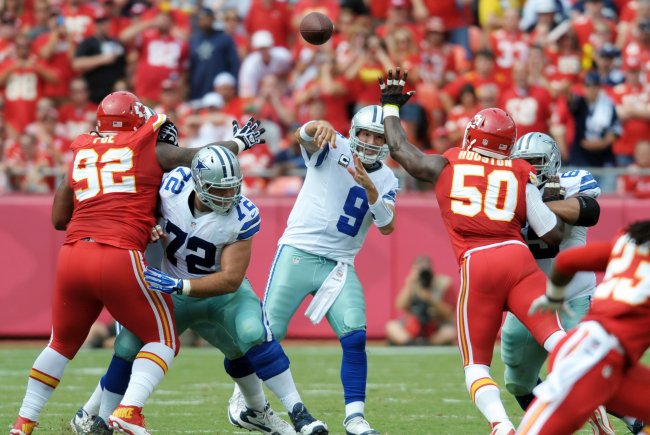 Denny Medley-USA TODAY Sports
The erratic Cowboys came up short on Sunday, falling to the Chiefs, 17-16. Dallas rushed for just 37 total yards. Unless they see a dramatic increase in production there, they will be in for a rough couple of weeks.
The Cowboys will face the St. Louis Rams next week before facing off against the Chargers, Broncos, Redskins and Eagles.
21. Cincinnati Bengals (0-1)
The Bengals face their rival Pittsburgh Steelers on Monday night. I'm expecting Andy Dalton and A.J. Green to shred the Pittsburgh defense and lead Cincinnati to its first win of the season.
22. St. Louis Rams (1-1)
The Rams only lost to Atlanta by a touchdown, which is remarkable, considering they rushed for just 69 yards as a team. If they get a better showing from their running backs, look for them to beat Dallas on the road in Week 3.
23. Washington Redskins (0-2)
Robert Griffin III is clearly being tentative with his surgically repaired knee, which is understandable. Unfortunately for RG3 and the Redskins, his caution is part of the reason they've limped to an 0-2 start.
24. New York Jets (1-1)
The Jets played New England tough on Thursday, holding Tom Brady under 200 passing yards and losing by just three points. If Geno Smith can cut down on the turnovers, New York has a great chance of winning its next two games (vs. Buffalo, at Tennessee).
25. Minnesota Vikings (0-2)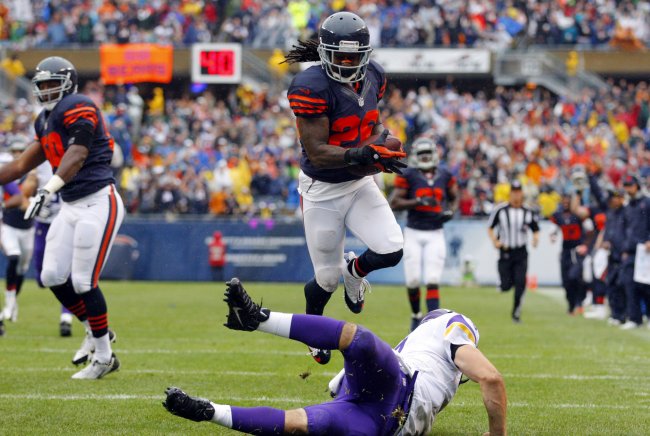 Dennis Wierzbicki-USA TODAY Sports
Christian Ponder threw yet another interception on Sunday, which Chicago's Tim Jennings returned 44 yards for a crucial score. If Ponder can't be more careful with the ball, Minnesota will struggle throughout the season.
26. Carolina Panthers (0-2)
Cam Newton and the Panthers suffered another close defeat, losing to the Bills, 24-23. Although they've started 0-2, the Panthers haven't looked that bad. I'm expecting them to earn their first win of the season next week against the Giants.
27. Oakland Raiders (1-1)
The good news: Oakland picked up their first win of the year on Sunday after beating Jacksonville, 19-9. The bad news: The Raiders next game is against the Denver Broncos at Mile High Stadium.
28. Pittsburgh Steelers (0-1)
Pittsburgh will look to improve to 1-1 on Monday night. However, I'm expecting Ben Roethlisberger and Co. to come up short.
29. New York Giants (0-2)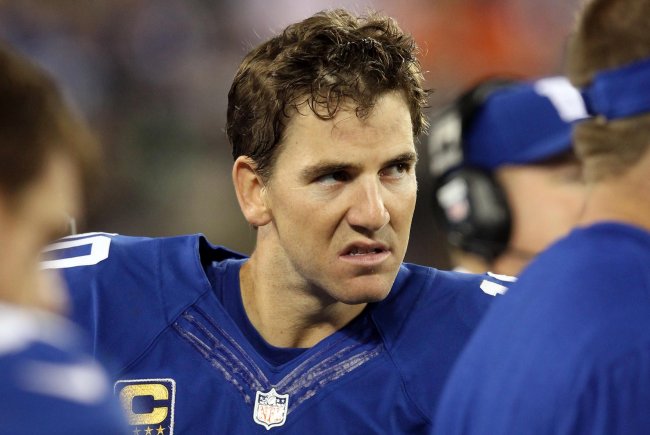 Brad Penner-USA TODAY Sports
Eli Manning threw four interceptions, including three in the second half, as the Giants fell to Denver, 41-23, on Sunday. The Giants are averaging five turnovers a game, which is simply ridiculous.
30. Cleveland Browns (0-2)
Another week, another ho-hum performance from the Browns. At least Brandon Weeden didn't commit any turnovers before he was knocked out of the game in the fourth quarter with a thumb injury.
31. Tampa Bay Buccaneers (0-2)
Two weeks, two last-second losses for the Bucs. Tampa Bay's most recent late-game meltdown was a crucial one, as it robbed them of a victory over their division rival New Orleans Saints.
32. Jacksonville Jaguars (0-2)
Chad Henne got the start this week for Jacksonville, but he wasn't able to generate much more offense than the injured Blaine Gabbert. The Jags scored just nine points against Oakland, giving them a grand total of 11 points on the season.
With an absolutely brutal upcoming schedule (at Seattle, vs. Indianapolis, at St. Louis, at Denver, vs. San Diego, vs. San Francisco), the Jaguars could be 0-8 heading into their Week 9 bye.
This article is
What is the duplicate article?
Why is this article offensive?
Where is this article plagiarized from?
Why is this article poorly edited?