Jaguars vs. Raiders: Takeaways from Jacksonville's 19-9 Loss to Oakland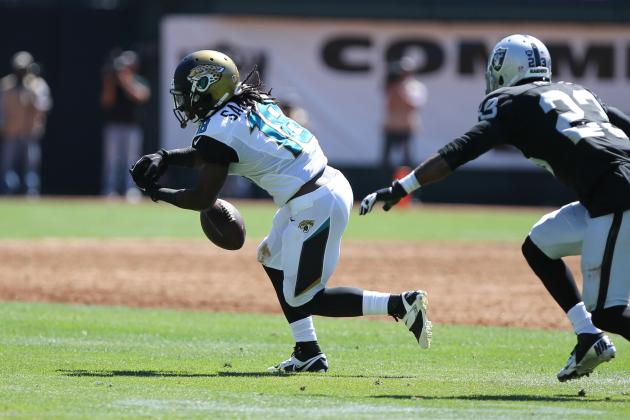 Kelley L Cox-USA TODAY Sports

It was sloppy. Some may blame the field, which is more frequently used for baseball than football. Some may blame the absence of Blaine Gabbert or the West Coast trip or the receivers dropping passes, but blame is useless...the Jacksonville Jaguars absolutely imploded Sunday.
Coming off the heels of a 28-2 loss to the Kansas City Chiefs, the Jaguars were finally able to get into the end zone (albeit against a prevent defense late in the fourth quarter), but it was still a disappointing showing by the Black and Teal.
What can we take away from Sunday's performance?
Begin Slideshow

»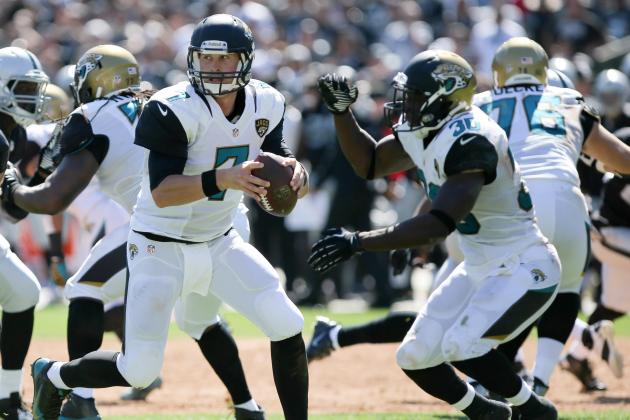 Kelley L Cox-USA TODAY Sports

There were many fans last week lamenting Gabbert's performance and calling for Chad Henne to replace him as the Jaguars' starting quarterback. Their wish was granted when Gabbert lacerated his hand, forcing Henne into the lineup against the Oakland Raiders. I'm not sure it turned out the way they thought it would.
Henne spent much of the game checking down to tight ends or throwing quick slants; I don't recall seeing him throw a single pass further than five yards downfield until well into the second quarter.
His final numbers looked decent (25-of-38 for 241 yards and a touchdown), but he went 6-of-8 for 68 yards and a touchdown against prevent defense in the fourth quarter, meaning he was only 19-of-30 for 173 yards and no scores apart from that drive.
Stats don't tell the whole story—far from it. Henne checked down constantly, was off-target with the majority of his throws and led his receivers into traffic more than once. He often forced his receivers to try to make spectacular grabs to make up for poor ball placement. In short: He was basically Blaine Gabbert.
Both Jaguars quarterbacks who have played this year have disappointed, and the reason is because they are both simply bad players. The Teddy Bridgewater watch is officially on.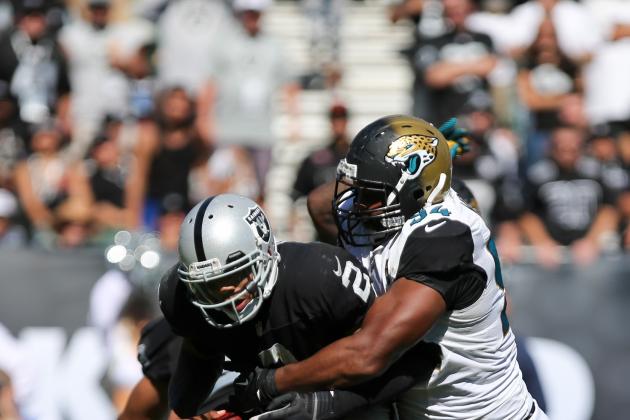 Kelley L Cox-USA TODAY Sports

Though the Jaguars offense can nicely be referred to as a dumpster fire, the Jaguars defense played surprisingly well. Though they only sacked Terrelle Pryor three times, they flushed him out of the pocket numerous times and only allowed him to rush for 50 yards on nine carries a week after he picked up 112 yards on the ground.
The Jaguars only allowed the Raiders to convert 4 of 14 third downs for a conversion rate of just 28 percent. Though the Raiders picked up 226 yards on the ground, they played better than the numbers suggest and often bottled up McFadden near the line of scrimmage.
Twice, Jason Babin erased a defensive stand by the Raiders with a costly penalty and handed the ball back to Oakland, and D. J. Williams also gave the Raiders a free possession by lining up offsides on a punt, but the Jaguars defense looked to be a unit with potential. I'm looking forward to seeing them make strides as this season progresses.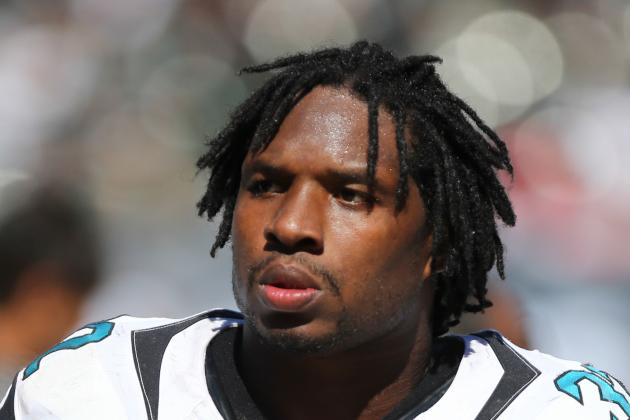 Kelley L Cox-USA TODAY Sports

Maurice Jones-Drew looked healthy last week, but there wasn't anywhere for him to run. This week, he looked fine until leaving with an ankle injury, but the old explosiveness wasn't really there.
Jones-Drew used to be a game-breaker who could slash through the line of scrimmage and beat defenders to the end zone, but the "MJD" that showed up Sunday in Oakland was slower and more deliberate, and though he's still as powerful as ever, he's not the guy he used to be.
After 10 carries for 27 yards, Jones-Drew left the game due to injury and was considered questionable to return, but he didn't appear on the field again. Hopefully, he's good to go next week, but Jaguars fans shouldn't be expecting the same version of MJD that was one of the league's most dangerous playmakers just a couple years ago.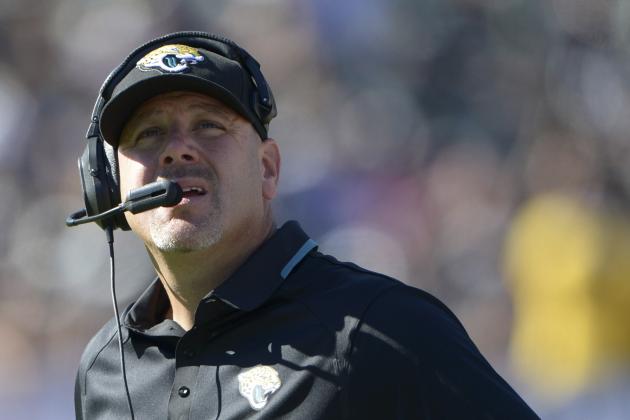 Kirby Lee-USA TODAY Sports

Ten penalties in a football game is way too many, and Jacksonville ended up breaking double-digits in Oakland. Even worse were the penalties themselves; on three separate occasions, the Jaguars defense held, only to have penalties hand the ball right back to Oakland.
Jason Babin was responsible for two of those penalties. He extended an Oakland drive by shoving a lineman into the pile after the play was over and gave them another free possession with an illegal hands to the face penalty after the defense had forced Oakland to punt.
Backup tight end D.J. Williams was the other perpetrator. He lined up with his head in the neutral zone on a punt, and since the distance to go for a first down was less than five yards, the Raiders were able to send their offense back onto the field.
They marched downfield and picked up a field goal to push their lead to 13-3, making it a two-score game and forcing the offense to play from even further behind.
The Jaguars are already a bad football team that will have trouble winning games, but committing this many penalties, especially costly, drive-extending penalties, will make wins nearly impossible to come by.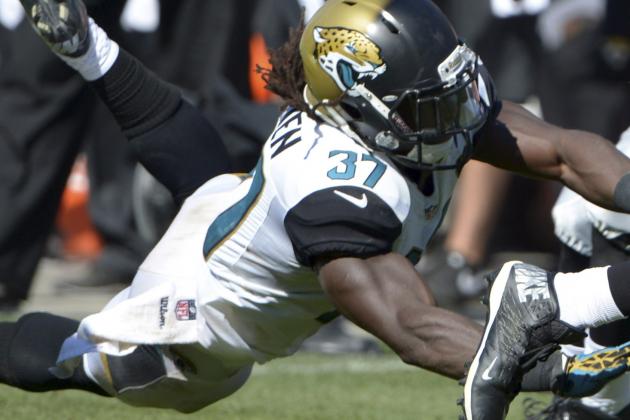 Kirby Lee-USA TODAY Sports

Johnathan Cyprien looked rusty in his preseason debut against the New York Jets and had some fans panicking and considering him a lost cause. Oh, how things change.
Against the Raiders, Cyprien was all over the field. NFL.com credited him seven solo tackles, tied for a team high, and he also forced a fumble with a jarring hit on Darren McFadden following a 27-yard gain.
"Cyp" laid the wood on multiple occasions against Raider receivers. He blasted Rod Streater after one catch over the middle and laid Brice Butler out on another, but the most important thing about these hits is that he was able to blow up the Raider receivers without being flagged for the hits.
Against the Raiders, Cyprien looks like the player Jaguars fans thought the team had drafted. If he plays this way going forward, opposing receivers will be a lot more cautious about going over the middle against Jacksonville.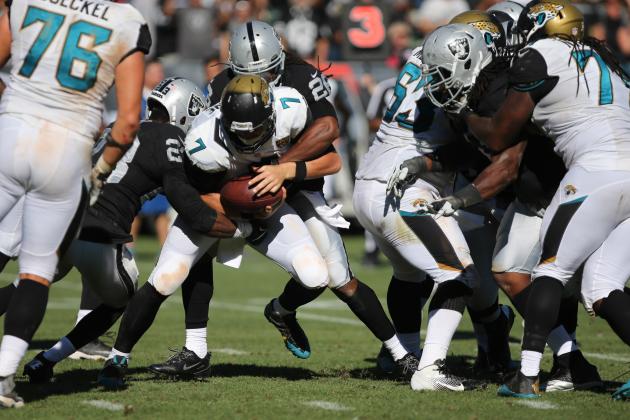 Kelley L Cox-USA TODAY Sports

Chad Henne spent, essentially, the entire game shifting in the pocket or running for his life, and the Jaguars interior line is a big part of why. Uche Nwaneri, Brad Meester and Will Rackley had trouble keeping Raider defenders out of the pocket, and Rackley ended up leaving with an injury for his troubles, forcing Austin Pasztor into the lineup.
Oakland was able to hold the Jaguars to only 34 yards rushing on 19 carries for an average of 1.8 yards per carry by constantly winning the battle at the point of attack. They were able to muscle the Jaguars linemen out of the way en route to the ball-carrier.
The majority of the Jaguars' running plays were stuffed before they even got started. The longest rush of the game by Jacksonville was a nine-yard run by quarterback Chad Henne on a passing play where nobody was open. Yeah, it was bad.
Jacksonville needs to be able to create a push up front to get its running game going and keep its quarterback off his back, and the interior line just isn't getting it done. I wouldn't be surprised if there are several waiver pickups along the interior line over the course of the season.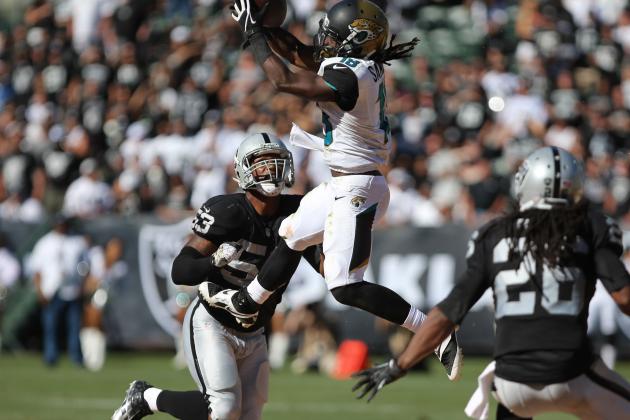 Kelley L Cox-USA TODAY Sports

Though he didn't catch every ball thrown to him, Ace Sanders was impressive against the Raiders. I watched the game with Raiders fan and Bleacher Report Lead Writer Chris Hansen, and at one point, he suggested that Sanders was the Jaguars' best receiver.
Sanders showed the ability to adjust to the ball in the air and make tough grabs in addition to being dangerous in space. He came down with five catches for 64 yards, including a tough 30-yard catch in the fourth quarter on a 3rd-and-21 to keep the drive alive. That drive eventually netted the Jaguars their first offensive touchdown in 2013, so Ace's grab was not in vain.
I am disappointed Sanders hasn't been used as a punt returner, but it's probably because, with Justin Blackmon suspended and Marcedes Lewis injured, he's the second-best pass-catcher on the roster. Expect to see a lot more out of Ace before this season is over...he's going to be fun to watch.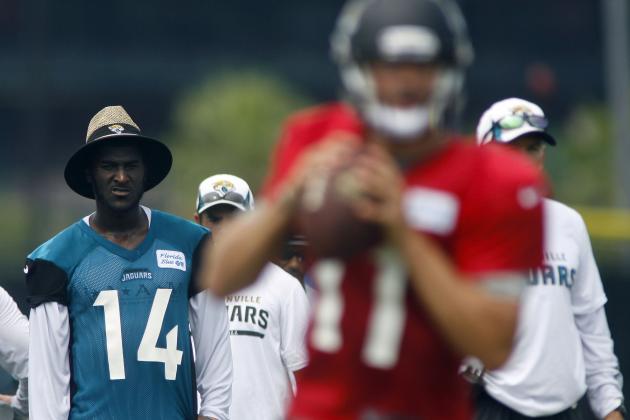 Phil Sears-USA TODAY Sports

Justin Blackmon is out until Week 5, and Marcedes Lewis is out until his body cooperates, and the Jaguars desperately miss them both. The passing game looked out of sync much of the game, and those two are two of the team's three best pass-catchers along with Cecil Shorts.
Blackmon's presence will allow the Jaguars to move Sanders to the slot, so he can get off the line of scrimmage without being jammed, allowing him to utilize his quickness. It'll help draw attention away from Cecil Shorts, which should give the quarterback more options from which to choose. He'll allow offensive coordinator Jedd Fisch to move players around and exploit matchups.
Lewis will help the Jaguars as a blocker as well as a pass-catcher.
The line has had issues keeping defenders out of the offensive backfield for two games straight; having a fantastic blocker like Lewis back in the lineup will help them get the running game going and keep opposing pass-rushers off the quarterback. He could also help stretch the field down the seam as a receiver and could provide the Jaguars with another red-zone weapon.
Missing two crucial offensive weapons isn't an excuse for the Jaguars' pathetic offense, so far this season, but it's definitely a reason. The Jaguars need these two back as soon as possible.