Cowboys vs. Chiefs: Full Roster Report Card Grades for Dallas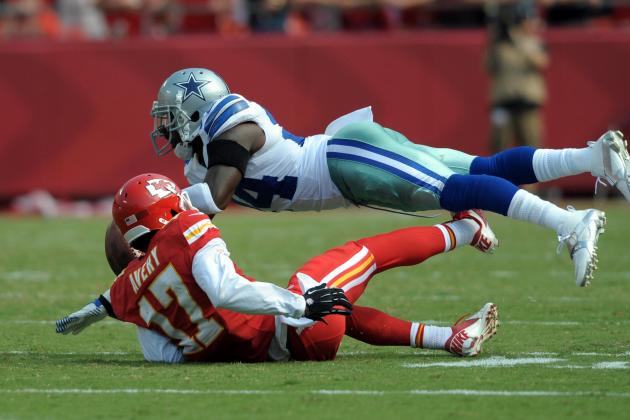 Denny Medley-USA TODAY Sports

Prior to the Dallas Cowboys' week to match up with the Kansas City Chiefs, I used player stat projections that predicted a final score of right around 20-19, Kansas City. The Chiefs did indeed take home a one-point victory with a 17-16 final score.
The Cowboys just couldn't get anything going offensively, and, unlike in their season-opening win over the New York Giants, the takeaways weren't there to save them. It's not that the defense played poorly, but if you're on the wrong end of the takeaway spectrum, it's going to be tough to win games.
The only saving grace for Dallas is that division rivals Philadelphia, Washington and New York all went down as well, meaning the Cowboys are still tied with the Eagles for first place in the NFC East. That doesn't change the fact that, if the Cowboys can't start to win close games like this one, they're not going to find their way into the postseason.
Begin Slideshow

»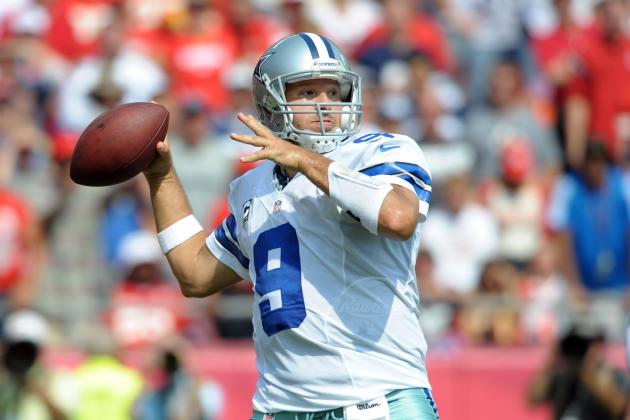 Denny Medley-USA TODAY Sports

2—Kyle Orton
Just as was the case in Week 1, Romo turned in a poor performance from an efficiency standpoint. He averaged 7.1 YPA—up from 5.4 YPA in Week 1—but it seems like Romo is throwing the ball scared right now.
It's pretty apparent he's placed an emphasis on minimizing his turnovers, which he's done really well, but it's come at the expense of some big plays. In Romo's defense, he had some passes dropped, including a big one down the sideline to Bryant late in the contest.
Still, Romo didn't lead the team at the end of the game. I'm as big of a Romo fan as any, but why wasn't the team in a hurry-up mode for much of the fourth quarter when they were losing?
Down by four points with just a few minutes remaining, the Cowboys showed no urgency. Yeah, they had enough time to score on that drive, but what happens if you don't score a touchdown right away? The Cowboys didn't, and they had no time left to come back after kicking off.
Grade: C-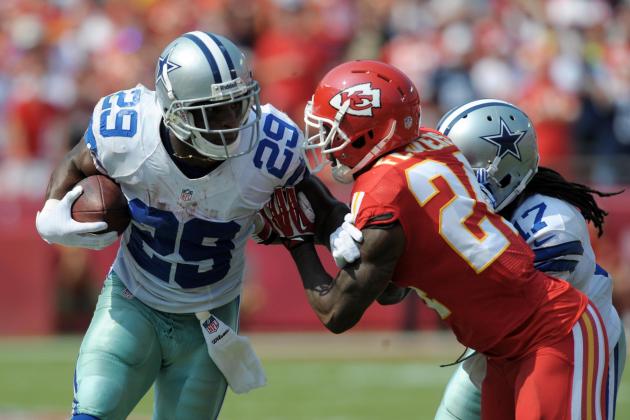 Denny Medley-USA TODAY Sports

2—Lance Dunbar
3—Phillip Tanner
The Cowboys just can't run the ball. The offensive line continually loses at the point, and, at least in this game, I thought Murray ran tentatively. It must be frustrating to continually see a brick wall of defenders every time you take a handoff, but he was at least partially responsible for totaling only 25 yards on 12 carries.
Dunbar looked energetic on his touches, but his fumble at the end of the third quarter really shifted the momentum of the game. Romo fumbled on the Cowboys' next drive, and the offense could never regroup.
I thought the Chiefs were going to try to mimic the Giants' game plan, playing with two deep safeties and allowing the Cowboys to run the ball. It didn't happen, and that's a bad sign for Dallas; they've now failed to perform against two completely different defensive looks.
Grade: D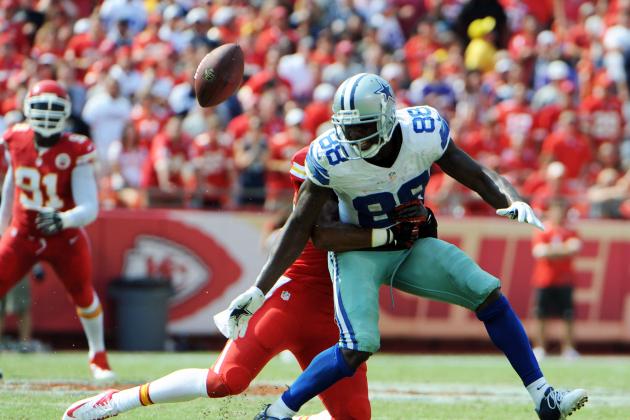 John Rieger-USA TODAY Sports

2—Miles Austin
3—Terrance Williams
4—Dwayne Harris
Bryant started the game on fire and had the look of a player who might cross the 200-yard mark, but the Chiefs switched up their looks in the second half to limit Bryant. The receiver still totaled 141 yards and a touchdown on nine receptions, and there were some opportunities to make plays in the second half, but he and Romo just weren't on the same page over the final 30 minutes.
It was still good to see Romo and Bryant hitting on some back-shoulder throws early in the contest. As teams continue to double Bryant, that play will be vital for the duo.
Unlike against the Giants, the attention drawn by Bryant didn't result in increased effectiveness for Austin. He had just 31 yards on three catches, while Williams and Harris added four more catches for 32 total yards.
Grade: C-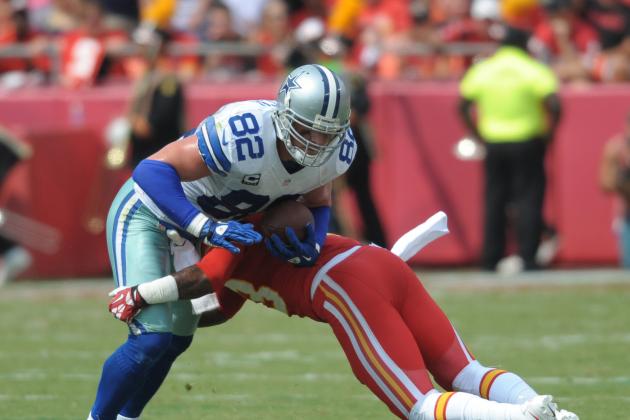 Denny Medley-USA TODAY Sports

1—Jason Witten
2—James Hanna
3—Gavin Escobar
Everyone knows I'm down on Witten this year because I think that much of his 2012 production was the result of game situations. The Cowboys were down so much and threw it so often late in games that Witten's numbers were inflated, but his efficiency has actually been declining for years.
Nonetheless, I figured he'd be able to take advantage of a Chiefs defense that would be focused on stopping Bryant. It didn't happen, with Witten totaling only 12 yards on three catches.
With all of the talk we heard about the Cowboys' "12" personnel in the offseason, we haven't seen much from either Hanna or Escobar. They combined for 29 yards on Sunday.
Grade: D-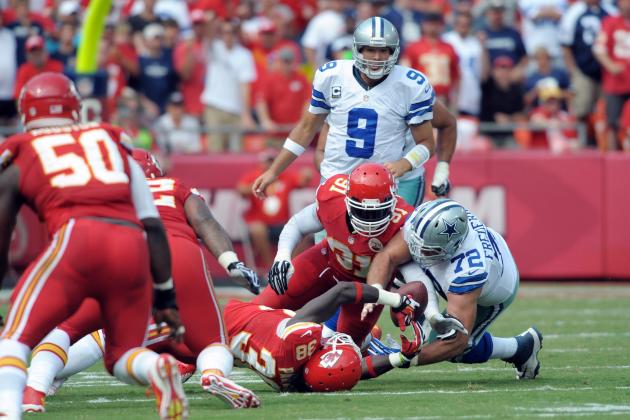 Denny Medley-USA TODAY Sports

LT—Tyron Smith
LG—Ronald Leary
C—Travis Frederick
RG – Brian Waters
RG—Mackenzy Bernadeau
RT—Doug Free
RT—Jermey Parnell
C—Phil Costa
The Cowboys offensive line looked pretty good in pass protecting in the first half, struggling only up the middle with nose tackle Dontari Poe. Frederick had a rough second NFL game, getting blown back in the running game and giving up two sacks versus Poe.
The offensive line did a great job of containing pass-rushers Justin Houston and Tamba Hali, and the protection wasn't consistently poor by any means, but it wasn't there late in the game when it mattered most.
And although the Cowboys don't need to be a running team, they just have to find a way to run the ball for more than 37 yards. It's to the point that, if the running game doesn't improve, you have to consider (seriously) just not even running the ball anymore except in very specific situations, such as near the goal line or at the end of games.
Again, Murray had a poor game, but most of the running-game struggles are on the line.
Grade: C-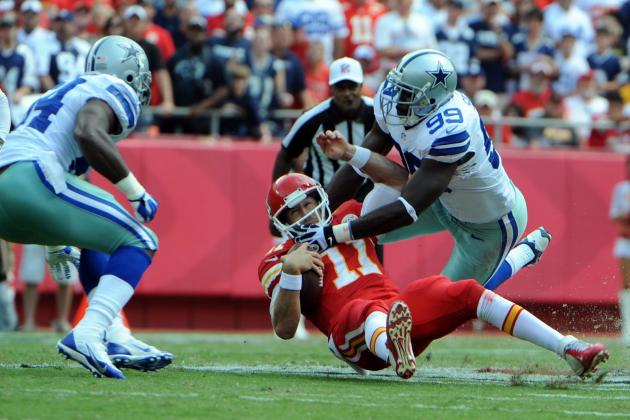 John Rieger-USA TODAY Sports

1—DeMarcus Ware
2—George Selvie
3—Anthony Spencer
4—Kyle Wilber
5—Edgar Jones
I thought both Ware and Selvie played really well, consistently finding themselves near the quarterback. Ware had two sacks, and although Selvie didn't record a sack, he might have actually had more total pressure than Ware. That's impressive against an offensive line as stacked as Kansas City's.
It will be interesting to see how the Cowboys split up reps with Selvie and Spencer moving forward. Selvie has played well enough to garner playing time, but how much?
Grade: B+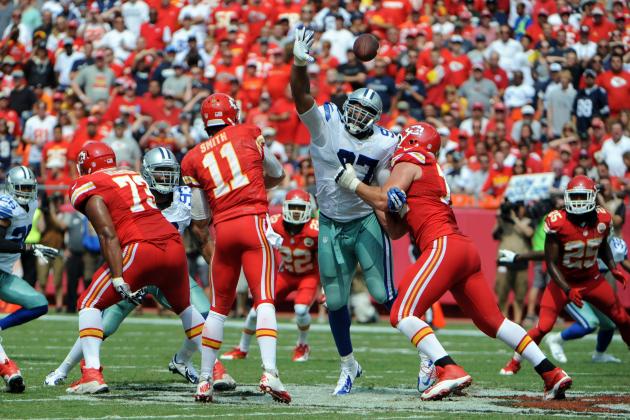 John Rieger-USA TODAY Sports

1—Jason Hatcher
2—Nick Hayden
3—Landon Cohen
4—Jerome Long
Along with Ware and Selvie on the outside, Hatcher also applied a lot of pressure from the interior. He was really dominant near the start of the game and seemed to fade a bit as it went on, but Hatcher still turned in a quality performance.
He didn't have a sack, but those will come, given his pressure, and he recorded six tackles—second-most on the day. Hayden added four more tackles.
Grade: B-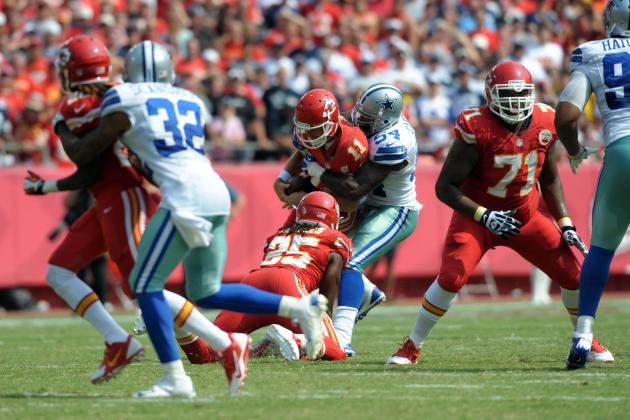 Denny Medley-USA TODAY Sports

1—Sean Lee
1—Bruce Carter
1—Justin Durant
2—Kyle Bosworth
2—DeVonte Holloman
This was a really up-and-down game for the linebackers, led by Carter on the outside. He had six tackles and a big sack of Alex Smith, but Carter also missed a couple tackles.
The same goes for Sean Lee, who had only three solo tackles and an assist on the day. Lee wasn't a difference-maker in the Cowboys opener, so this is his second straight underwhelming performance. It's worth wondering how the switch to the 4-3 has affected the blocks he must face.
Grade: C-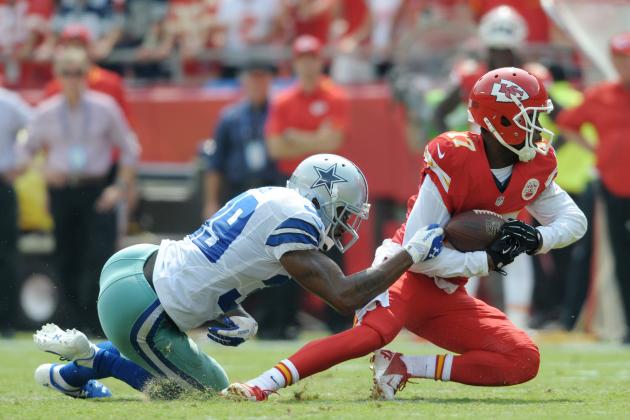 Denny Medley-USA TODAY Sports

1—Brandon Carr
2—Orlando Scandrick
3—Morris Claiborne
4—B.W. Webb
Both Carr and Scandrick, who started for a banged-up Claiborne, turned in really impressive performances. Kansas City's leading receiver was Dwayne Bowe with only 56 yards, and the 'Boys allowed only 223 total passing yards.
Carr has been outstanding in coverage, so far this season, and it's time we start giving Scandrick credit for being an outstanding cover corner. Those two added nine total tackles.
Claiborne didn't make any tackles, and he also got lit up by Charles on a reception. Charles caught a short pass from Smith, turned upfield and ran over Claiborne like the cornerback weighed just 100 pounds. It's pretty clear Claiborne needs to improve in run support.
Grade: A-
Denny Medley-USA TODAY Sports

1—Barry Church
1—Will Allen
2—J.J. Wilcox
2—Jeff Heath
3—Danny McCray
Allen dropped a potential interception early in the game, but other than that hiccup, I thought the safeties played well. Church was, once again, all over the field, recording seven tackles to lead the team. He already has 15 on the year, 14 of which have been solo tackles. There's a decent shot Church can reach triple-digit tackles by the end of the year.
Grade: B+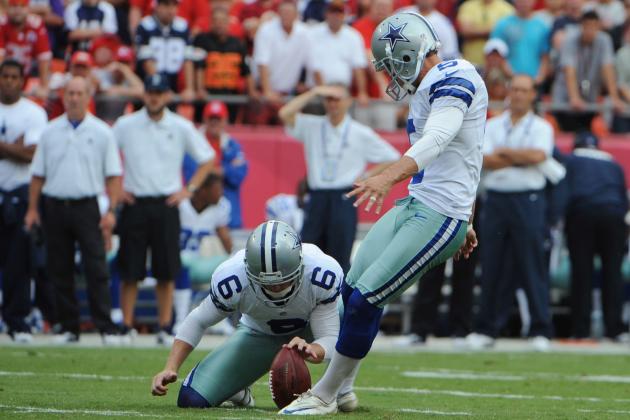 John Rieger-USA TODAY Sports

K—Dan Bailey
P—Chris Jones
LS—L.P. Ladouceur
There's really not much to knock here; Bailey was 3-of-3 on field goals, and Jones averaged 50 yards on his four punts. The Cowboys should feel grateful that, with all their problems right now, the kicking game hasn't compounded them.
Grade: A