Realistic 2013-14 Expectations for Washington Capitals Rookies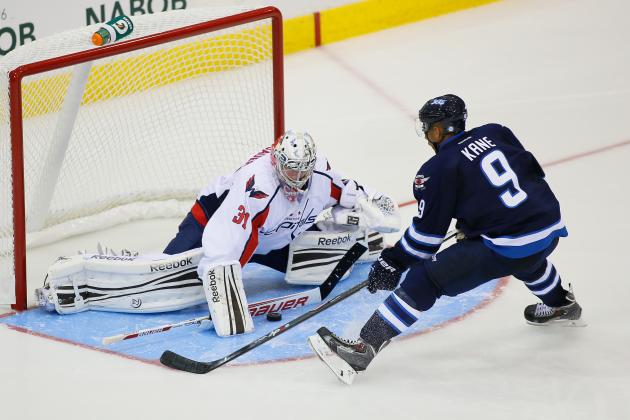 John E. Sokolowski-USA TODAY Spo

The Washington Capitals and Winnipeg Jets played a pretty eventful preseason game Saturday night in the Kraft Hockeyville game at Yardmen Arena—eventful as far as NHL exhibition games are concerned.
While the real winners of the Caps 4-3 shootout win over the Jets were the extremely enthusiastic fans in Belleville, Ontario, the Caps roster was filled with several rookies looking to make a name with the Caps and to warrant future consideration for true roster spots.
The debut of players like defensemen Connor Carrick and Nate Schmidt and forwards Chandler Stephenson and Nathan Walker was documented in the Capitals Dump 'N Chase blog prior to the game taking place.
For those four players, the exhibition game was the first time they would wear a Caps jersey and, as far as they were concerned, not the last.
Several of them played very well. Jack Hillen got the Caps first goal off of a fat rebound from a shot by Walker.
Schmidt set up another Caps rookie, Stanislav Galiev, for the Caps second goal of the game.
Galiev was also one of the four Caps who participated in the shootout along with Alex Ovechkin, Nicklas Backstrom and Mike Green. That is pretty good company for a rookie to keep.
On Monday night in Philadelphia, several other Caps rookies got their chance to shine, including the Caps first round pick from the 2013 NHL draft, Andre Burakovsky, who shot third in the Caps 4-3 shootout win over the Flyers.
For many of these promising prospects, the preseason will be their only taste of the NHL this season. Most of them will go back to play in the OHL, ECHL or AHL where they will hone their craft for a while longer.
Some of the Caps rookies though might have a realistic chance of being a part of the roster at some point during this coming season.
Which rookies have a chance to do this? Which rookies are going to have to wait a while?
Here then are some realistic expectations for some of the Caps more promising rookies.
Begin Slideshow

»
Unlike some of the prospects mentioned previously, Stanislav Galiev has played in exhibition games with the Caps before.
Early returns from this season, however, suggest that Galiev might be ready to make a true run at making the team at some point this season.
Galiev was selected in the third round of the 2010 NHL draft by the Caps. He is a very strong skater who has good hands and a very good shot. He has exceptional speed and very good vision on the ice. He seems to be developing more of a nose for the net and his instincts have improved over the past year.
The main knock on him is that at 6'2", 188 pounds, he's a bit on the small side.
But there is talent there and you won't hear any complaints about Galiev's work ethic.
Galiev has also shown steady progress in his professional career thus far. During his time with the Saint John Sea Dogs of the QMJHL, Galiev showed what a force he could be. This was particularly true during the 2010-2011 season when Galiev scored 37 goals and had 28 assists in 64 games played.
Galiev was plagued by a wrist injury during the 2011-12 season and only played in 20 games, but in the playoffs he was dominant as he scored 16 goals and had 18 assists in just 17 games.
Galiev then made the jump to the Hershey Bears but seemed to take a step back as he only managed an assist in 17 games played.
Last season, Galiev played with the Reading Royals of the ECHL and got back on track, scoring 23 goals and adding 24 assists in 47 games played. In the playoffs, he added four goals and seven assists in 10 games.
In the Caps exhibition win over the Winnipeg Jets on Saturday, Galiev had a goal.
As for what is reasonable to expect from Galiev, I do not believe he is quite ready to make the main squad. Quite frankly, the Caps have too many forwards and while Galiev has been impressive, there is just no room for him on the team at this time.
I would like to see Galiev spend more time in Hershey this season, working against better talent and getting himself to the point that he is more NHL-ready. His first stint with the Bears did not go so well and he needs to show consistent production against AHL players before the Caps will likely give him a serious chance with the main squad.
I think he is someone who will make the roster within the next year or two. He just needs to round out his game, gain more experience and perhaps gain some more size.
But if the Caps get hit with some injury problems, an appearance from Galiev this season is not out of the question.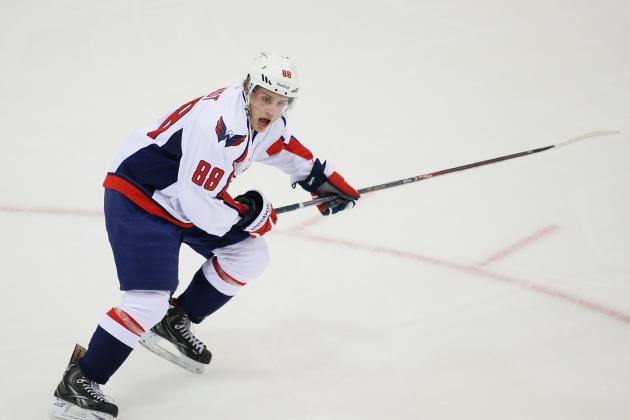 John E. Sokolowski-USA TODAY Spo
Nate Schmidt is a Caps prospect to watch this coming season.
A Caps rookie I am rather excited about is Nate Schmidt.
Schmidt, a 6'0", 195-pound defenseman, spent this past season with the University of Minnesota and was signed to a two-year, entry level contract by the Caps back in April.
He turned heads at the Caps' recent development camp, and is doing the same in training camp. Schmidt had an assist on the goal scored by Stanislav Galiev during the Caps exhibition win over the Winnipeg Jets on Saturday.
Thus far, Schmidt is showing that steady sort of progression one likes to see from rookies who are developing into NHL talent. At the University of Minnesota the past two seasons, Schmidt scored 12 goals, had 61 assists and played in 83 games.
Schmidt also spent some time with Hershey last season, including five playoff games, where he had a goal and five assists. His minus-three rating, however, indicates he still has some work to do.
He will be playing in Hershey again this season and this is the right place for him. He will be travelling down the same road that John Carlson and Karl Alzner went down and things worked out quite well for both of them.
In a recent interview with Katie Carrera of The Washington Post, Schmidt recognized that following in the footsteps of Carlson and Alzner would not be a bad thing at all:
You've just got to bide your time, continue to play well and progress. Those guys made big strides when they were there and eventually got called up and they stuck. That's where I'd like my journey to start.
By all indications, that is exactly what will happen for Schmidt. But don't be surprised to see Schmidt appear in a regular season game this season. He is 22 years old so he has the maturity necessary to make the jump on short notice, if he is called upon to do so.
If the Caps run into some injury problems along the blue line, I think Schmidt will be one of the first in line to get called up.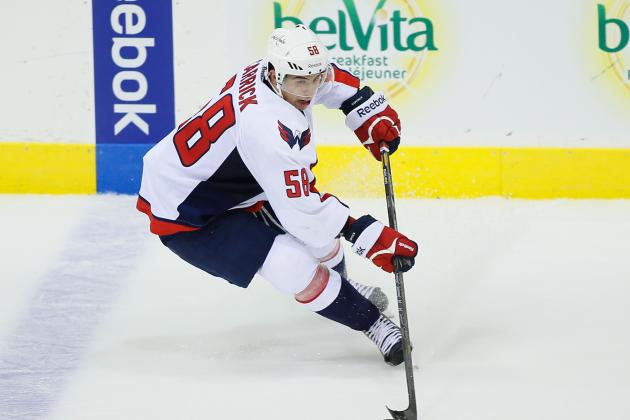 John E. Sokolowski-USA TODAY Spo
Though not quite as NHL ready as Nate Schmidt, Connor Carrick is moving up the Caps depth chart.
Another of the Caps young defenders to keep a close eye on is Connor Carrick.
Carrick was drafted in the fifth round by the Caps in the 2012 NHL entry draft.
He has exceptional speed and is not afraid to play physically. Those are two very good qualities for a blue-liner to have, particularly if the Caps are going to make headway in the Metropolitan division this season and moving forward.
Carrick has shown the potential to be a two-way defender. While playing for the US National Development Team from 2010-2012, Carrick scored eight goals and had 17 assists in 89 games.
He spent last season with the Plymouth Whalers of the OHL where he made real strides in his overall game. He led all Whalers defenders with 12 goals last season and developed some real leadership traits and qualities that should serve him well moving forward.
In the exhibition game against the Winnipeg Jets on Saturday, Carrick was on the ice when Stanislav Galiev scored his game-tying goal.
This is a young man with a good head on his shoulders and one whose stock is steadily rising. His progress has not gone unnoticed. As head coach Adam Oates told Katie Carrera of The Washington Post recently:
He's one guy that has definitely upgraded, changed and it looks like he's become more than just a junior player to me. I've never been a guy that ever watched junior. It's been 30 years since I was involved in junior; I don't really know what to look for, I'm not exposed to it. I'm used to the NHL, certain size, speed, talent level, and he looks like he's become more of a man, I guess you could say. He looks more ready to play at our level.
Though Carrick has made great strides in the past year, I do not believe we will see him in D.C. this season. I do like some of the chemistry that seems to be developing between Carrick and fellow defender, Nate Schmidt. That is a line that we might see in the very near future.
But I believe Carrick will take his time and get even better in Plymouth this year. He will undoubtedly have a bigger role with the Whalers and he will shoulder even more leadership duties this season.
This is all excellent for one of the best defensive prospects in the Caps organization. I fully expect Carrick to make a serious run at making the starting roster for the 2014-15 campaign, but I would be rather surprised if it happens this season.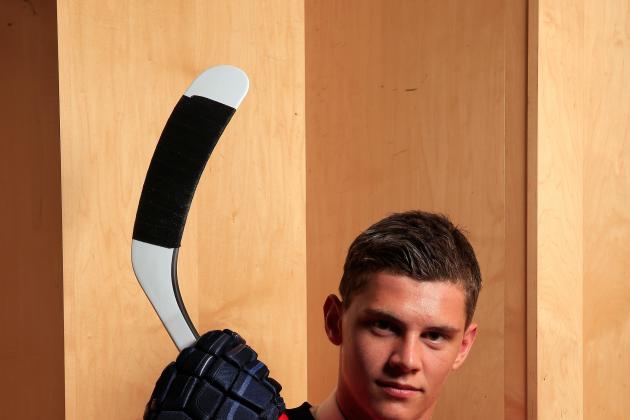 Jamie Squire/Getty Images
I don't expect to see Andre Burakovsky with the Caps for a couple of years.
Andre Burakovsky was the first-round draft pick of the Washington Capitals in the 2013 NHL draft, selected No. 23 overall.
He is a natural goal scorer and is the type of player who wants the puck on his stick. He is a very strong skater and is rather intelligent as far as his on-ice game is concerned.
He can be very creative with the puck, but at just 6'1", 177 pounds, Burakovsky is obviously going to have to add some size and muscle if he plans on making an impact in D.C.
This past summer, Burakovsky was selected fifth overall in a CHL import draft by the OHL's Erie Otters.
Initially, Burakovsky was less than thrilled with the idea of playing for Erie. However, he warmed to the idea, committed to play for Erie and then signed a three-year, entry-level contract with the Caps
This is the best case scenario for the Caps and Burakovsky. By playing in North America, where his progress can be more easily monitored, Burakovsky can get acclimated to the North American style of game which will, in turn, make his transition to the NHL go much more smoothly.
As general manager George McPhee said to Katie Carrera of The Washington Post:
We're really delighted that he's playing in Erie... What we wanted to do was get him playing with kids his own age because he's been playing in a men's league over in Europe and get him playing a lot so he'll learn about the NHL game. We thought it was a great spot for him. He's playing with this Connor McDavid kid, who is a terrific player, and it looks like they've got some really good chemistry already. He needs to learn to speak the language a little bit better. He speaks fairly well but he has a lot more to learn. And why not do it now?
Burakovsky already has a great deal of natural talent and all the potential to be a real sniper for the Caps once he is ready to play.
Right now though, he is on the Caps Team B in training camp. This is even better experience than he will likely get in Erie. On Team B, Burakovsky gets to play alongside veterans such as Jason Chimera and Eric Fehr. It won't help him make the main squad this year—but it is fantastic experience for later on down the road.
On Monday night in Philadelphia, Burakovsky had over 14 minutes of ice time, put a couple of shots on goal, had a plus-one rating and was the third shooter in the shootout. A rookie really could not ask for better experience than that.
The future for Burakovsky looks quite bright, and the Caps should benefit greatly from that. It will be interesting to see how he performs in Erie this season and how his overall game progresses moving forward.
We won't see him in a regular season Caps game for a couple of years. But by the time he gets here, he will likely have been worth the wait.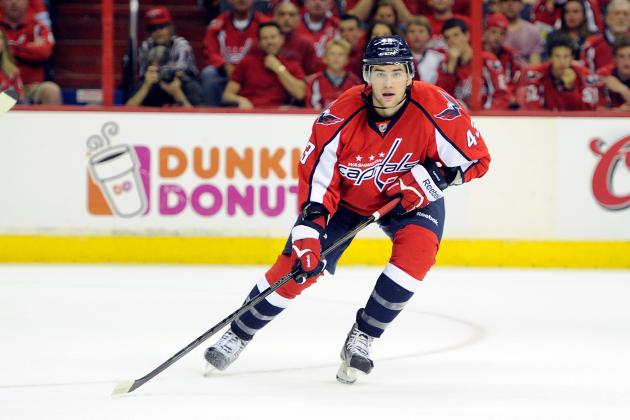 Greg Fiume/Getty Images
Tom Wilson has a real chance to make the Caps starting roster this season.
Of all the Caps rookies mentioned thus far, Tom Wilson is probably the only one who has a true chance to make the team and play in the season opener on Oct. 1 in Chicago.
Wilson, the No. 16 overall pick in the 2012 NHL draft, played in three games against the New York Rangers in the playoffs last season and was rather impressive.
Will that translate into a permanent role in Washington this season?
Wilson was simply dominant playing for the Plymouth Whalers of the OHL last season. In 48 games played, he had 23 goals, 35 assists and an astounding plus-36 rating.
Wilson even got in some time with the Hershey Bears in the playoffs last season where he played in three games and scored a goal.
To top it all off, Wilson then got to play with the Caps in the playoffs against the Rangers.
There is nothing more Wilson can gain from playing in the OHL. Perhaps he could benefit from some more time in Hershey but even that is debatable.
Wilson might only be 19 years old, but in so many ways, he looks NHL-ready right now. At 6'4", 210 pounds, Wilson is a beast, and there are very few players in the OHL—or for that matter the AHL—who can match his size.
He has size, and he knows how to use it. He plays a punishing and physical game. He also knows how to get under the skin of the opposition and can be a bit of an agitator.
Wilson is also the type of player who will lead by example and who will quickly jump to the defense of his teammates. He is not shy at all about dropping the gloves and duking it out. He plays with an intensity level that the Caps have lacked for several years now.
And he is not too bad at all as far as skating, shooting, passing and scoring. All of this has him ranked No. 2 by Russian Machine Never Breaks as far as Capitals prospects are concerned.
If Wilson is to continue to make progress he must be tested by players who can actually test him.
NHL players who can match up well with Wilson don't exactly grow on trees, but they are most definitely out there.
Unlike Andre Burakovsky, who got placed on Team B in training camp, Wilson was placed on Team A. This means that Wilson gets to share ice time with the Caps elite players, such as Alex Ovechkin, Nicklas Backstrom, Troy Brouwer, Martin Erat, Marcus Johansson, Mike Green and Mikhail Grabovski (once Grabovski sorts out his Visa issues).
Is that a sign that the Caps coaching staff feels that Wilson belongs with the Caps starters? It is hard to tell.
The big issue Wilson might face is the depth the Caps have as far as their bottom-six are concerned. The Caps have many options in this area.
The practical effect of this means that Wilson must compete with players like Joel Ward, Eric Fehr, Jason Chimera and Aaron Volpatti for a roster spot. Realistically, there are five players competing for three spots as far as wingers are concerned.
Like many of the Caps top players, Wilson did not play in the Caps 4-3 shootout win over the Philadelphia Flyers on Monday so it is difficult to gauge his progress.
All signs, however, seem to indicate that Wilson is being strongly considered for a roster spot with the Caps this season.
I think it is very reasonable to expect Wilson to be a part of the Washington Capitals this season and to make a significant contribution to the team as they contend for a playoff spot in a tough Metropolitan division.
Expect him to make the Caps' final roster and he will come out firing against the defending champion Chicago Blackhawks on Oct. 1.