5 Defensive Players Not Named Jadeveon Clowney You Need to Know About
Sam Greenwood/Getty Images
Now that South Carolina's Jadeveon Clowney has shown that he is human, college football fans finally have a chance to hear about other great defensive players.
The reactions of the Clowney hit have died down, the Heisman buzz has faded away and many folks are questioning whether he was even worth all of the national attention.
Whether you still believe in Clowney or not is your choice, but the slow start has opened the door for other great defensive players to steal some of the shine.
From an Alabama linebacker to a Big Ten cornerback, here are a few defensive players who should now receive as much attention as the Gamecocks superstar defender.
Anthony Barr, LB, UCLA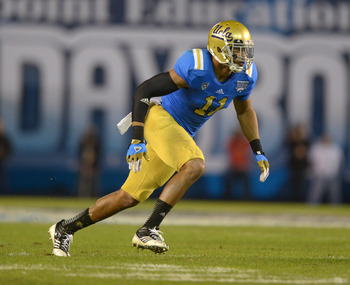 USA TODAY Sports
2013 Stats: 16 tackles, 3.5 tackles for loss and three forced fumbles.
Anthony Barr is a scary NFL draft prospect considering he's only in his second season as a defensive player. He began his career as a fullback. Just imagine how good he'll be once he completely learns the position.
The way Barr plays linebacker makes you wonder how previous coaches didn't see his defensive potential. He has a great build at 6'4" 244 pounds and extremely long arms. He explodes off the ball and his terrific closing speed allows him to cover a ton of ground. He's a natural pass rusher, but he's also comfortable at dropping back into coverage.
Barr must strengthen his upper body to help him improve in run support, but he's easily one of the better players eligible for the 2014 NFL draft.
Bradley Roby, CB, Ohio State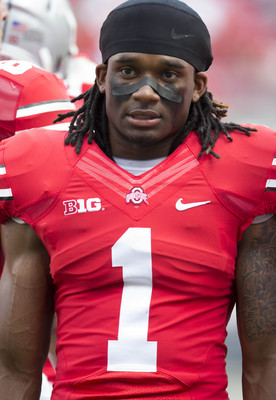 Greg Bartram-USA TODAY Sports
2013 Stats: 11 tackles and three passes broken up.
Bradley Roby could be the most exciting defensive player in the country. Yes, that includes being flashier than Jadeveon Clowney.
Roby is the definition of athletic, as he jumps off the screen when watching him play. His speed is absolutely incredible and this allows him to make plays on the ball and take chances by jumping routes. He also has impressive ball skills, as there's almost never a play where he isn't looking to jar the ball loose or intercept a pass.
The Ohio State corner doesn't have great size at 5'11", but he plays much bigger than his frame indicates. Roby has tremendous upside and could quickly become a shutdown corner at the next level.
Aaron Lynch, DE, South Florida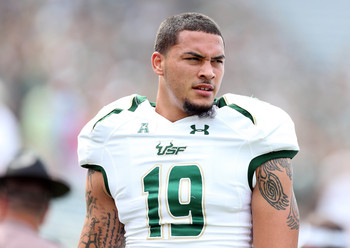 Mike Carter-USA TODAY Sports
2013 Stats: Six tackles, 0.5 tackles for loss and one pass broken up.
Aaron Lynch led Notre Dame with 5.5 sacks as a freshman in 2011. He won't receive nearly the same attention as if he was still with the Irish, but everybody needs to keep a close eye on this South Florida defensive end.
His first-step quickness is quite impressive and he's also stout in run defense. Another thing to like is his long frame at 6'5", 248 pounds. His long arms allow him to interrupt passing lanes, and his thick build makes him tough to control in one-on-one situations.
Lynch has great upside and will continue to climb NFL draft boards once he gets comfortable on his new team.
Loucheiz Purifoy, CB, Florida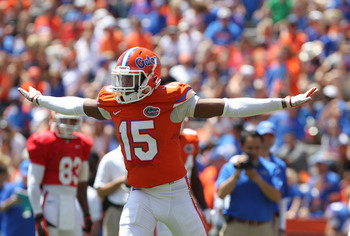 Kim Klement-USA TODAY Sports
2013 Stats: Three tackles, one tackle for loss and a blocked punt.
Loucheiz Purifoy has a rare skill set for a cornerback. He has great size at 6'1", but his off-the-chart speed and athleticism make him abnormal. He can keep up with the fastest receivers, but he is also physical and big enough to matchup well with bigger and stronger wide receivers.
Purifoy also has experience at wide receiver and special teams. He's blocked three kicks in the last two seasons and could see extensive playing time as a return man in the NFL due to his playmaking ability.
The junior corner is versatile and will be an absolute steal for a lucky NFL team.
C.J. Mosley, LB, Alabama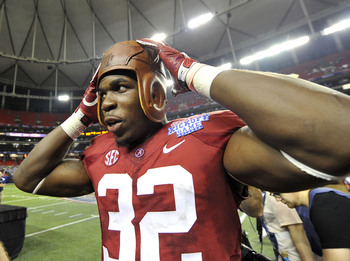 Paul Abell-USA TODAY Sports
2013 Stats: 19 tackles.
Why didn't C.J. Mosley leave school early?
Another national championship to add to the trophy case?
Either way, he will certainly be a first-round pick in next year's NFL draft. At 6'2", 232 pounds, there aren't many defensive players as polished as Mosley. He has remarkable instincts, is extremely athletic and he has a high football IQ. He's the brain behind Alabama's defense.
There isn't much Mosley can't do. He sheds blocks nicely to make him effective against the run and he's athletic and aware enough to make him a solid pass defender. Alabama will once again have a top tier defensive draft prospect.
Keep Reading