Realistic 2013-14 Expectations for New York Rangers Youngsters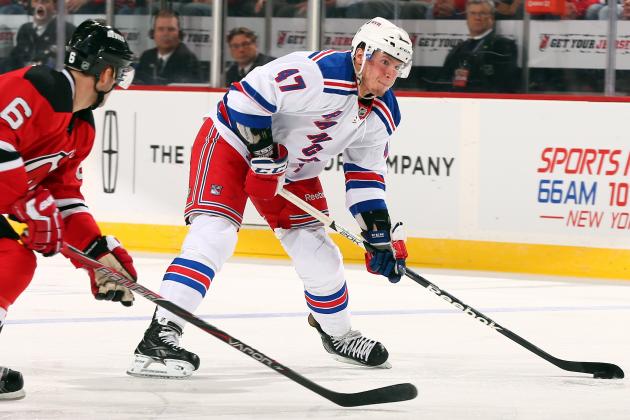 Elsa/Getty Images

Every NHL team needs an infusion of youth and the New York Rangers are no different. For the 2013-14 season, there are a few youngsters who could make a big impact.
Of course, living up to the sky-high expectations usually proves impossible. Instead, we'll give realistic expectations for some of the top Rangers young players.
Read on to learn more.
Begin Slideshow

»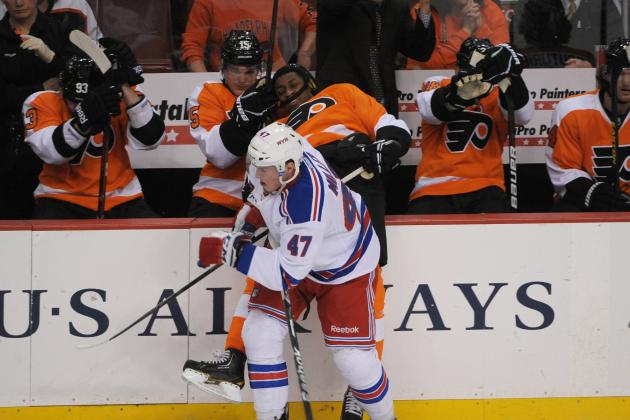 USA TODAY Sports

J.T. Miller impressed in limited action last season, scoring two goals and adding two assists in 26 NHL games. Between the AHL and NHL, Miller scored 10 goals and had 17 assists before being shut down for the season with a wrist injury.
Miller looked young on the ice, and it showed with his lack of defensive awareness. However, he also had flashes of brilliance, and showed potential as a second-line center with an all-around game.
Miller has a decent shot of making the team, and his chances will improve if he's shifted to wing. He's the type of player who—with regular playing time—could score 12-15 goals.
If Miller is on the third line, playing with a skilled forward like Mats Zuccarello, he could make a big impact. He has high-end skill and showed potential as big-time playmaker.
Look for Miller to score at least 10 goals and become an important part of the team by season's end.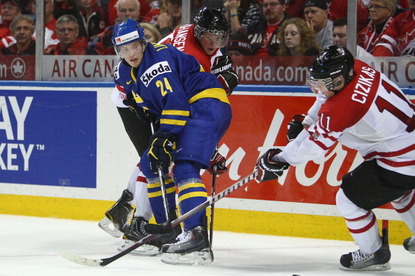 Tom Szczerbowski/Getty Images

Oscar Lindberg is an intriguing center prospect, who could make the roster.
He's impressed in training camp so far. Here's what Alain Vigneault had to say (via the New York Daily News):
In Oscar's case, you can tell that he's played with men before. Him being a centerman right now at this time, and with that amount of speed and puck protection skill that he has, he's going to get a real solid look. He's impressed not only myself and the coaching staff, but he's impressed management since Traverse City. So there's a possible surprise that, as I mentioned, talent has no age.
Last season in Sweden, Lindberg scored 17 goals and had 25 assists. He followed that up with 12 points in the postseason, winning the Stefan Liv Trophy, which is the Swedish equivalent of the Conn Smythe.
Those are very impressive numbers for a 21-year-old playing in one of the best leagues in the world.
Can Lindberg make the roster?
There are a lot of centers ahead of him and he still needs to adjust to the North American game. However, he has an impressive two-way game, and if he doesn't start the season in the NHL, then he will certainly spend some time with the big club.
Look for Lindberg to score five goals and add an assist. He'll make his biggest impact during the 2014-15 season.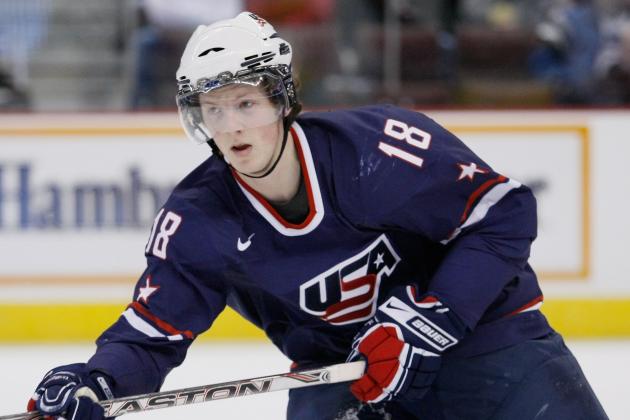 Richard Wolowicz/Getty Images

With Ryan Callahan's and Carl Hagelin's status in question for the season opener, there is an opportunity for a young forward to get some playing time.
One of those wingers is Danny Kristo.
Acquired over the summer from Montreal, Kristo is entering his first professional season after spending the last four years at the University of North Dakota. Kristo scored 26 goals and had 26 assists for the Fighting Sioux as well as three assists for the Hamilton Bulldogs of the AHL in nine games.
He has a lot of offensive upside and could excel on the power play.
Kristo is very similar to Mats Zuccarello, and while he may not be able to last the whole season, he should end up scoring seven goals and adding a few assists.