College Football All-Week 3 Team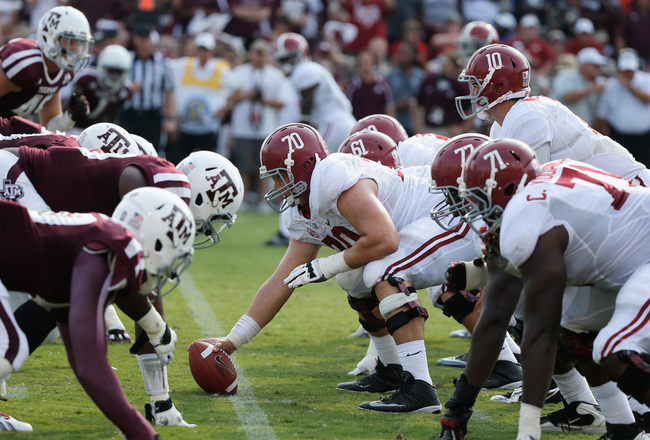 Scott Halleran/Getty Images
Week three provided the best performances of the college football season. The marquee matchups were turned up a notch and many teams were looking to make a statement for the first time this year. They always say the stars shine brightest in the biggest moments.
There were four quarterbacks who topped 400 passing yards, a Pac-12 running back who ran for more than 200 yards and two receivers who hauled in more than 200 receiving yards. Defensively, an ACC defensive back intercepted two passes and an SEC defensive lineman made his living in the backfield.
Who else had the best performances of week three?
Quarterback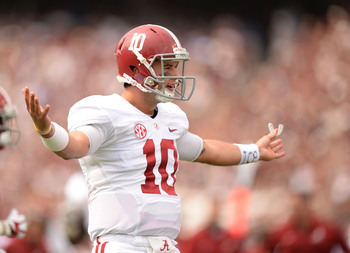 Thomas Campbell-USA TODAY Sports
AJ McCarron, Alabama
Still think he's a game manager?
Although McCarron wasn't nearly as flashy as Johnny Manziel, he outplayed the reigning Heisman winner when it counted most. He threw for 334 yards and four touchdowns in the Crimson Tide's 49-42 victory over Texas A&M. Surprisingly, 251 of those yards and three touchdowns came in the first half. The other score was in the final minutes of the fourth quarter to secure the win for Alabama.
McCarron bounced back in a big way after his lousy performance against Virginia Tech in the season opener. If he can continue to play at that level, he may actually have a real chance at the Heisman.
Running Back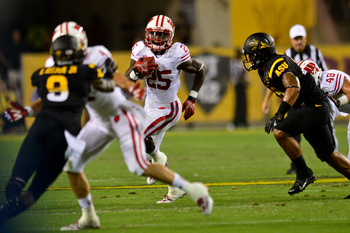 Matt Kartozian-USA TODAY Sports
Melvin Gordon, Wisconsin
Gordon is one of many Wisconsin running backs who continues to thrive this season, but he had his best performance in a losing effort against Arizona State. With only 15 carries, he ran for an incredible 193 yards and two touchdowns. He scored on an 80-yard touchdown run to begin the second half and is averaging close to 13 yards per carry on the season.
Bishop Sankey, Washington
Easily one of the most underrated running backs in the country, Sankey carried the Washington offense on his back in a 34-24 win over Illinois. He carried the ball 35 times for 208 yards and scored two touchdowns. He's been on a tear in Washington's first two games and leads college football comfortably with an average of 184.50 rushing yards per game.
Wide Receiver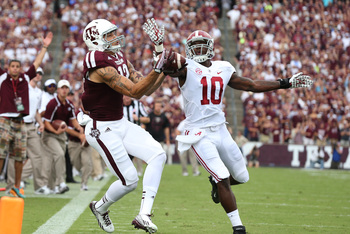 Matthew Emmons-USA TODAY Sports
Mike Evans, Texas A&M
It's not very often when a wide receiver is able to consistently break down an Alabama secondary, but that's exactly what Evans did. He caught seven passes for 279 yards and a touchdown in Texas A&M's loss to the Crimson Tide. He found the holes in the defense, leaped over defenders and outmuscled guys to move the chains. His 95-yard touchdown in the fourth quarter was the longest offensive play of the Nick Saban era.
Brandin Cooks, Oregon State
Cooks is showing no signs of slowing down, as he keeps coming up big for the Beavers. In an overtime thrilling win against Utah, Cooks caught nine passes for 210 yards and three touchdowns. One of his scores was a six-yard touchdown that came in overtime to give Oregon State the upset victory. Cooks leads the Pac-12 with 29 catches and 498 receiving yards.
Tight End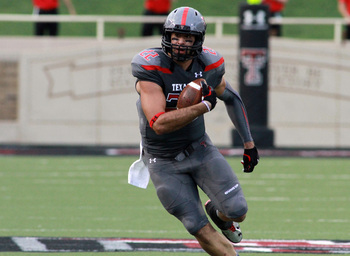 Michael C. Johnson-USA TODAY Sports
Jace Amaro, Texas Tech
Remove Amaro's production from Texas Tech and there's a good chance TCU would have found a way to beat the Red Raiders. Instead, the junior tight end was the mismatch who was a tough cover for the Horned Frogs. He was the top receiver in the 20-10 upset win over TCU, hauling in nine receptions for 97 yards.
Every other Texas Tech receiver had a hard time getting open consistently against the physical TCU defensive backs. It was Amaro who used his 6'5" frame to break free and make big plays when Texas Tech needed them most.
Offensive Line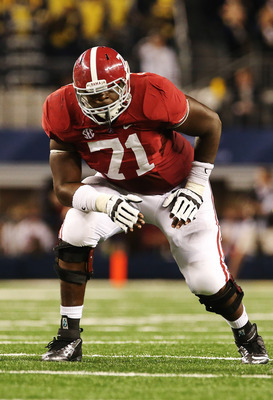 Kevin Jairaj-USA TODAY Sports
Cyrus Kouandjio, Alabama
Alabama's offensive line was heavily criticized after laying an egg against Virginia Tech in the season opener. Kouandjio, who is the leader up front for Alabama, knew he had to step up in a big way and make sure the entire offensive line improved.
In a hostile environment against Texas A&M, the junior turned to a higher power, according to Stewart Mandel of Sports Illustrated:
"I kept saying, 'My God is better than this noise, my God is better than this noise,'" Kouandjio said. "It gave me confidence."
Alabama did a better job of opening up running and didn't allow a single sack. Hey, whatever works.
Defensive Line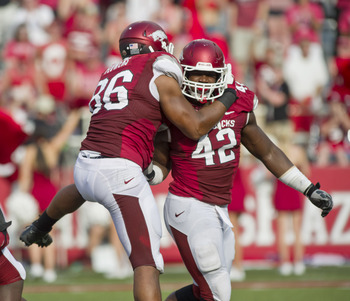 Beth Hall-USA TODAY Sports
Chris Smith, Arkansas
Don't look now, but Arkansas is 3-0!
A lot of this has to do with a balanced offense, but the defense has also made great strides. Take defensive lineman Chris Smith for example. In the Razorbacks 24-3 win over Southern Mississippi, the senior had five tackles, three sacks and two quarterback hurries.
The constant pressure up front made it impossible for the Golden Eagles to have any offensive success and gave Arkansas a confident boost with another win.
Linebacker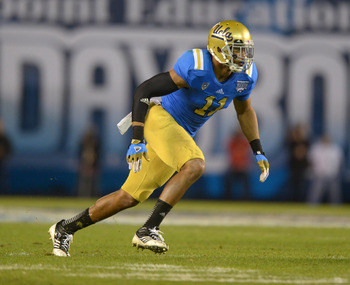 USA TODAY Sports
Anthony Barr, UCLA
UCLA was in trouble early on the road against Nebraska and was about one more score away from being blown out. But the team rallied together and found a way to comeback and pull off the 41-21 shocker against the Cornhuskers.
While Brett Hundley handled the offense, Barr turned into a monster defensively, leading the Bruins with 11 tackles, 1.5 tackles for loss and forcing three fumbles. He's a one man wrecking crew, I tell ya!
There aren't many defensive players who are capable of taking over a game, but Barr can do that and more for UCLA.
Defensive Back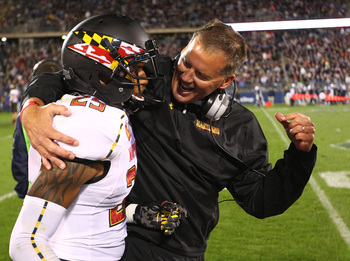 Mark L. Baer-USA TODAY Sports
Dexter McDougle, Maryland
Connecticut was able to hang tough with Maryland in a 32-21 loss. The difference in the game was McDougle, who played shutdown coverage and intercepted two passes. One of his picks was returned 49 yards for a touchdown to put the game away late in the third quarter.
Believe it or not, but the Terrapins are undefeated with a 3-0 record.
Unfortunately, McDougle injured his shoulder in the fourth quarter and will miss the remainder of the season. Still, his key performance helped Maryland come away with another win.
Keep Reading