Tennessee Titans vs. Houston Texans: Full Roster Grades for Houston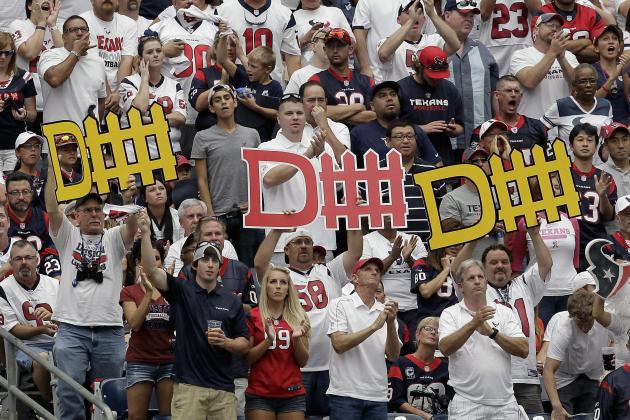 Bob Levey/Getty Images

Wow.
Somehow that word, that singular phrase, seems the only appropriate way to sum the Houston Texans performance against their division rivals, the Tennessee Titans.
After a long game dominated by defense, the Titans took an eight point lead late after Matt Schaub threw a pick-six. The game seemed over.
But never underestimate the heart of the Texans. After the team staged an incredible comeback versus the San Diego Chargers last week, all Texans fans knew anything was possible.
The Texans tied up the game, sending it into overtime, where they scored the game-winning touchdown on the extra quarter's first drive.
This memorable performance is one that required full effort from the entire team. Disclosed in the rest of the article are grades for each and every important player on the Texans roster.
Begin Slideshow

»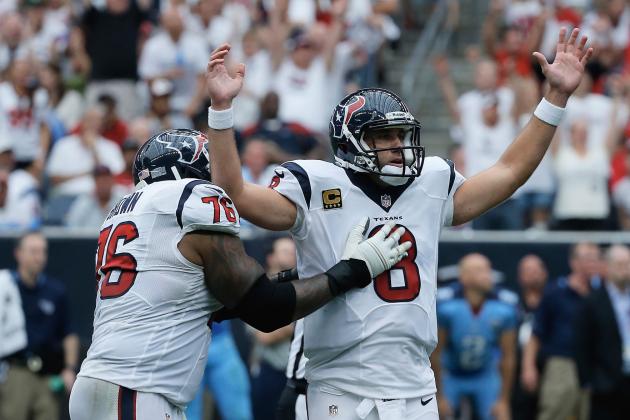 Scott Halleran/Getty Images

Matt Schaub: B
After last week's great game against the Chargers, expectations were high for Matt Schaub. Contrary to the predictions of many, though, Schaub was never able to quite get it going.
That is, of course, until the final few drives of the game. Schaub masterfully led the Texans down the field in the final minutes of the fourth quarter to tie up the game and send it into overtime. And then in overtime, he, along with DeAndre Hopkins, tore apart the Titans defense and won one of the most up-and-down games in Texans history.
Schaub will be remembered for his late-game heroics, but in truth, he struggled for the majority of this game.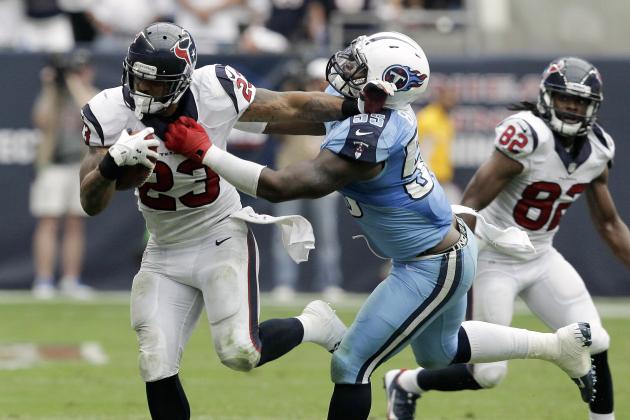 Bob Levey/Getty Images

Arian Foster: B+
In an inconsistent performance, Arian Foster both wowed and disappointed as he continued to shake off the rust after missing all of training camp and preseason.
At times, Foster looked like his old dominant self: cool, calm and collected. He waited for his blocks to develop, found the best hole and hit it with his shocking one-cut ability.
At others, though, Foster looked like he still wasn't fully healthy, going down at the slightest contact and struggling to hit the right hole with the needed velocity.
Foster should benefit from having a great running back behind him to give him much-needed rest, and he should only continue to get better.
Ben Tate: A-
Despite carrying the ball 10 less times than Foster, Ben Tate outrushed Foster by 14 yards, much thanks to a breathtaking 60-yard run on the first drive of the game.
In his limited playing time, Tate looked just as good as he did last week. He made big plays happen whenever possible and he always fought for extra yardage.
Greg Jones: B+
Greg Jones, a bruising lead-blocker for the Texans' talented halfbacks, had another solid day of work for the Texans.
He lead the way effectively for both Foster and Tate, opening up holes easily for them.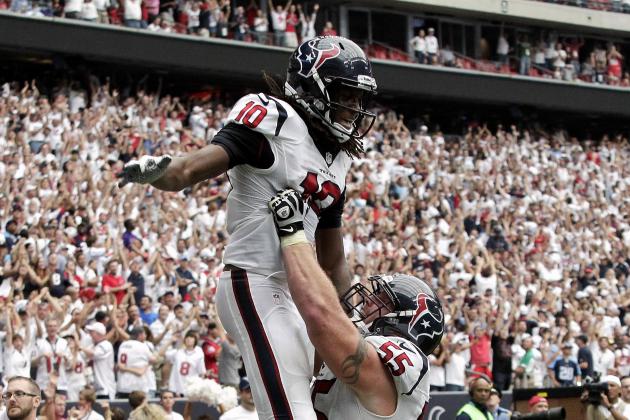 Bob Levey/Getty Images

Andre Johnson: B+
Andre Johnson's final stat line looks pretty good. Seven catches for 76 yards is certainly solid, and his amazing 21-yard reception at the end of the game set up Arian Foster's game-tying touchdown.
Johnson, however, was definitely not impressive. For the majority of the game he struggled to separate from double-teams and he could not consistently make plays for Matt Schaub.
DeAndre Hopkins: A
After DeAndre Hopkins' solid performance against the Chargers last week, many fans were satisfied with the Texans' decision to draft Hopkins in the first round of this year's NFL draft.
After this game, however, they were ecstatic. Simply put, Hopkins was a star in this one. After Johnson suffered an injury late in the game, Hopkins put the receiving load on his back, leading the Texans to victory.
He made awesome catch after awesome catch, seemingly defying the odds, showing off his near-perfect hands. Then, to top off his performance, Hopkins hauled in the game-winning touchdown on the fade route that is so perfectly suited to his skill set.
If Hopkins can continue to play like this, the Texans' passing offense could end up being the best it ever has been in the history of the franchise.
Keshawn Martin: B
Keshawn Martin did not receive much playing time at wide receiver in this one. But he certainly made the most out his limited opportunity.
Late in the game, Schaub found Martin on a short crossing route, who then turned on the jets and exploded for a jaw-dropping 32-yard gain.
Martin has huge playmaking potential, and his playing time should only continue to increase as this season progresses.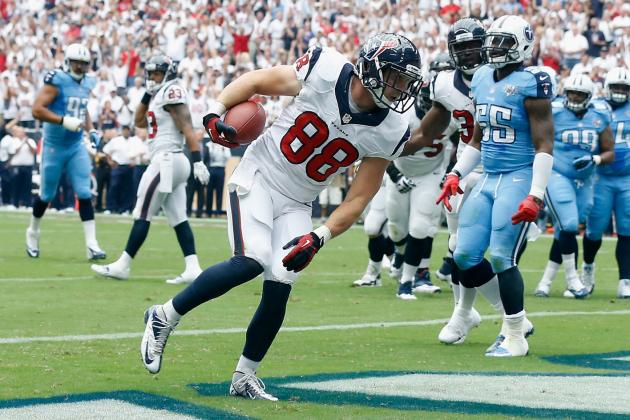 Scott Halleran/Getty Images

Owen Daniels: B-
Owen Daniels' spectacular red-zone touchdown was his lone saving grace in this one. Normally one of Matt Schaub's most reliable targets, Daniels struggled to get open and beat the Titans' defenders.
Daniels had two catches for 24 yards, and he was anything but impressive.
Garrett Graham: B+
Garrett Graham, meanwhile, continued to prove to the Texans he deserves an expanded role in the offense.
Playing from the backup tight end slot, Graham made the most of his limited targets. He hauled in three catches for 30 yards and one touchdown. He continues to be a dependent target, and Schaub will only continue to throw the ball his way as the season progresses.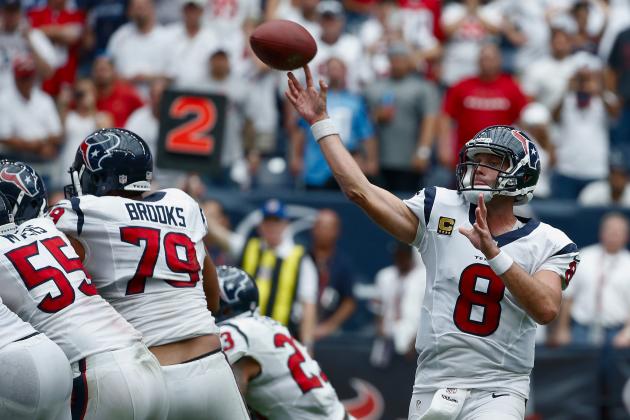 Scott Halleran/Getty Images

Offensive Line: C+
It was the tale of two tapes for the Texans' offensive line. For parts of the game, it looked like the elite unit it should be. It protected Matt Schaub with ease and opened up holes so big for Arian Foster and Ben Tate that even Randy Bullock would have no trouble running through them.
That was only for part of the game, however. For the rest of it, maybe even the majority of it, it struggled immensely.
Pass-rushers reached Schaub with ease. From Derek Newton to Duane Brown, the Texans offensive line could not contain its assignments. At other points, Foster had nearly nowhere to run.
The Texans rely on their offensive line; they need all five members of it to get their act together.
Scott Halleran/Getty Images

J.J. Watt: A
Remember just how terrific J.J. Watt was in his record-breaking, Defensive Player of the Year season? Well, it shouldn't be too difficult, as Watt put on a repeat performance against the Titans.
Watt was simply a monster in this one. The Titans offensive line could not handle him; he easily broke into the backfield on both running and passing plays.
He racked up two sacks, two tackles for loss and of course, two swatted-down passes.
Watt was simply unstoppable, and the Texans are fortunate to have such a defensive terror on their team.
Earl Mitchell: B
As with most nose tackles, Earl Mitchell failed to make much of a noticeable impact on the stat sheet. Mitchell, though, certainly left his mark on this one.
Shifty and quick, Mitchell routinely gave the Titans' interior offensive fit trouble, opening up pass-rushing lanes for his compatriots on the defensive line and in the linebacking core.
Antonio Smith: C+
Like Mitchell, Smith didn't make much of statistical impact. Unfortunately, he didn't actually do much to affect the game like Mitchell did.
He did have a nice play where he hit Chris Johnson in the backfield but aside from that, Smith's name was hardly called in his first game back from suspension.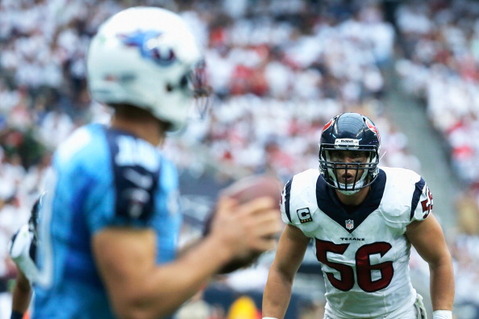 Scott Halleran/Getty Images

Brian Cushing: A
Brian Cushing, in his second game back since suffering a torn ACL, had a performance that was good enough to rival even J.J. Watt's.
Cushing, like Watt, was a nightmare for the Titans offense. He flew all over the field blanketing tight ends and running backs, shutting down Chris Johnson in the run game and sacking the quarterback when he was asked to blitz.
His final stat line was just as incredible as he looked on the field: he turned in 11 tackles—four for loss—and two sacks.
Joe Mays: B-
Joe Mays wasn't bad nor good in this one. Just plain average.
He did, however, make one huge play for the Texans late in the game. The Titans were backed up against their own goal-line and Mays hit Chris Johnson is the endzone, forcing a safety.
Mays did not consistently play well, but he did make a huge, game-changing play.
Whitney Mercilus: B
Whitney Mercilus, despite not tallying a sack, had a solid game for the Texans' defense. His run defense, which is considered one of his biggest weaknesses, was impressive; he made several good plays on Johnson.
He also applied pressure to the quarterback, either forcing him to scramble out of the pocket or to rush his throw.
Brooks Reed: B
Brooks Reed has a very similar game to Mercilus'. He was solid against the run, did well in coverage and occasionally pressured the quarterback.
Darryl Sharpton: B
Darryl Sharpton had perhaps the most surprising performance out of all the Texans linebackers. Despite coming off the bench and getting subbed out when the Texans played nickel and dime defenses, he managed to put together a very good performance.
He was stout against the run, tallying five total tackles; he was also good in coverage, always staying close to his assignments.
After this one, Sharpton will certainly see an increased amount of playing time.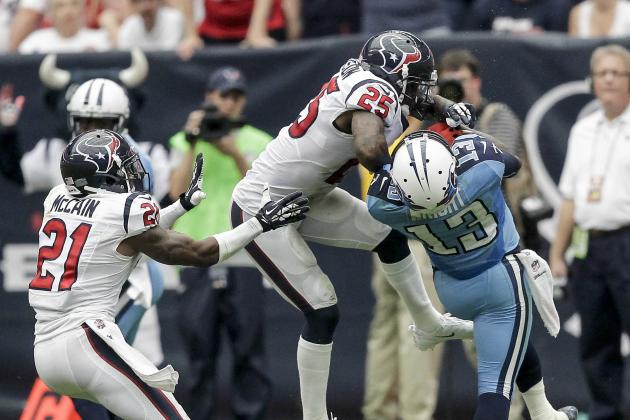 Bob Levey/Getty Images

Johnathan Joseph: A-
Johnathan Joseph, despite a few hiccups, looked closer to his 2011 form than he did all of last season. He was great in coverage, and the Titans receivers struggled to get open when matched up against him.
Kareem Jackson: B
Kareem Jackson, for most of the game, was simply amazing. He looked like a shutdown cornerback; he gave up virtually no plays to the Titans' offense.
But then the Titans game-tying touchdown drive late in the fourth quarter happened. Jackson was responsible for essentially all of the Titans plays on that drive; he gave up a huge play to Nate Washington, was responsible for an illegal hit-to-the-head penalty and gave up the touchdown pass to Delanie Walker.
Aside from this drive, Jackson had a fantastic game. But he did let the Texans down in a key moment of the game and that is why his grade was so negatively affected.
Brice McCain: C
Brice McCain continued his struggles in this one. Although the Titans' passing offense was unable to get anything going this game, McCain was frequently picked on, as he should have been. McCain needs to get his game back to its 2011 form, or he will end up getting torched by some of the league's better slot receivers later on in the season.
Danieal Manning: A-
Manning had a very, very good game for the Texans defense. He was active against the run and his coverage was stifling. Until Ed Reed is fully healthy, the Texans will need Manning to continue to put up performances like this one.
Shiloh Keo: B+
Shiloh Keo, who split time with D.J. Swearinger, continued his streak of surprisingly good performances. He was great in coverage and he made more than a few plays against the run. Keo, who was considered to be a liability before the start of the season, has only made good plays for the Texans so far this season.
D.J. Swearinger: B+
Swearinger looked nothing like the lost defensive back he was last week. Swearinger got torched by Phillip Rivers; he was unable to keep up with the Chargers tight ends.
In this one, though, Swearinger was a changed player. He let up no passing plays and he was ferocious against the run.
Scott Halleran/Getty Images

Randy Bullock: F
After kicking the game-wining field goal as time expired last week, Randy Bullock was riding an emotional high. He was brought brutally down this week.
He missed all three of his attempted field goals, including a possible game-winner. If Bullock can't put concerns to rest next week, the Texans may soon start hosting tryouts for kickers.
Shane Lechler: A
Shane Lechler on the other hand, was awesome for the Texans' special teams unit. He showed both power and touch on his punts, either booming the ball down the field or landing it down perfectly inside the 20-yard line.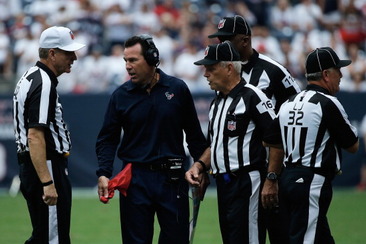 Scott Halleran/Getty Images

Coaching: B-
All in all, the Texans struggled in this one. And when a team as talented as the Texans is unable to put away a team like the Titans at home, much of the blame must fall on the coaching staff.
The Texans, however, never gave up and again came back to snatch victory from the jaws of defeat in a nail-biting comeback. Players tend to get the credit in these situations but coaches are often responsible for instilling a "never give up" personality in their players.