Brandon Weeden Injury: Updates on Browns QB's Thumb, Likely Return Date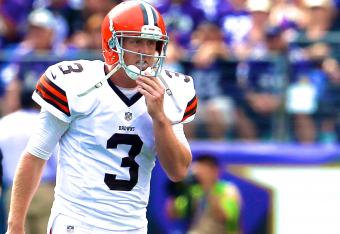 As if the Cleveland Browns could afford any more problems on offense—where they have mustered just 550 total yards through two losses to the start the season—quarterback Brandon Weeden suffered a sprained thumb in Week 2 against the Baltimore Ravens.
He was ruled out for Week 3 against the Minnesota Vikings and Week 4 against the Cincinnati Bengals. Brian Hoyer will start for Weeden in Week 5, though he has been cleared to play.
UPDATE: Thursday, Oct. 3
From Tom Withers of the Associated Press:
#Browns QB Brandon Weeden will back up Hoyer. Campbell inactive. Also, RG Shawn Lauvao active, expected to start for 1st time in 2013.

— Tom Withers (@twithersAP) October 3, 2013
UPDATE: Tuesday, Oct. 1
Mary Kay Cabot of Cleveland.com passes along a statement from Brandon Weeden discussing his current position within the Browns' organization following the announcement that Brian Hoyer would start Thursday against the Buffalo Bills:
"I'd be lying if I said this was the ideal situation,'' said Weeden, who participated fully in Monday's light practice. "I want to be out there. You never draw it up that you're going to get hurt Week 2 and stuff like this happens. But it's life. You can't feel sorry for yourself.

"I'm treating it like this is still my football team, I'm still involved in the offense. I'm not discouraged.''

[...]

"I'm not going to feel sorry for myself and start sulking and pouting,'' Weeden said. "That's just not the way I go about it. I've still got a lot of confidence in my ability and I'm not discouraged. I think I played better this year and my confidence is still high.''

[...]

I'm the ultimate team guy, I want to win games, I want to be on a team that's winning games, it makes this business a lot more fun. And Brian's playing well, the offense is playing well, the defense is playing outstanding. It's fun to watch. I'm happy for this football team.''
UPDATE: Monday, Sept. 30
From ESPN SportsCenter:
Brian Hoyer will start again for Browns on Thursday night. Hoyer is 2-0 while starting for injured Brandon Weeden. (via @AdamSchefter)

— SportsCenter (@SportsCenter) September 30, 2013
Mary Kay Cabot of Cleveland.com followed:
#Browns' Chud said today that Weeden has been cleared to play, wouldn't have had time to practice, but Hoyer is starting on own merits.

— Mary Kay Cabot (@MaryKayCabot) September 30, 2013
UPDATE: Sunday, Sept. 29
From the Cleveland Browns:
#Browns inactives vs. CIN: Weeden, Groves, M. Wallace, Lauvao, K. Milton, Winn & Sheard. B. Mingo to start at OLB, & O. Cousins at RG.

— Cleveland Browns (@Browns) September 29, 2013
UPDATE: Friday, Sept. 27
From the Plain Dealer's Tom Reed:
#browns QB Brandon Weeden (thumb) threw ball for first time today. Asked what he learned watching from sidelines: "Don't get hurt."

— Tom Reed (@treed1919) September 27, 2013
UPDATE: Wednesday, Sept. 25
From Tony Grossi of ESPNCleveland.com:
#Browns Chudzinski: Brian Hoyer will start at QB. Weeden will be out.

— Tony Grossi (@TonyGrossi) September 25, 2013
#Browns Chud: Weeden will start throwing in the next few days.

— Tony Grossi (@TonyGrossi) September 25, 2013
UPDATE: Sunday, Sept. 22
From Ian Rapoport of NFL.com:
From #GameDayMorning: According to a #Browns source, QB Brian Hoyer CAN win the starting job over Brandon Weeden with a stellar performace.

— Ian Rapoport (@RapSheet) September 22, 2013
As sources make clear, though, #Browns are searching for their franchise QB, still, and the belief is it'll come in the draft.

— Ian Rapoport (@RapSheet) September 22, 2013
UPDATE: Thursday, Sept. 19
From ESPN's Adam Schefter:
Doctors determined Browns QB Brandon Weeden has sprained rt thumb that will not need surgery. Weeden could be ready as early as next week.

— Adam Schefter (@AdamSchefter) September 19, 2013
UPDATE: Wednesday, Sept. 18
The Cleveland Browns have announced Brandon Weeden's replacement for Week 3:
BREAKING: Head Coach Rob Chudzinski has informed Brian Hoyer that he will start at quarterback Sunday at Minnesota.

— Cleveland Browns (@Browns) September 18, 2013
Ian Rapoport of NFL.com followed:
On #Browns starting QB Brandon Weeden: His thumb MRI showed no long-term damage. Plan: See how a week of rest helps, reevaluate for Week 4

— Ian Rapoport (@RapSheet) September 18, 2013
UPDATE: Tuesday, Sept. 17
Nate Ulrich of the Beacon Journal reports Brandon Weeden will likely miss Week 3:
Browns coach Rob Chudzinski isn't ready to commit to Jason Campbell or Brian Hoyer as the team's starting quarterback for Week 3, even though Brandon Weeden will likely be sidelined Sunday with a sprained right thumb against the host Minnesota Vikings.
Weeden underwent an MRI on his thumb Monday after suffering the injury Sunday in the fourth quarter of the Browns' 14-6 loss to the Baltimore Ravens, a team spokesman confirmed. X-rays on the thumb were negative, Chudzinski said.
Ulrich followed with a statement from Rob Chudzinski:
"We're really waiting on Brandon to kind of see where he's at and make the determination in the next few days with Brandon, and we'll go from there," Chudzinski said. "I'm going to keep all our options open right now. Obviously we have two options, and that's Jason and Brian both.

"I'm confident in all the guys that we have. We'll put the guy out there that I feel like is going to give us the best chance on Sunday if it's not Brandon."
Chudzinski also disputed a report that Weeden would miss most of the season, Ulrich reports:
Chudzinski, through a team spokesman, said WTAM (1100-AM) talk show host Mike Trivisonno's report that Weeden could be out for most of the season and possibly the rest of it is "untrue."

"I received a phone call from a very good source saying Brandon Weeden could be out for a long, long, long time, possibly could be out for the entire season," Trivisonno said on the air a few hours after Chudzinski's news conference Monday afternoon. "His thumb is really screwed up."
---Original Text---
Last year's first-round pick has completed just 47 of 86 passes (54.7 percent) for 516 yards, one touchdown and three interceptions. Concern surrounding the 29-year-old has been growing on a weekly basis.

Still, Cleveland's backup option, Jason Campbell, isn't someone who is expected to fix any problems if he is forced to play for an extended period of time.
Campbell, who completed 1 of 4 passes for six yards on Sunday, put together a few encouraging seasons with the Washington Redskins and Oakland Raiders but never really came close to living up to his potential.
The Browns will return big-play threat Josh Gordon—who developed a nice rookie connection with Weeden in 2012—from suspension next week, which could help inject some potency into the offense.
At this point, it's unclear who will be throwing to him.
This article is
What is the duplicate article?
Why is this article offensive?
Where is this article plagiarized from?
Why is this article poorly edited?