Big Ten Football: Power Ranking Every Team After Week 3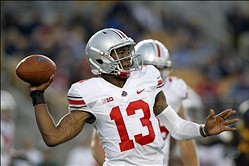 Cary Edmondson-USA TODAY Sports
Ohio State QB Kenny Guiton
The Big Ten conference race hasn't even started and yet, through three weeks of the 2013 college football season, a pecking order has been established.
The biggest storyline so far might be the conference's inability to notch any major out-of-conference victories, though Michigan's win against Notre Dame seemed to spell that myth, if only for a week.
Yesterday, Nebraska looked lost against UCLA and while Wisconsin could have (should have?) walked out of Sun Devil Stadium with a victory, it didn't.
Still, the season is young and what teams look like today doesn't always indicate what kind of football they'll be playing seven or eight weeks from now.
As always, these rankings are subject to major changes as new information is provided each weekend. For now, here are your Big Ten conference power rankings through Week 3.
Begin Slideshow

»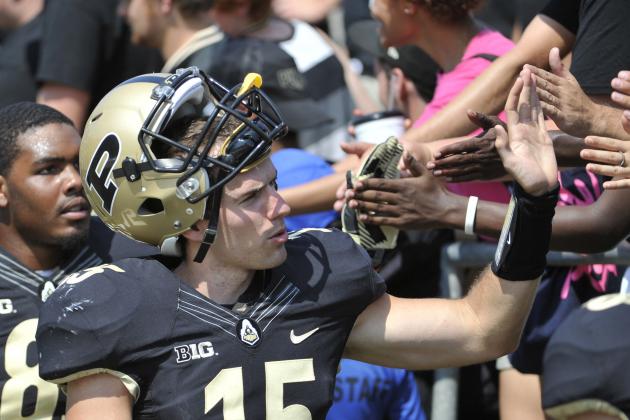 Sandra Dukes-USA TODAY Sports
Purdue QB Rob Henry
Purdue is the only team in the conference with just one victory thus far.
That may not automatically put the Boilermakers in the bottom spot if it weren't for the fact that one of those losses was a 35-point shellacking at the hands of Cincinnati, and the lone victory was a close, 20-14 win against Indiana State.
To be fair, Purdue showed a lot of fight against Notre Dame in prime time on Saturday night. But a loss is a loss, and with Wisconsin, Northern Illinois, Nebraska, Michigan State and Ohio State next on the schedule, it's hard to see more than a win or two in the next month.
Perhaps the gritty effort against the Irish will propel this team to do great things, but right now it sits in the Big Ten cellar.
Pat Lovell-USA TODAY Sports
Indiana WR Cody Latimer
After Purdue at 1-2, a handful of Big Ten teams have a record of 2-1 halfway through the opening month of games.
Separating these teams isn't easy, but we're starting with the Indiana Hoosiers.
The lone loss of the season was a 41-35 defeat to Navy, which isn't the best kind of loss to have on your resume. The two wins were obtained in blowout fashion, but they came against Indiana State and Bowling Green.
The Hoosiers are also giving up more than 28 points per game, which ranks 82nd in the nation.
That's not exactly a number you want to see before conference play arrives. Next up is a visit from Missouri which should provide a good challenge for Kevin Wilson's squad. But it's hard to imagine this defense holding up enough to give the Hoosiers some quality victories.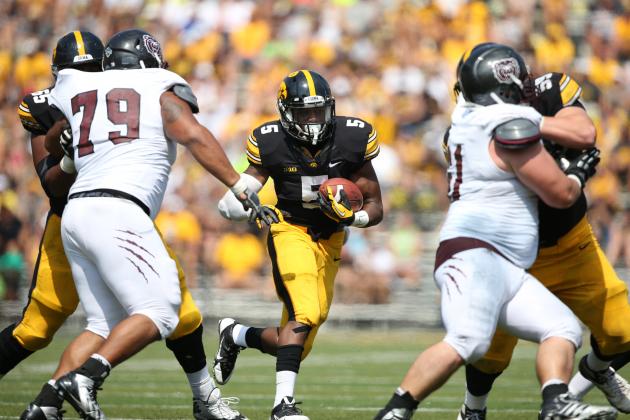 Reese Strickland-USA TODAY Sport
Iowa RB Damon Bullock
The Iowa Hawkeyes have to be pleased after a 27-21 victory over rival Iowa State on Saturday.
As for where that puts them in the power rankings, however, not much has changed.
The loss to Northern Illinois doesn't look too bad, but stumbling through wins against Missouri State and Iowa State doesn't exactly give cause for moving this team up.
The fact remains that the offense isn't explosive and the passing game is average at best. While the hard-nosed brand of football can still be seen from time to time, it isn't likely that Iowa will be able climb up into the top half of the conference this season.
Mike DiNovo-USA TODAY Sports
QB Nathan Scheelhaase
The Illinois Fighting Illini put up a valiant effort against a ranked Washington team on Saturday, but it wasn't enough.
Still, Nathan Scheelhaase and company fought back from a three score deficit to cut the lead to just seven before the Huskies tacked on a field goal to prevail by 10.
The Huskies are seen as a pretty solid team from the Pac-12 that has the potential to knock off either Stanford or Oregon this season. Hanging around with them bodes well for Illinois in the future.
Last week's dominating victory over Cincinnati also showed fans that this team can hang with and beat a lot of good teams around the country.
Still, at just 2-1 without having entered conference play, Illinois will be doubted until it can win games against Big Ten foes.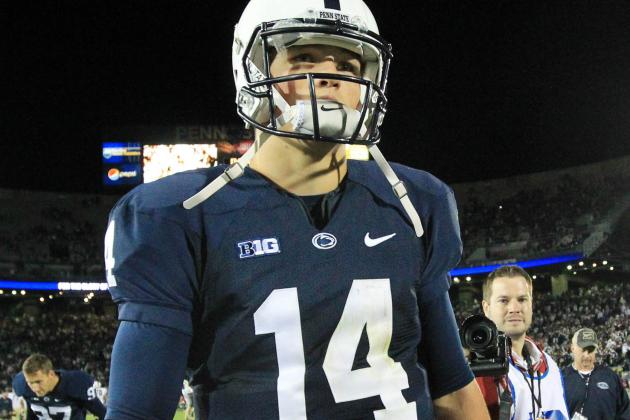 Matthew O'Haren-USA TODAY Sports
Penn State QB Christian Hackenberg
Starting the season off with a victory over Syracuse was nice. Following that up with a dominant performance against Eastern Michigan was even better.
But Saturday's 34-31 loss to UCF showed that this team still has a ways to go if it hopes to compete with some of the top teams in the conference.
While Central Florida isn't terrible by any means, the loss came in front of a raucous home crowd, which always gives the Nittany Lions an edge.
Up next is a visit from Kent State, a team coming off getting stomped by LSU. It would behoove the Nittany Lions to bounce back and get the record to 3-1 before beginning conference play.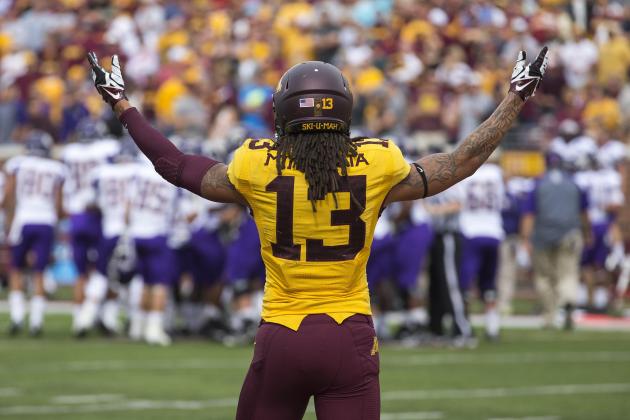 Jesse Johnson-USA TODAY Sports
Minnesota DB Derrick Wells
The Minnesota Golden Gophers are quietly putting together a nice little season so far in 2013.
After thrashing UNLV and New Mexico State in the first two weeks, the team notched a relatively unimpressive 29-12 victory over Western Illinois.
But the Gophers outscored the Leathernecks 14-0 in the final period, giving them momentum heading into next week's game against San Jose State.
A 3-0 start is exactly what you want to see as a fan and it probably means that this team can and will be competitive throughout the year. But the Spartans will be a major step up from the level of competition so far, and it will be interesting to see how Philip Nelson and company handle things.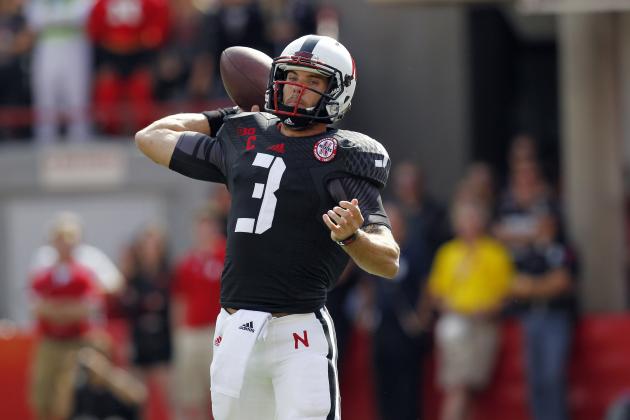 Bruce Thorson-USA TODAY Sports
Nebraska QB Taylor Martinez
The Cornhuskers may not stay as low as No. 6 for very long, but right now, there isn't much of a case for the team being any higher.
The offense has looked terrific at times, see the first half against UCLA. But it can also look flat-out inept, see the second half against UCLA.
The biggest test of the preseason slate was always going to come from the Bruins, and Nebraska failed that test rather miserably. Brett Hundley and Company are going to beat a lot of teams this year, but you don't accept 20-point home beatdowns when you're Nebraska.
A visit from South Dakota State next week should help the team bounce back a little bit before it hits the Big Ten schedule.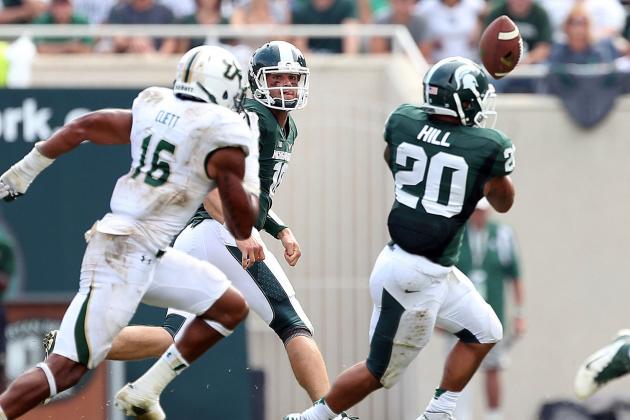 Mike Carter-USA TODAY Sports
Michigan State RB Nick Hill
Michigan State is a 3-0 team that we know absolutely nothing about. That will change when it heads to South Bend next Saturday to take on Notre Dame.
The defense has been very good, and it will probably be stout enough to keep the Spartans in most if not all the games on the schedule.
But the offense has yet to really hit its stride. The quarterback situation is muddy, and Le'Veon Bell is in the NFL. No, putting up 55 points on Youngstown State does not count as "hitting its stride."
But despite unimpressive wins over Western Michigan and South Florida, the Spartans are still 3-0. Get to 4-0, and they'll climb up these rankings quickly.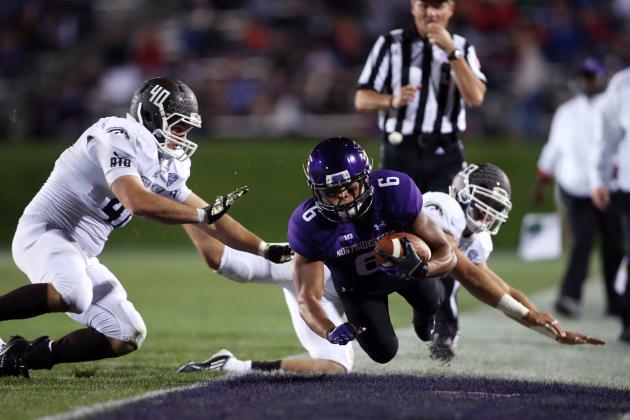 Jerry Lai-USA TODAY Sports
Northwestern WR Tony Jones
So far so good for Northwestern as the Wildcats have passed all three early-season tests in 2013.
Road trip out west to face a Pac-12 team? Check.
Home game against Syracuse? Check.
Avoiding the letdown against an inferior team in Western Michigan? Check.
One more cupcake opponent, Maine, will travel to Northwestern next Saturday before the Wildcats get a bye in preparation for a visit from Ohio State. So you can safely expect their place in the rankings to be unchanged next Sunday.
But the game against the Buckeyes will be the true measure of what Northwestern can accomplish this season. Win that one, and the top spot in the power rankings will have a very unfamiliar face.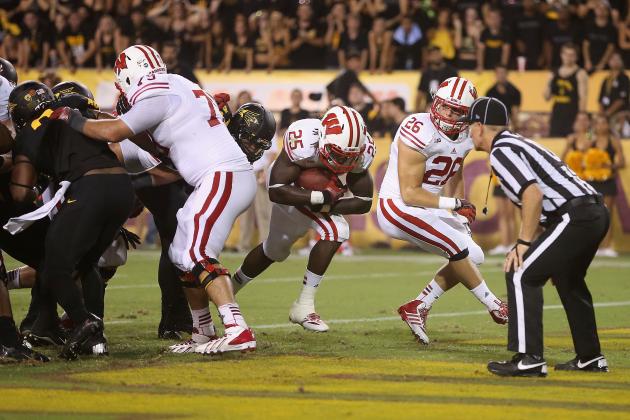 Christian Petersen/Getty Images
Wisconsin RB Melvin Gordon
The final three teams in the Big Ten power rankings were difficult to rank, but Wisconsin ultimately falls to the three spot because of its loss to Arizona State.
The "loss" is going to be a sore subject for Wisconsin fans for a long time, but it won't change in the record books. Unfortunately, the caveat that the officials messed up on the final play isn't going to be brought up every single time someone talks about the loss to the Sun Devils.
But we saw enough from the game to know that this team is for real, even if it missed out on a potential game-winning field goal attempt. Melvin Gordon is an absolute stud in the backfield and the defense did a great job containing an explosive Arizona State offense for much of the night.
The Badgers should now turn their focus on Purdue, which could be a major trap game with Ohio State looming.

Rick Osentoski-USA TODAY Sports
Michigan QB Devin Gardner
Yesterday's game against Akron was bad. Real bad.
But it wasn't quite Appalachian State bad, which is why Michigan still has a hold on the two spot in the Big Ten Power Rankings.
Let's not forget the previous two weeks, either, which saw Brady Hoke's team stomp on Central Michigan and slide by Notre Dame.
Can we attribute yesterday to a game day hangover? Perhaps, but it also exposed some major issues because anybody that hopes to contend for a conference title isn't going to let the Zips hang around for very long.
Michigan has the talent to win the league, but it must refocus and put things together after what was very nearly an embarrassing home loss.

Cary Edmondson-USA TODAY Sports
Ohio State QB Kenny Guiton
Let me be clear: Ohio State is deserving of the top spot in this week's Big Ten power rankings.
But that doesn't mean we can't be critical of a team that hopes to be playing in the national championship come bowl season.
For starters, the defense shouldn't be allowing 34 points to a team that is probably the fourth or fifth-best team in its division.
The second issue is the health of Braxton Miller. That's obviously not something that the Buckeyes have much control over, and fortunately for Urban Meyer he has a backup in Kenny Guiton who has played very well.
But for this team to reach it's full potential, it needs a healthy Braxton Miller and a secondary that has some swagger. Both of those things are question marks at this point.
After what should be an easy game against Florida A&M, the Buckeyes will play Wisconsin and Northwestern in back-to-back weeks. That will tell us if this team is truly ready to contend for a title this season.