The greatest lessons in life are learned in defeat. Luckily for Les Miles and the LSU Tigers, they get to enjoy those lessons without taking a loss by observing Kevin Sumlin's game plan against the Alabama Crimson Tide.
Yes, the Tigers' matchup with the Tide is months away, but judging by the way this season is playing out, it looks as though the "game of the century" (part four?) will once again be Alabama and LSU.
The other "game of the century" this season (yes, we now have several per year) saw the Crimson Tide defeat the Texas A&M Aggies 49-42.
Though Sumlin's Aggies came up short, Texas A&M had great success on offense, as the scoreboard would lead you to believe. A total of 628 total yards isn't bad against Nick Saban's stingy defense, right?
So what lessons can be learned here?
Force One-on-One Matchups with a Tall Receiving Target
Texas A&M had the most success with wide receiver Mike Evans. The Aggies' spread offense against Alabama's four-man front gave Texas A&M a single matchup on the outside with the 6'5" receiver.
Evans had 279 receiving yards as a result.
Matthew Emmons-USA TODAY Sports
The Tigers should try and mirror this strategy. Granted, the Tigers' best two options on the outside are only 6'1" on a good day.
That's where a true freshman comes into play. Most likely, LSU will use tight ends and fullbacks to try and throw Alabama's defense off-balance, but a wild card for the Tigers could be true freshman tight end DeSean Smith.
The Tigers should line up Smith on the outside and try to get him matched up with John Fulton or Cyrus Jones. This would not only give the Tigers a favorable matchup on the outside, but it would force Alabama to defend in a nickel package with Jarvis Landry or Odell Beckham lined up at the slot. No way Adrian Hubbard can cover either one of those players.
Need I remind you that Beckham and Landry are the first two LSU receiving tandem to record 100 yards receiving each in a game since Michael Clayton and Josh Reed? Talk about the glory days for LSU wide receivers. Heck, Landry and Beckham did it going against two of the better cornerbacks in the league—Kevin White and Jason Verrett also.
LSU would light up the scoreboard with either in the slot.
Capitalize on the Running Game
Now, if LSU implements this strategy, the Tigers must utilize the running backs and ride them toward victory.
It's much easier running the ball against a nickel package that's expecting a pass than it is trying to run the football against a defense that's expecting a run. See LSU's overall offensive struggles the past few years as evidence.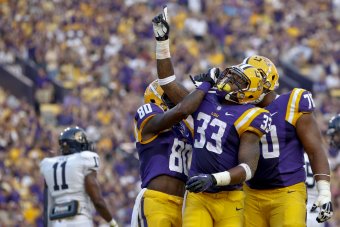 Derick E. Hingle-USA TODAY Sport
The Aggies used Manziel's legs as a weapon against the defense. Manziel was able to evade defenders in the pocket and scramble for first downs. With Zach Mettenberger, this option doesn't seem likely. Okay, that's putting it nicely, as Mettenberger has negative-174 rushing yards in his collegiate career.
So how can LSU take advantage?
Take another page out of Sumlin's playbook and run the hurry-up offense.
With the personnel on the field that force Alabama to pick its poison (either bracketing LSU's slot receiver or Smith on the outside), the Tigers need to run an uptempo offense to keep Alabama's nickel package on the field. Then, it's ground-and-pound time with Jeremy Hill and company.
This has been LSU's bread and butter, and after rushing for 307 yards this past weekend, the running game is gaining momentum heading into SEC play.
Texas A&M scored 42 points on Alabama by focusing on its advantageous matchup with Evans and Manziel's style of play in the pocket. Can LSU produce the same numbers exploiting the same type of matchup on the perimeter?
Football is all about taking successful schemes from coaches and teams and applying them within one's own system. My bet is Cam Cameron will by the time Nov. 9 rolls around.