Chargers vs. Eagles: Takeaways from San Diego's 33-30 Win over Philadelphia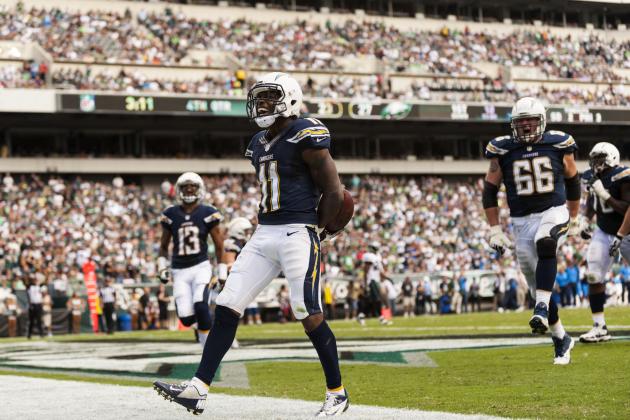 Howard Smith-USA TODAY Sports

The San Diego Chargers picked up their first win of 2013 on the road against the Philadelphia Eagles 33-30 with a game-winning field goal by Nick Novak in the final seconds of the game.
After losing to the Houston Texans on Monday Night Football by a late field goal last week, it must feel really good to end up on the winning side for once. The Chargers drove into Eagles' territory with seconds remaining on the clock before Novak hit a 46-yarder right down the middle to get the win.
Like the Washington Redskins last week, San Diego did struggle to stop Philly's offense from moving the ball and scoring points, but Philip Rivers and the Chargers offense matched the Eagles score-for-score to keep San Diego afloat.
Here are some of the takeaways from today's win.
Begin Slideshow

»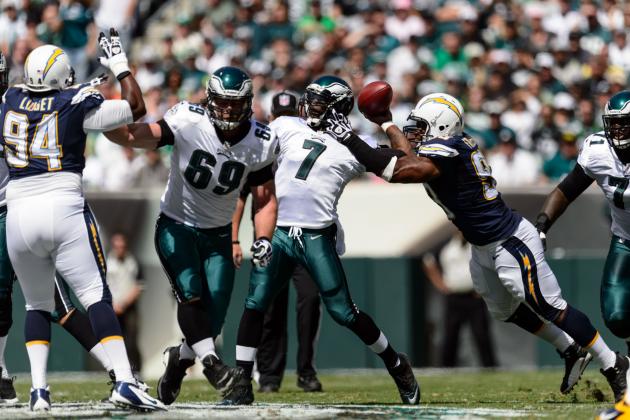 Howard Smith-USA TODAY Sports

The Chargers surrendered 30 points to Chip Kelly's uptempo offense and managed just one sack from Jarius Wynn, but the constant pressure surrounding Michael Vick was enough to throw off Philly's attack when it mattered in the end.
Dwight Freeney wasn't able to bring Vick down, but he was frequently seen with his hands up in the quarterback's face or stripping the ball as he attempted to throw. The pressure was there, but when Vick got his passes off in time he was able to pick up big chunks of yardage—11.6 yards on average to be exact.
Jeffrey G. Pittenger-USA TODAY S

In Monday night's loss to the Houston Texans, the Chargers' secondary had no answer for Andre Johnson, who finished with 12 catches for 146 yards. The same problem occurred when DeSean Jackson was on the field as he burned the secondary for 193 yards and a score off nine catches.
Through two games, the defense has given up more than 700 yards passing to opposing quarterbacks. Shareece Wright and Derek Cox have played well at times, but the inexperience among this group has shown.
As more of the league's top receivers work in this secondary, career days for quarterbacks and receivers alike are inevitable.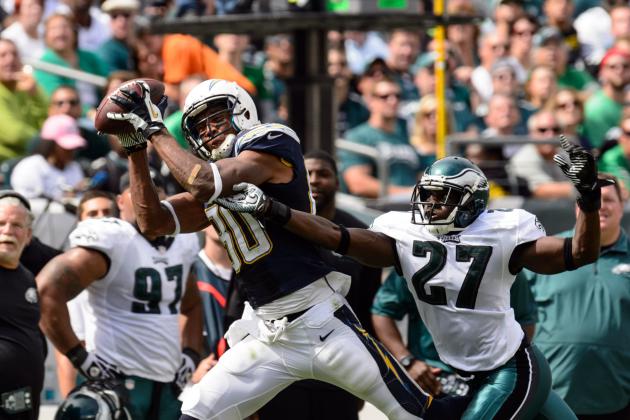 Howard Smith-USA TODAY Sports

Malcom Floyd left Sunday's game after a midfield collision while attempting to make a catch. His status doesn't look good.
Floyd collided with a defender with his head down and immediately fell to the ground. He was motionless as trainers attempted to work on him. The veteran receiver was carted off the field and taken away in an ambulance, but was seen moving his extremities at a nearby hospital according to the San Diego Union-Tribune.
San Diego can't afford to lose another receiver to injuries, especially a reliable one such as Floyd.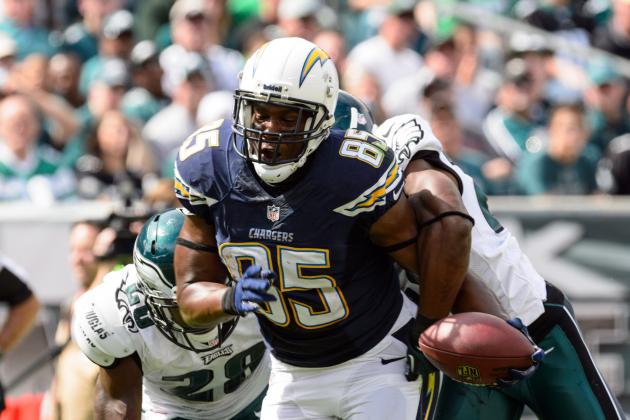 Howard Smith-USA TODAY Sports

Antonio Gates had a rare fumble in San Diego's win, but finished with eight catches for 124 yards. The veteran tight end hasn't fumbled since the 2009 season and it was just the fourth of his career.
Even with a mistake that could have potentially led to a score taken into account, Gates had a good day in San Diego's offense and averaged more than 15 yards per catch. The tight end has been targeted more often as of late and continues to come up big in pivotal situations for the Chargers.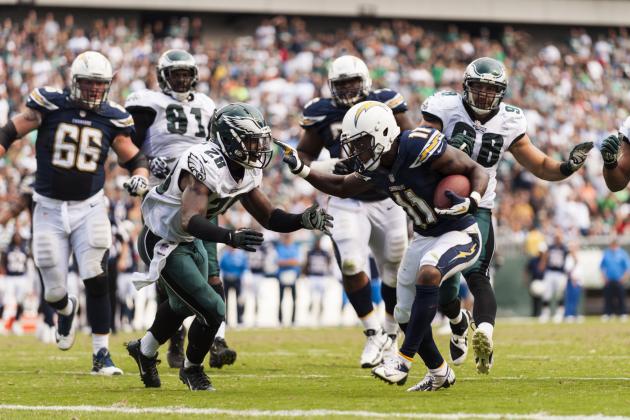 Howard Smith-USA TODAY Sports

Eddie Royal now has five touchdown catches following Sunday's win over the Eagles—four more than he had in all of 2012.
After a bust year last season, Royal has exploded onto the scene for the Chargers and has become a dangerous weapon on offense for Philip Rivers. His seven catches for 90 yards finished just second to Antonio Gates, but he made arguably the biggest plays of the game for the Chargers.
The question is, can he continue his hot streak if Malcom Floyd is unable to return to the lineup? Floyd and Royal both found open space in Philadelphia's secondary, but the two of them together created a lot of mismatches.
If Royal is left to fend for himself, does that limit his success in the coming weeks?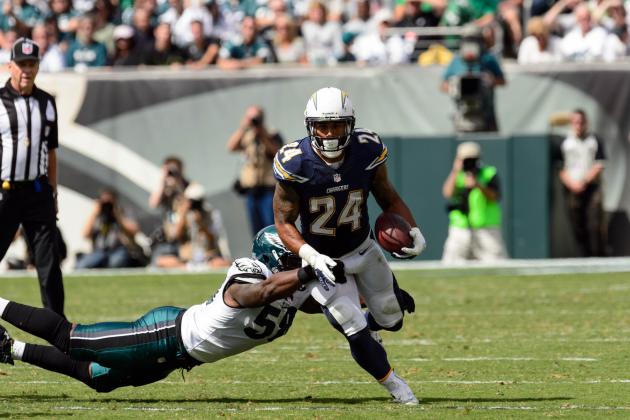 Howard Smith-USA TODAY Sports

Ryan Mathews had 73 yards on 16 carries and didn't reach the end zone, but he still made his mark on a close game.
The fourth-year back averaged 4.6 yards per carry against the Eagles and ran like his career depended on it. He was able to go between the tackles, get positive yards and beat defenders to the sideline for some nice yardage.
The fumble he lost, however, was not a sign of improvement. Mathews now has 12 fumbles in his short career and it will be interesting to see how Mike McCoy reacts to his running backs' problem holding onto the ball.
Norv Turner benched Mathews for the majority of a game last season because of turnovers, but McCoy may not be as tough on the 25-year-old.
Jeffrey G. Pittenger-USA TODAY S

In the loss to Houston, Danny Woodhead's only production came off two catches for 16 yards. This time around in Philly, Woodhead had eight catches for 37 yards and 27 yards rushing.
The Chargers made it a point in the offseason that Woodhead's versatility would help them on offense and the move to bring him in paid off on Sunday as he proved just how versatile he could be. Toward the end of the game, he was able to help his team convert on third down and get Nick Novak in better position for a field goal.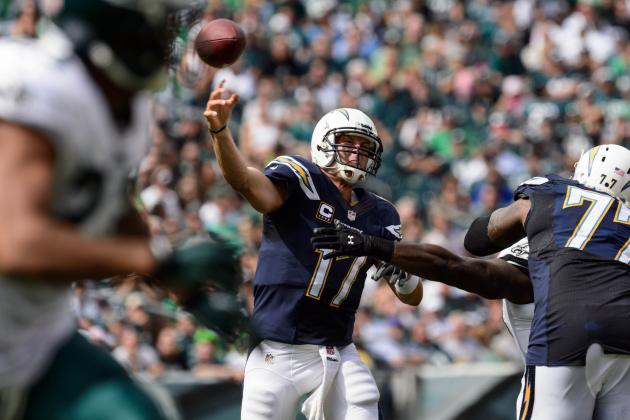 Howard Smith-USA TODAY Sports

Remember when Philip Rivers used to be a Pro Bowl quarterback and win football games for the Chargers? Well, we saw that Rivers in the win over Philly for the first time in about two years.
Rivers threw three touchdown passes to Eddie Royal and had 419 yards passing in a game where, for once, he didn't commit a turnover. He led his team on some successful scoring drives and managed the game effectively when setting up the late field goal attempt by Nick Novak.
This is the Philip Rivers that goes to Pro Bowls and wins games for his team while keeping his name out of the media.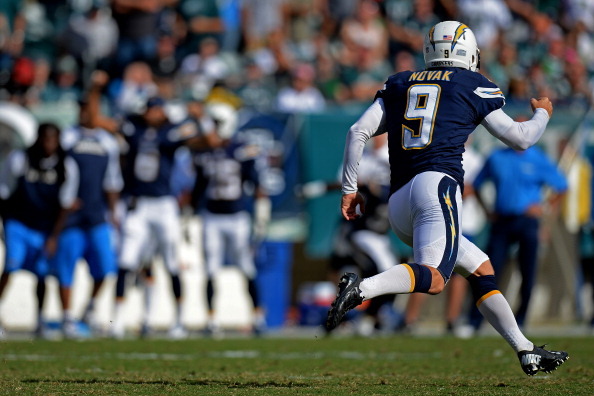 Patrick Smith/Getty Images

Nick Novak couldn't have been any more reliable in his efforts against the Eagles on Sunday. Novak hit all four of his field goal attempts from 49, 44, 33 and 46 yards out with ease.
He finished with 15 points total and may have put the memory of Nate Kaeding to rest with his clutch performance. Apparently that four-year, $6.6 million contract in the offseason was worth it.