Cowboys vs. Chiefs: Takeaways from Dallas' 17-16 Loss to Kansas City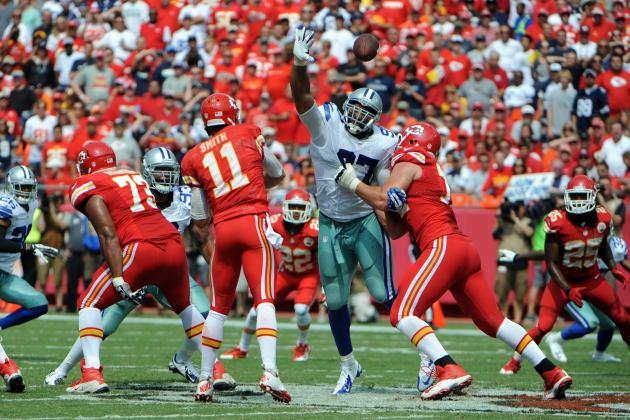 John Rieger-USA TODAY Sports

For the second straight season, the Dallas Cowboys walked into a hostile road game 1-0 and left without a victory. The Kansas City Chiefs were able to do what the Seattle Seahawks did last season and, in a famously loud stadium of their own, defeated Dallas by a score of 17-16.
For Dallas, there were certainly some aspects of the game that were executed well. Unfortunately for Jason Garrett's crew, the missed opportunities at Arrowhead Stadium outweighed any positives.
Here are eight takeaways for Dallas after its first road game of the season.
Begin Slideshow

»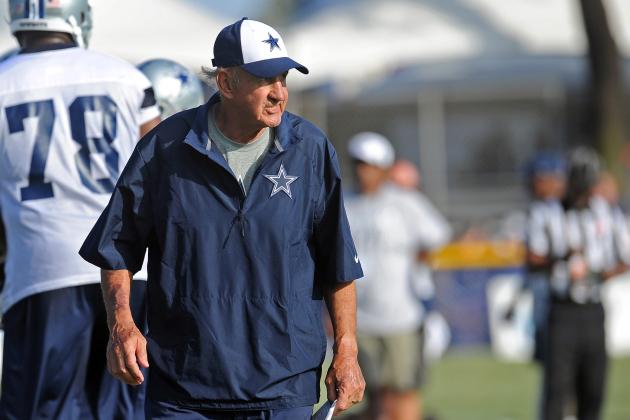 Jayne Kamin-Oncea-USA TODAY Spor

After causing a turnover frenzy against the New York Giants in Week 1, Monte Kiffin's defense did well for the second straight week. The unit did not record a single takeaway, but it kept the Chiefs in check.
Alex Smith's offense was held to just 17 points on the day, despite having a field-position advantage for much of the game.
Dwayne Bowe was the only receiver the Chiefs were able to get involved in the passing game. He ended the day with just 56 receiving yards on four catches. Running back Jamaal Charles had eight catches to lead Kansas City.
The Cowboys certainly could have used an interception or fumble recovery in this game, but Kiffin's defense performed well nonetheless.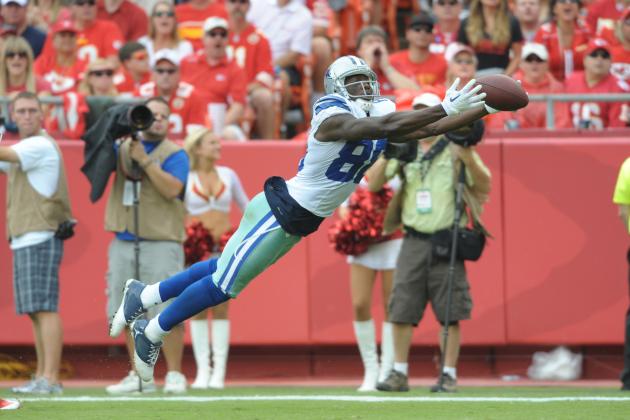 Denny Medley-USA TODAY Sports

Admittedly he wasn't a huge factor in the second half, but Dez Bryant put together quite the afternoon against the Chiefs.
Bryant finished with nine catches and 141 receiving yards, scoring the Cowboys' only touchdown. On the touchdown drive, quarterback Tony Romo threw only to Bryant, who had five catches for 100 yards, including the touchdown catch.
The Cowboys saw Bryant double-covered often in Week 1 and tried to take advantage whenever he was in a one-on-one matchup against Kansas City's cornerbacks, particularly Brandon Flowers. The results were a few acrobatic catches for No. 88.
Bryant did have a big drop in the second half, however, after beating Flowers down the sideline. If he had caught that ball, there's a chance the Cowboys could have ended things differently in Kansas City.
Regardless of the drop, Dallas has to feel good about its ability to get Bryant the football and make an impact on the contest.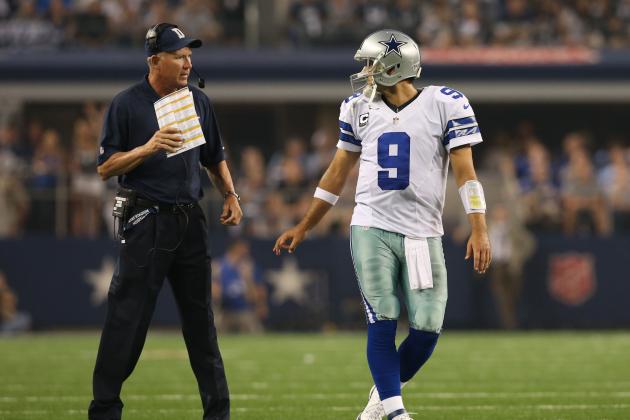 Matthew Emmons-USA TODAY Sports

Like his No. 1 receiver, Tony Romo started off against the Chiefs on a high note, but ended on a rather low one.
The Cowboys quarterback finished the day with a decent stat line of 298 yards and a touchdown. The box score doesn't tell the whole story though.
Romo had a fourth-quarter fumble, and on another late drive he looked very rattled—he almost threw an interception before a defensive holding call and on the very next play was almost picked again. That drive ended with a punt after a few more bad throws from Romo.
To top everything off, Romo checked down to DeMarco Murray on Dallas' own 2-yard line on the team's final play of the game.
Romo largely avoided mistakes in Week 2, and he even stretched the field on more than one occasion, but No. 9 continued his troubling trend of looking less than stellar during a crucial part of a football game.
Despite a somewhat decent afternoon for Romo, many will remember only his late miscues.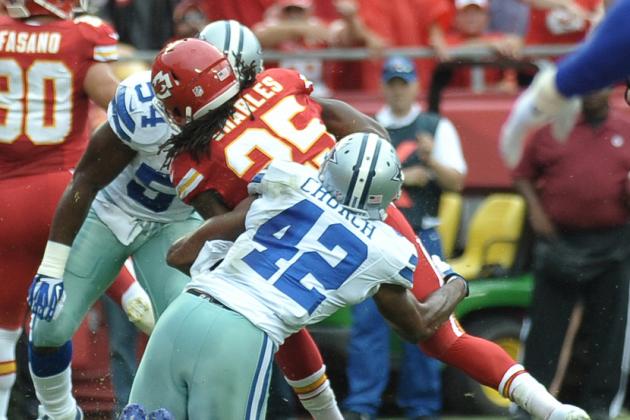 Denny Medley-USA TODAY Sports

It's no secret to anyone game-planning against the Chiefs that Jamaal Charles is their biggest offensive weapon. The Cowboys were able to keep that weapon's damage to a minimum on the road.
The Kansas City rusher did have eight catches for 48 yards and a touchdown, but he wasn't a big threat on the ground.
He had just 55 rushing yards on 16 carries, which comes out to about 3.4 yards per attempt. Quarterback Alex Smith actually bested him by two yards and was the Chiefs' biggest earner on the ground statistically.
Overall, Charles did a bit of damage on Kansas City's final drive, as the Chiefs ran critical time off the clock before pinning Dallas deep with just seconds remaining. Still, Monte Kiffin has to be proud of what his defense did against one of the NFL's more talented running backs.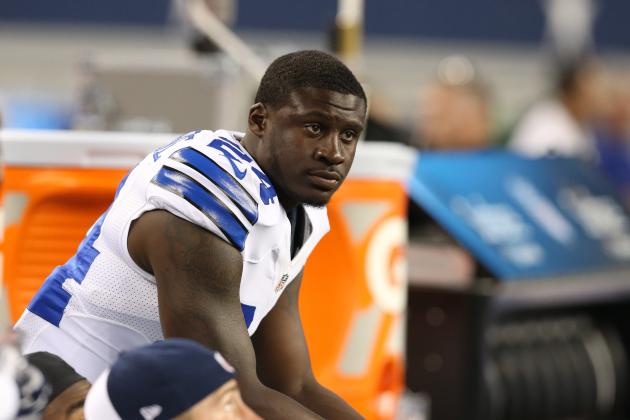 Matthew Emmons-USA TODAY Sports

Morris Claiborne was playing injured against the Chiefs, but it wasn't his injury that led to his costly mistake. It's a close call when looking at the replays, but Claiborne was ultimately called for pass interference late in the game against Donnie Avery.
There are plenty of Twitter users who disagree with the call. That being said, the referee made the call presumably because Claiborne's left arm was on Avery's back before the corner made a play on the ball.
The pass interference call gave the Chiefs a whole new set of downs that ultimately allowed them to wind the clock down to almost nothing. While he may only be entering his second season in the NFL, Claiborne needs to understand that an interference call is the last thing a defensive back can allow to happen late in the game.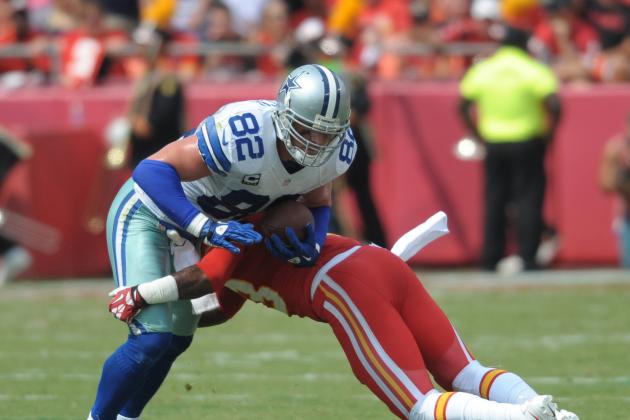 Denny Medley-USA TODAY Sports

It's not a huge surprise that Miles Austin and Jason Witten weren't involved in the passing game early on against the Chiefs. With Dez Bryant giving Tony Romo opportunities to feed him the ball, Witten and Austin understandably took a back seat.
What is puzzling is that in the second half of the game, when Bryant wasn't exactly lighting things up, Witten and Austin did little. The two had just three receptions each for a combined 43 yards. Even running back DeMarco Murray finished with 49 yards receiving.
What this shows is that Romo was forced into more checkdown types of calls, and Murray can only do so much damage when catching the ball around the line of scrimmage.
The Cowboys have too many offensive weapons for its passing game to just lose its way like it did late against Kansas City. The Chiefs don't have a terrible secondary, but Dallas has enough receiving talent to test it more than it did.
Jason Garrett and offensive coordinator Bill Callahan cannot allow the Cowboys offense to sputter down the road like it did in Arrowhead.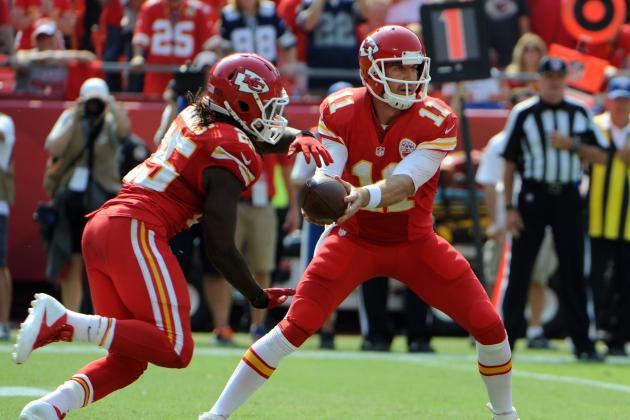 John Rieger-USA TODAY Sports

The very first play of the game, the Kansas City Chiefs came at the Cowboys with a read-option run by Alex Smith. Not a bad idea from head coach Andy Reid, considering Smith didn't do much of that in San Francisco.
As noted earlier, Smith actually finished the game with 57 rushing yards on eight attempts. He also picked up a huge first down for his team on a 3rd-and-long thanks to his mobility.
The Cowboys notably struggled to defend the read-option when playing Robert Griffin III and the Redskins last season. Maybe Reid watched some of that old tape and decided to see whether Dallas had learned how to defend it.
It didn't have a huge impact on the game, and not all of Smith's eight runs came via the read-option. Still, on the few times that Reid did call a read-option play, the Cowboys had a hard time reacting to it.
Give the ex-49er some credit for his rushing efforts in this one.
Denny Medley-USA TODAY Sports

Cowboys fans are sure tired of playing against teams with Andy Reid on the sidelines, and the AFC West Chiefs now fall into that category.
Kansas City was able to force some big turnovers during crucial points in the game. The defense came up with two big fumbles and was able to keep Dez Bryant quiet (for the most part) in the second half.
On a day where Bowe and Charles were the only two Chiefs to catch more than two passes, Kansas City made just enough plays to get the job done. Alex Smith often made the most of his offense's red-zone trips and found Charles and Bowe for touchdowns.
Punter Dustin Colquitt didn't make things easy for the Cowboys either, averaging 43.9 yards per punt. One could argue that the Chiefs should have done more with the field-position advantage they held, but a win is a win.
Tony Romo was a bit worried about playing this Chiefs team heading into Week 2, and his worries look warranted considering the end result.
All statistics were retrieved from NFL.com unless otherwise noted. Alex Hall is a Dallas Cowboys Featured Columnist for Bleacher Report. Follow him on Twitter @AlexKHall.