Jaguars vs. Raiders: Live Grades and Analysis for Oakland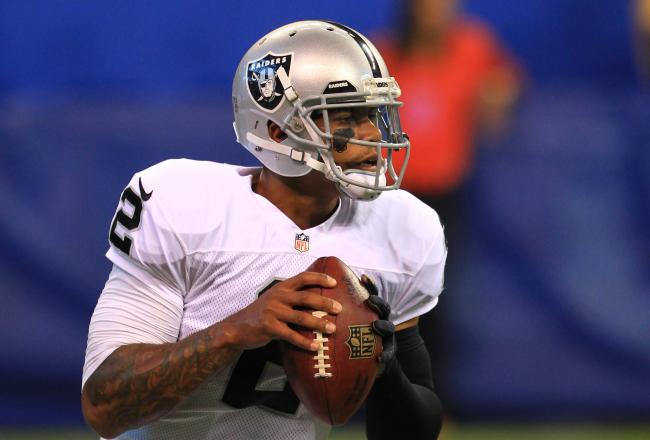 Oakland QB Terrelle Pryor
Pat Lovell-USA TODAY Sports
The Oakland Raiders defeated the new look Jacksonville Jaguars by a score of 19-9. Check out the final grades and analysis below.
Oakland Raiders Game Grades

| | | |
| --- | --- | --- |
| Positional Unit | 1st Half Grade | Final Grade |
| Pass Offense | C- | D |
| Pass Defense | B- | B |
| Rushing Offense | B+ | A- |
| Rushing Defense | B+ | A |
| Special Teams | B- | B |
| Coaching | B- | B |
vs Jaguars Week 2
Game Analysis for the Oakland Raiders
Pass Offense: Notwithstanding a whiff by left guard Lucas Nix, the offensive line protected Pryor relatively well. Nevertheless, Pryor struggled and finished a lackluster 15-of-24 for 126 yards and no scores. But Pryor ran for 50 yards with a long of 27.
Run Offense: McFadden looked spry and rattled off runs of 24 and 30 yards en route to a 129 yard day. Rashad Jennings also got his share of the fun with a 28-yard gain. The Raiders finished with 226 yards on the ground. The offensive line did a great job of opening up holes and is quickly becoming a pleasant surprise for Raider fans.
Pass Defense: With the exception of a late Clay Harbor touchdown,the secondary successfully bottled up the Jacksonville passing game. Cecil Shorts quietly put together a nice game with eight grabs for 93 yards but the Jaguars never truly threatened the Raiders through the air. Usama Young notched two sacks in the second half and Jason Hunter earned another. The Raiders had five sacks on the game and now have nine for the season.
Run Defense: Charles Woodson left his feet for a Clay Matthews-esque tackle and Jones-Drew sprained his foot on the play. It is the second time in as many years that Mojo suffered a bum wheel against the Raiders. Jacksonville finished with a dismal 34 yards on the ground. Emerging playmaker Lamarr Houston also read an end-around and made a sure tackle for a nine-yard loss.
Special Teams: With Shane Lechler in Houston, King has taken over the holding duties. The transition has been bumpy, however, as Jano missed another field goal (his second of the season) before converting four field goals with a long of 46 yards.
Coaching: Penalties once again reared their ugly head. Denarius Moore caused an illegal formation penalty that negated a 28 yard gain on a trick play. The Raiders also squandered timeouts and game management issues continue. The hands team managed to field an onside kick and avoid a Jacksonville comeback attempt. The fans also want to see more of Brice Butler.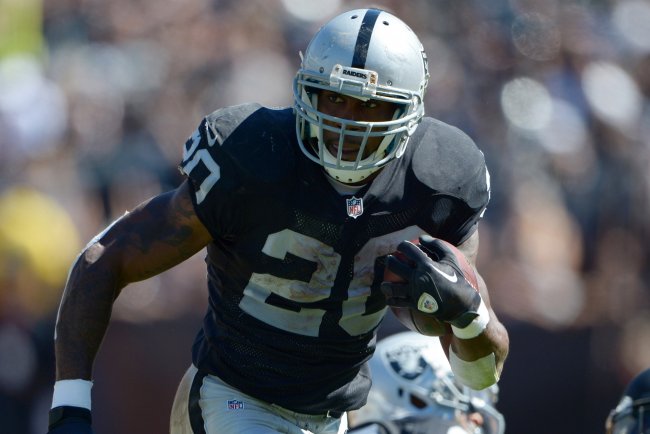 Kirby Lee-USA TODAY Sports
First-Half Analysis for the Oakland Raiders
Pass Offense: The offensive line once again outplayed expectations, but Pryor looked flat. He muffed a snap on a crucial third down, had one fumble and finished 7-of-13 for 69 yards. When Pryor did connect with his receivers, the ball placement was poor.
Run Offense: Marcel Reece cut through Jacksonville's defense for an 11-yard touchdown run. Pryor had a 27-yard run off the read-option, and McFadden went 24 yards on the next play. Overall, the Raiders ran the ball effectively for 91 yards.
Pass Defense: Jacksonville opted for short routes and quick throws, and the Raiders kept the ball in front of them. The Raiders built off last week's four-sack performance by getting to Chad Henne twice. No big plays, but no big mistakes either.
Run Defense: The Raiders stuffed the run. The Jaguars managed only 39 yards on the ground. Maurice Jones-Drew was held to a meager 27 yards on 10 attempts.
Special Teams: Phillip Adams fielded an impressive 30-yard punt return but later muffed a punt. Marquette King had two punts for a 50.5-yard average. King continues to struggle with his directional kicking. Janikowski again missed a field goal, this time from 35 yards out. He later connected on a 46-yard field goal from the dirt.
Coaching: Greg Olson again showcased creative offensive play-calling. There was a direct snap to McFadden, and the read-option was utilized. McFadden was split out wide as well. Tyvon Branch left in the first quarter and is not expected to return. It will be interesting to see how the defensive coaching staff adapts to Branch's absence.
This article is
What is the duplicate article?
Why is this article offensive?
Where is this article plagiarized from?
Why is this article poorly edited?

Oakland Raiders: Like this team?