SEC Football: Ranking Top 10 Performances from Week 3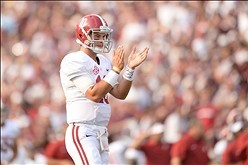 Thomas Campbell-USA TODAY Sports
Alabama QB AJ McCarron
Defense was optional during Week 3 in the SEC, but boy were there some incredible individual performances on the offensive side of the ball.
It's a sign of the times that only one team, Arkansas, held its opponent to fewer than 10 points—the opponent was Southern Miss. LSU held Kent State to 13, and every other team allowed at least 20 points on Saturday.
Picking the Top 10 performances from the day is is never an easy task, but I've narrowed down the list and come up with a group of players that made the biggest difference in their respective games.
Here are the Top 10 individual performances from the SEC conference on Saturday.
Begin Slideshow

»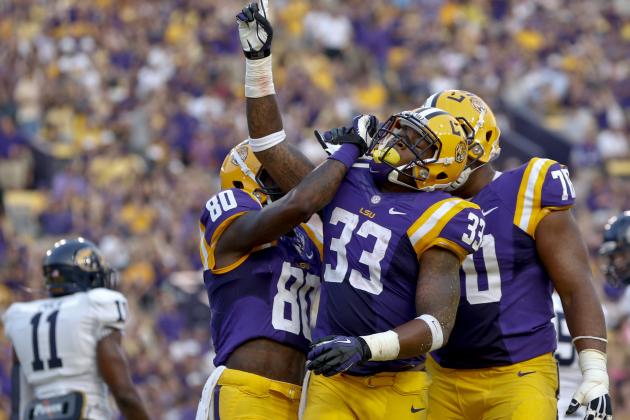 Derick E. Hingle-USA TODAY Sport
RB Jeremy Hill
Kent State doesn't exactly boast the second coming of the "Steel Curtain," but LSU running back Jeremy Hill had himself a nice day against the Golden Flashes and it earns him a spot on the list of Top 10 performances from the SEC.
Hill totaled 117 yards and a pair of scores on just 11 carries in the Tigers' 45-13 victory.
This marks the third straight week that LSU has scored at least 37 points, a fact that would befuddle fans from last season.
The quality of opponent obviously takes something away from Hill's performance, but 10 yards per carry is impressive no matter who lines up on the other side. It will be interesting to see how it effects next week's game against Auburn.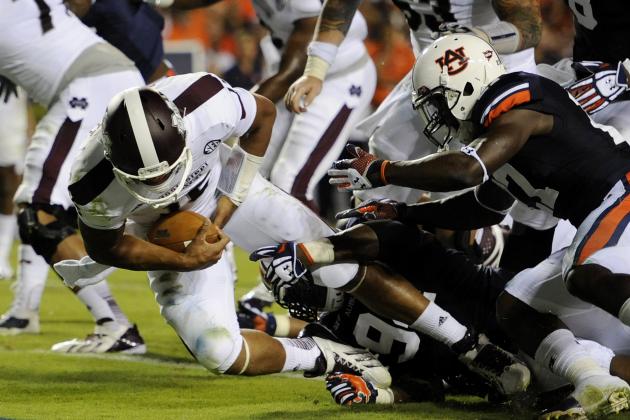 Shanna Lockwood-USA TODAY Sports
MSU QB Dak Prescott
Having a dual-threat quarterback is all the rage right now, and Mississippi State signal-caller Dak Prescott fits the bill despite not being the team's normal starter.
On Saturday it was the sophomore Prescott—subbing in for Tyler Russell—who completed 15-of-28 throws for 213 yards. He also added 133 yards and two scores on the ground, including a 47-yarder.
It wasn't enough in the Bulldogs' 24-20 loss at Auburn, but if it's any consolation to Mississippi State fans, they now have not one but two quarterbacks who can effectively lead the offense.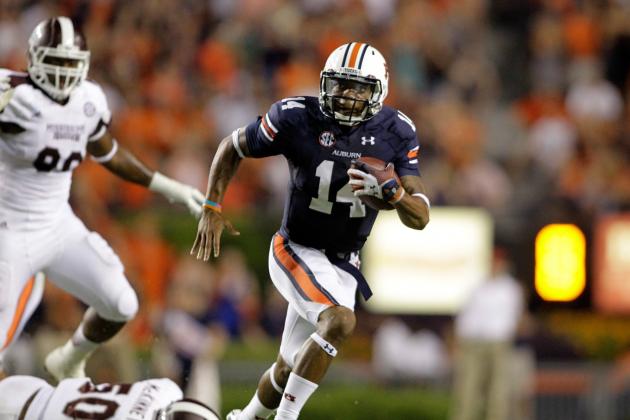 John Reed-USA TODAY Sports
QB Nick Marshall
Auburn quarterback Nick Marshall offered up the signature performance of his young career on Saturday in leading the Tigers to a 24-20 comeback victory against Mississippi state.
Marshall was far from perfect, as his two interceptions would indicate. But the junior also completed 23-of-34 passes for 339 yards and two touchdowns, including a late touchdown pass to C.J. Uzomah that helped seal the victory.
It was that pass that earns Marshall a spot on this list. It came with just seconds left on the clock and it was a beautiful pass to the corner of the end zone.
If Saturday's performance was indicative of what's to come from Marshall and the Tigers offense, the young signal-caller will find himself on this list quite often throughout the season.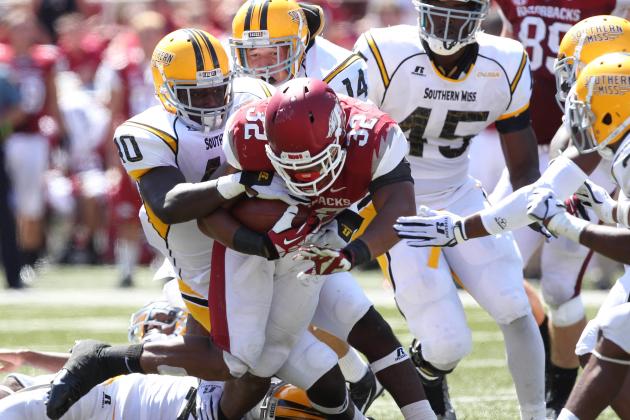 Nelson Chenault-USA TODAY Sports
RB Jonathan Williams
On a day when Arkansas quarterbacks combined to throw for just 69 yards, the running backs picked up the workload.
Last week, it was Alex Collins turning heads. This Saturday, Jonathan Williams made the noise.
Well, at least one more yard of noise.
The two backs combined for 231 yards and a pair of touchdowns and have officially stated their case for best running back tandem in the SEC behind Todd Gurley and Keith Marshall.
It's worth reiterating how young the backfield is, with Collins as a true freshman and Williams in his sophomore season.
Many of the yards have come against inferior opponents, but you can't help being extremely impressed by the duo so far in the 2013 season.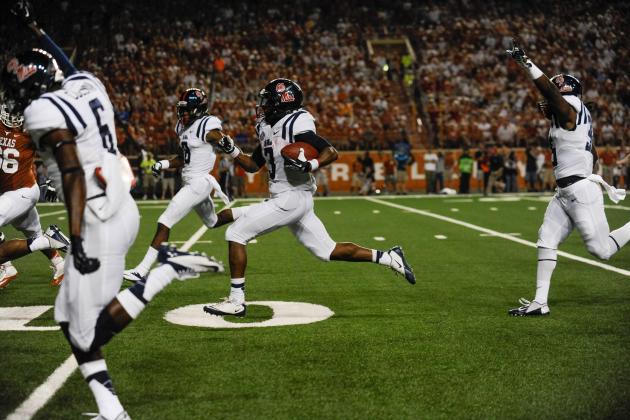 Brendan Maloney-USA TODAY Sports
RB Jeff Scott ran all over Texas on Saturday night.
Don't look now, but Ole Miss running back Jeff Scott is becoming a regular on the list of Top 10 performances each week.
Scott and the Rebels made Texas look silly on Saturday night, piling up 44 points and nearly 300 rushing yards.
The diminutive senior tallied 164 yards and a touchdown on just 19 carries. He also tacked on a 73-yard punt return for good measure.
The win helped move Ole Miss to 3-0, and the Rebels now find themselves ranked 21st in the AP poll.
Despite the wealth of talent at running back in the SEC, Scott is proving week after week that he's among the very best.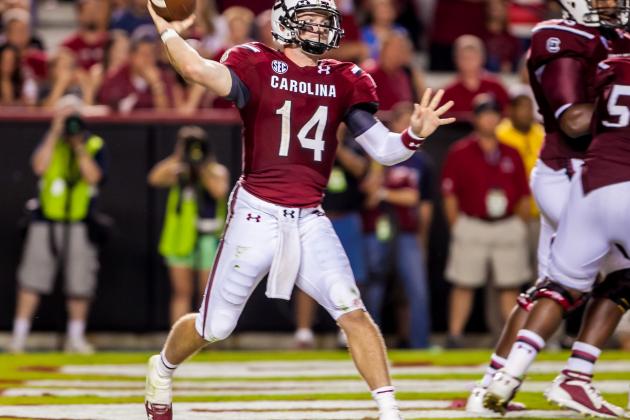 Jeff Blake-USA TODAY Sports
South Carolina QB Connor Shaw
In the 2012 season opener against Vanderbilt, South Carolina quarterback Connor Shaw completed 7-of-11 passes for just 62 yards and a pick in a 17-13 win.
Oh what a difference a year makes.
This time around, Shaw completed 21-of-29 passes for 284 yards, three touchdowns and zero interceptions. He also ran for 84 yards.
You might call that an efficient evening, and it led to a 35-25 victory over the Commodores.
It was a nice bounce back win for South Carolina, and Shaw proved that he may have the arm—to go along with his legs—to lead his team to an SEC East title.
That's not in the Gamecocks' control any longer, but the effort has to give Shaw confidence as the season moves on.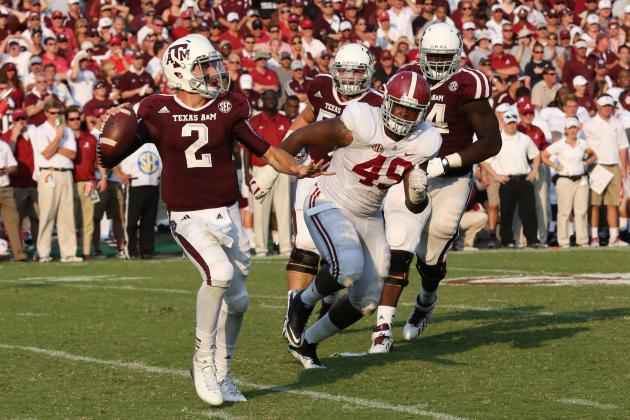 Matthew Emmons-USA TODAY Sports
QB Johnny Manziel
You can hate the fact that Johnny Manziel has once again infiltrated your life, but there is no way the sophomore quarterback can be excluded from this list.
Let's start with the negatives from his performance on Saturday. His team lost. He threw two interceptions, one of which was returned for a touchdown. Now let's look at what went right.
He completed 28-of-39 passes for 464 yards and five touchdowns. That stat line is enough to make the 2012 version of Manziel blush. Oh, and he rushed for 98 yards.
Did I mention that one of his touchdowns came in the form of a 95 yard pass to Evans late in the game on third down?
And finally, please consider who his team was playing. In case you've developed sudden amnesia which blocks out Saturday, Manziel did all this against the back-to-back national champions who boast one of the nation's best defenses.
Hate him or love him, the case is closed here.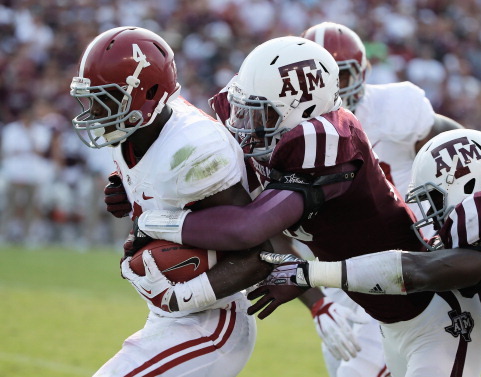 Scott Halleran/Getty Images
Alabama running back T.J. Yeldon
Alabama running back T.J. Yeldon may not have the mind-blowing numbers of Evans or Manziel, but the sophomore running back was a huge part of Alabama's victory at Kyle Field.
After the Aggies jumped out to a 14-0 lead, the Crimson Tide responded by scoring 28 straight with a mixture of big plays and sustained drives. A main force behind those drives were the legs of Yeldon.
He rushed for 149 yards and a score on the day.
The battle for the title of best running back in the SEC is ongoing, and Yeldon helped his case once again.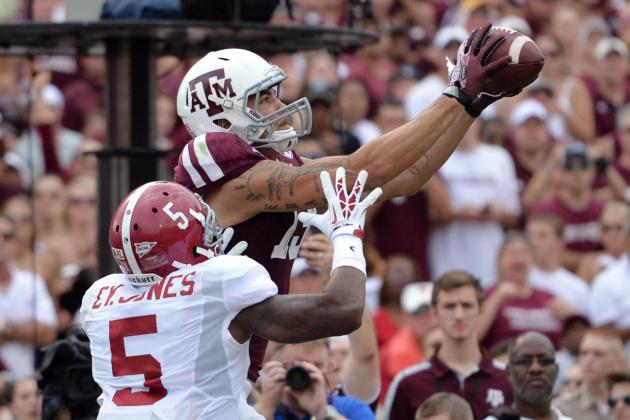 Thomas Campbell-USA TODAY Sports
WR Mike Evans
Part of the consideration for making this list is whether a player's team actually won the game.
A larger part of the consideration is how a player impacted the game and what kind of statistics he put up.
Which is exactly why Texas A&M wide receiver Mike Evans finds himself in the two spot.
The 49-42 loss to Alabama can't be blamed on Evans in any way. The sophomore wide receiver caught 7 passes for 279 yards and a touchdown. No need to do a double take, those numbers are correct.
That's just a hair under 40 yards per catch. And yes, he is only a sophomore.
It was a remarkable performance from the wide receiver, whose days in college football may be numbered due to NFL Sundays calling his name.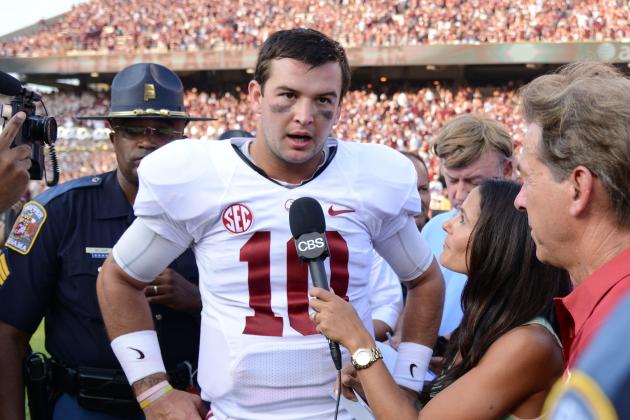 Thomas Campbell-USA TODAY Sports
Alabama QB AJ McCarron
The most impressive performance of the day came from Alabama quarterback AJ McCarron.
The senior completed 20-of-29 passes for 334 yards and four touchdowns in a 49-42 road victory over Texas A&M.
In the process, he shed his reputation as a game-manager. Some will still argue that the outstanding players around him make him great, but the fact is he continues to lead his team in big games against great opponents.
Now firmly in the Heisman discussion, it will be interesting to see if McCarron can continue to put up big numbers.
He may not face another serious test until LSU comes to town in November, but for now, McCarron resides near the top of the college quarterback mountain in 2013.