College Football Rankings 2013: Full Top 25 Breakdown for Week 4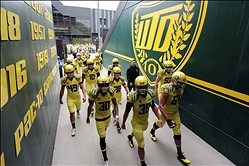 Scott Olmos-USA TODAY Sports

With a commanding 49-42 win over Texas A&M, the Alabama Crimson Tide solidified themselves as college football's best team, and they were rewarded as such in the Week 4 Top 25 polls.
Also at the top was Oregon, who made such a strong case against a Southeastern Conference foe that it has the talent to end Alabama's reign and bring the crystal football to the West Coast.
Elsewhere in the rankings, LSU and Florida State continued to creep their way toward the Top 5 as they dominated lesser competition over the weekend.
At the tail end of the rankings, a pair of newcomers, Texas Tech and Fresno State, slid into the No. 25 slots, as they look to build on their BCS aspirations.
Note: All rankings based on the official Week 4 AP Top 25 and USA Today Coaches Polls.
Begin Slideshow

»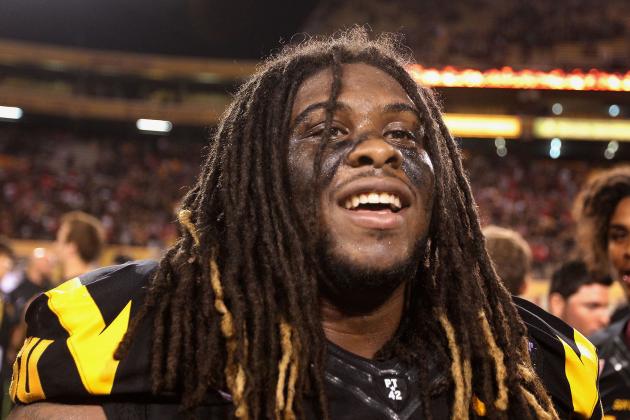 Christian Petersen/Getty Images

AP
25. Texas Tech
24. Wisconsin
23. Arizona State
22. Notre Dame
21. Ole Miss
Coaches
25. Fresno State
24. Michigan State
23. Arizona State
22. Ole Miss
21. Notre Dame
The back portion of the polls usually brings the biggest disparity. However, the media and the coaches were relatively agreeable this time around.
Most notably, Wisconsin slid back from No. 20 in the AP to No. 24, but fell all the way from No. 18 out of the coaches poll after falling to Arizona State. Given the absolute fiasco of an ending in Tempe, it makes sense that the media voters had mercy on the Badgers.
While Wisconsin, which hadn't allowed a point before falling 32-30 to ASU, bounced back, the Sun Devils drew the long straw and made a the big jump, debuting at No. 23 in both polls. Led by excellent backfield play from quarterback Taylor Kelly and running back Marion Grice, ASU has a chance to be a serious spoiler in Pac-12 play this season. That could start as early as next week when the Devils take on No. 5 Stanford.
Notre Dame and Ole Miss are expendable with one another at No. 21 and 22, though their stories are much different. After trouncing Texas 44-23, the Rebels are on the rise and are looking forward to challenging No. 1 Alabama in two weeks. ND, on the other hand, barely avoided an upset at the hands of Purdue, just one week after losing to Michigan.
The Irish will have to show improvement this week when they take on Michigan State, which debuted at No. 24 in the coaches poll this week. The Spartans showed signs of clearing up their offensive struggles in a 55-17 Week 3 win over Youngstown State.
The AP still wasn't impressed by MSU, instead keeping Wisconsin at No. 24. Unfortunately, the two Big Ten foes won't be able to duke it out on the field unless they both make the league title game.
Closing out both polls are two newcomers, Fresno State in the coaches poll and Texas Tech in the AP poll.
Both of their arrivals are impressive, as FSU jumped up despite having its contest with Colorado postponed due to flooding in Boulder. TTU made the jump into the AP poll after topping TCU despite not garnering a single vote the previous week.
Fresno State has its eyes on an undefeated run and a BCS bowl bid, but will have to take down Boise State this week (and perhaps again in the Mountain West championship game) to make that happen. Meanwhile, Texas Tech has legitimate BCS hopes as well, given the wide-open nature of the Big 12 Conference.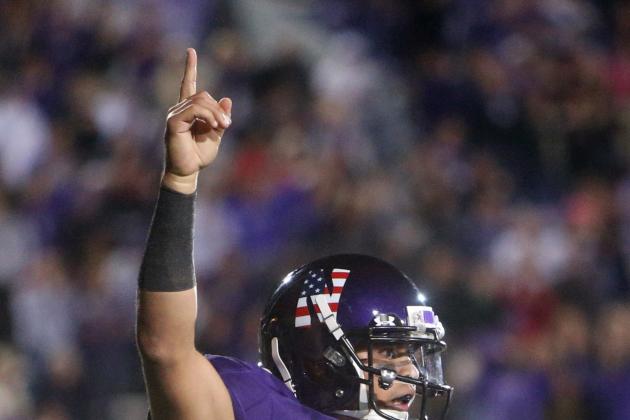 Jerry Lai-USA TODAY Sports

AP
20. Baylor
19. Florida
18. Northwestern
17. Washington
16. Miami (FL)
Coaches
20. Washington
19. Baylor
18. Florida
17. Miami (FL)
16. Northwestern
The coaches and the press agreed very closely on the next tier of ranked teams.
Baylor checked in at No. 20 in the AP and No. 19 in the coaches polls after taking a week off. The bye was deserved after the Bears' hot start. In the first two games, BU scored enough points to last some teams four or five weeks. At 2-0, Baylor ranks No. 1 in scoring offense, averaging 69.5 points per game and No. 2 in scoring defense, allowing just 8 points per contest. Something tells me the Bears won't be able to keep that ratio up, no matter how explosive their offense might be.
On the other side of the spectrum is Florida, which ranks No. 17 in scoring defense but No. 99 in scoring offense, tallying just 20 points per game. The Gators also had a bye week in which they'll look to turn around their scoring woes. UF will take on rival Tennessee this weekend.
Florida's one loss came to Miami, which is No. 17 in both polls. The Hurricanes also had the week off after downing the Gators. Looking forward, they'll have a pair of warm-up games against Savannah State and South Florida before starting ACC against Georgia Tech on Oct. 5.
Northwestern comes in as the second Big Ten team in both polls. The Wildcats rode the heels of backup running back Treyvon Green in a 38-17 Week 3 win over Western Michigan. Green, who tallied 158 yards and two scores over the weekend, has been excellent in filling the void left by the injured Venric Mark.
Of these five teams, Washington came through with the biggest win of Week 3. The Huskies dominated Illinois at Soldier Field in Chicago thanks to enormous games from backfield stars Keith Price and Bishop Sankey. Sankey, the UW running back, is right alongside Miami's Duke Johnson, Georgia's Todd Gurley and others as one of the elite ball carriers in the nation.
Can Price and Sankey carry UW into Pac-12 title contention? We'll find out Oct. 5 when the Huskies travel to Stanford.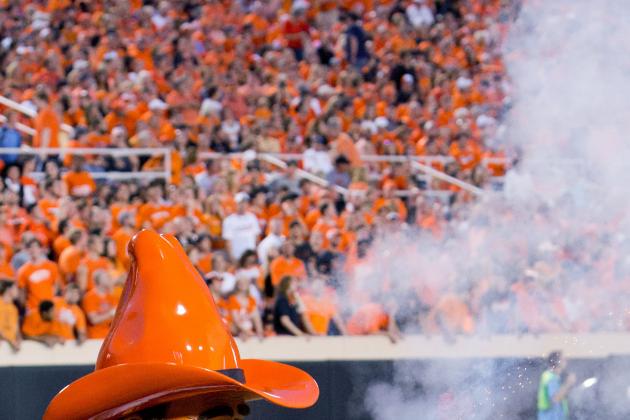 Richard Rowe-USA TODAY Sports

AP
15. Michigan
14. Oklahoma
13. UCLA
12. South Carolina
11. Oklahoma State
Coaches
15. UCLA
14. Michigan
13. South Carolina.
12. Oklahoma
11. Oklahoma State
UCLA was one of the biggest risers of the Week 4 rankings, as the Bruins used a stunning comeback victory over Nebraska to jump five spots between the two polls. After falling behind 21-3 early, the Bruins exploded for the next 38 points to top the Cornhuskers 41-21 in Lincoln.
In a situation similar to Washington, UCLA hopes that quarterback Brett Hundley is the key to Pac-12 title contention.
As the Bruins were major risers, Michigan was one of the most notable fallers this week. The Wolverines were two yards away from being upset by Akron and potentially falling out of the rankings completely. However, the Zips' final pass fell incomplete in the end zone, saving them for the time being.
Michigan still dropped six spots between the two polls, including a four-position drop in the eyes of the media.
South Carolina also had to hold off an upset bid, but the Gamecocks did so against a tough opponent in Vanderbilt. Additionally, they were much more impressive in doing so, as they never trailed in the 35-25 win.
Rounding out this group is a pair of rivals, Oklahoma and Oklahoma State. Both the coaches and the media still see the Cowboys as the team to beat in the Big 12, but the coaches see the race a little closer.
OU looked better offensively as new starting quarterback Blake Bell tossed four touchdowns in a 51-20 win over Tulsa.
The two will wait to play until Dec. 7 in Stillwater, which could serve as the de facto conference title game.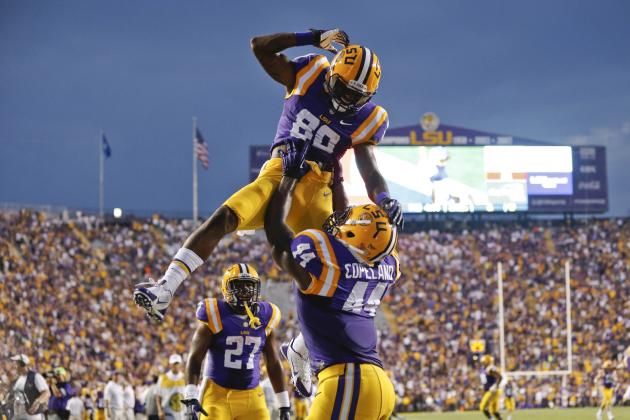 Derick E. Hingle-USA TODAY Sport

AP
10. Texas A&M
9. Georgia
8. Florida State
7. Louisville
6. LSU
Coaches
10. Georgia
9. Texas A&M
8. Florida State
7. LSU
6. Louisville
The coaches must not have been paying attention to Louisville's win over Kentucky, since they still see the Cardinals as a better team than LSU. UL narrowly won over a UK squad that won just two games last season.
Meanwhile, LSU has looked as strong as any team in the nation and most recently made its case for the Top 5 team in dominating last year's MAC runner-up Kent State 45-13.
It shouldn't be too long before LSU supplants UL, however. The Tigers have five ranked teams remaining on their schedule, while the Cardinals have none.
One team LSU will face is UGA, which made no moves after taking the week off.
Although the Bulldogs remained stationary, they were jumped in the AP poll by Florida State, which moved up to No. 8 in both polls. The Seminoles looked outstanding as they smashed Nevada, 62-7. FSU amassed 377 yards on the ground to take the spotlight off quarterback Jameis Winston in the win.
Finally, Texas A&M was dropped back in both polls after its loss to No. 1 Alabama. The Aggies' offense was as good as advertised, if not better. But although A&M boasts arguably the best quarterback-wide receiver duo in the nation with Johnny Manziel and Mike Evans, its defensive question marks remain crippling to its BCS hopes.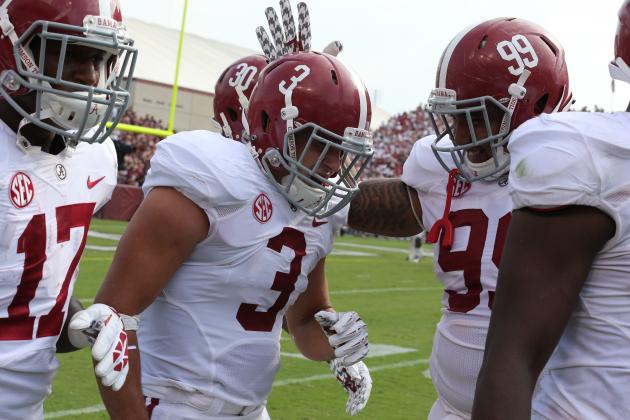 Matthew Emmons-USA TODAY Sports

AP
5. Stanford
4. Ohio State
3. Clemson
2. Oregon (1)
1. Alabama (59)
Coaches
5. Stanford
4. Clemson
3. Ohio State
2. Oregon (1)
1. Alabama (61)
*First-place votes in parentheses
There is no question who is the No. 1 team in the land. Alabama fortified its post atop the rankings with a decisive 49-42 win over Texas A&M.
Meanwhile Oregon, which garnered one first-place vote in each poll, is hoping for an eventual, and potentially epic, national title game matchup with the Crimson Tide. The Ducks have looked incredible on both sides of the ball this season, outscoring their foes by a combined 157 points in three games.
Clemson and Ohio State are in a battle for third place and both have their arguments. The Tigers have one of the most impressive wins of the season, a Week 1 triumph over Georgia. However, OSU has looked excellent as well, even despite the injury to star quarterback Braxton Miller.
While CU was idle this week, OSU accumulated more than 600 total yards in a 52-34 win over California, even despite the absence of Miller.
Rounding out the Top 5 is Stanford, which slid back to the clear No. 5 after struggling against Army. The Cardinal started slow, falling behind 6-0 before pulling away in the second half in a 34-20 win. They'll have an opportunity to change their perception when they host Arizona State this weekend.