Why Aston Villa Are a Different Side Away from Villa Park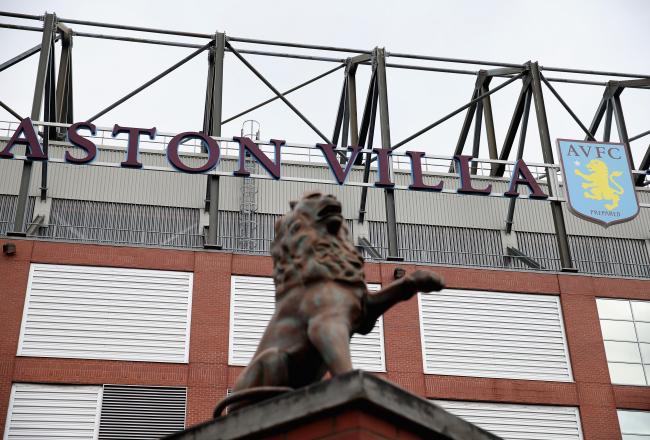 Mark Thompson/Getty Images
Aston Villa's third consecutive league defeat of the season emphasised their Jekyll and Hyde character. Following two very impressive displays in their 3-1 victory over Arsenal at the Emirates Stadium and 2-1 loss at Chelsea, Villa's performance in their next two games at Villa Park left a lot to be desired—none more so than the 2-1 defeat to Newcastle at the weekend.
But why do Villa play so differently away from home?
The victory at the Emirates on the opening day of the season had Villa fans in a jubilant mood after last season's shambolic campaign. And then a gutsy display at Chelsea four days later—despite a controversial defeat—brought about optimism that had been lying dormant for a number of years.
Villa's style of play in those two games was as exciting, free-flowing and aesthetically pleasing as it has been since Martin O'Neill was at the helm. The claret-and-blue outfit looked resolute at the back, confident on the ball when going forward and clinical in front of goal—scoring four goals in two games against two of the league's better sides.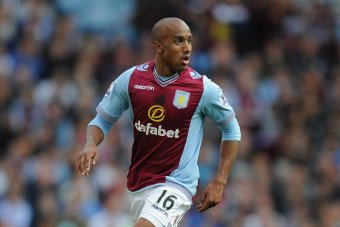 Stu Forster/Getty Images
The relatively youthful but dependable defensive line was compact and tenacious in their pursuit of the ball and were smart when it was in their possession. Matthew Lowton and summer signing Antonio Luna looked promising when going forward and like to keep things simple when turning defence into attack.
The pairing of Ashley Westwood and the reinvigorated Fabian Delph were pivotal in the opening two games, linking the play as their side went in search of goals.
But as soon as they crossed the white line at Villa Park, the team opted for a different approach.
Liverpool have looked impressive this season and, for most part of the clash in Birmingham, were the better side, but Villa's complete change in policy didn't help their case in the defeat.
Villa's endeavours to retain possession, move the ball around quickly and utilise pacy wingers Gabriel Agbonlahor and Andreas Weimann vanished in the game against Liverpool—well, for the majority of the 90 minutes anyway.
Instead, the home side all too often opted to send the ball long and aim for talisman Christian Benteke. And despite the Belgian winning the ball more often than not, there was a distinct lack of options further up the field because Villa had been pushed so far back by Liverpool. It became a vicious cycle that eventually led to the Reds' deciding goal.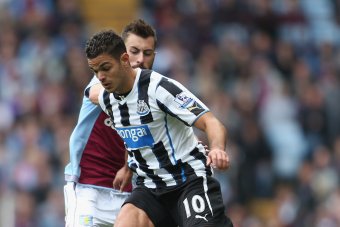 Mark Thompson/Getty Images
Unfortunately for the disgruntled Villa fans, things didn't get any better in the match against Newcastle. In fact, they got worse.
A couple of quite appalling individual performances—Lowton and Karim El Ahmadi come to mind, with the latter putting in one of the worst performances in Premier League history—epitomised Villa's day, with the side employing the same lump-it-to-Benteke-and-hope-he-does-something-special game plan. There was a real lack of creativity, energy and eagerness in the Villa side against the Magpies and they deservedly lost the match.
Villa were expected to lose their games against Arsenal and Chelsea. Villa were the away side and those two teams should fight it out for the major honours at the end of every season. They should have put Villa to the sword. Chelsea did. Just.
But it was this factor that afforded Villa the freedom to play without fear. There was no pressure surrounding the players, their performance or the result. It showed.
They came away from the Emirates with all three points and were only just beaten at Chelsea—a couple of pretty poor decisions going against them.
It's quite the opposite at Villa Park, however. Villa are expected to win. Always.
The Villa faithful have great expectations for their once-great club. And it doesn't matter who the opposition is—whether it be Burton Albion or Manchester United. The fans expect it. This fact was emphasised in the match against Newcastle with a chorus of groans and jeers greeting every single misplaced pass, of which there were many—usually coming from El Ahmadi.
The air of excitement, hope and promise around the stadium is snatched away with every loose ball and replaced by one of disappointment. There's a sense of real impatience throughout the stadium. One that is sure to play on the minds of the players, especially the likes of the maturing yet inexperienced Lowton, Westwood and Luna.
So it's no wonder that Villa's flowing, efficient passing game that was showcased during their two trips to London takes a back seat when the players walk out at Villa Park.
Teams are always most dangerous when playing with no pressure and no expectations. Is it a coincidence that teams that are relegated with a couple of games still left to play then tend to pick up wins? No.
Villa will need to play without fear when at home. But this will only come by adopting a similar approach to that of what has worked so well when playing away from home this season and sticking to it. The club is home Sept. 28 against City after traveling to Norwich Saturday.
Misplaced passes, poor touches and sloppy mistakes will continue to happen and they will continue to irritate the impatient crowd. But it's a belief in sticking with the game plan, rather than opting to lump the ball in the direction of Benteke when things go wrong, that will eradicate that fear.
This article is
What is the duplicate article?
Why is this article offensive?
Where is this article plagiarized from?
Why is this article poorly edited?