NFL Week 2 Picks: Teams Sure to Win This Weekend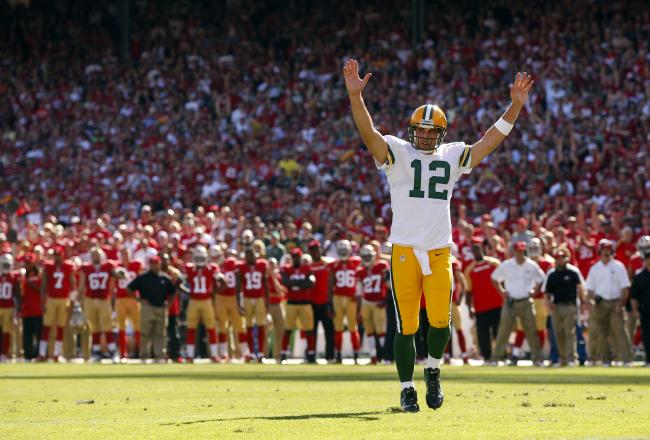 Cary Edmondson-USA TODAY Sports
Teams that play at home usually have the upper edge early in the season, and the Baltimore Ravens are one of the teams that will benefit from having home-field advantage in Week 2.
Teams that played at home won nine games in the opening week, and the New England Patriots started this week off with a home win.
Starting out a season 0-2 makes it incredibly tough to turn the season around. Since 1990, only 11.6 percent of the teams that started a season by dropping the first two games went on to make the playoffs.
Here is a full list of NFL games for Week 2 along with teams that are locked to win.
2013 NFL Schedule-Week 2

| | | | | |
| --- | --- | --- | --- | --- |
| Date | Time (ET) | Away | Home | Result |
| 9/12 | 8:25 p.m. | New York Jets | New England Patriots | Patriots |
| Date | Time (ET) | Away | Home | Prediction |
| 9/15 | 1 p.m. | St. Louis Rams | Atlanta Falcons | Falcons |
| 9/15 | 1 p.m. | San Diego Chargers | Philadelphia Eagles | Eagles |
| 9/15 | 1 p.m. | Dallas Cowboys | Kansas City Chiefs | Cowboys |
| 9/15 | 1 p.m. | Miami Dolphins | Indianapolis Colts | Dolphins |
| 9/15 | 1 p.m. | Tennessee Titans | Houston Texans | Texans |
| 9/15 | 1 p.m. | Washington Redskins | Green Bay Packers | Packers |
| 9/15 | 1 p.m. | Cleveland Browns | Baltimore Ravens | Ravens |
| 9/15 | 1 p.m. | Carolina Panthers | Buffalo Bills | Panthers |
| 9/15 | 1 p.m. | Minnesota Vikings | Chicago Bears | Bears |
| 9/15 | 4:05 p.m. | New Orleans Saints | Tampa Bay Buccaneers | Saints |
| 9/15 | 4:05 p.m. | Detroit Lions | Arizona Cardinals | Lions |
| 9/15 | 4:25 p.m. | Jacksonville Jaguars | Oakland Raiders | Raiders |
| 9/15 | 4:25 p.m. | Denver Broncos | New York Giants | Broncos |
| 9/15 | 8:30 p.m. | San Francisco 49ers | Seattle Seahawks | 49ers |
| 9/16 | 8:40 p.m. | Pittsburgh Steelers | Cincinnati Bengals | Bengals |
Kyle Newport
Green Bay Packers (vs. Washington Redskins)
Green Bay started the season off with a loss in San Francisco. It had a lead in the fourth quarter, but the 49ers were able to score the final 10 points of the game.
Now the Packers get to play their first home game of the season. They have lost only three games at Lambeau Field since 2011, and they haven't lost in consecutive weeks since the 2010 season.
Playing at home cannot be overlooked, especially when a team dominates teams like the Packers do at Lambeau Field.
Quarterback Aaron Rodgers will be looking to bounce back from a loss and light up Washington. The Philadelphia Eagles torched the Washington defense on Monday night, so Rodgers will be in great shape to put up a lot of points. Jordy Nelson, Randall Cobb and James Jones are just some of the playmakers that he has to work with, and Washington won't be able to stop them.
Robert Griffin III struggled early in the season opener, so it will be tough for him to keep up with Rodgers. The defense will have a tough enough time stopping Green Bay's offense, and Griffin wasn't able to get into a rhythm until it was too late last week.
Baltimore Ravens (vs. Cleveland Browns)
Defending Super Bowl champions normally start the season at home, but the Baltimore Ravens had to go to Denver and play Peyton Manning and the Broncos. Seven touchdowns later, the Ravens have something to prove this week.
They will return to Baltimore to celebrate their Super Bowl victory, and they could not have gotten a better opponent to play this week. The Cleveland Browns had a sloppy home opener against the Miami Dolphins, and they will be without receiver Josh Gordon again.
Quarterback Joe Flacco has not lost to the Browns since he entered the league in 2008. He is a perfect 10-0, so this looks like a favorable matchup for the Ravens. Torrey Smith, Ray Rice and Dallas Clark should make contributions to the offense against a promising defense.
This will also be a week for the defense to recover. Brandon Weeden threw three interceptions in the first half against the Dolphins, and he couldn't get his team down the field with any frequency. After being torched by Manning last week, facing a team with a poor passing attack will be a great chance for the defense to recover.
Don't forget that Baltimore had a lead at halftime last week, playing well against the Broncos in the first half. They also had a couple of extra days to prepare for this game.
Houston Texans (vs. Tennessee Titans)
The other two games on this list featured two 0-1 teams. This will be a matchup of two 1-0 teams that are looking to take a lead in the AFC South.
Normally a dominant win in Pittsburgh would look great. However, the Steelers were inept on offense thanks to an inexperienced offensive line. It wasn't very tough for the Titans to win, and they will have a much more difficult time this week.
Houston will return home to host Tennessee. The Texans rallied from a 21-point deficit on the road last week to steal a win. They are balanced on both sides of the ball, so they will be able to have their way with the Titans.
Arian Foster is still an elite running back, and Matt Schaub is capable of leading his team to victory through the air. Andre Johnson and Owen Daniels give him dynamic playmakers on the outside.
On defense, reigning NFL Defensive Player of the Year J.J. Watt will put pressure on Jake Locker and force him to make bad decisions. The pressure will allow Johnathan Joseph and the secondary to make plays.
Houston has more talent on its roster and will be the winner at the end of the day.
*All stats are courtesy of NFL.com
This article is
What is the duplicate article?
Why is this article offensive?
Where is this article plagiarized from?
Why is this article poorly edited?