Washington Redskins vs. Green Bay Packers: Live Score, Analysis for Washington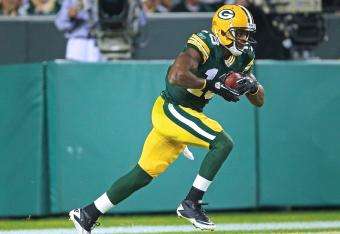 Washington Redskins 20 - 38 Green Bay Packers
The Washington Redskins were well and truly thumped by the Packers in Green Bay. Week 2 looked an awful lot like Week 1 for the hapless Redskins.
Head coach Mike Shanahan's offense stalled for the entire first half. The running game had no spark until it was too late and quarterback Robert Griffin III seemed to have added rust from last week.
Defensively, it is hard to remember a unit missing more tackles. The Redskins allowed the Packers to dominate on the ground and through the air.
Garbage time again provided Griffin and company ample time to pad their numbers. However, a few impressive looking statistics cannot change how bad the Redskins were for large portions of this game.
All screen shots courtesy of Fox and NFL.com Game Pass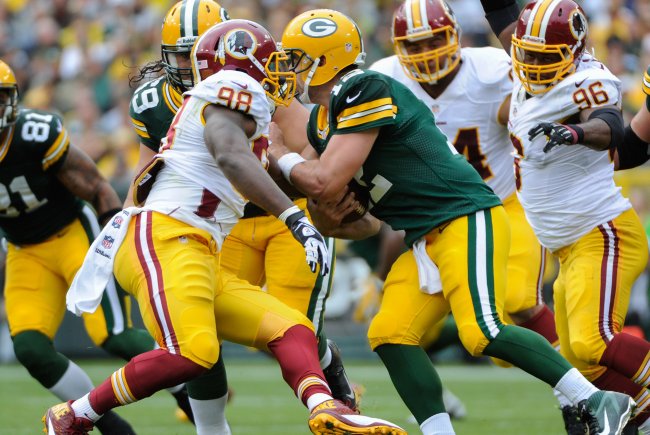 Benny Sieu-USA TODAY Sports
The Packers take knees to end the game. That makes it consecutive humiliating defeats for the Redskins.
The offense endured a nightmare start, while the entire defense needs a refresher course or two in tackling. The season is already at a critical stage.
End of game, final score is 38-20 Packers.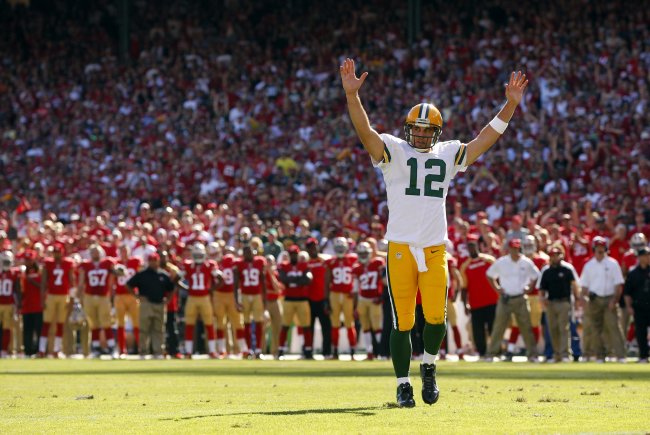 Cary Edmondson-USA TODAY Sports
Every time Rodgers airs it out, it is safe to expect a big play. The Redskins cannot cover or tackle in the secondary. How has such a key unit on the team been allowed to fall into such a poor state?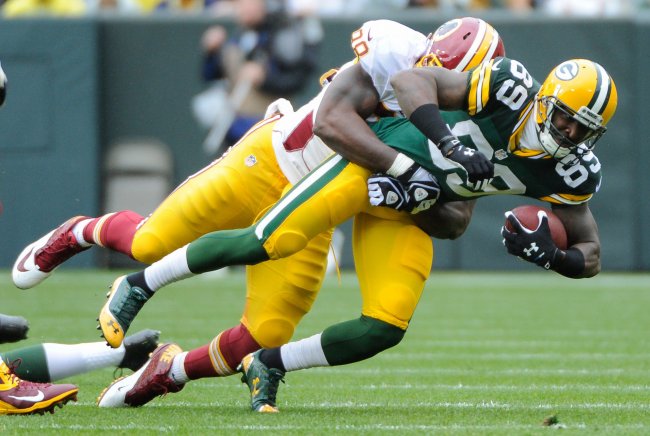 Benny Sieu-USA TODAY Sports
James Jones continues to dominate Amerson. He converts a key third down after it looked like the Packers had gone into end-of-game mode a little too early.
With a secondary this generous, the Redskins are going to be asking Griffin to keep them in games, just as he did as a rookie. Of course, that was pre-injury Griffin.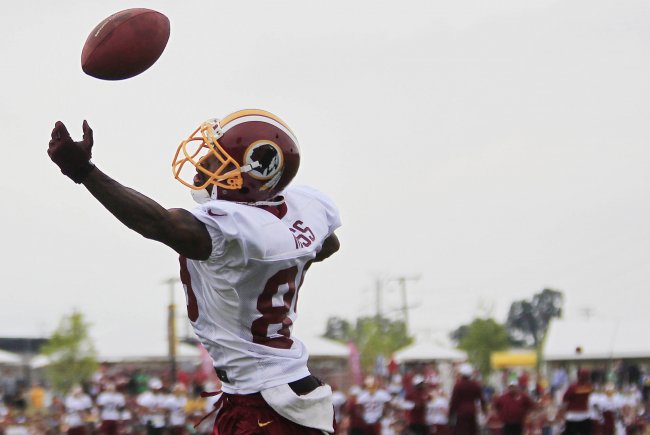 Geoff Burke-USA TODAY Sports
Touchdown Redskins! Santana Moss completes an unlikely catch. Redskins go for two, but Griffin misses Reed. Score now 38-20.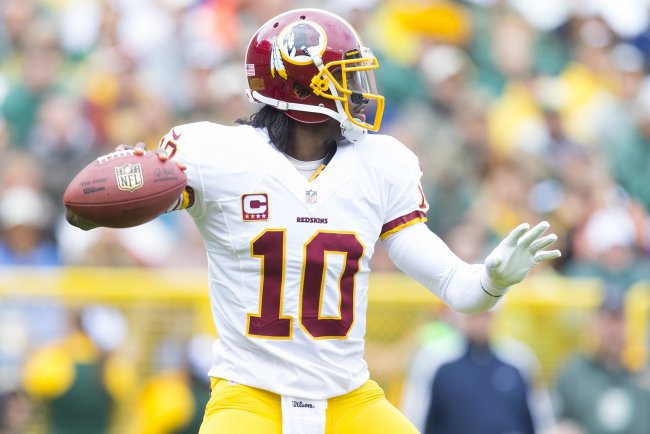 Jeff Hanisch-USA TODAY Sports
Griffin is now 22-for-34 for 275 yards, 2 TDs and an INT. 168 yds, 2 TDs in second half.

— Mike Jones (@MikeJonesWaPo) September 15, 2013
As bad as it has been for Griffin and the offense, the young quarterback's effort cannot be faulted. For the second week he has battled on despite a nightmare start.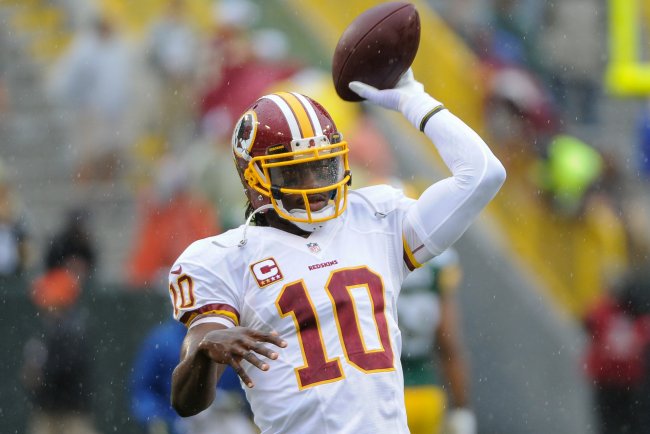 Benny Sieu-USA TODAY Sports
@premiyerx Griffin has to play to get better. Why is that hard to understand?

— Rich Tandler (@Rich_TandlerCSN) September 15, 2013
Despite the game being out of reach, the Redskins are right to leave Griffin in. Issues with mechanics and communication can only be solved with time on the field.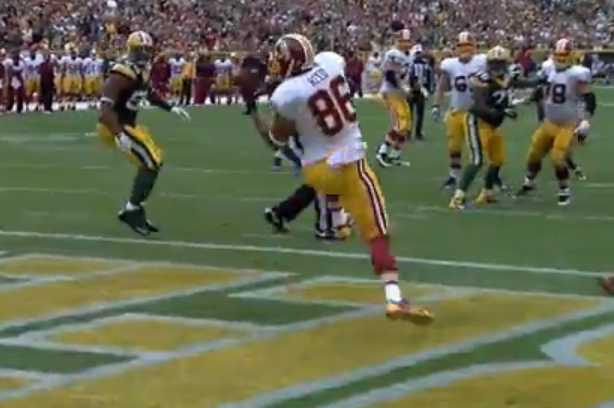 Touchdown Redskins! Rookie tight end Jordan Reed tallies his first pro score. Griffin's pass was again wayward and behind his receiver, but Reed adjusted nicely.
Point is good, score now 38-14.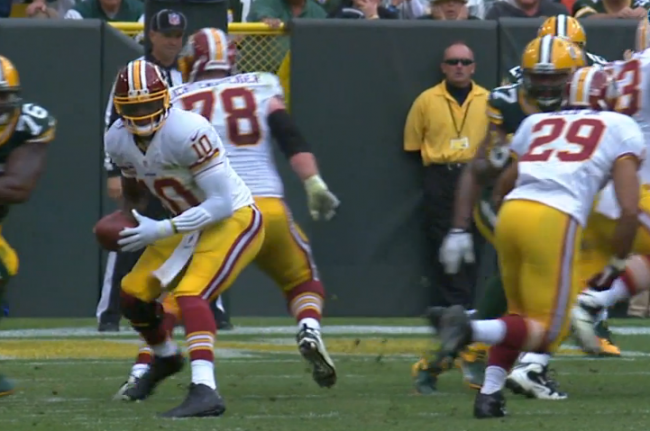 Yet more miscommunication between Griffin and his offense. This time he goes the wrong way on a pitch play designed to go to Helu.
His injury rehab was always going to slow this offense down. Timing is nowhere near right yet, and points will be in short supply until it is.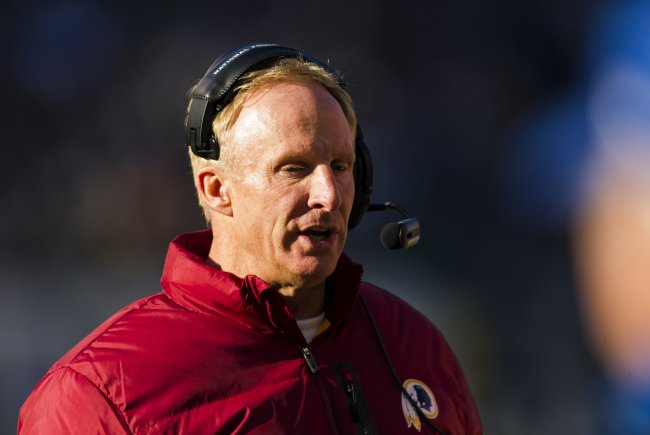 USA TODAY Sports
Third quarter over with #Redskins down 38-7. Today marks first time in Packers history GB has had 400-yard and 100-yard RB in same game.

— Mike Jones (@MikeJonesWaPo) September 15, 2013
The Redskins defense is helping set the wrong kind of history.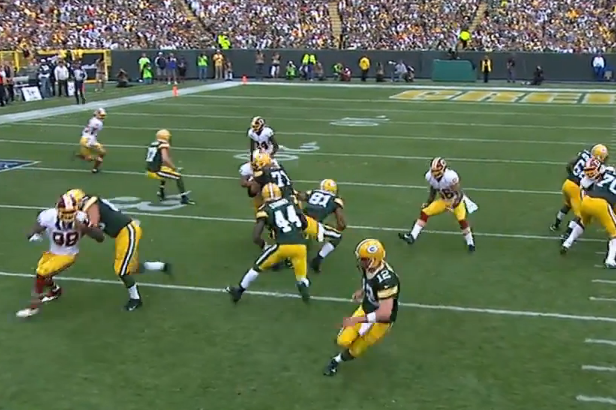 First time a Packer back has rushed for 100 yards since 2010 - Brandon Jackson against #Redskins.

— Mike Jones (@MikeJonesWaPo) September 15, 2013
Touchdown Packers! Starks exploits a major hole with some decisive and powerful running. Terrible tackling in the secondary yet again, but Starks was not touched until he reached the safeties.
Now 38-7 Packers.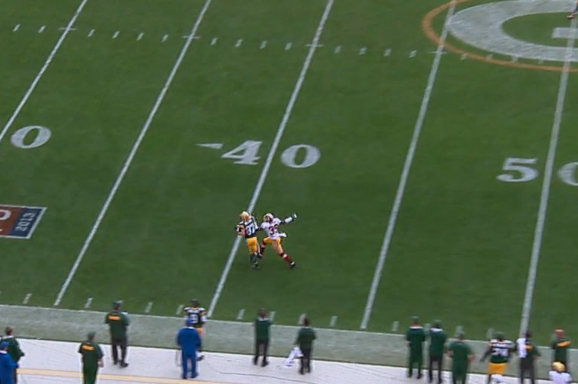 Amerson has been burned again. Whether it has been Nelson or Jones, the Packers have simply owned the rookie, who has been left on his own far too often.
Bad scheming from Haslett.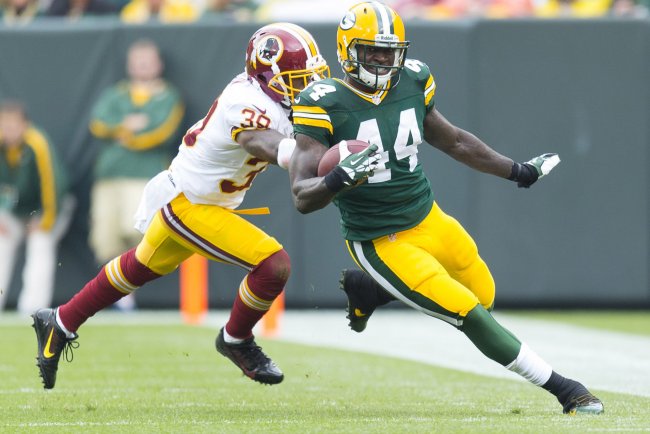 Jeff Hanisch-USA TODAY Sports
James Starks has obliterated the run defense. The unheralded rusher has turned the clock back to the form he showed in the 2010 playoffs.
The Packers have deployed a nice mix of zone- and power-based blocking and the Redskins have struggled to cope. Weak tackling has also been a major issue.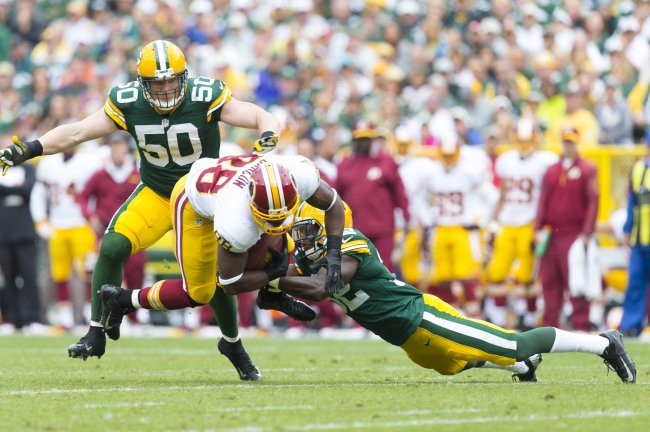 Jeff Hanisch-USA TODAY Sports
Touchdown Redskins! The replay proves Garcon completed the six-yard scoring pass. Potter boots the point. Now 31-7.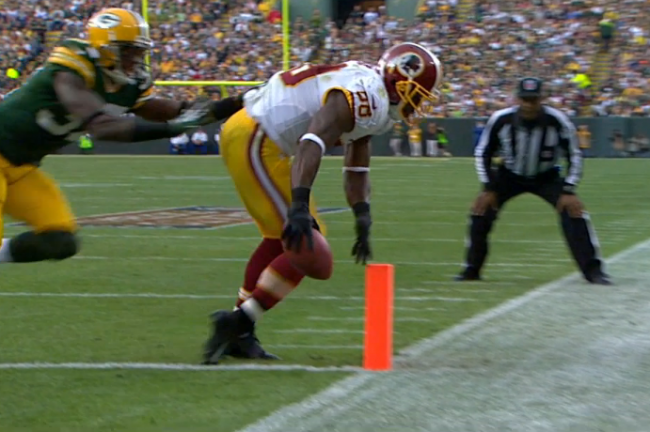 The Redskins challenge the frankly bizarre ruling that deemed this play was not a touchdown. Garcon is now over 100 yards receiving.
He has battled bravely, after disappearing from the fray all too easily last week.
Benny Sieu-USA TODAY Sports
Despite being 31-0 down, Morris is still running hard. He has produced some clever running, including another 32-yard gain. If only he had started this way.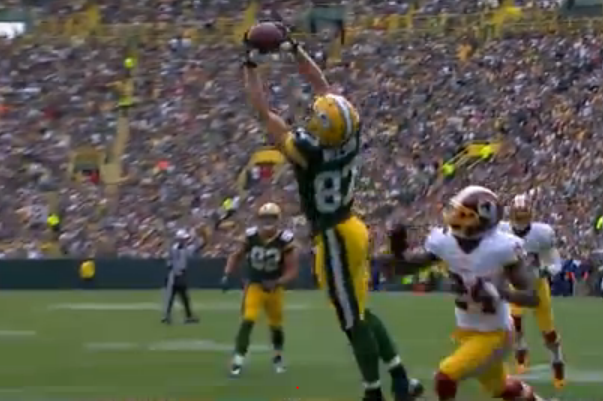 Touchdown Packers! The rout continues as Jordy Nelson again exposes a secondary that is as good as invisible.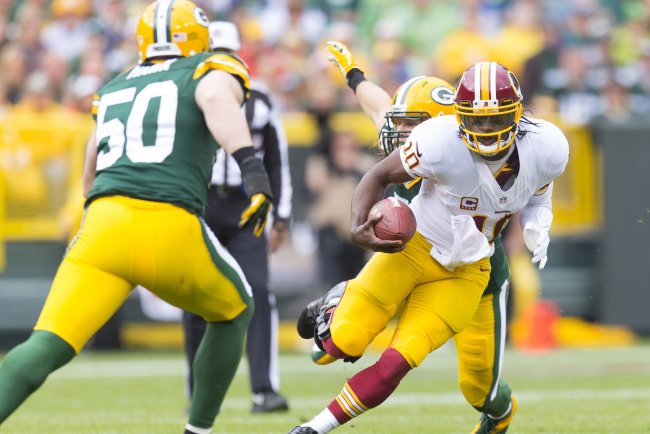 Jeff Hanisch-USA TODAY Sports
#Redskins are now 0-for-7 on third downs.

— Mike Jones (@MikeJonesWaPo) September 15, 2013
Good offenses and young quarterbacks ready to take the next step don't produce numbers like this.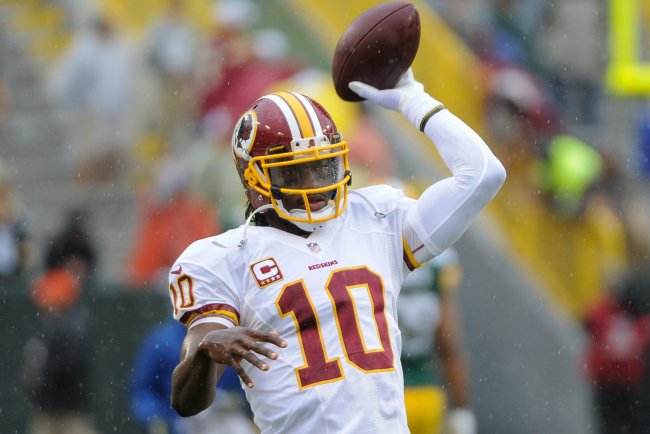 Benny Sieu-USA TODAY Sports
Just as this author sings Griffin's praises, he produces a terrible throw. He was late and long over the middle, despite his protection competently handling a middle blitz for a change.
The drive ends with a missed field goal by Potter.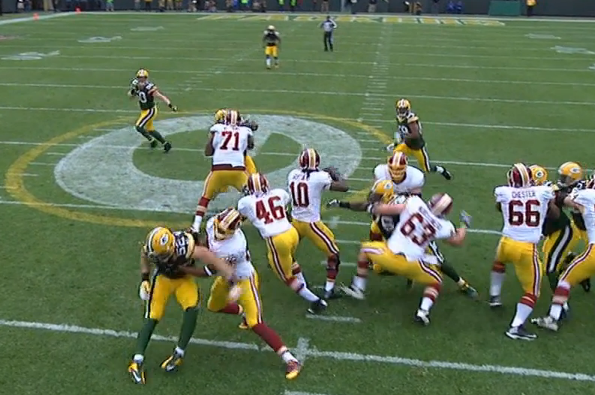 Griffin is looking a lot sharper thanks to a few read-option fakes. He now has open receivers exposing undermanned coverage.
The defense makes a valiant stop. The pass rush is again the key, with slot cornerback Josh Wilson registering the fourth sack of the day on a well-designed zone pressure.
The offense has to do its part.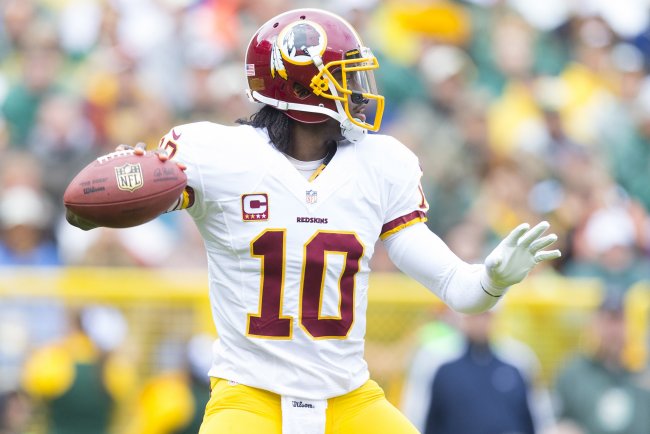 Jeff Hanisch-USA TODAY Sports
Take away the fluke D-Hall fumble return last week and the #Redskins have been outscored 50-0 in the first half the past two games.

— Grant Paulsen (@granthpaulsen) September 15, 2013
The Redskins don't look primed for a comeback after being forced into a quick punt. Grant Paulsen perfectly sums up just how bad this offense has been to start the season.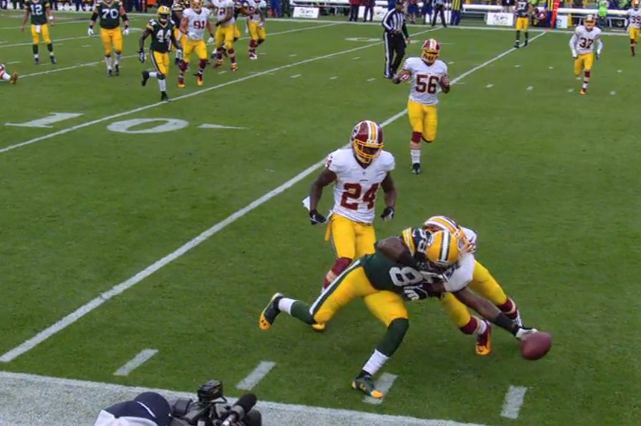 The Redskins get a major, major break on the half's final play. Jones stretches out for the pylon but looses the ball, resulting in a touchback.
They still trail 24-0, but the Redskins have to take some advantage of that strike of fortune.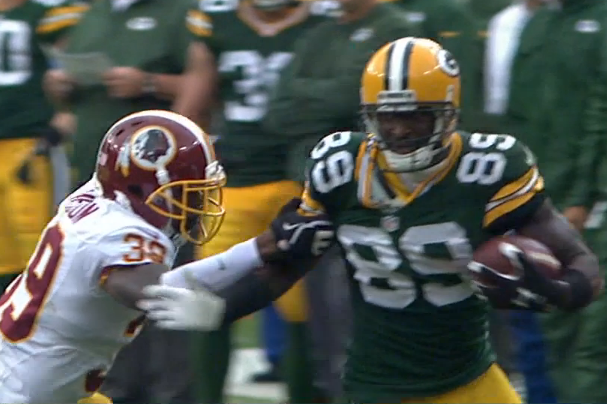 Amerson takes a poor angle to try and tackle Jones on a wide receiver screen. The rookie is struggling, although Haslett's Cover 0 blitz put him under a lot of pressure on this play.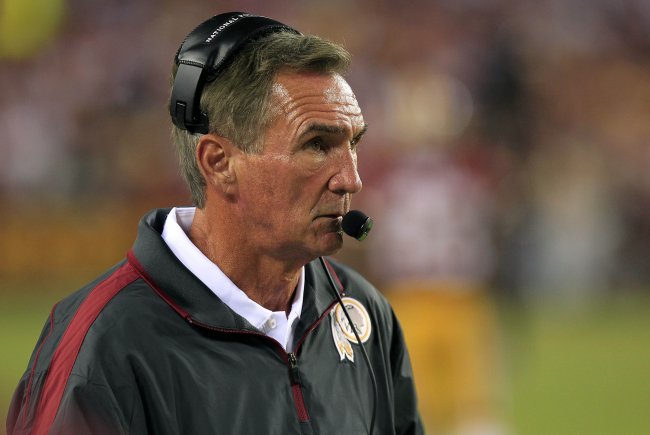 Geoff Burke-USA TODAY Sports
Shanahan was probably right to go for it on fourth down. The defense can't stop the Packers, so a field goal would have been scant consolation, even with plenty of time left.
The real problem was Griffin's poor, high throw on third down and his hesitancy, leading to a sack on second down.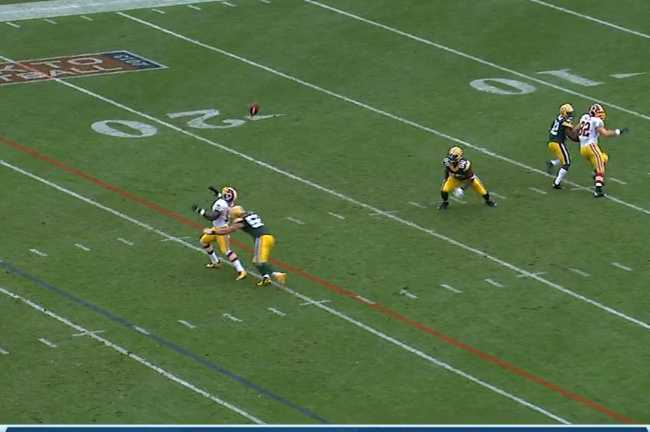 Interception! The Packers pick Griffin off on fourth down. A high pass from Griffin, who was errant with a number of throws on what looked like a promising drive.
The Packers mixed up their pressure, bringing some blitzes off the edge, and Griffin is clearly rattled.
This article is
What is the duplicate article?
Why is this article offensive?
Where is this article plagiarized from?
Why is this article poorly edited?