WWE Night of Champions 2013: Winners, Grades, Twitter Reaction and Highlights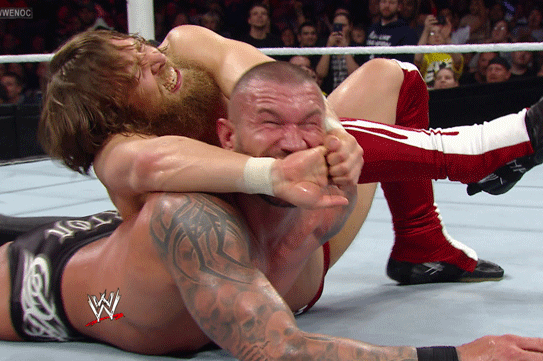 via WWE.com
At SummerSlam last month, Daniel Bryan beat perennial WWE poster boy John Cena in the center of the ring to win the WWE Championship. A veteran of the independent wrestling scene who cut his teeth in high school gyms and National Guard armories around the country while waiting for his big break, it was the culmination of a 14-year journey for the Aberdeen, Washington native.
But his fans weren't left to chant "Yes!" for long.
Within seconds, Bryan was planted face-first on the mat by WWE executive Triple H. After cashing in the Money in the Bank briefcase, there was a new face of WWE indeed—but it wasn't the diminutive, bearded Bryan. Randy Orton was the choice, instead, to replace Cena as the WWE standard bearer.
For the last month, as WWE executives tried to justify their decision, Bryan has fought for what is his. He got a chance to earn it back at Night of Champions and made the most of it.
The show ended with the finish we didn't get at SummerSlam—Bryan celebrating with his fans and leaving the WWE champion.
Meanwhile, the war of words between CM Punk and Paul Heyman escalated into violence—finally—as Paul E. joined his protege Curtis Axel in the ring to face his former friend.
Heyman and Punk had a partnership of unprecedented success. Punk held the WWE title for more than a year, with Heyman always by his side. It's those good times that have made this feud so intense.
They say "good friends, better enemies." And in Heyman, Punk has perhaps found the most bitter rival of his entire career.
Punk, after dispatching Axel, got his hands on Heyman, delivering a brutal beating. But Heyman would have the last laugh. Ryback came to his rescue and speared Punk through a table. The WWE's resident bully, it appears, is now a Paul Heyman guy.
I've graded every segment, from A-F, to let you know what I thought of the event. Remember, grades are dependent on match placement and expectations.
I expect a WWE championship match to be great—therefore I hold it to a high standard. A filler match that surprises, likewise, can earn a shockingly high grade by virtue of simply not being bad.
Disagree with my letter grades? Provide your own in the comments!
Begin Slideshow

»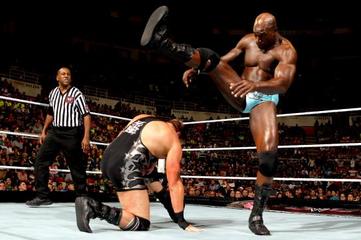 via wwe.com
Storyline
This isn't a match built around personal grudges or an intense in-ring rivalry. This one is all about athletic competition. The winner gets a shot, not just at the main card of the pay-per-view, but at the WWE tag team belts. And those are things worth fighting for.
Result
Tensai eliminated Drew McIntyre with a rollup; Brodus Clay tapped out to the Patriot Lock; Swagger tapped an Uso with the Patriot Lock; Darren Young pinned Jack Swagger with a GutBuster to send the Prime Time Players onto the main pay-per-view.
Memorable Moments and Quotes
The insane dive by Drew McIntyre. Poor Brodus Clay. He took the brunt of that right to the head.
Jey Uso takes it up a notch with his own wild dive over the corner ringpost.
Twitter Highlights
Ummm @RealJackSwagger'a hair cut looking freeeeeesssshhh #WWENOC

— Renee Young (@ReneeYoungWWE) September 15, 2013
Grade
B-
Analysis
I almost went up a whole letter grade to properly recognize Brodus Clay's new ring gear. He has miniature Stegosaurus-style dinosaur scales on his spandex. That's a rocket ship to the main event, I'm sure.
This match was worked as a sprint. There was no nuance, just a collection of spots. Everyone wanted to do their best moves. Sometimes that's a mess. Here it was fairly exciting. Darren Young and Titus O'Neill have the potential to put on a pretty good match with the Shield tonight. Can't wait to see it.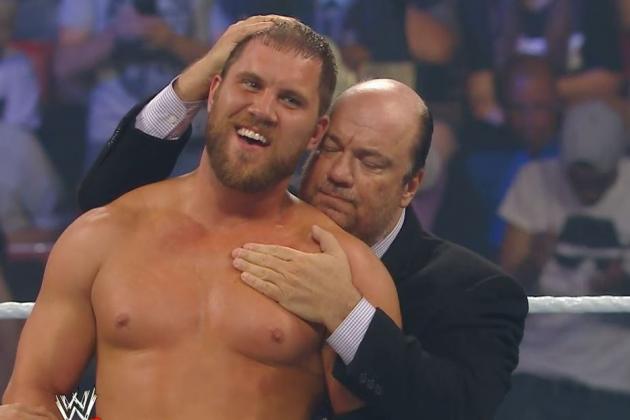 screen capture
Storyline
Paul Heyman is frantic about the very idea of facing CM Punk so he came out to start the show, begging Triple H to cancel the match. Hunter is disgusted by Heyman's poor appearance, product of a lack of sleep, and the horrible odor trailing him, product of a lack of showering.
Triple H, instead of cancelling the match, books Heyman's client Curtis Axel in another one. After all, every title belt should be on the line. He offers the match to the first man he's sees backstage—who happens to be Kofi Kingston.
Result
Axel pins Kingston with his move to defend the Intercontinental title.
Memorable Moments and Quotes
"I have a real serious problem with what you're considering best for business." —Paul Heyman.
"You look terrible. When is the last time you've slept? When's the last time you showered?" —Triple H.
Kingston's daring moonsault to the outside.
Axel counters a top rope leap with a dropkick to Kingston's gut.
Twitter Highlights
Is it just me, or does @RealCurtisAxel resemble a young #YukonCornelius facially? #WWENOC https://t.co/u8uz2afBPy

— Mick Foley (@realmickfoley) September 16, 2013
Grade
B
Analysis
Bonus match! Pretty fun stuff here, with Heyman giving it a certain gravitas with his reactions ringside. Axel is without a doubt a solid hand. The question has always been, and remains, whether or not he has the charisma to make it as a top player. I'm still not convinced.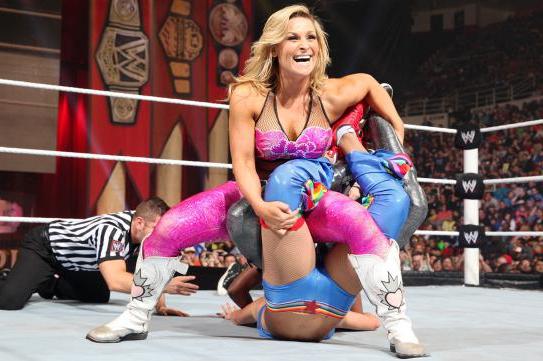 via WWE.com
Storyline
Total Divas has been a huge hit for E! and the WWE. It's breathed new life into the Divas division and the company is taking advantage of all the attention by making the Divas a bigger part of the show. The new-found prominence has even trickled down to women not featured on the show.
In fact, that has become the storyline, as AJ Lee has spent weeks explaining. In her mind she's a throwback in the Ric Flair and Terry Funk mode. The reality show girls? Nothing more than Ultimate Warrior style flashes in the pan who don't really love the business. Can tradition prevail over modernity? That's why they have the matches.
Result
AJ Lee made Natalya tap out to the Black Widow.
Memorable Moments and Quotes
Brie Bella dressed just like Rainbow Brite.
The Total Divas crew gangs up on AJ Lee.
Naomi's sweet hurricanrana.
Double Sharpshooter!
Twitter Highlights
Bella Brite Brie! #TeamBrie #WWENOC

— The Bella Twins (@nicoleandbri) September 16, 2013
Grade
B
Analysis
People don't want to hear it, but the Divas can work! Fun match. Naomi looked better than she ever has before and Brie Bella is astoundingly aggressive at times.
But the real stars of this match were AJ Lee and Natalya. Yes, the Double Sharpshooter was a little cheesy. But I'll be darned if it didn't make me crack a smile.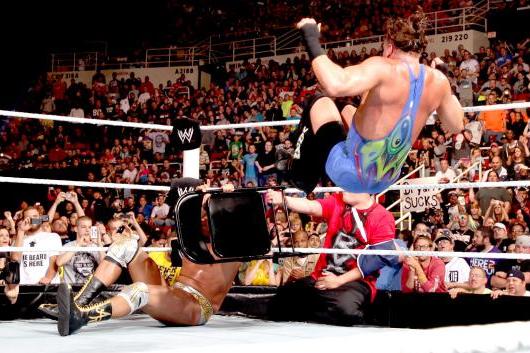 via WWE.com
Storyline
The ageless wonder Rob Van Dam looks to continue a strong run in his WWE return engagement. Since his reappearance earlier this year, the 40-something Van Dam has looked like a man in his prime, not a struggling has-been on his last legs. To borrow a phrase from the Universe, he's "still got it."
Across the ring, Del Rio has been more aggressive than ever. Will the departure of Rodriguez to Van Dam's camp swing the match one way or the other? The answer will likely decide this match.
Result
Rob Van Dam wins by disqualification when Del Rio refused to break the cross armbreaker when Van Dam made the ropes.
Memorable Moments and Quotes
"RVD." —Rodriguez explaining how to say "word champion" in Spanish.
RVD's botched springboard moonsault. Not good, but memorable.
"Rob. Van. Dam." —Detroit crowd chanting for Michigan native RVD.
"A.D.R." —Del Rio trying, and failing, to get them to chant his own name.
That leaping stomp Del Rio does. That's a great spot.
Del Rio blocks the Five Star Frogsplash with his knees.
Van Terminator in the corner after the match to appease the crowd.
Twitter Highlights
If Alberto loses a day after Mexico's Independence Day...#WWENOC 😳😳😳

— Rosa Mendes (@LaRosaMendes) September 16, 2013
#WWENOC @TherealRVD's Van Terminator was SSSIIICCCKKK!

— Zack Ryder (@ZackRyder) September 16, 2013
Grade
B-
Analysis
Everyone worked hard in this match. Some of the stuff was absolutely brutal and stiff. But, as a match, it just didn't flow nicely. They missed too many spots, and the individual moves they managed to pull off didn't combine into a coherent whole.
When I grade a match, I expect more from high profile world title bouts than I do from undercard sprints like the Divas match that preceded this one. It's all based on expectations.
In a vacuum, perhaps, this was better than the Divas match. But, if you consider what it might have been, it was a little disappointing.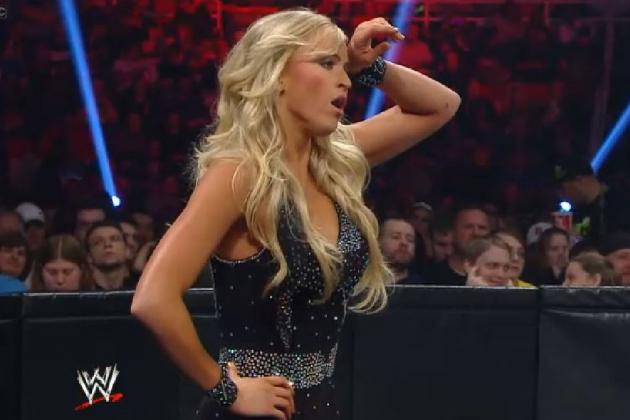 The best part of this match. via Screen capture
Storyline
These guys are feuding over, and I kid you not, who the better dancer is. It's like Steamboat versus Flair, only exactly the opposite.
Result
The Miz beats Fandango with a Figure Four out of nowhere.
Memorable Moments and Quotes
"You're the expert because you went to the Syracause Dance Academy with Mike Rotundo?" —JBL to Michael Cole
"Ask him" —Fandango with a little Chris Jericho shout out?
"We want tables." —the crowd, perhaps mocking a match that is anything but hardcore.
Twitter Highlights
I still don't like Mix regardless of his new attitude

— Santino Marella (@milanmiracle) September 16, 2013
Damn auto correct yes I meant the Miz

— Santino Marella (@milanmiracle) September 16, 2013
Grade
C-
Analysis
What was this match doing on pay per view. With a hot angle, maybe that works. As a stand alone match that was all kinds of awful. I think it's official at this point—Fandango is a failed gimmick.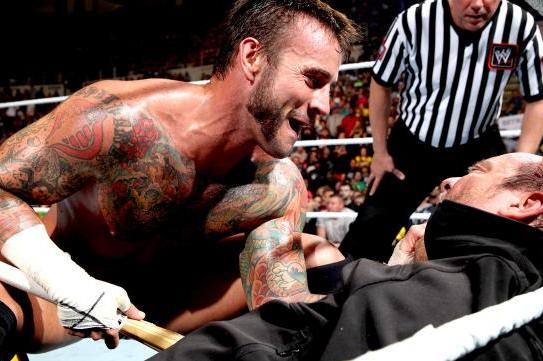 via WWE.com
Storyline
CM Punk and Paul Heyman were more than just business partners. They were friends. More than that—Heyman was Punk's mentor, the man who helped make sure he got his break in the WWE. You can feel that emotion everytime these two interact.
Punk is deadset on revenge. Heyman is committed to preserving his own hide. In the middle is Heyman's latest client, Curtis Axel. And in the middle may be the wrong place for any man when CM Punk's blood is up.
Result
Punk makes Axel tap to the Anaconda Vice. Afterwards Punk gave Heyman a vicious beating. Heyman, eventually, is saved by Ryback. After a spear through the table, Heyman pinned Punk.
Memorable Moments and Quotes
Punk with a surprise suicide dive that nails Heyman and lays him out. Nobody saw that coming!
"Walrus, walrus, walrus." —the crowd to Heyman. The King must be so proud.
Axel counters a Punk chairshot with a nice dropkick.
"You are better than CM Punk!" —Heyman to Axel. That's solid positive reinforcement.
"I fathered you." —Heyman to Punk.
"I'm tapping. I tapping. I tapping." —Heyman to no avail.
Ryback spears Punk through a table.
Twitter Highlights
Hmmm...@HeymanHustle & @Ryback22 ..interesting. I think business just picked up. Fresh start for Ryback....#WWENOC

— Jim Ross (@JRsBBQ) September 16, 2013
Grade
B
Analysis
I was surprised at the lack of heat for this match. No one seemed that into the idea of Punk getting his hands on Heyman. Either that, or they had no doubts it was going to happen.
They made up for the lackluster body of the match with a hardcore postmatch. Credit where it is do—Heyman took his beating like a man.
Now we wait for Raw and find out why Ryback inserted himself in the match. It makes sense if he was auditioning for a spot as a "Heyman guy." But if it was something he and Heyman schemed up before the match, he sure took his sweet time coming to the rescue!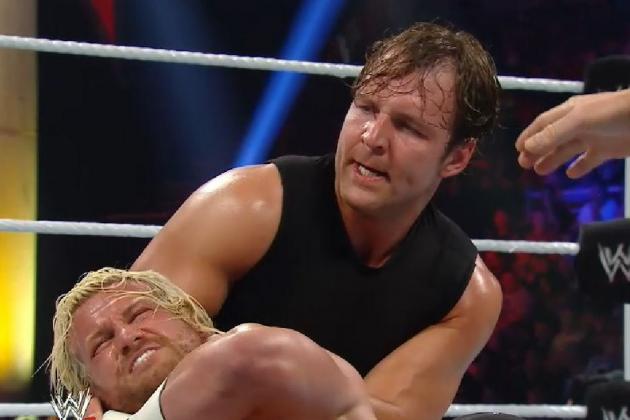 Screen capture
Storyline
When Dolph Ziggler answered the WWE's help wanted ad, the job description read as follows: seeking a talented athlete to work as a professional wrestler. Must take amazing bumps and always make his opponents look great. Be comfortable looking up at the lights. Finishing move not required. Tight blond perm preferred. Send resume and picture courtesy of "J. Laurinitis, Stamford, CT."
Result
Ambrose puns Ziggler with the Bulldog Driver.
Memorable Moments and Quotes
"Get out your nitroglycerine King." —JBL, referencing Lawler's heart attack last year.
Ziggler delivers 10 consecutive elbow drops.
Ambrose's Arn Anderson-esque spinebuster.
"He has not allowed Ziggler to build any momentum." —Michael Cole. Did he mean Ambrose in this match or Triple H over the course of Ziggler's career? Zing!
Ziggler sprints up the top rope and plants Ambrose face first. Shades of Kurt Angle.
Grade
B+
Analysis
There was n storyline of note associated with this match. But, when the performance is that good, it really doesn't matter. Ziggler was his normal energetic self and Ambrose helped shape his enthusiasm into a solid match.
If I had my way, these guys would both be top of the card players for years to come. I guess we'll see if it's "best for business."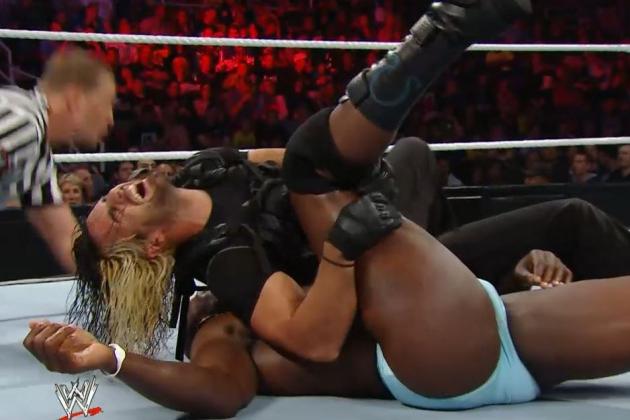 screen capture
Storyline
Our own Ryan Dilbert compared the Tag Team Turmoil winner to "the teams in the NCAA basketball tournament play-in games." That rings true. And you know what? Those teams don't often end up beating the Dukes and Ohio States of the world.
Now associated with the most powerful faction in the entire WWE, the McMahons, the Shield seems unlikely to lose to a team who had to fight just for the right to be there.
Result
Seth Rollins pinned Titus O'Neill after Roman Reigns blindsided him with a spear.
Memorable Moments and Quotes
Darren Young nails Seth Rollins with a hard elbow. And I mean hard.
"The Shield are not the team you want to screw around with." —Michael Cole.
Titus O'Neill blows a whistle as he puts the boots to Rollins.
Darren Young as a afro wearing Ricky Morton making the hot tag.
Grade
B+
Analysis
Wow. This was a classic 1980's tag team match, compressed into 10 minutes. Lots of great work from all four guys. The WWE has the pieces in place for a tag team resurgence. If they gave some of these teams 15 minutes on Raw every week for two months, I think you'd have something special.
screen capture
Storyline
Daniel Bryan is the best wrestler in the world. But Triple H and the WWE aren't looking for the best wrestlers. They are looking for marketable faces to put on cereal boxes, toys and t-shirts. Bryan isn't built in that mode—so Hunter and the entire WWE establishment are deadset on keeping him far, far away from the WWE championship.
Result
Daniel Bryan pinned Orton after a knee to the head.
Memorable Moments and Quotes
"He's never backed down from anything. Why would you expect him to tonight?" —JBL.
Orton nails Bryan with two hard clotheslines in the corner.
Orton with the Garvin stomp. I always loved that. Yes, I am old.
Bryan with two suicide dives that floor Orton.The third time, however, was not the charm. Orton countered with a hard right.
Scott Armstrong with a ref bump. Not worthy of GLOW, but not bad.
Bryan hangs on after hitting Orton with a superplex. That allows him to hit the diving headbutt for a two count.
Orton counters a kick with an Exploder suplex.
"There is a new face of the WWE. And it is Daniel Bryan." —Michael Cole.
Twitter Highlights
Yes! Yes! Yes! I knew he could do it!! Love you so much @WWEDanielBryan Xxoo Brie
— The Bella Twins (@nicoleandbri) September 16, 2013
Congrats to @WWEDanielBryan on winning coveted @WWE Title at #WWENOC. A legit wrestler's wrestler. #DuesPaid
— Jim Ross (@JRsBBQ) September 16, 2013
Grade
A
Analysis
Daniel Bryan, for one night at least, has defied the odds. For the second pay-per-view in a row, he won the WWE championship. This time he at least made it off the air with the strap. That may change.
Is it just me, or did referee Scott Armstrong make a blatantly fast count to end the match? Maybe the veteran ref just got excited in there. But something tells me that's the beginning of an angle, not an error in judgement.
That's tomorrow night's problem. Here, on this night, fans got exactly what they wanted. Bryan upset Orton in a solid main event match. He showed, again, he has what it takes to work at the highest level.
I think he has a real shot at sticking around in the main event scene, even after Cena returns. He may not end up the face of the WWE, but he can be in the mix. He's just that good.