Just a few weeks into the season that some are labelling the most balanced of the Premier League era, audiences have already witnessed their fair share of underdog victories.
That being said, the upsets aren't likely to stop, and with Week 5 comes another batch of fixtures liable to produce a shock result of David vs. Goliath proportions.
With that in mind, let's look ahead to this week's matchups, considering just who's most capable of pulling a surprise out of the bag.
Premier League Week 5 Predictions

| | | |
| --- | --- | --- |
| Saturday, Sept. 21 | Time | Prediction |
| Norwich City vs. Aston Villa | 12:45 p.m. BST/7:45 a.m. ET | 2-2 |
| Liverpool vs. Southampton | 3 p.m. BST/10 a.m. ET | 1-0 |
| Newcastle United vs. Hull City | 3 p.m. BST/10 a.m. ET | 2-1 |
| West Brom vs. Sunderland | 3 p.m. BST/10 a.m. ET | 1-1 |
| West Ham vs. Everton | 3 p.m. BST/10 a.m. ET | 1-2 |
| Chelsea vs. Fulham | 5:30 p.m. BST/12:30 p.m. ET | 3-1 |
| Sunday, Sept. 22 | | |
| Arsenal vs. Stoke City | 1:30 p.m. BST/8:30 a.m. ET | 1-0 |
| Crystal Palace vs. Swansea City | 1:30 p.m. BST/8:30 a.m. ET | 1-2 |
| Cardiff City vs. Tottenham | 4 p.m. BST/11 a.m. ET | 1-1 |
| Manchester City vs. Manchester United | 4 p.m. BST/11 a.m. ET | 2-3 |
PremierLeague.com
Cardiff City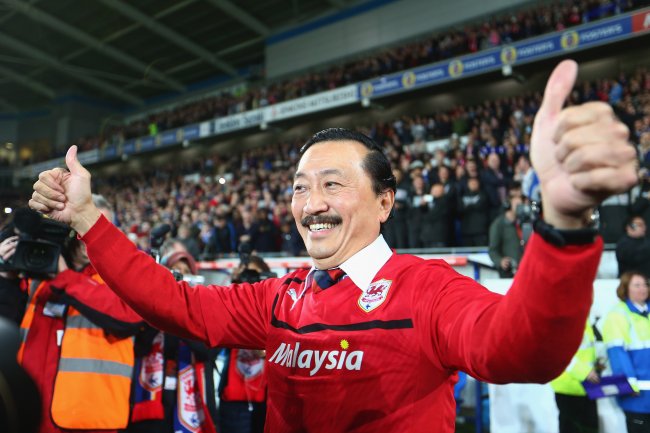 Michael Steele/Getty Images
Given the money that Vincent Tan has invested in his squad over the course of this summer, it's perhaps unsurprising that Cardiff City have looked like the most impressive of the three promoted sides this season.
This weekend will see the Bluebirds come up against Andre Villas-Boas' Tottenham in a match that should really test their resolve as a Premier League side.
Can Cardiff maintain their fine form against Spurs?
In Cardiff's win over Manchester City three weeks ago, Malky Mackay's men had the benefit of still being a fairly unknown quantity, but the league's big guns will be all too aware of just what a challenge they pose now.
The Welsh outfit's defence has looked impressive, and Spurs' recent 2-0 victory over Norwich was just the first time AVB's side managed to net more than one goal in a game this league term.
If Cardiff can restrain Tottenham's busting midfield ranks while posing a counter-threat on goal themselves, there lies all the chance of the Premier League's new boys overturning more top-four opposition.
Stoke City
With Aaron Ramsey and Olivier Giroud both in the form of their lives, Arsenal have been propelled to the summit of the Premier League, looking offensively impressive of late.
The same can't be said of the stability in the defensive positions, with Sunderland finding it all too easy to move from the middle to final third during their 3-1 defeat to the Gunners.
Stoke City have looked different under Mark Hughes. They've retained their stubbornness as a defensively sound unit while looking to add some girth in attack.
Playing away from home, it's all too likely that the Potters will have a "park the bus" mentality heading into their Emirates encounter, but if they're able to create a quick counter, one chance could provide Hughes' men with their smash-and-grab opportunity.
Sunderland
This weekend saw West Brom net the first goal of their Premier League season during a 1-1 away draw at Craven Cottage, while Sunderland were unfortunate to emerge from the Arsenal match without so much as a point in tow.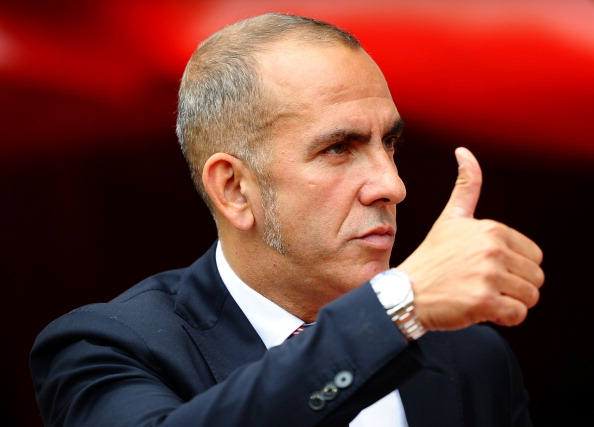 Laurence Griffiths/Getty Images
However, there were some major positives for Paolo Di Canio to take away from the loss, specifically with Jozy Altidore looking a little more confident in attack.
With Steve Clarke's Baggies in far from their greatest stretch of form, the Black Cats must travel to the Hawthorns next week with three points being their target.