Vikings vs. Bears: Full Roster Report Card Grades for Minnesota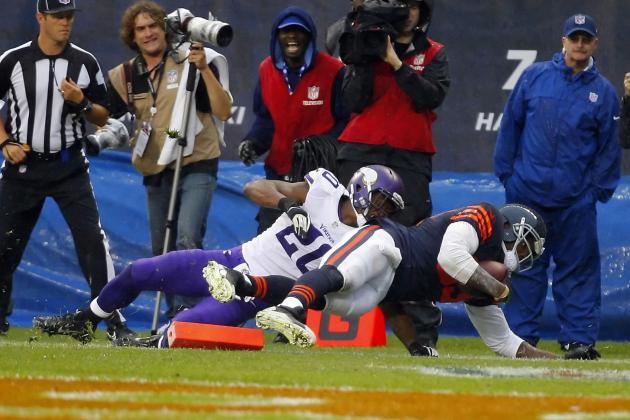 Dennis Wierzbicki-USA TODAY Spor

The Minnesota Vikings came within 10 seconds of pulling off an upset over the Chicago Bears at Soldier Field, a place they have struggled recently. Their 31-30 loss Sunday to the Bears, although close, will be remembered as a game that the Vikings did just enough to lose.
The Vikings offense wasted plenty of chances in the second half. Despite putting together the first three scoring drives of the second half, the Vikings failed to score a touchdown.
There were plenty of chances to put the Bears away as the Vikings had two drives that lasted 13 plays, but stalled deep in Chicago territory and the Vikings had to settle for field goals. With 3:08 left in the game, the Vikings had outscored the Bears 9-0 in the second half to take a six-point lead.
Another four points by turning one of those field goals into a touchdown would have put the Vikings ahead by two scores and given them an improbable win.
With the loss there were some bright spots, but not enough to raise any grades much above the average mark of a C.
Here are the grades for the Vikings' roster in Week 2.
Begin Slideshow

»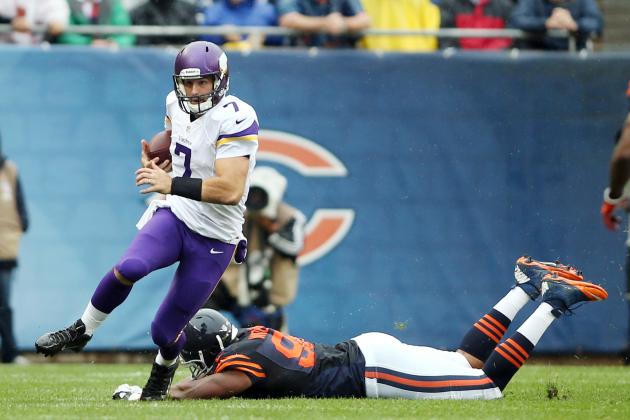 Jerry Lai-USA TODAY Sports

Christian Ponder
With three interceptions and a fumble against the Lions in Week 1, there was no way Christian Ponder could look any worse.
He started out very slow with the offense punting the first three series. Then things got worse when he threw an interception for a touchdown on their first drive of the second quarter.
After that something seemed to click.
On the last drive of the first half, he led the Vikings to a score with a 20-yard touchdown to Kyle Rudolph. That helped tie the score at 21.
In the second half after an opening drive that ended in an Adrian Peterson fumble, Ponder led the Vikings to three more scoring drives—unfortunately they were all for field goals.
Still, these three drives were long sustained drives that took 13, 13 and eight plays and consumed more than 16 minutes.
He finished 16-of-30 for 227 yards, with a touchdown and the costly interception. His passer rating for the game was 75.3.
Overall grade: C+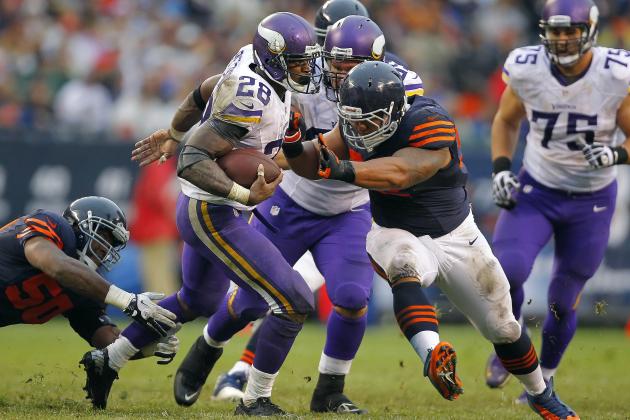 Dennis Wierzbicki-USA TODAY Spor

Adrian Peterson: C
Adrian Peterson was able to run for 100 yards in the game, but a fumble and a run that lost 13 yards in the fourth quarter really hurt the Vikings. He was also held without a touchdown.
Toby Gerhart: D
Toby Gerhart got his first run and made his first catch of the season. Unfortunately, that was the extent of his contribution in the game.
Overall grade: C-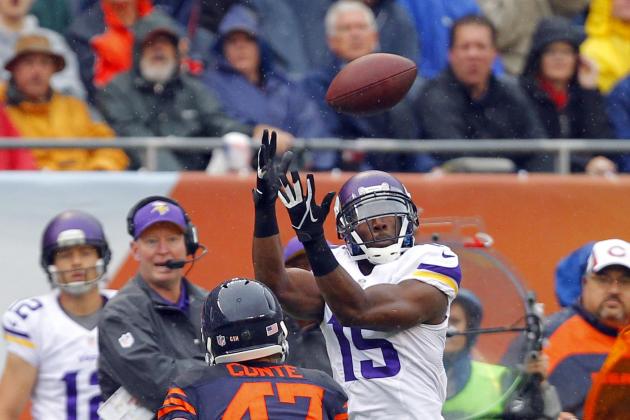 Dennis Wierzbicki-USA TODAY Sports

Greg Jennings: C+
The Vikings finally saw the Greg Jennings who was in Green Bay. He finished with five catches on the day for 84 yards. Three of the five came on third down and totaled 62 yards. Now if he can catch one in the end zone.
Jerome Simpson: C-
A lot was expected after his seven catches for 140 yards in Week 1. This week he only had two catches for 49 yards on five passes thrown his way.
Cordarrelle Patterson: C-
It's not Cordarrelle Patterson's fault that he is not on the field. He caught two balls for for 14 yards.
Jarius Wright: F
A catch that was ruled a fumble and then overturned into an incomplete pass should have been caught for a touchdown. Wright finished with one catch for 21 yards, but it's the catch he didn't make that hurts.
Overall grade: C-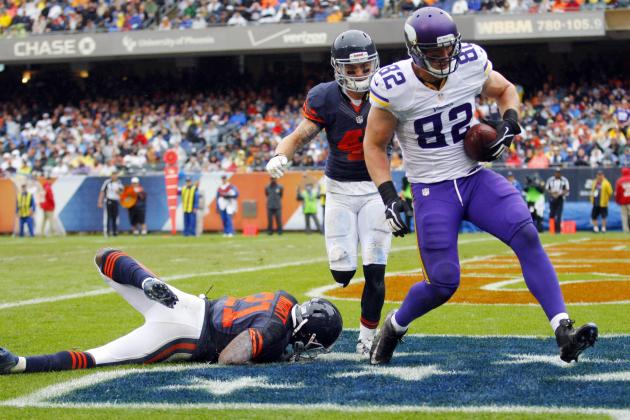 Dennis Wierzbicki-USA TODAY Sports

Kyle Rudolph: C+
The only touchdown in the game scored by the offense went to Kyle Rudolph. Not a huge surprise since he led the Vikings with nine touchdown receptions last season. He was targeted six times, but only came up with three catches for 42 yards, including the 20-yard touchdown late in the second quarter.
John Carlson: D+
John Carlson made his first grab of the season against the Bears. It only went for seven yards. With an average of 0.5 catches per game, he is on the same pace as last season when he caught eight passes.
Overall grade: C-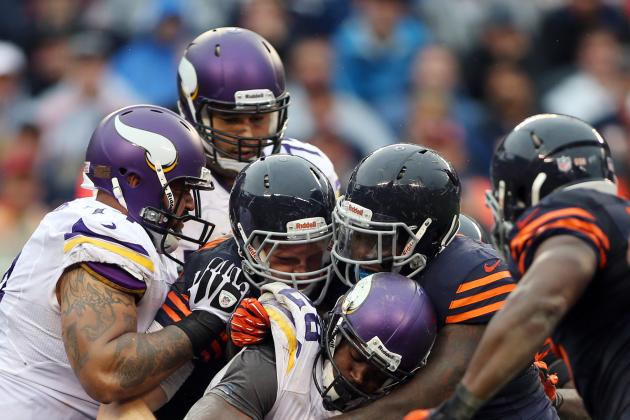 Jerry Lai-USA TODAY Sports

Pass Protection: B+
Quarterback Christian Ponder dropped back 36 times in the game against the Bears. On six of those plays he chose to pull down the ball and take off running for 18 yards. On the 30 passes he threw, he was only sacked once and hit once.
Run Blocking: C
While Adrian Peterson was able to run for 100 yards on the day, he only averaged 3.8 yards per carry and was met far too often in the backfield. This is a team that is supposed to be able to control the game with the running game, and that didn't happen against the Bears.
Overall grade: C+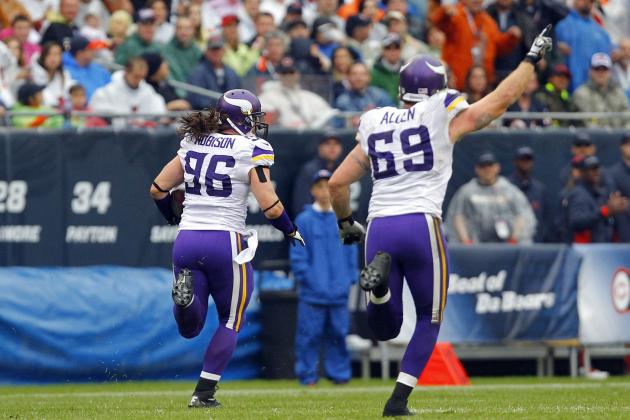 Dennis Wierzbicki-USA TODAY Sports

Jared Allen: B-
Good things usually happen when Jared Allen gets to the quarterback. In the game against the Bears, he finished with the only sack for the Vikings, but it also resulted in a fumble and a defensive touchdown. Still, Allen needs to do a lot more if he wants that next contract to be a big one.
Kevin Williams: C+
After missing last week's game, Kevin Williams made his presence felt. He finished with only one tackle in the game, but he came up big with an interception in the end zone off a tipped pass at the line of scrimmage.
Letroy Guion: C
Like Williams, Letroy Guion only recorded one tackle in the game, but it was a big one as he ripped the ball away from Matt Forte for one of four turnovers caused by the defense.
Brian Robison: B
It's a matter of what is expected. Brian Robison finished with six tackles just as Allen did, but he also had a tackle for a loss and a quarterback hit on Jay Cutler. He also put the exclamation point on the Vikings' only sack of the game by returning the fumble 61 yards for a touchdown.
Everson Griffen: D
Everson Griffen is on the stat sheet for a tackle, but I don't recall seeing him play in the game.
Sharrif Floyd: D+
The rookie recorded one tackle and one quarterback hit on the day, but for Sharrif Floyd his day was a lot like Griffen's.
Fred Evans: D
He made one tackle, and like Griffen and Floyd, Fred Evans didn't make an impact in the game.
Overall grade: C
Only one sack in the game kind of says it all.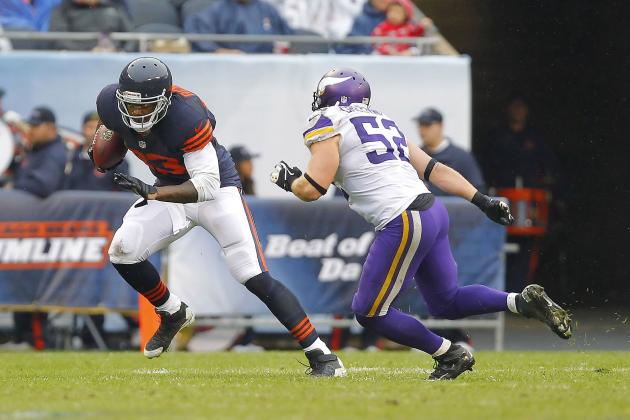 Dennis Wierzbicki-USA TODAY Spor

Chad Greenway: B
Once again Chad Greenway led the Vikings in tackles (11).
Erin Henderson: C
Erin Henderson finished with five tackles, one tackle for a loss and a quarterback hit.
Marvin Mitchell: D
Marvin Mitchell holds onto the starting weak-side linebacker for another week, but he finished with only two tackles.
Desmond Bishop: Incomplete
He did not play in last week's game and, for all I can tell, did not play in this game either.
Overall grade: C-
The defense gave up 31 points, so that does not allow for any high grades in another loss.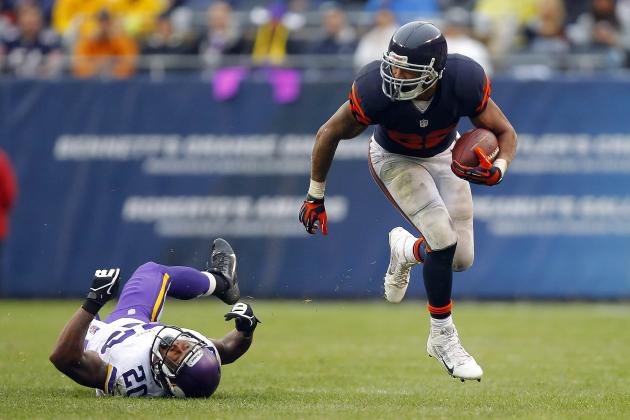 Dennis Wierzbicki-USA TODAY Spor

Chris Cook: F
The Vikings needed their most experienced cornerback to come up with a big play against the Bears. Instead he allowed a touchdown to Brandon Marshall and the game-winner to Martellus Bennett with 0:10 left in the game.
Xavier Rhodes: C
The rookie finished with one tackle on the day. He came up with a great play, tipping a ball away at the last second. The play didn't count because of a penalty by the Bears that backed them up 10 yards.
Josh Robinson: C
I didn't hear or see Josh Robinson during the game, yet he recorded one tackle.
Marcus Sherels: C
He recorded a tackle, but, like Robinson, I don't recall seeing Marcus Sherels on defense. He did make a tremendous play keeping a punt from landing in the end zone.
Overall grade: D-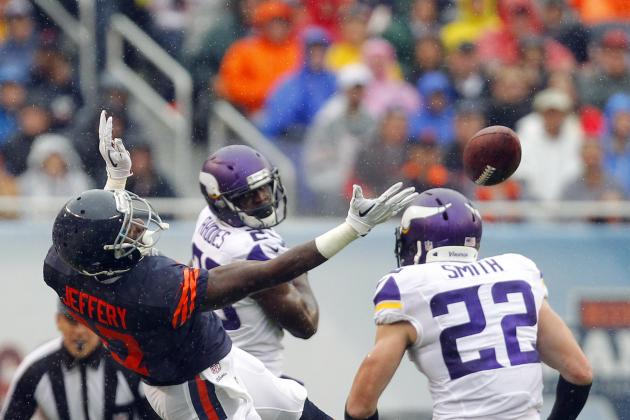 Dennis Wierzbicki-USA TODAY Sports

Harrison Smith: B
The second-year safety finished with eight tackles and intercepted Jay Cutler as the Bears were driving deep in Vikings territory.
Jamarca Sanford: B-
Jamarca Sanford has been playing better since Harrison Smith has been starting next to him. Sanford finished with eight tackles on the day. A personal foul penalty that tacked on 15 yards was about the only thing he didn't do right in the game.
Robert Blanton: B
Smith's teammate at Notre Dame saw just enough action to record two tackles in the games against the Bears. A solid backup to Smith and Sanford.
Andrew Sendejo: Incomplete
The special teams player did not make the stat sheet.
Overall grade: B
It would be better if the safeties didn't have to make so many tackles, but that's not their fault.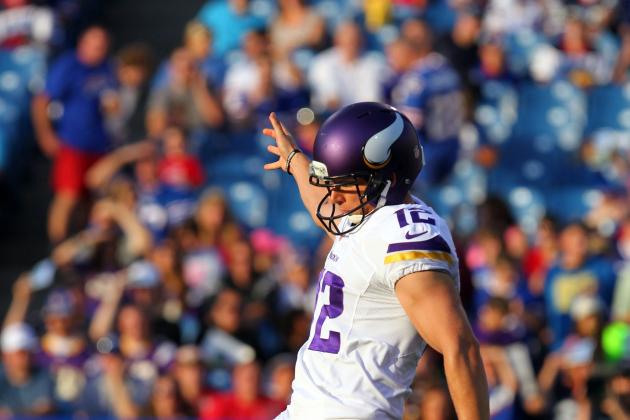 Timothy T. Ludwig-USA TODAY Spor

Blair Walsh: C+
The second-year kicker was a perfect 3-of-3 on field goals, but he gave Devin Hester too many opportunities to return kickoffs. Only one of his seven kickoffs resulted in a touchback.
Jeff Locke: B
After a poor performance last week against the Lions, Jeff Locke bounced back with a very good day punting. He averaged 56.7 yards on three punts, putting two of them inside the 20 yard line. The third would have been downed inside the 5-yard line if not for a fluke play that had the Bears knocking the ball out of the back of the end zone—I'm still not convinced that should have been a touchback.
Cordarrelle Patterson: A
Cordarrelle Patterson was about the only great thing for the Vikings today. Patterson had three kickoff returns for 149 yards and opened the game with 105-yard return for a touchdown.
Marcus Sherels: Incomplete
Three punts and no returns for Marcus Sherels.
Overall grade: B+