The Giants fall to 0-2 after a poor effort in their home opener against the Broncos.
Full analysis and game grades are below.
Final
Denver: 41
New York: 23
New York Giants Game Grades

| | | | | |
| --- | --- | --- | --- | --- |
| Positional Unit | 1st Half Grade | Final Grade | | |
| Pass Offense | C+ | C- | | |
| Run Offense | D+ | F | | |
| Pass Defense | B- | C | | |
| Run Defense | A- | C+ | | |
| Special Teams | B | C- | | |
| Coaching | B- | D | | |
vs. Broncos Week 2
Game Analysis for the New York Giants
Pass Offense: Eli Manning threw for 362 yards but only had one touchdown pass, after the outcome was all but decided, and four interceptions. He was not helped by several dropped passes from his receivers and an unlucky bounce off Broncos cornerback Tony Carter's foot that led to his second interception.
Run Offense: This unit was awful. It had 23 yards on 19 carries, due in large part to poor blocking by the offensive line. David Wilson, however, didn't help. He looked overly concerned with not fumbling, which clearly hindered his aggressiveness.
Run Defense: After a strong first half, the run defense struggled in the second half. Two long touchdown runs by Knowshon Moreno on the outside to the right showed the vulnerability of the Giants linebackers. On both plays, they lacked pursuit and the necessary speed to force Moreno out of bounds.
Overall, it wasn't a bad effort, but when a defense allows two rushing touchdowns and 109 yards on the ground, it is definitely not a good one either.
Pass Defense: They weren't torched by Peyton Manning, but the Giants didn't slow him down either. As in the Dallas game, they were hurt by the short-to-intermediate passing game. In addition, they allowed too many third-down conversions via the pass.
A pass rush that was inconsistent and failed to sack Peyton Manning when it did bring pressure did not help the secondary.
Special Teams: The story here was Steve Weatherford. He had two low, short punts in the game that indirectly led to two Denver touchdowns. The first one, in the first half, gave the Broncos field position at the Giants' 40-yard line. The second one bounced several times before landing in the waiting arms of Broncos punt returner Trindon Holliday. The low trajectory and bouncing threw off the timing of the Giants coverage unit and Holliday returned it 81 yards for a touchdown.
Coaching: The Giants were once again sloppy and mistake-prone. Four interceptions, numerous drops by receivers and poor execution on both third down (1-of-11 in the game) and near the end zone (three field goals by Josh Brown of 41 yards or less) were all examples of this disturbing style of play.
Tom Coughlin and the rest of the coaching staff must get this team playing crisper and smarter if the Giants want to be a serious playoff contender in 2013.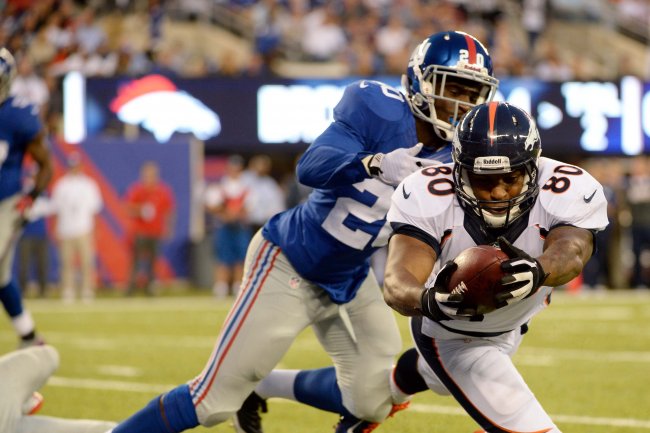 Robert Deutsch-USA TODAY Sports
First-Half Analysis for the New York Giants
Pass Offense: Eli Manning has 180 yards passing, but that does not tell the whole story. Drops and poor execution in this unit are a big reason why the Giants are 0-of-6 on third down and 0-of-2 in the red zone. Also, an interception in the end zone right before the end of the half cost New York at least three points.
Finally, Brandon Myers' inability to keep his feet and Rueben Randle fumbling short of the goal line (there was a holding penalty on Denver that negated the turnover) cost New York a touchdown on their second field-goal drive.
Run Offense: New York only has 19 yards rushing, and the offensive line is mostly to blame. The linemen have missed blocks and lacked physicality on most runs.
On a positive note, David Wilson hasn't fumbled, nor has Brandon Jacobs.
Run Defense: Outside of allowing Knowshon Moreno's 20-yard touchdown run, this unit has done a tremendous job. Overall, it only allowed 35 yards on 10 carries in the half.
The revamped defensive line has been a big reason why, as it has won at the point of attack on most Denver rushing attempts.
Pass Defense: They may have allowed Peyton Manning to throw for 200 yards, but the Giants have actually been better than this stat suggests. As they did against the Dallas Cowboys in Week 1, they have not allowed many big plays. The Broncos only have one pass over 20 yards. They've also held the elder Manning without a touchdown after he had seven against the Baltimore Ravens last week.
Special Teams: The one big mistake was a low, short punt by Steve Weatherford, which was the main reason Denver started its only touchdown drive at New York's 40-yard line.
Josh Brown has been solid with three field goals and two touchbacks.
Coaching: The Giants only have one turnover so far, so Tom Coughlin and his staff should be commended for cleaning up this area after the Dallas debacle.
The team, however, is out of sync on offense in the first half for the second week in a row. Coughlin and offensive coordinator Kevin Gilbride must accept blame for not having the team sharper in this unit coming out of the locker room.