Power Ranking the Top 10 BCS Title Contenders Post-Alabama vs. Texas A&M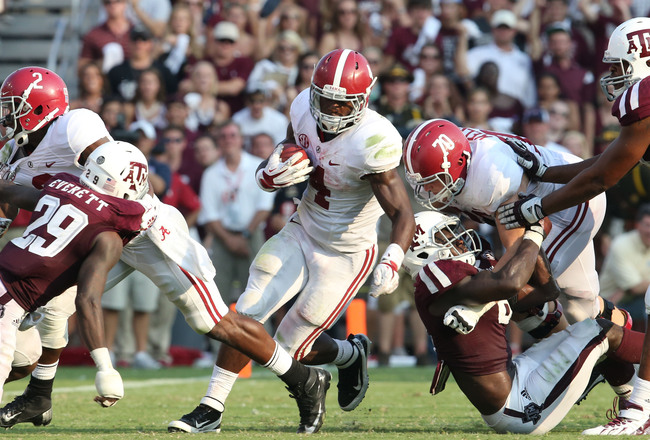 Matthew Emmons-USA TODAY Sports
Although we're only three weeks into the college football season, the outcome of Alabama vs. Texas A&M helped add a little clarity to the national championship picture. The Crimson Tide proved that they are still the team to beat with a 49-42 win, while Texas A&M showed a few flaws that need fixing.
But what about the rest of the teams fighting for a national title?
Yes, believe it or not, there are other teams that should be considered for the big game. The favorites should still be near the top, but there are a few other teams that should be added to your radar.
10. Texas A&M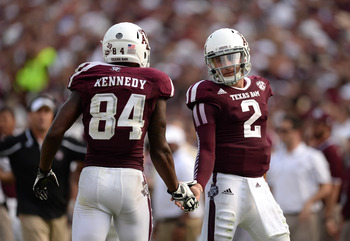 Thomas Campbell-USA TODAY Sports
Texas A&M still has a great chance of appearing in the national championship. It played Alabama extremely well and will have plenty of marquee games to make up for the close loss. Ole Miss and LSU are two big contests that could either make or break the Aggies.
With Johnny Manziel at quarterback, anything is possible. And he showed in the loss to the Crimson Tide that he has plenty of weapons around him. Wide receiver Mike Evans is a beast, and Malcome Kennedy has a nose for the end zone. Running back Ben Malena is also a playmaker who can go the distance at any time.
The problem is the defense.
The secondary couldn't cover a mattress, and the defensive line struggles to get penetration. The unit not only struggled against Alabama, but it also allowed 31 points to Rice and 28 points to Sam Houston State.
Offensively, Texas A&M can score on anybody, but every national championship contender needs to play somewhat solid defense. The Aggies haven't proven to be reliable on that side of the ball, which could result in at least one more loss.
9. Louisville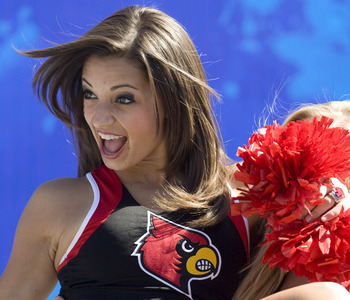 Mark Zerof-USA TODAY Sports
The Louisville Cardinals are like past Boise State teams. There's a pretty good chance they'll finish the season undefeated, but will that be enough to earn serious consideration to play for a national title?
You know the schedule is a breeze when the most difficult game is Kentucky. Well, Louisville put the in-state rival to bed with a score of 27-13.
Now what?
The Cardinals have a Heisman candidate quarterback in Teddy Bridgewater and a deep receiving corps led by DeVante Parker. The defense is also aggressive and plays solid in pass coverage.
Louisville will need help from the rest of the country to secure a national championship bid, but an undefeated team always has a chance.
8. Georgia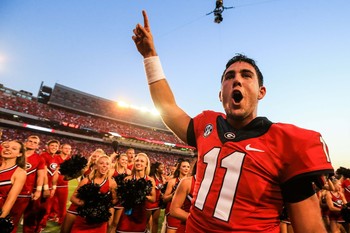 Daniel Shirey-USA TODAY Sports
Georgia went toe-to-toe with Clemson and manhandled South Carolina. Adding in last year's SEC Championship Game, the Bulldogs have shown that they can compete at the highest level with any team in college football.
The offensive combination of Aaron Murray, Todd Gurley and Keith Marshall is downright scary. Gurley is a man among boys and is more than capable of putting his team on his back. Murray is playing with a chip on his shoulder and is beginning to shake the criticisms that have haunted him throughout his career.
Georgia's young defense should also continue to jell as the season plays out. The defensive line is getting solid penetration, and the linebackers are coming into their own.
The Bulldogs still play LSU and Florida. There's plenty of time to make a statement and a run for a national title.
7. Florida State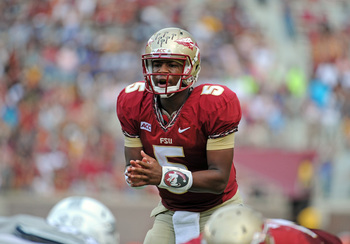 Melina Vastola-USA TODAY Sports
Every national championship winner over the last decade has had a marvelous quarterback. Somebody who was able to take over a game and put his team on his back.
Florida State has that in spades in quarterback Jameis Winston. The redshirt freshman has more touchdown passes (six) than incompletions (five). He throws a beautiful football, makes great decisions and can make plays with his legs. What's scary is that he will continue to improve throughout the season and has more than enough offensive weapons around him to continue to succeed.
Defensively, Florida State has one of the best defensive lines in the country and an experienced secondary that is quite physical.
The Seminoles have been a letdown over the years, but with an elite quarterback and athletic defense, this could be the year they climb back into the title discussions.
6. Clemson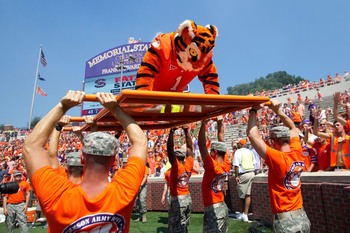 Joshua S. Kelly-USA TODAY Sports
It's safe to say that Clemson's offense is still the high-scoring machine it has been over the years. Quarterback Tajh Boyd is playing with incredible confidence, and wide receiver Sammy Watkins has proven that he can take on a No. 1 role.
The Tigers are averaging 45 points per game and will continue to score points in bunches regardless of the competition.
The concern is the defense, as Georgia moved the ball quite effortlessly in its 38-35 loss to the Tigers. The secondary is a lot more aggressive and the pass rush has improved, but there are still holes on this side of the ball that raises questions.
Clemson still has to play Florida State and South Carolina this season, and there is also a history of the Tigers losing games that they shouldn't. Clemson is a national title contender with slight caution.
5. LSU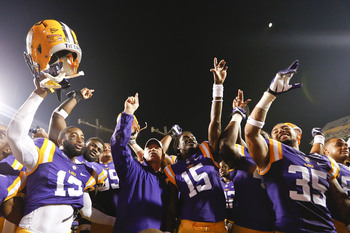 Derick E. Hingle-USA TODAY Sport
Are you still snoozing on LSU?
It would be wise if you woke up.
The Tigers defense is still what it has been over the years, but it appears the offense has finally caught up. Offensive coordinator Cam Cameron has done a wonderful job with this unit, as it is averaging 46 points per game and moving the ball at will.
Quarterback Zach Mettenberger is the most improved player in the country, and wide receivers Odell Beckham and Jarvis Landry are producing at a high level.
LSU hasn't gone anywhere and plays five ranked teams this season, including Alabama and Texas A&M. Les Miles and his players control their own destiny and should feel confident about the journey.
4. Stanford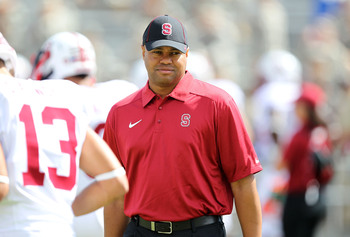 Danny Wild-USA TODAY Sports
Stanford may be an underdog to the rest of the country, but it is a legit national championship contender.
No other team outside of the SEC is built like the Cardinal, which gives them more than a puncher's chance to snap the power conference's winning streak. They are massive in the trenches, play physical defense and love to run the ball between the tackles.
If you can't beat them, join them, and Stanford has done a nice job of copying the SEC's formula of success.
Stanford still needs to win a couple of marquee games to prove it can hang with the big boys this season. However, the talent on both sides of the ball is there, especially on defense, as the front seven may be the best in college football.
Stop sleeping on David Shaw and his team.
3. Ohio State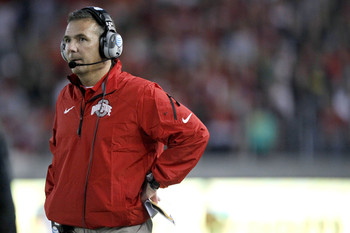 Cary Edmondson-USA TODAY Sports
In order to win the big game, you must at least appear in the big game. Nobody has a weaker path to the national championship than the Buckeyes.
The Big Ten is weaker than circus lemonade, and Ohio State should have little trouble running the table for a second straight season. Wisconsin and Northwestern are decent programs, but they don't have nearly the same depth as Ohio State. Michigan appeared to be the biggest threat, but the Wolverines were nearly upset by Akron.
Ohio State's offense has been firing on all cylinders under quarterback Braxton Miller and backup Kenny Guiton. The defense should also continue to improve once the younger guys get more playing time under their belts.
Ohio State has the talent and the soft schedule to make a serious run at a crystal football.
2. Oregon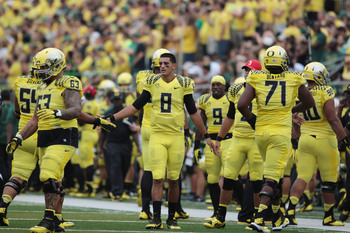 Scott Olmos-USA TODAY Sports
Oregon may soon get another chance to win a national championship.
How fun would that be?
Forget head coach Chip Kelly, the Ducks are scoring at an even faster pace under Mark Helfrich. They can do no wrong offensively, averaging 61.3 points per game and getting Heisman-type production from quarterback Marcus Mariota. The defense also continues to improve, as it held two talented teams in Virginia and Tennessee to 14 or less points.
This may be the best and the most dangerous Oregon team. There is nothing like it, as playmakers such as De'Anthony Thomas, Josh Huff and Byron Marshall make the offense the scariest in the country.
The Ducks aren't just fun to watch, they also have a legit chance to win a national title this season.
1. Alabama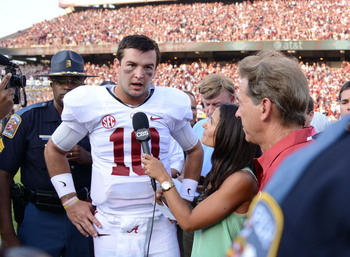 Thomas Campbell-USA TODAY Sports
If the Crimson Tide were the overwhelming favorite to win the championship before the Texas A&M meeting, they are now almost a lock to hoist another crystal football. Not only is the team ridiculously talented on both sides of the ball, but the remaining schedule to reach the national championship is a cakewalk.
Besides LSU, who has a real shot of knocking off Alabama? Ole Miss? Although it is an improved team, there is only a slight chance of that happening.
Tennessee? Dream on.
Arkansas?
OK, you should get the point by now.
Even if Alabama did lose to LSU later in the year, as we witnessed last year, a one-loss Nick Saban club could still make its way into the title conversation.
There are many talented teams across the board but only one Alabama.
Keep Reading