Carolina Panthers at Buffalo Bills Live Blog: Play-by-Play Analysis, Reaction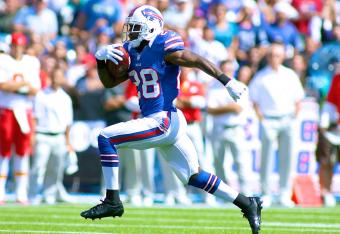 After a pair of home-opener losses, both the Carolina Panthers and the Buffalo Bills look to rebound today in Ralph Wilson Stadium. Each team is looking to gain some momentum and prevent yet another disappointing year early in the season.
The Panthers should test the injury-riddled Bills secondary early and often. The Panthers offensive line will have to step up to a talented Bills defensive line.
The Bills will need to protect their young quarterback from a dangerous Carolina front seven. Establishing a running game to open up play action and easy reads will be vital to their offensive success.
In an amazing turn of events, the Bills go up one with 00:02 left on the clock. A blown coverage by the Panthers secondary leaves Stevie Johnson wide open for the easy touchdown.
Fitting end to the game: Newton is sacked as the Carolina offensive line can't protect him long enough to get the receivers down the field.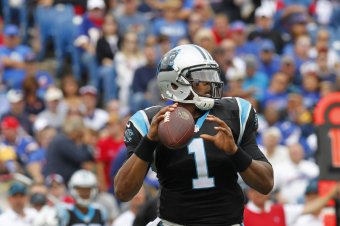 Timothy T. Ludwig-USA TODAY Spor
For reasons unknown, Carolina is content to be up six and give Buffalo the ball back.
Carolina is driving while up three on the Bills. This has been where they have struggled for all of Newton's career: running out the clock and closing out games. Buffalo continues to harass Newton, with Mario Williams bringing in 4.5 sacks today.
Bills defense holds strong again, limiting Carolina to a field goal. One has to think that had the down-and-distance been 4th-and-1 Rivera would have considered going for it. Panthers have lost way too many close games for Rivera to not be a tad more aggressive.
Mario Williams is beating the Panthers tackles like they owe him money. I know Buffalo fans are happy to see Williams starting to live up to his huge contract.
Bills hold strong against some dubious Panther play calls and force Carolina to settle for the field goal.
This game is as up in the air as one can be at this point.
A huge unsportsmanlike conduct penalty for the Bills on third down is proving costly as the Panthers are threatening late in the third. The second half is proving to be much more exciting than the first half, that's for sure.
Well, the floodgates have opened in Buffalo. The Bills answer with a touchdown and two-point conversion to tie up the game.
The momentum definitely feels like it's shifting to Buffalo's favor, especially with a three-and-out from Carolina.
Disappointing drive there for the Bills. After a solid drive walking away with just three points could be a killer later in the game. EJ Manuel continues to be impressive as a young quarterback.
The offensive woes of the Panthers has reemerged already as the offense looks completely inept again, allowing yet another sack of Cam Newton.
A special teams penalty on the Bills puts the Panthers offense back on the field and DeAngelo Williams makes them pay with a big run.
Panthers cornerback Josh Norman down. The Panthers are already missing Josh Thomas from earlier. The Carolina secondary will be really thin for the rest of the day.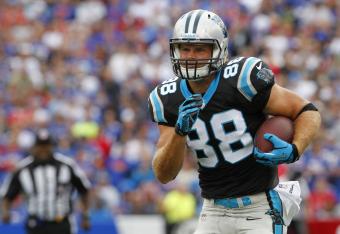 Halftime.
Not exactly sure where to begin here.
Buffalo has done a solid job keeping the ball on the ground and trying to force the issue with the run. If not for some exceptionally solid tackling by the Panthers front seven and solid run support from the secondary, CJ Spiller would be having an exceptional day. EJ Manuel has been solid and efficient. I predict he will be solid for the Bills going forward. Had the Bills secondary been intact, there would have likely been a much different story considering Newton's overthrows.
Carolina has managed to look like an NFL-caliber offense for exactly one drive, which led to a touchdown. Offensive coordinator Mike Shula seems to be throwing deep to spite the naysayers earlier this week. The phrase cutting off one's nose to spite his face comes to mind. Defensively, the Panthers likely wanted to put more pressure on the Bills' young quarterback.
Let's hope we get more than 10 points in the second half.
Buffalo's defense is going a great job in letting the plays come to them. Newton is obviously off, along with the rest of the offense. If the Bills defense can just sit back and wait, turnovers seem likely to happen.
Getting deep into the second quarter now and we are still at 3-0 with the Bills leading.
Buffalo has had some success running, but a hold negated a big gain from CJ Spiller. If they stay the course they should be able to have some success.
Carolina seems to have absolutely zero direction on offense and no idea how to generate tempo. Cam Newton is either getting sacked or throwing wild passes. The running game seems to be completely stagnant.
Not exactly a barn-burner at Ralph Wilson today.
We have some points on the board! Dan Carpenter hits what looked to be a 55-yard field goal, putting the Bills up 3-0 on the Panthers early in the 2nd quarter. With how stagnant these offenses have been thus far, that might be enough to win.
Moving towards the end of the first quarter here and neither team looks to be on its A-game today. Missed field goals and ugly interceptions make for hard-to-watch football. The Panthers offensive line woes are evident early and Bills fans are surely happy to see some solid production out of Mario Williams.
Dan Carpenter pushed 42-yard FG wide right. Scoreless in Buffalo. 8:10 left in first quarter.

— Joe Person (@josephperson) September 15, 2013
Bills come up short after the missed field goal off of the turnover. Fans of both teams are likely not surprised by either event.
INT by Kiko Alonso. Read Newton the whole time

— Jonathan Jones (@jjones9) September 15, 2013
Poor read from Cam Newton early.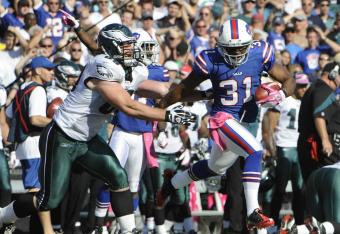 Quick injury update: Panthers guard Amini Silatolu in; Bills secondary will be without corner Stephon Gilmore and safety Jairus Byrd.
This article is
What is the duplicate article?
Why is this article offensive?
Where is this article plagiarized from?
Why is this article poorly edited?