Mayweather vs. Canelo Results: Biggest Takeaway for Both Fighters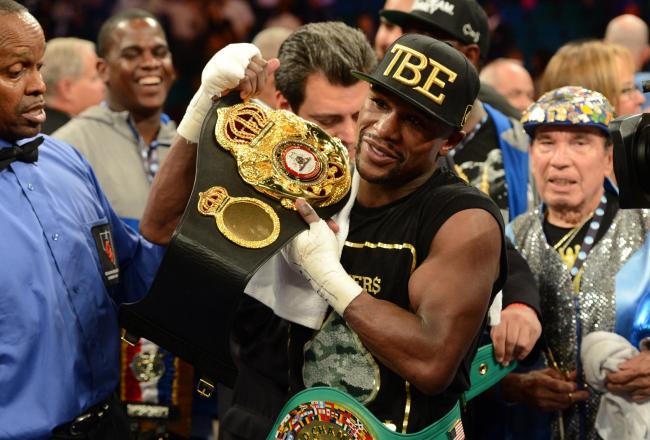 Jayne Kamin-Oncea-USA TODAY Spor
In the eyes of one judge, Floyd Mayweather and Saul "Canelo" Alvarez are equals. For two others and the rest of the crowd watching at the MGM Grand in Las Vegas or at home, that was nowhere near the case.
Mayweather got his coveted 45th straight professional victory in the most anticipated fight of the year, defeating Alvarez 117-111, 116-112, 114-114 in a controversial majority decision victory. Judge C.J. Ross was the dissenting opinion amid a chorus of boos, scoring the fight a tie and giving Mayweather just his second unfavorable decision from a judge.
Floyd Mayweather gets a majority decision win over Canelo Alvarez. One judge scored it a 114-114 draw. #TheOne pic.twitter.com/W2OQnUCjXu

— Bleacher Report (@BleacherReport) September 15, 2013
While much of the post-fight talk will inevitably be about Ross' controversial call, we'd be remiss if we didn't take a look at what this result means for both fighters. Golden Boy and Showtime billed this fight as a clash of two boxing titans. Canelo was supposedly "The One"—the fighter talented enough to take down Mayweather and rock the foundation of boxing as we know it.
That didn't happen.
Instead, Mayweather, the resident doctor of the sweet science, put on yet another beautiful display for fans. Like he had so many times prior, Mayweather walked out with his arms raised and a strap around his waist.
There's no telling what will come next for these fighters, but we can look at what this bout tells us about where they are at the moment. With that in mind, let's check in quickly with both fighters and give a quick takeaway from Saturday night.
Floyd Mayweather Is Still the Untouchable Pound-for-Pound King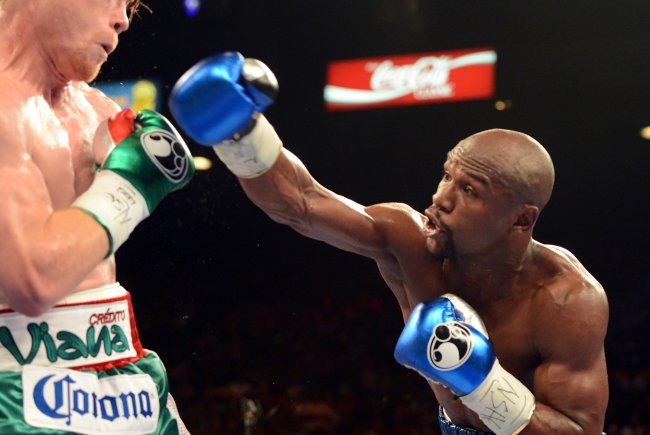 Jayne Kamin-Oncea-USA TODAY Spor
Coming into Saturday's fight, most considered Mayweather a pretty strong favorite. An informal survey I conducted of boxing experts and former pugilists came back with those people favoring Mayweather at a 13-to-2 rate—exactly what you'd expect for a man who hadn't lost in his previous 44 fights.
But the dissenting opinions I found most interesting. Above all else, these experts seemed focused on Mayweather's age. He's a few months away from turning 37, when boxers—even the all-time greats—tend to start fading away into oblivion. The hands and feet slow down, along with a mind that's been bashed in once or a thousand times. Father Time waits for no one—Mayweather will find that out someday.
That day wasn't Saturday, and the fighter to do it certainly wasn't Alvarez.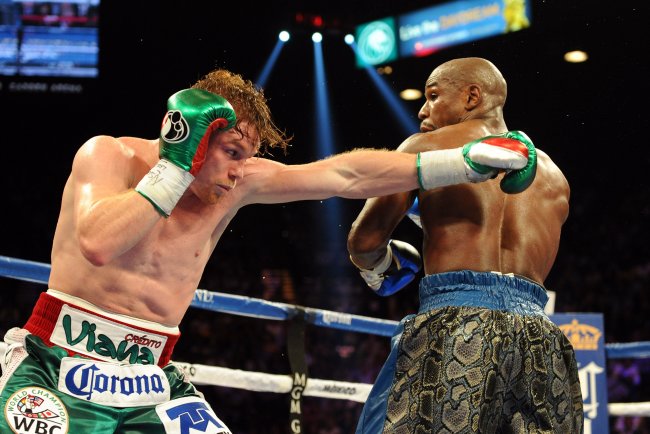 Jayne Kamin-Oncea-USA TODAY Spor
Mayweather, brash as ever in the ring, looked every bit of 27 against his younger opponent. His feet were quick, hands and mind as sharp as ever. The way Mayweather prowled around the ring and used hops and quick steps to goad Alvarez into attempting poorly struck body blows was like watching a clinic on how to box. Time and again, Mayweather would bait the hook and catch his prey.
Is Floyd Mayweather the best pound-for-pound boxer?
When Canelo made his mistakes, it was interesting the way Mayweather chose to go about exploiting them. The trademark jab, straight right combination was there in full force, but he also mixed in a left hook and uppercut job that left his opponent wobbly a couple times. We've seen that from Mayweather in the past, but it's a somewhat scarce combo from the old dog.
All told, this proved to be little more than a typical Mayweather bout. Money took our cash and went high-tailing into the Las Vegas night after dominating yet another opponent who couldn't handle his all-around skill set.
He may owe me yet another $65, but I'll be damned if I call Floyd Mayweather anything but the world's best. No more doubting that fact.
Canelo Alvarez May Be the "Future" of Boxing, but He's Not the Present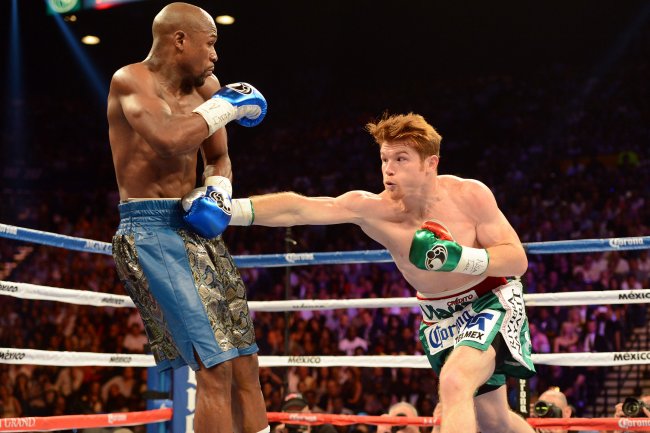 Jayne Kamin-Oncea-USA TODAY Spor
There was something admirable about the way Canelo handled himself in the ring Saturday night. Any athlete will tell you that, at a certain point, you just know the outcome—whether it's a win or a loss. I've spoken to a few NBA players who talk with such vigor that you walk away wholly convinced they knew a shot was going in; it's just the way great athletes are wired.
At a certain point, Alvarez had to feel that sinking feeling in his stomach. It probably started midway through the second round, when he realized his corner's strategy of going straight to Mayweather's body wasn't going to work.
Money was seemingly prepared for that possibility, swatting away advances with the vigor of Dikembe Mutombo. Not only was Mayweather better prepared, he was in just as good of shape, and his mind was sharper.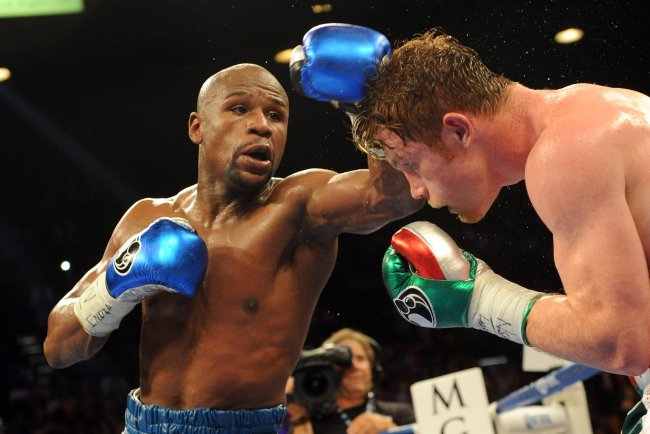 Jayne Kamin-Oncea-USA TODAY Spor
The three things you need to be a great boxer—body, preparedness and intelligence—all went in Mayweather's corner. Barring some stroke of luck, it was abundantly clear by about the fifth or sixth round that the only way Canelo was going to win was a knockout blow. He didn't deliver it, nor did it seem like he tried all that hard to do so, but I've always admired the constraint of a fallen athlete.
Will Canelo Alvarez ever live up to his hype?
And the way Alvarez went about that downfall was interesting. There was the low shot and refusal to touch gloves in the fourth round, the tussle in the sixth and the staredown in the 10th. Even though it came off as little more than macho bluster, it was nice to see Alvarez sticking to the disrespectful guns he showed at the pre-fight presser on Friday.
Whether he's earned the right to do that is another question. So hyped was this kid coming into Saturday night that we nearly forgot his best win was against Austin Trout. There's a massive difference between being better than the other top second-tier stars and being able to battle with the greats. The way Mayweather systematically picked apart every piece of Alvarez's strategy proves that he's even further away than even his biggest denigrator.
Saul "Canelo" Alvarez may someday be a generation's Floyd Mayweather. This generation's Floyd Mayweather just proved that the Alvarez Era won't be coming anytime soon.
Follow Tyler Conway on Twitter:
This article is
What is the duplicate article?
Why is this article offensive?
Where is this article plagiarized from?
Why is this article poorly edited?