Miami Dolphins vs. Indianapolis Colts: Live Score, Highlights and Analysis
Colts 20, Dolphins 24
The Indianapolis Colts were defeated by the visiting Miami Dolphins on Sunday after allowing Miami to comeback with a long touchdown drive late in the fourth quarter. What looked to be a shootout in the first half turned into a grind in the second half, and Miami is better equipped to handle that kind of game.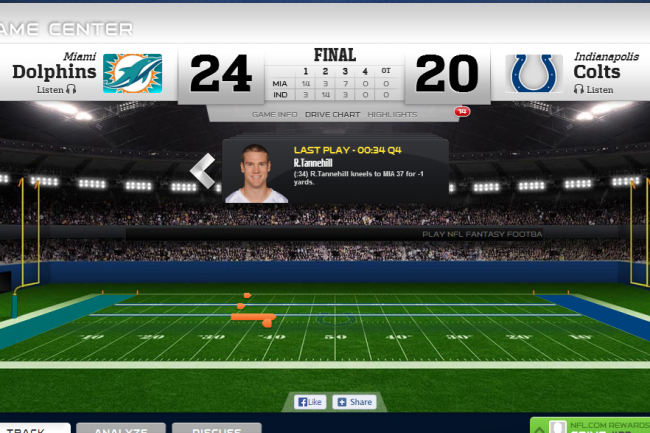 And that's the game. Miami ices it with a first-down run by Lamar Miller.
1:23 left in the fourth quarter
A horrible attempt at a block by Donald Brown led to a sack by Philip Wheeler on fourth down, and the Colts turned the ball over on downs.
Reggie Wayne has passed Andre Reed for 12th all-time in NFL Receiving yards.

— Jake Query (@jakequery) September 15, 2013
3:47 left in the fourth quarter
Andrew Luck continues his Houdini-like act by escaping Cameron Wake for a 14-yard gain.
3:57 left in the fourth quarter
This is it: the Colts will get at least one more chance at this game, starting at their own 15 after Ryan Tannehill's third-down pass to Mike Wallace was incomplete, forcing a Miami punt.
4:33 left in the fourth quarter
The Colts desperately need to get a stop if they want another chance at winning this game, but Miami has two straight first downs on this drive. Quick passes are killing Indianapolis.
7:41 left in the fourth quarter
The Dolphins take over after Brent Grimes' interception, Luck's first turnover of the year.
11:40 left in the fourth quarter
The ball is re-spotted after the review, and the Colts take over.
That's gotta be overturned unless NFL officials don't understand basic physics.

— Collin McCollough (@cmccollo) September 15, 2013
11:42 left in the fourth quarter
Chuck Pagano is challenging the spot of the ball on a Ryan Tannehill fourth-down sneak. It looks like he was short when his knee hit the ground, but the review is ongoing.
Beginning of the fourth quarter
Miami currently has a four-point lead and the ball as they look to put the Colts away in the fourth quarter.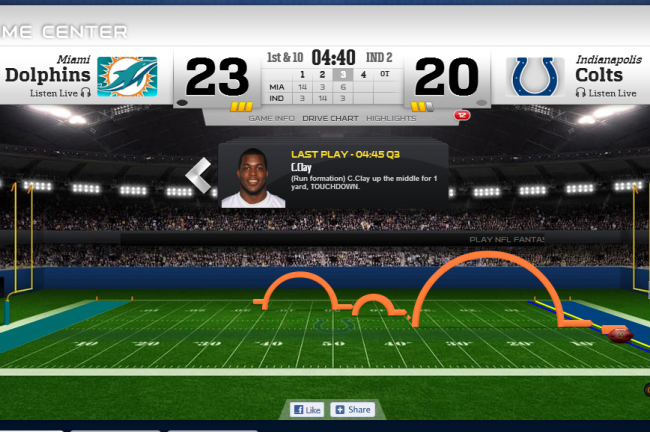 4:40 left in the third quarter
After a long pass to Mike Wallace set up a one-yard touchdown by Charles Clay, Miami takes the four-point lead.
Andrew Luck has completed 20 of 31 passes for 261 yards and one touchdown. He has a 101.7 passer rating.

— Omar Kelly (@OmarKelly) September 15, 2013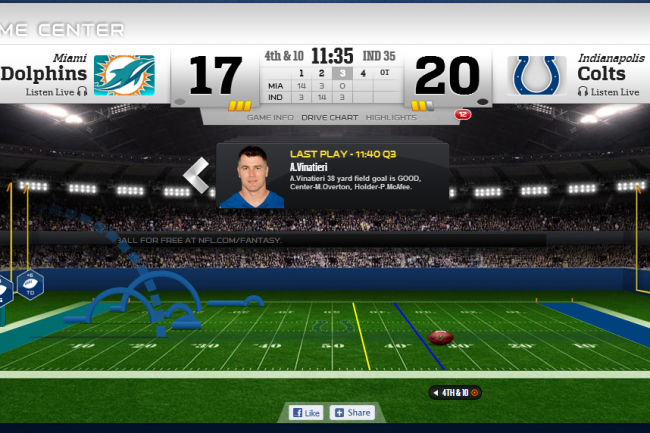 11:35 left in the third quarter
The illegal shift penalty stalls the drive, and the Colts go up 20-17 on an Adam Vinatieri field goal.
12:15 left in the third quarter
Another touchdown for Coby Fleener, but an illegal shift penalty brings it back.
Colts gave up 4 sacks to Oakland. Dolphins have one sack (for minus-1 yd), but surprise of game is little pass rush on Luck so far.

— Dave Hyde (@davehydesports) September 15, 2013
12:40 left in the third quarter
Miami has challenged a pass from Luck to TE/FB Dominique Jones that was ruled complete. The pass put the ball on the Miami 1-yard line. This may get overturned, as it looked questionable in real time.
Indianapolis gets the game's first turnover.
A lot of media members- myself included - up here in the press box have to get eyes checked cause officials rule it a fumble after review

— Mike Wells (@MikeWellsNFL) September 15, 2013
14:03 in the third quarter
The Colts are able to get to Ryan Tannehill on the opening drive of the second half, forcing a three-and-out.
14:55 in the third quarter
Stanley Havili down for Indianapolis.
Also, Andrew Luck at halftime has more pass attempts than he did through 4 Qs of Wk 1. #Colts far more explosive this week than vs Raiders.

— Evan Silva (@evansilva) September 15, 2013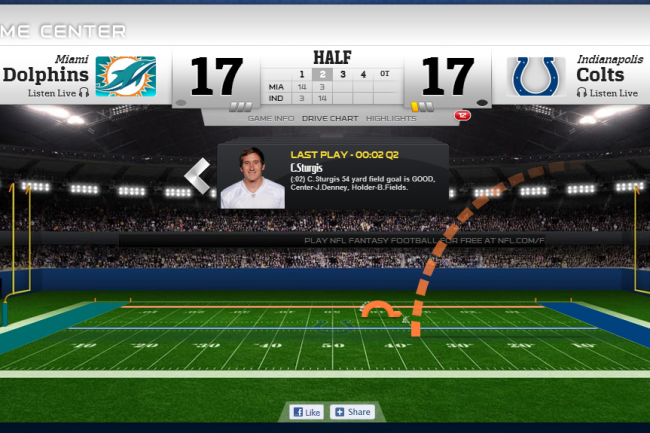 Halftime
Miami rookie Caleb Sturgis hits a 54-yard field goal at the end of the half to tie the game going into halftime.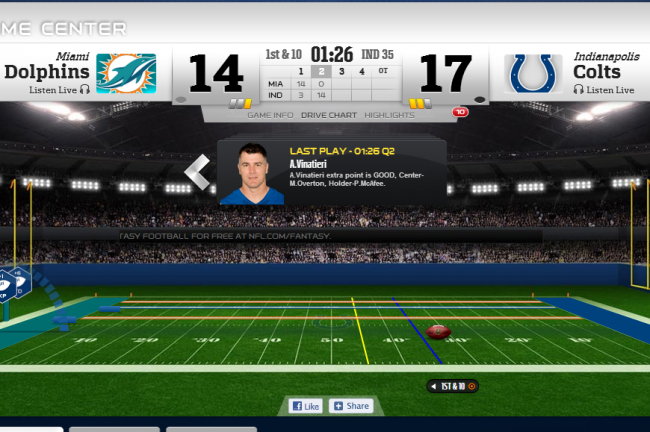 1:26 in the second quarter
The Colts re-take the lead on a one-yard touchdown run after a pair of T.Y. Hilton catches set Indianapolis up in the red zone.
TY Hilton made a great catch on that Luck pass, but the strength/accuracy from Luck with a defender in his face is incredible.

— Cian Fahey (@Cianaf) September 15, 2013
One week after we all asked Pep about no T.Y., Mr. Hilton is putting on a clinic. That grab for 47. He's at 6 for 124. #Colts

— Phillip B Wilson (@pwilson24) September 15, 2013
This article is
What is the duplicate article?
Why is this article offensive?
Where is this article plagiarized from?
Why is this article poorly edited?