Predicting the Strength and Weakness of Each Washington Capitals Line in 2013-14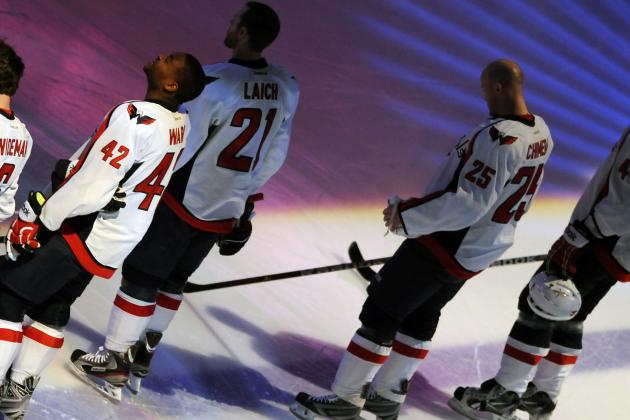 Ron Chenoy-USA TODAY Sports

Once the NHL season begins, the Washington Capitals' forward lines will have the same characteristics as the team itself.
Unity and disunion. Success and failure. Strengths and weaknesses.
It is the strengths and weaknesses of each of the Capitals' lines that will define it throughout the season, giving it character and personality. Perhaps even a nickname.
Here now is a list of strengths and weaknesses for each of the Washington Capitals' four forward lines.
Note: All statistics courtesy of NHL.com unless noted otherwise.
Begin Slideshow

»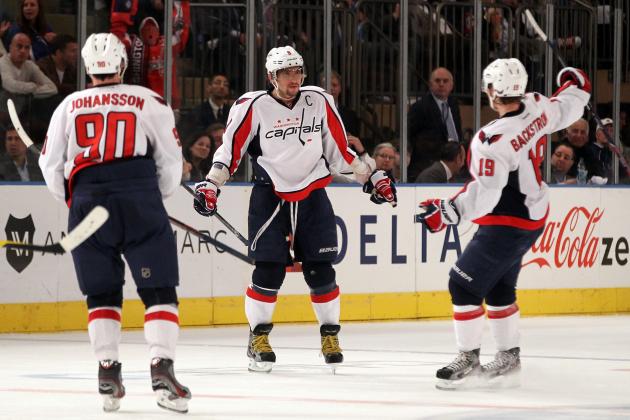 Bruce Bennett/Getty Images

Strength: Speed
The Vodka Line of Marcus Johansson, Nicklas Backstrom and Alex Ovechkin puts opponents on their heels by doing just that: putting them on their heels by driving them back with speed.
MoJo is the key ingredient. Opponents must respect his speed on the left wing, allowing Ovie to get lost on the right wing before he punishes opponents with his own speed. Finally, Backstrom controls his speed and slips in behind his two linemates, allowing himself to create scoring opportunities.
Weakness: Must Share Ice Time
It's a shame that hockey is such a grueling sport and that the top three forwards on a team must share the ice with their teammates. Otherwise, this line could skate together for the entire 60 minutes of every hockey game, and the Capitals would be unstoppable.
Last season, the Caps were only unstoppable for 12.47 percent of the time. That was the frequency with which Adam Oates deployed the Vodka Line, according to LeftWingLock.com. That trend will most likely continue this season.
Such a shame.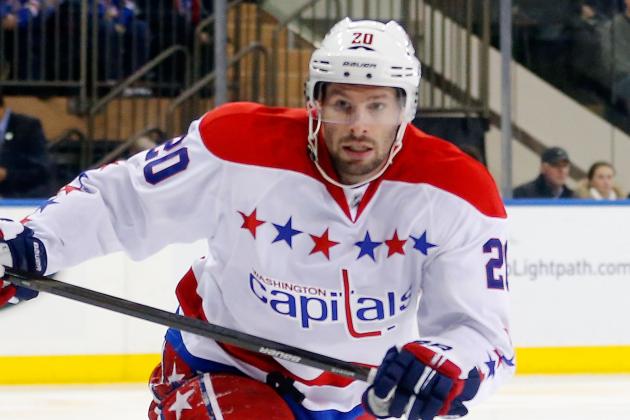 Paul Bereswill/Getty Images

Strength: Experience
Martin Erat, Mikhail Grabovski and Troy Brouwer have played a total of 1,466 regular-season games and 121 postseason games in their NHL careers.
That is the most regular-season games and the second most postseason games of any of the four Capitals lines.
Weakness: Unfamiliarity
Despite all the NHL games this trio has played in total, it has played fewer games together than any of the Capitals' forward lines.
Brouwer and Erat only played 13 games together last season, including the postseason. And Grabovski just joined the team in August.
Not surprisingly, it may take this trio some time to get accustomed to each other.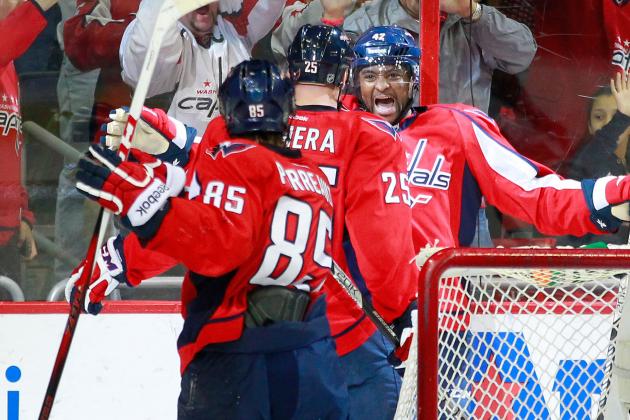 Geoff Burke-USA TODAY Sports

Strength: Versatility
This line can do everything that is expected of a forward line.
It can take the body and wreak havoc on the forecheck. It can create offense and score in bunches. It can shut down opponents and cause turnovers.
Like I said, it can do it all.
The best part about this line is that most opponents do not expect such a versatile group of forwards to skate on the third line. Therefore, this trio will create matchup problems all season long.
Weakness: Potential
This line's biggest weakness is that it could become a victim of its own success.
You see, all three of these players could play on the second line for at least half of the teams in the NHL, either together or separately.
If the Capitals' second line begins to struggle, then head coach Adam Oates may have to poach his third line in an effort to spark his second group of forwards.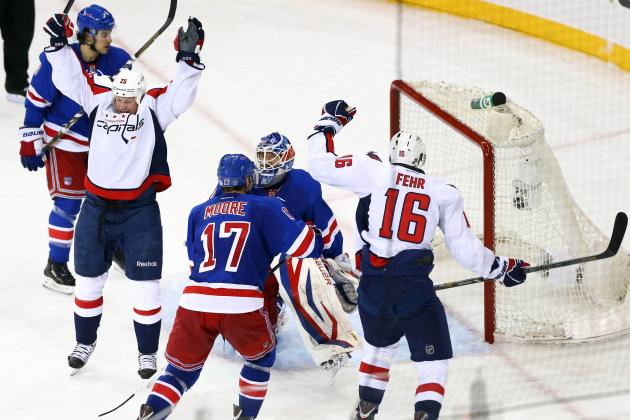 USA TODAY Sports

Strength: General Irritability
Every team needs one line that will get under the skin of its opponents, causing them to get off their game and perform under their potential. For the Capitals, that role is filled by their fourth line.
Eric Fehr is a talented forward whose offensive skills may surprise some teams, while also possessing a knack for instigating scrums after the whistle.
Jay Beagle is a dedicated defender whose defensive acumen can stymie the best offensive players in the league.
Finally, Jason Chimera is one of the mouthiest players in the NHL who has the pugilistic skills to back it up.
Weakness: Emphasis on Skill
Oates prefers to reward his thoroughbreds, not his draft horses. He distributes his ice time accordingly.
Case in point: During the 2012-13 season, the even-strength line combination of Jason Chimera, Jay Beagle and Joel Ward was used with a frequency of 3.72 percent according, the sixth-most frequent Capitals' line, according to LeftWingLock.com. Another variation of the fourth line—Aaron Volpatti, Matt Hendricks and Jay Beagle—was the 10th-most frequent even-strength line combination at 3.46 percent.
This line will have a hard time getting under the opponents' skin if it is sitting on the bench.