Pre-Training Camp Player Power Rankings for Oklahoma City Thunder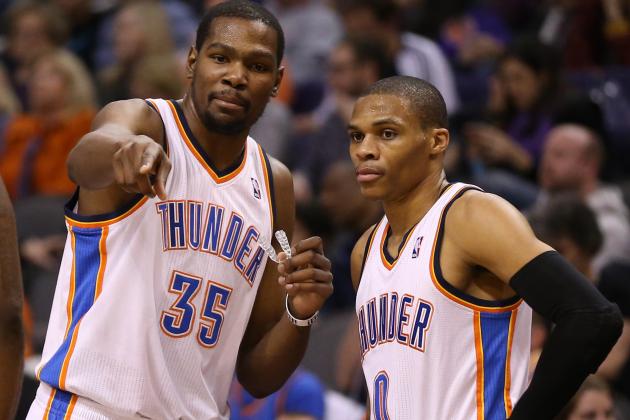 Mark J. Rebilas-USA TODAY Sports

Last time we saw the Oklahoma City Thunder they were fighting for their playoff lives with Reggie Jackson as their second-best offensive weapon.
Thunder fans will certainly be glad to put that awful ending to last season behind them as the quest for the 2014 NBA title begins.
Before the season gets under way though, the Thunder will need a strong training camp to work on their two biggest issues—no depth and a lack of chemistry on the offensive side of the ball between guys not named Kevin Durant and Russell Westbrook.
With a lot of young talent on the roster the Thunder have a lot of work to do this preseason, and step one is having a detailed breakdown and ranking of all the players on their roster. Luckily that's what I'm here for.
Begin Slideshow

»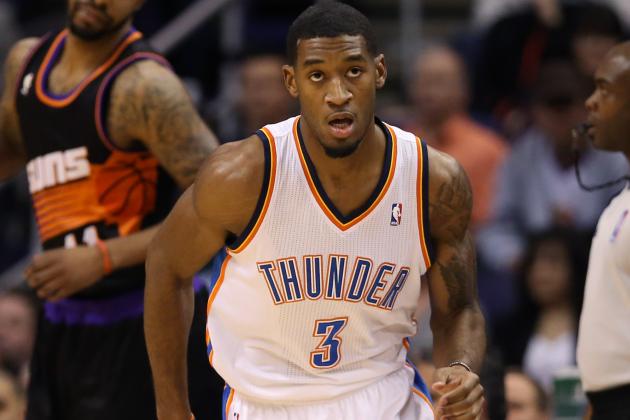 Mark J. Rebilas-USA TODAY Sports

No. 15 Daniel Orton, C
There's a lot to like about Daniel Orton's athletic 6'10'' frame. He has a nice long-range jumper that not a lot of players his size have, but he also has a number of players ahead of him on the depth chart.
Unless Orton does something incredible this training camp to impress the coaches, he'll be nothing more than a practice player who gets time when games are out of hand.
No. 14 Jeremy Lamb, SG
This past summer Jeremy Lamb did a good job of showing that he can play with the best of the NBA Summer League.
Unfortunately that's not going to get him anywhere when the regular season gets underway unless that production translates to playing against higher-caliber talent. Lamb needed to work on his range this offseason, while also adding bulk to his lanky frame.
If Lamb accomplished that, he may be able to work his way into the rotation a bit. This season will be more about continued development looking forward instead of production on the floor.
No. 13 Hasheem Thabeet, C
With the addition of Steven Adams this offseason I think Hasheem Thabeet's minutes will decrease—even from the 11.7 minutes per game he averaged last season.
Not only is Thabeet not as physical of a player as other centers on the Thunder's roster, he also has about as much offensive acuity as a rusty nail. I'd be shocked if Thabeet was getting significant minutes after the third or fourth week of the season.
Adams has that much potential, and Thabeet just isn't talented or versatile enough of a player to challenge him.
No. 12 Andre Roberson, SF
One of the best things Andre Roberson has going for him is his athleticism and how well it fits into the Thunder's somewhat fast-paced offense.
Roberson could be an asset on the wing behind Kevin Durant, but he'll have to beat out a veteran talent in Ryan Gomes for that job. The best thing Roberson can do is focus on making an impact on both sides of the ball if he wants to see action this year.
The 10.9 points and 11.2 rebounds-per-game averages he put up last year at Colorado weren't a fluke. While they won't easily translate into the NBA, it certainly indicates that he could be a player making an impact sooner rather than later.
No. 11 Perry Jones, PF
There weren't many players who disappointed fans as much as Perry Jones did last season. He averaged fewer than 7.5 minutes per game, only played in 38 games and shot under 40 percent from the field.
So much for a player who many thought should've been a lottery pick. Apparently most of the NBA's GMs knew what they were doing when they passed on Jones.
Either way, there's still a lot of fight left in Jones, and this season could be a big one for him. There's a big opportunity for him in the frontcourt and on the wing to make an impact, thanks to the Thunder's lack of talent and depth.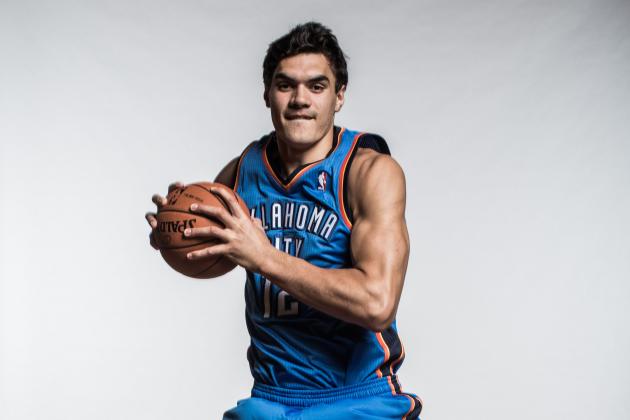 Nick Laham/Getty Images

2012-13 Per-Game Stats (University of Pittsburgh)—7.2 PPG, 6.3 RPG
Steven Adams hasn't even played a single minute in a regular-season game in the NBA, and he's already one of the best 10 players on the Thunder.
That shows both Adams' limitless ceiling and the Thunder's lack of talent after you get through their starting lineup.
Adams is a seven-foot, 250-pound center that made a name for himself in the Big East last year filling up the paint for the Pitt Panthers. His stats weren't extremely impressive, but the potential that exists in his raw skill set is more than worth the risk the Thunder have taken on him.
With some time, direct one-on-one coaching and experience playing against veteran centers, Adams could be a real difference-maker for the Thunder.
Adams could very well work his way into the rotation near the midpoint of the season, especially if he can bring his defensive intensity to the offensive side of the ball.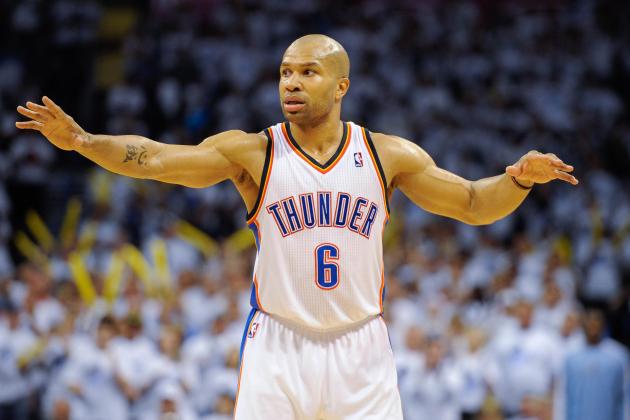 USA TODAY Sports

2012-13 Per-Game Stats—5.3 PPG, 1.4 APG, 1.1 RPG, 34.2 FG%, 37.5 3PFG%
Derek Fisher is the Thunder's leader both on and off the court.
He has veteran experience on extremely successful teams, and he does what only a few players in the NBA can do on a consistent basis—knock down clutch shot after clutch shot.
Let's be honest though. Fisher isn't going to get that much playing time this season, with Russell Westbrook back in action and Reggie Jackson emerging behind him.
Fisher's presence will mostly be seen in the maturation process of the young talent on the Thunder's roster, with players like Perry Jones, Jeremy Lamb, Reggie Jackson and Andre Roberson.
While he may not dominate the stat sheets, Fisher will be an integral piece of the Thunder's success this year—even if he doesn't see much time on the floor.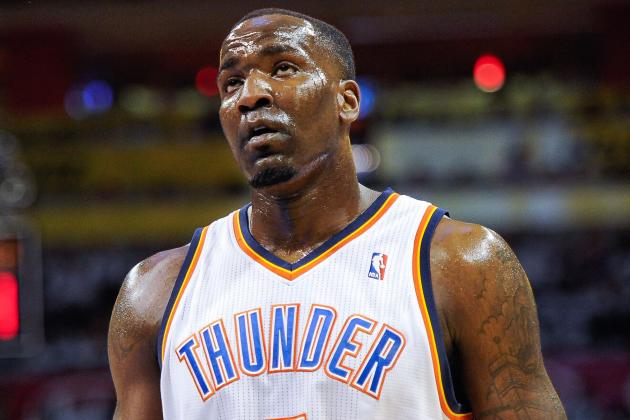 USA TODAY Sports

2012-13 Per-Game Stats—4.2 PPG, 6.0 RPG, 1.1 BLKPG, 45.7 FG%
Kendrick Perkins is an enforcer who's worked his way into the Thunder's starting rotation because of a lack of frontcourt depth.
Enforcers are best coming off the bench for their sparks of energy and frustration for opponents, but the Thunder don't utilize Perkins in that manner as of now.
That needs to change for their 2013-14 campaign to be a true success.
Starting Nick Collison gives Oklahoma City a bit more versatility on offense and in the pick-and-roll game, which is next to nonexistent with Perkins in the game.
Bringing Perkins off the bench would give the Thunder a spark off the bench, and it would allow him to do what he does best—get in the heads of his opponents and foul early and often.
It may seem like paying Perkins $8.45 million to come off the bench is a waste, but maximizing the talents of the players on your roster is more important than trying to maximize the dollars in your starting lineup.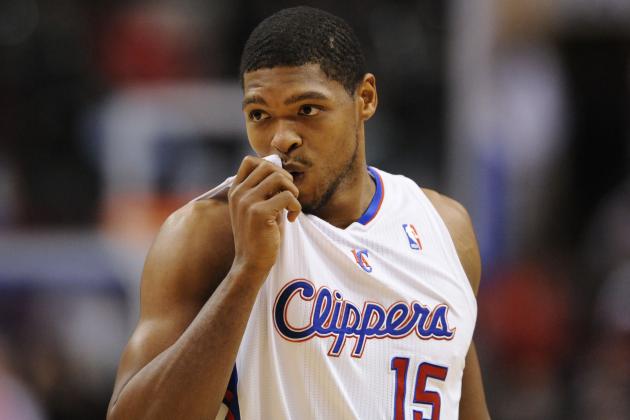 Howard Smith-USA TODAY Sports

2012-13 Per-Game Averages—Played overseas in Germany for 2012-13 season and averaged 11 points in 10 games.
Welcome back to the NBA, Ryan Gomes.
Hopefully the time he spent overseas, after the LA Clippers amnestied him last year, will have proven to help him get back into professional shape.
Putting a player who didn't play in the NBA last year in the top 10 may seem somewhat foolish, but Gomes has an incredible opportunity in front of him.
When you consider his career averages of 10.2 points and 4.6 rebounds per game, you can see that he's capable of making an impact coming off a starless bench in Oklahoma City.
Gomes can spread the floor with his three-point stroke, and he's also athletic enough to make an impact around the rim. His potential this season all depends on just how well he can catch back up to the speed of the game in the NBA.
For once the Thunder may have someone coming off the bench behind Kevin Durant who can actually make an impact on the game on the offensive side of the ball.
If he's up for the challenge, there's a seat with his name on it on the Thunder's bench, which would lead to being the second man off the bench. That's not a bad job for a guy who didn't play against NBA talent last year.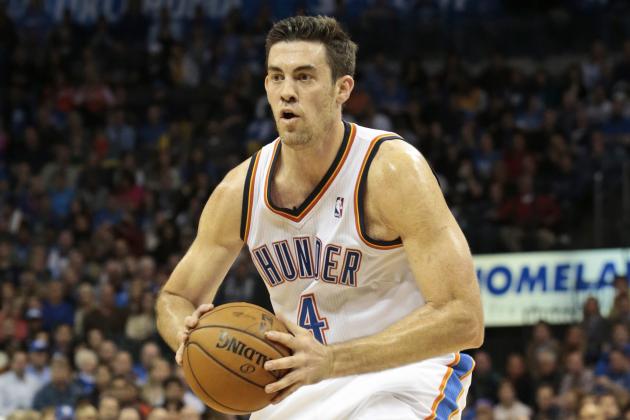 Brett Deering/Getty Images

2012-13 Per-Game Stats—5.1 PPG, 4.1 RPG, 0.4 BLKPG, 59.5 FG%
Nick Collison ranked ahead of a player who starts over him? Yep, and it's mainly because the Thunder don't seem to realize the talent and leadership they have riding the pine.
Collison averaged 19.5 minutes per game, which was 4.6 minutes fewer than his fellow frontcourt man Kendrick Perkins, who averaged 25.1 minutes last year.
Those numbers should be switched, and the first reason is because Collison is a more versatile offensive player. Okay, maybe versatile is a stretch, but he can at least take a step out of the paint and knock down a jumper when the Thunder need him to.
Collison also fouls less on average, and that's important when it comes to staying on the floor and keeping rotations consistent.
Scott Brooks needs to see the value and leadership abilities he has in Collison because it's honestly one of their greatest assets in the frontcourt.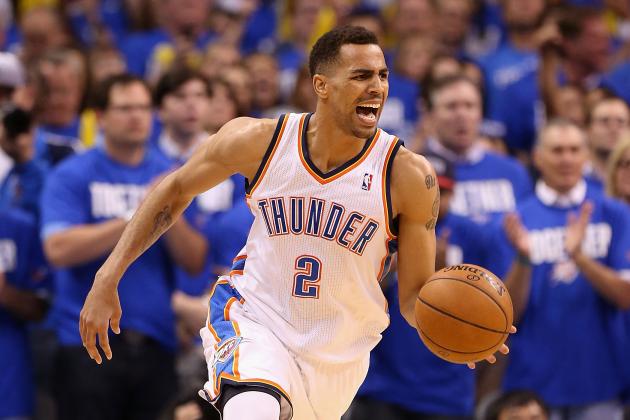 Christian Petersen/Getty Images

2012-13 Per-Game Stats—7.6 PPG, 3.9 RPG, 1.3 STLPG, 48.1 FG%, 41.9 3PFG%
Now that the Thunder don't have a star-caliber player coming off the bench, they'll need Thabo Sefolosha to be more than just a placeholder on the roster.
He'll share time with guys like Reggie Jackson and Jeremy Lamb—if he ever gets his act together—and that means he'll have to do even more to prove his value on the offensive side of the ball.
Sefolosha took a step back in the playoffs last year, when he shot a whopping 34.4 percent from the floor while averaging 27.3 minutes per game. That kind of production won't help the Thunder assert themselves in the Western Conference.
That kind of production also won't help him earn a big paycheck next offseason when he's a free agent. The Thunder can't afford to pay $3.9 million to get 5.7 points and 3.7 rebounds per game in return.
Sure, Sefolosha is a special player on the defensive side of the ball. But there are a number of players who can be a defensive specialist for a lot less money.
It's time for Sefolosha to step up and prove his value on a team that desperately needs depth on the wing.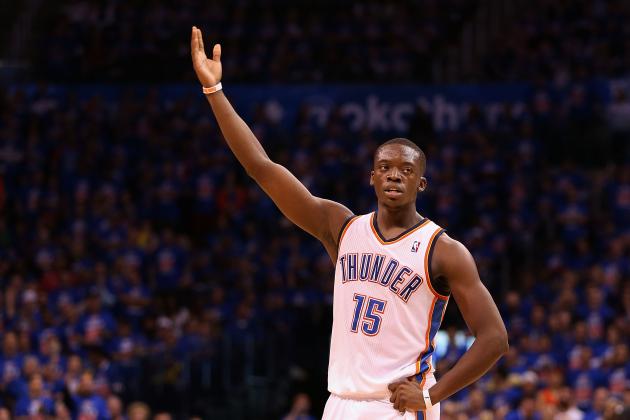 Christian Petersen/Getty Images

2012-13 Per-Game Stats—5.3 PPG, 2.4 RPG, 1.7 APG, 45.8 FG%
First things first, Reggie Jackson has ridiculously long arms—or at least that photo sure makes it look that way.
Now that we've cleared that up, you're probably thinking "I can't believe Reggie Jackson is the fourth-best player on the Thunder".
Well, that's a fair thought, but there's one reason why he's much more important to the Thunder's success than you may have originally thought.
Jackson's role is going to be an important one now that Kevin Martin is gone from the team. The Thunder need Jackson to be their sixth man, and even though James Harden has been gone for an entire year, Jackson has to try and fill the gaping hole that Harden left.
The good news for the Thunder is that Jackson is capable of at least partially filling the "Sixth Man of the Year" hole left by Harden. Not only is he an explosive scorer at times, he's also a very physical defender—which are the same attributes that made Harden such a special player.
Is Jackson capable of truly being the Sixth Man of the Year? Probably not. But he's capable of making an impact on the Thunder's starless roster, and he gave fans a glimpse of that in the playoffs last year once Russell Westbrook went down—averaging 13.9 points, 4.9 rebounds and 3.6 assists per game in the playoffs.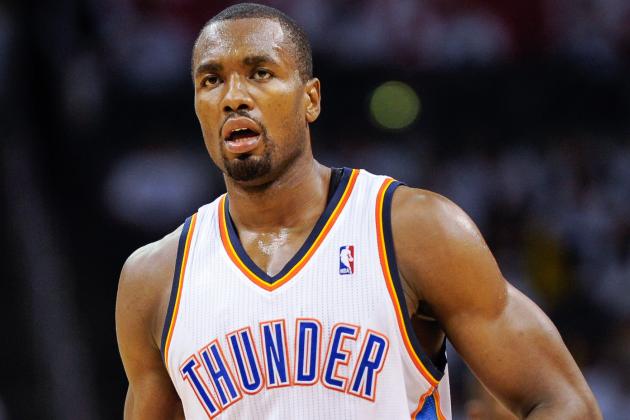 USA TODAY Sports

2012-13 Per-Game Stats—13.2 PPG, 7.7 RPG, 3.0 BLKPG, 57.3 FG%
Serge Ibaka needs to get the phrase "I'm a power forward" tattooed on the inside of his right bicep so whenever he goes to shoot a long-range jumper he's reminded of his true role for the Thunder.
Ibaka's versatility isn't a detriment to his game, but there are times when he focuses on his ability to spread the floor with his corner jumper a bit too much.
The way that Ibaka can make even more of a name for himself is by becoming a truly dominant paint player on both sides of the ball.
The only reasons why he doesn't average a double-double every year are because Kevin Durant makes too many shots, and he's out of position on the defensive glass far too often.
This season, discipline needs to be the name of the game for Ibaka, not only for his own good but also for the betterment of the Thunder as a team.
The Thunder chose Ibaka over James Harden a little over a year ago, and now it's time for Ibaka to reassure them that they made the right move.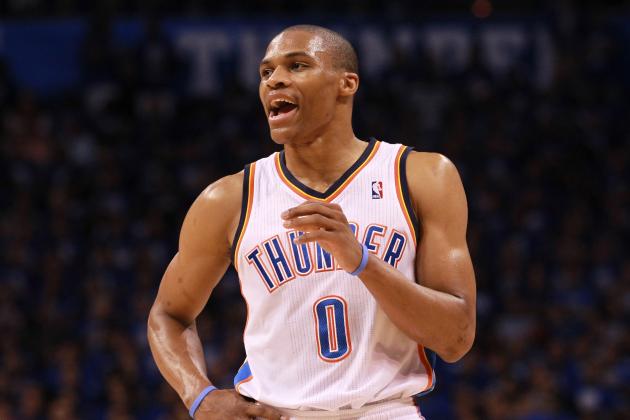 Ronald Martinez/Getty Images

2012-13 Per-Game Stats—23.2 PPG, 7.4 APG, 5.2 RPG, 1.8 STLPG, 43.8 FG
You could argue that Russell Westbrook is the most valuable player on the Thunder because of what happened to them in the playoffs last year when he went down with a torn meniscus.
But in all reality if Kevin Durant had gone down instead of Westbrook and he was tasked with leading the Thunder past the Houston Rockets, it probably wouldn't have happened.
Westbrook is one of the NBA's best supporting superstars, and his skills fit perfectly alongside Durant's explosive scoring, but he's not the kind of player who can single-handedly lead a team to an elite level.
With all of that being said, there's no doubt that Westbrook is integral to the Thunder's success. Not only does he take defensive focus off of Durant, he also can facilitate offense and create opportunities for his teammates with ease.
And let's not forget about his ridiculous athleticism—if you don't believe me for some reason, watch his top 15 dunks and you'll remember.
With Durant alongside him, Westbrook doesn't need to be a true leader, and that's absolutely perfect for him. All he needs to do is play with that reckless abandon that makes him such a unique talent and the Thunder will be a top-two or three team in the West.
The question though is whether Westbrook can increase the efficiency that's held him back throughout his career and help the Thunder be an even more dominant team than they have been in the past.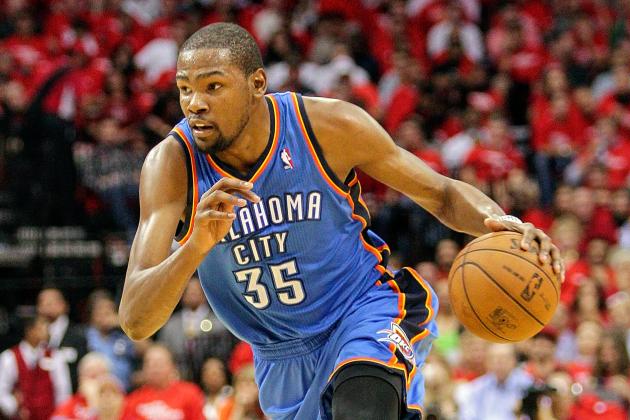 Bob Levey/Getty Images

2012-13 Per-Game Stats—28.1 PPG, 7.9 RPG, 4.6 APG, 51.0 FG%, 41.6 3PFG%
You didn't expect to see someone else's name here, right?
Well, if you did you probably should start to follow another team because Kevin Durant is not only the Thunder's best player, he's also a top-two talent in the entire league.
There's really nothing that Durant can't do. Sure, his defense is only slightly above average—which isn't saying much when you consider what "average" NBA defense is—but aside from that he's an exceptional player in every facet of the game.
If LeBron James didn't exist there's no doubt that Durant would have a stranglehold on the NBA's MVP award right now.
When you consider the fact that he averaged at least 50 percent from the field, 40 percent from beyond the arc and 90 percent from the charity stripe last season, while averaging 28.1 points, 7.9 rebounds and 4.6 assists per game, you should understand what I'm talking about.
Durant did struggle to carry the Thunder last year without Westbrook, but let's be honest, the talent around him was nothing to write home about.
With Westbrook back and some unfinished business in the Western Conference to take care of, Durant should once again be in a place to win his first MVP award this season.