One bad week for a starting player is enough to make fantasy owners sick. It's a tough call to bench a starter after he didn't show up in the season opener, but there are some players who deserve a second chance in Week 2.
Lamar Miller failed to make the most of his 2013-14 debut and barely registered a point at all, which likely caused panic because there's nothing worse than a running back who doesn't produce.
Cam Newton was seen as one of the potential superstars of fantasy football this season; however, that campaign didn't get underway in Week 1.
Lance Moore has proven to be one of quarterback Drew Brees' favorite targets in recent years after compiling over 1,000 yards last season. That didn't come to fruition last week as Moore was nearly non-existent in the Saints passing attack.
Let's take a look at each of these starters and why they will bounce back in Week 2.
Lamar Miller, RB, Miami Dolphins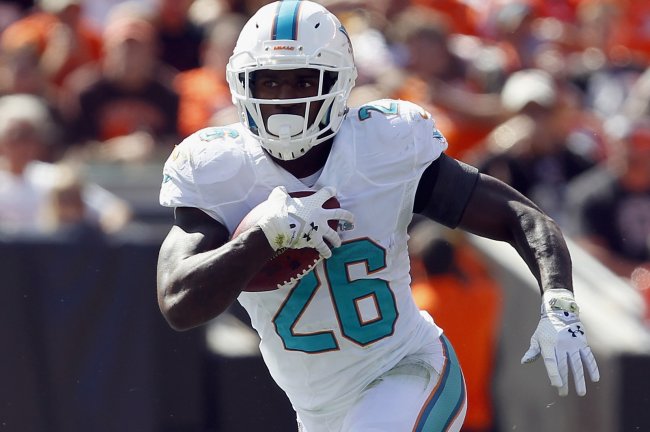 Matt Sullivan/Getty Images
It was not a good start to Miller's career as a starting running back after a dismal Week 1 performance. Against the Cleveland Browns, Miller carried the ball 10 times and gained just three yards. He actually had more of an impact (although not much) in the passing game with one reception for seven yards.
The biggest problem for the Dolphins rushing attack was the fact that the Browns were stacking the box in anticipation of the run. This hurt Miami's chances of running the ball successfully, which obviously was a detriment to Miller's production.
But don't give up on him just yet. The Dolphins will be on the road in Week 2 against the Indianapolis Colts. The Colts just narrowly defeated the lowly Oakland Raiders last week and allowed 171 yards on the ground to the tune of 5.2 yards per carry.
That kind of porous defense is just what the doctor ordered for fantasy owners who are questioning whether to start Miller or not.
Cam Newton, QB, Carolina Panthers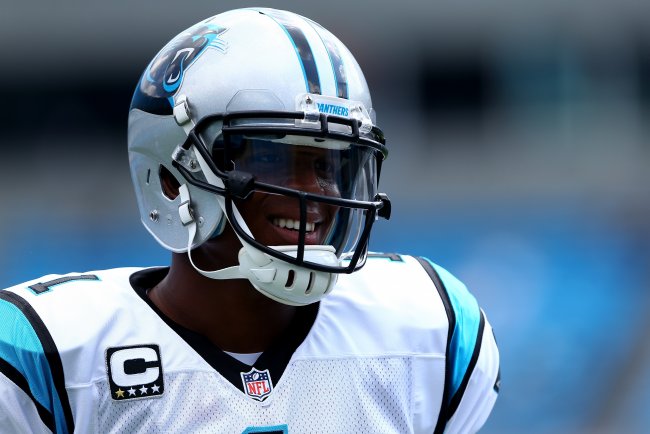 Streeter Lecka/Getty Images
The first week of the season didn't go as planned for Newton as his team could only muster up seven points against the Seattle Seahawks vaunted defense. In that game, Newton only compiled 125 yards through the air with one touchdown and just 38 yards on the ground.
Week 2 will present a far more favorable matchup against the Buffalo Bills.
Newton will not be throwing the ball into coverage against some of the best cornerbacks in the NFL today—as was the case last week versus Seattle—and his rushing attack should have an easier time getting going, thus giving the Panthers offense an element of balance and unpredictability.
That should not only help Newton to gain more yards passing the ball, but he should also have plenty of space and opportunities to break some big plays with his legs.
Granted, the Bills did play some solid defense against the New England Patriots last week, but that was with the Pats having a depleted receiving corps, so the jury is still very much out on the Bills defense that may be without safety Jairus Byrd, who is doubtful, per ESPN.com.
Lance Moore, WR, New Orleans Saints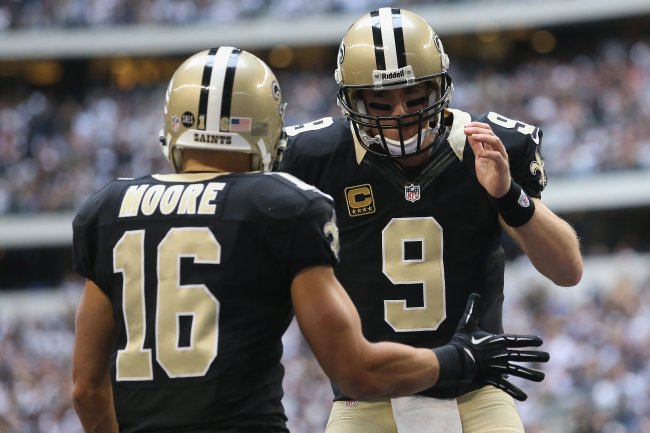 Ronald Martinez/Getty Images
While the Saints earned a victory over the Atlanta Falcons in Week 1, Moore didn't have a huge hand in the winning effort. The Saints wide receiver had just two catches on four targets for 23 yards.
New Orleans will be hitting the road to take on the Tampa Bay Buccaneers and their revamped secondary. That doesn't sound favorable for Moore, but when digging a bit deeper, Moore stands to have a rebound performance in Week 2.
With guys like receiver Marques Colston and tight end Jimmy Graham, the Bucs secondary—namely Darrelle Revis—will be focused on stopping the team's biggest threats instead of locking Moore down.
That will be a huge mistake as Moore certainly has the skills to burn opposing defenses. Furthermore, he'll have plenty of chances to do so with how poorly the Bucs offense is playing after last week's loss to the New York Jets.
So, with much of the attention on the outside and over the middle focused on two great players, Moore will have a ton of space to operate over the middle of the field and near the sidelines, which should lead to a big day for the 30-year-old without Revis anywhere in sight.