Ishe Smith vs. Carlos Molina: Winner, Round-by-Round Analysis and Recap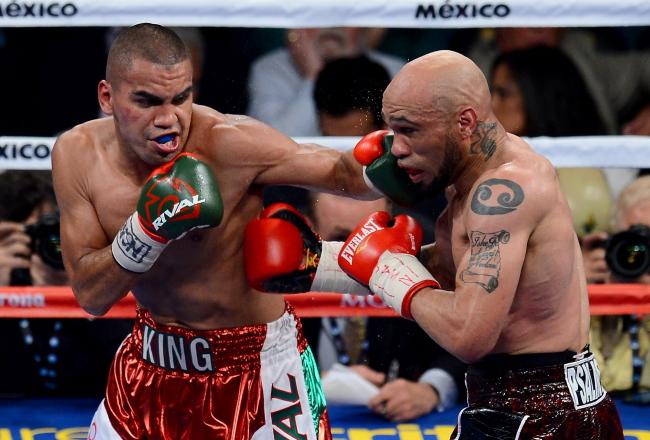 Ethan Miller/Getty Images
"King" Carlos Molina (22-5-2) dethroned Ishe "Sugar Shay" Smith (25-6) on Saturday night at the MGM Grand in Las Vegas. Molina won by split decision in a fight that almost anyone watching couldn't wait to end.
Neither man landed clean shots throughout most of the fight, but Molina used a physical, brawling style to impress the judges enough to win. Per BoxRec, the judges scored the fight as followed:
Barry Druxman 116-112, Burt A. Clements 117-111, Adalaide Byrd 112-116.
Take a look at my round-by-round analysis for each of the painful 12 rounds. The name of the fighter I scored the round for appears in the subheadline.
Round 1: Molina
This was an uneventful first round that saw Molina get the better of the champion with work rate and pressure. Smith's timing seemed off throughout most of the round, and it cost him.
My Score: Molina 10, Smith 9
Round 2: Smith
Smith took a little more control of this round, but the lack of power and fluidity from both fighters began to make the fight difficult to watch. Smith's length advantage was key, but he was just beginning to use that edge in this round.
My Score: Molina 19, Smith 19
Round 3: Even
Molina began to get warnings for leading with his head, but his pursuit was giving Smith an issue. Referee Jay Nady chose this round to make himself a bigger part of the action than necessary. Molina was definitely employing less-than-fair tactics, but we heard Nady's voice in this fight as much as the commentators'.
No fighter had much of an edge in this round.
My Score: Molina 29, Smith 29
Round 4: Smith
In the fourth round, Smith's jab found the mark a bit more than it had in the first three rounds. Molina was intent on making this fight a brawl. Despite the fact that he didn't have the power to really hurt Smith, he was taking away his space to operate to find success.
My Score: Molina 38, Smith 39
Round 5: Molina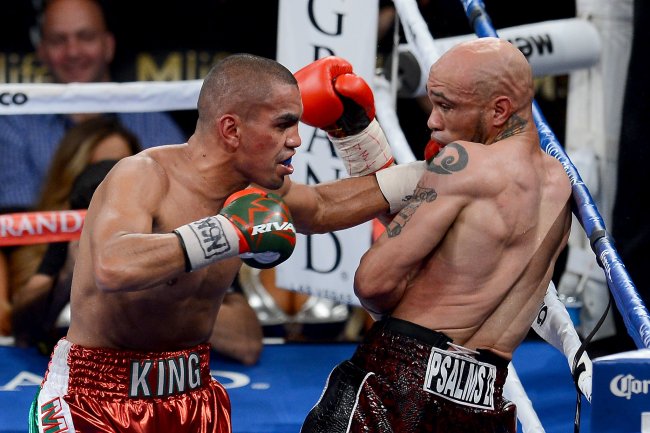 Ethan Miller/Getty Images
The Mexican from Chicago continued to pressure the champion with his brawling tactics. Through five rounds, it was a terrible fight to watch. But Molina should have an edge over the champion on the scorecards, but it was a tough fight to score.
My Score: Molina 48, Smith 48
Round 6: Smith
When Smith uses the jab to control distance, he has some success. In another round that made me want to cry, Smith eeked out the round, but Molina was showing that he would be a major threat.
My Score: Molina 57, Smith 58
Round 7: Molina
Ethan Miller/Getty Images
Another Chicago-style, nearly punchless mugging from Molina in the seventh round. Through seven rounds, neither fighter looked like a world champion. If I didn't have to write about the "happenings" in this bout, I would've watched an episode of Dexter from my DVR.
My Score: Molina 67, Smith 67
Round 8: Molina
After the eighth round, there didn't appear to be enough urgency in Smith's corner. The champion wasn't being hit or hurt much, but he was doing even less. Without a change in the final four rounds, we could have had a new champion. Sadly, no one would care.
My Score: Molina 77, Smith 76
Round 9: Smith
Finally, Smith began to fight with the type of ring generalmanship that could have easily won him rounds earlier in the bout. Most of Molina's mad dashes at Smith's chest were thwarted.
My Score: Molina 86, Smith 86
Round 10: Smith
Smith had his best round of the fight in the 10th. He landed some hard jabs, or perhaps I haven't seen one in so long, I'm getting too excited about what transpired in this round. At any rate, Smith should have won his second round in a row here.
My Score: Molina 95, Smith 96
Round 11: Smith
Tell me if you've heard this before? Almost nothing worth mentioning happened. Neither fighter landed clean punches and Nady continued to scold the fighters for holding. Smith did appear to be in the better position on most of the sloppy exchanges. I called it for him based on that criteria.
My Score: Molina 104, Smith 106
Round 12: Molina
At the 40-second mark of the final round, the two men traded punches on the ropes. Don't get overly excited by that last sentence, it wasn't nearly as cool as I made it sound. Molina did appear to get the better of that sequence, and I gave him the round.
My Score: Molina 114, Smith 115
Conclusion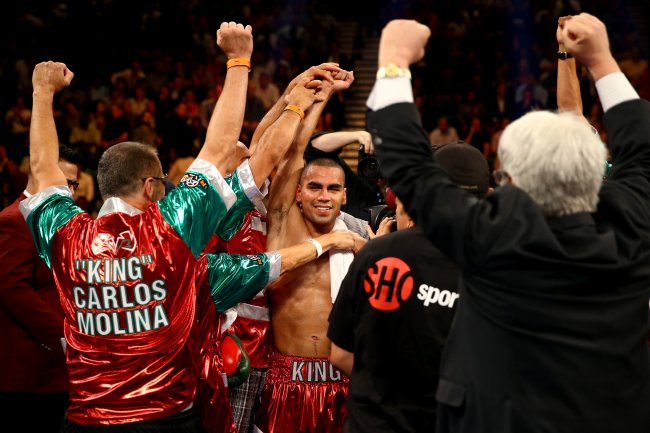 Al Bello/Getty Images
This was an ugly fight in every way. Though I scored the fight in favor of Smith, he can in no way feel robbed. Molina is a difficult fighter to shine against, but at the end of the day, Smith's lackluster performance is on him.
He has to regroup, but at 35 years old and with no major in-ring appeal, it will be difficult to get another major opportunity.
Follow me for musings on boxing and sports video games.
This article is
What is the duplicate article?
Why is this article offensive?
Where is this article plagiarized from?
Why is this article poorly edited?