Geico 400 2013 at Chicago: Live Results, Updates and Analysis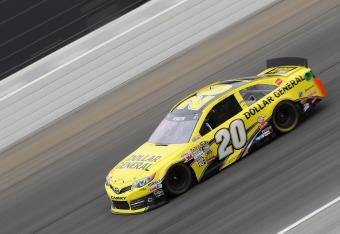 2012 Geico 400
Geoff Burke/Getty Images
After being delayed for over an hour, and then being red flagged for more than five hours, the Geico 400 at Chicagoland finally came to an end with Matt Kenseth getting the first win in the Chase.
When the Geico 400 started, we only saw one caution, which was brought out at Lap 30 because of the rain that delayed the race.
With 109 Laps completed though, rain would set in and postponed the race for over five hours.
When drivers finally went back to green flag racing, we saw cautions for debris, and watched as several drivers ran into car problems.
Specifically Joey Logano and Dale Earnhardt Jr. ran into engine problems and were the only two Chase drivers to not complete the Geico 400.
Kyle Busch, Jimmie Johnson, and Matt Kenseth were strong throughout the race. Kyle Busch looked like he would be the one to win, but after a caution that came out toward the end of the race, Matt Kenseth was able to get out in front and wouldn't be caught.
Kyle would finish in second, and with the first Chase race over, Joe Gibbs Racing emerged as the strongest team moving forward through the post season.
Matt Kenseth and the 20 team have won their sixth win of the season, and are clearly one of the strongest teams in the Chase.
Make sure to join us here next weekend as the Chase moves onto New Hampshire for the Sylvania 300.
Winner: Matt Kenseth
Thanks for joining us here on the Bleacher Report. Make sure to join us again next week as NASCAR heads to New Hampshire!
Joe Gibbs Racing finishes first and second. Both the 20 and 18 teams look like strong contenders for the title.
Will they be able to look like champions as the Chase moves forward though?
Matt Kenseth wins at Chicagoland!
Six to go and Kenseth is still out in front of Kyle Busch.
Top 10: Kenseth, Kyle Busch, Harvick, Kurt Busch, Johnson, Gordon, Keselowski, Stenhouse Jr, Newman, Bowyer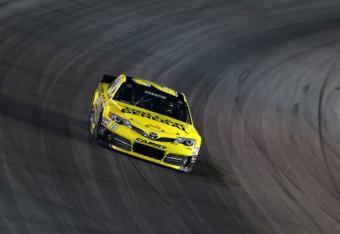 Matt Kenseth to the lead with 23 Laps to go!
Top nine cars didn't pit, but the rest of the field did.
Caution comes out again as Allgaier spins again.
#DaleJr has been evaluated and released from in field care ctr.

— Laura S. (@Hendrick88Team) September 16, 2013
Update on Dale Jr. after his engine blew up.
Kyle Busch takes off on the restart.
Will anyone be able to catch him? Or will Kyle sweep the race weekend and start off the Chase with a win?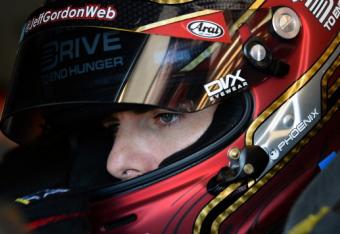 The caution helps Jeff Gordon. It let him go to pit road while still remaining on the lead lap.
Dale Jr. brings out the caution. Looks like he blew an engine.
Green flag pit stops starting. These should be the final stops of the night.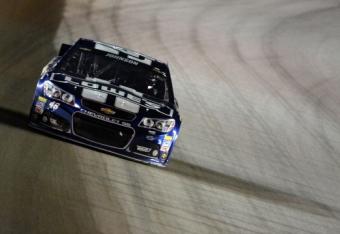 Jimmie Johnson is on the move.
He's passed Martin Truex Jr. for third.
Now the top three drivers are the top three seeds of the Chase.
Top 10: Kyle Busch, Truex Jr, Kenseth, Kurt Busch, Biffle, Harvick, Hamlin, Johnson, Newman, Almirola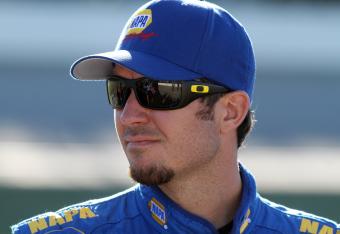 Martin Truex Jr might have been removed from the Chase, but that isn't slowing him down right now.
He's in second and trying to catch Kyle Busch.
Truex has something to prove, and is showing that even though he is no longer in title contention, he isn't giving up.
These restarts are scary.
Top 10: Kyle Busch, Biffle, Keselowski, Truex Jr, Newman, Kenseth, Harvick, Stenhouse Jr, Kurt Busch, Hamlin.
And caution comes out as Logano's car finally gives up.
Gordon is having issues. Seems to be having a flat left tire.
If anyone can recover from something like this though, it's Gordon.
MT @CandiceSpencer: Damage on the 88 for #DaleJr contact with the 7 "I got damage (Expletive!) (Expletive) 88 returning to pit road #NASCAR

— FOX SPORTS: NASCAR (@NASCARONFOX) September 16, 2013
Even pit road seems to be a dangerous place at Chicagoland!
Caution comes out for debris again.
Brian Vickers runs into trouble. He's losing power along with oil and fuel pressure. He's into pit road and will probably head to the garage.
They go three wide on the restart, but Gordon gets clear and takes the lead.
Caution out as trouble around turn two. 30 car goes up in flames and Cole Whitt's spotter tells him to park it and get out as fast as he can.
He does, and is fine.
48 broke a jack in pit road. It puts Johnson back to 19th place.
This article is
What is the duplicate article?
Why is this article offensive?
Where is this article plagiarized from?
Why is this article poorly edited?