Floyd Mayweather vs. Canelo Alvarez Results: Round-by-Round Analysis and Recap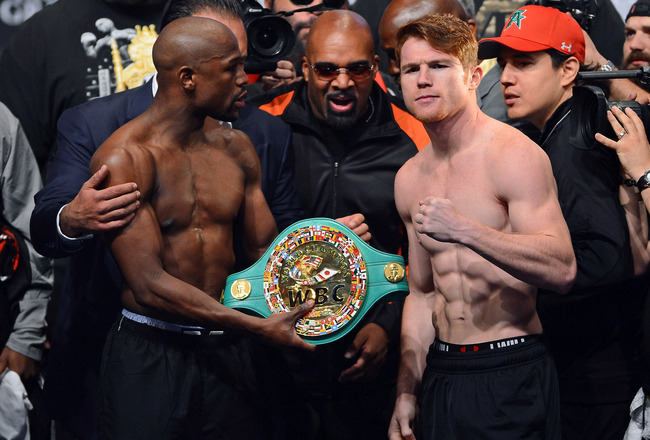 Ethan Miller/Getty Images
It's 45 up and 45 down now for Floyd Mayweather, as he has rolled to victory once more in his adopted hometown of Las Vegas, after handing Saul Alvarez the first loss of his professional career Saturday night.
Officially, it is a majority decision for Mayweather, but the credentials of judge C.J. Ross, who scored the fight a 114-114 draw, should be reviewed by the Nevada Athletic Commission.
Even judges Craig Metcalfe (117-111) and Dave Moretti (116-112) seemed to be trying awfully hard to find rounds to score for Canelo.
Mayweather won again decisively over the game but still too inexperienced Saul Alvarez.
Alvarez made things exciting at times, and interesting early. But ultimately, Mayweather's accuracy and control of distance were too much for the young Mexican star.
Round 1: Mayweather Looks to Test Alvarez Early, Canelo Stays Composed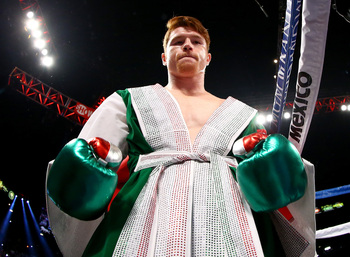 Al Bello/Getty Images
A very interesting Round 1, even without any fireworks. Mayweather started the fight coming forward, probably to test Canelo's composure. Canelo looked like a veteran and stayed cool.
A lot of feints from both men as they exchanged jabs. By the second half of the round, Mayweather was back to circling on the outside as Canelo looked to cut off the ring.
Round 2: Alvarez Attacks the Body and Slips Mayweather's Counters
Al Bello/Getty Images
Alvarez was fighting a smart tactical fight to this point. He was cautiously attacking Mayweather's body while managing to slip and avoid most of Mayweather's counters.
Mayweather landed fairly well with the jab and took away distance smoothly as always. But Alvarez was remaining patient and inviting Mayweather to become aggressive.
Canelo landed a very nice lead hook with about 10 seconds left in the round.
Round 3: Mayweather's Accuracy vs. Canelo's Doggedness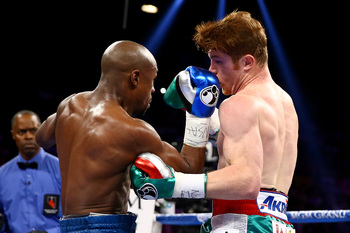 Al Bello/Getty Images
Three rounds into this fight and nobody was close to taking control. Floyd Mayweather was landing consistently with his jab and sneaking some of his straight rights in to the mix.
But Canelo was staying composed and in range to land with hooks and combinations. This was already shaping up to be Mayweather's toughest fight in years. He hardly looked rattled, but he sure seemed to know he was in a fight.
Round 4: It's a Fight!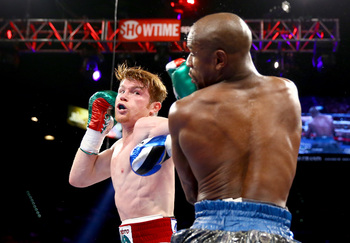 Al Bello/Getty Images
The longer this fight went, the better it got. Mayweather was landing steadily, but Alvarez was staying in position to land with both hands himself.
There were a lot of exchanges in this round and it got chippy. Mayweather pressed his glove into Alvarez's face in a clinch and Alvarez replied with a low blow. He then refused to touch gloves when the ref waved the action back in.
A mouse was starting to develop under Alvarez's eye.
Round 5: Canelo Stays Relentless but Mayweather Is Accurate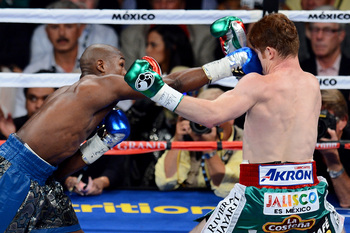 Ethan Miller/Getty Images
Floyd Mayweather was controlling distance and landing accurately. He was setting up his sneaky right with the touch jab. But Alvarez refused to slow down and continued to work on walking the pound-for-pound king down.
This was developing into a physically grueling fight for Mayweather. Alvarez was showing very little respect for Mayweather's power. He was approaching this with the perfect attitude for a young fighter hungry for an upset.
Round 6: Chippy Exchanges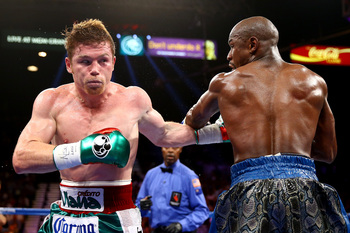 Al Bello/Getty Images
I have Floyd winning almost all of these rounds due to outlanding Canelo. But Canelo was forcing an exciting fight.
Alvarez again showed no respect for Mayweather when he shoulder bumped him in a clinch. Alvarez seemed not to be bothered by Mayweather's punches, but he was getting hit by a lot of them and he was losing enough rounds that he might have needed to change strategy.
Round 7: Mayweather Starts to Separate Himself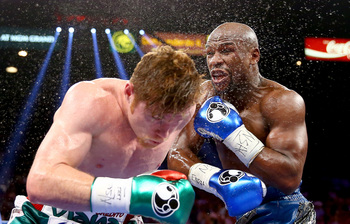 Al Bello/Getty Images
It would not be accurate to say that Mayweather beat up Alvarez in this round, but he was beginning to outscore him by wider and wider margins.
Inside the final minute of the round, he unloaded with a nice jab-right uppercut combination that pushed Alvarez onto the ropes. Alvarez tried to hang out a moment and draw Floyd inside, but Mayweather hung back and scored from a safe distance.
Alvarez was putting on a nice show, but the fight was starting to slip away from him.
Round 8: Alvarez Continues to Try to Walk Mayweather Down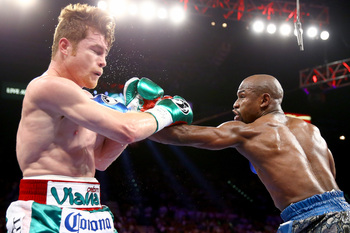 Al Bello/Getty Images
The fight was finding its pattern now. Mayweather was staying off the ropes and behind his jab. Alvarez was dogged trying to walk him down, but he was getting lit up by Mayweather's pot shots.
Even on the two occasions when Alvarez captured Mayweather on the ropes, Mayweather rolled the shoulder and countered Alvarez brilliantly.
Gritty performance by Alvarez, but he was being outboxed.
Round 9: Mayweather Finding a Home for His Right Hand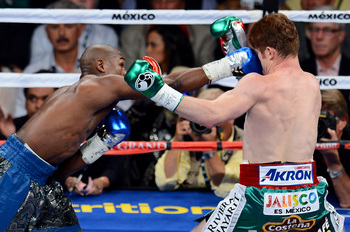 Ethan Miller/Getty Images
Saul Alvarez continued to perform in a gutsy, tough manner, but Mayweather's steady, accurate punching was taking a toll. Canelo was beginning to look frustrated.
Mayweather fought often during this round inside, at close range. He was picking up the majority of Alvarez's punches with either a slip or a block.
Alvarez did not look really hurt once during the fight, but Mayweather landed a right in this round right on the jaw that jacked Alvarez's head back.
Round 10: Floyd Stays in the Pocket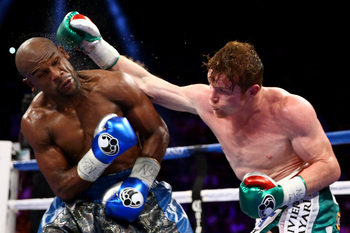 Al Bello/Getty Images
I'll predict now that Mayweather will get accused of "running" by some of his haters, or perhaps by frustrated Canelo fans.
But he spent most of this fight inside the pocket. He was in range for Alvarez to land but still took away most of the tough young Mexican's offense.
Alvarez is probably at least a year away from being ready for this fight.
Round 11: Mayweather Riding His Bike to the Victory Line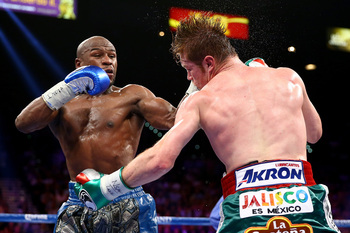 Al Bello/Getty Images
Floyd Mayweather stayed out at far range during this round, avoiding Alvarez's wild attempts to pull victory out of the jaws of defeat.
Even as he was moving and avoiding to shore up the win, it would still be inaccurate to accuse Mayweather of running. He was still outlanding Alvarez in this round.
Round 12: Same Old Story in the End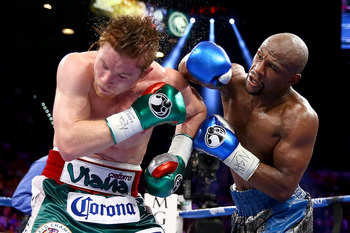 Al Bello/Getty Images
Seemingly far behind on the cards, Canelo Alvarez was unable to muster much ferocity to go for broke in the final round. He simply didn't have enough left in the tank.
I would give the final round to Alvarez on aggression. But he never made any serious threat in the round, and Mayweather seemed to coast into the garage with the win.
Keep Reading