Premier League Week 4: Standout Stats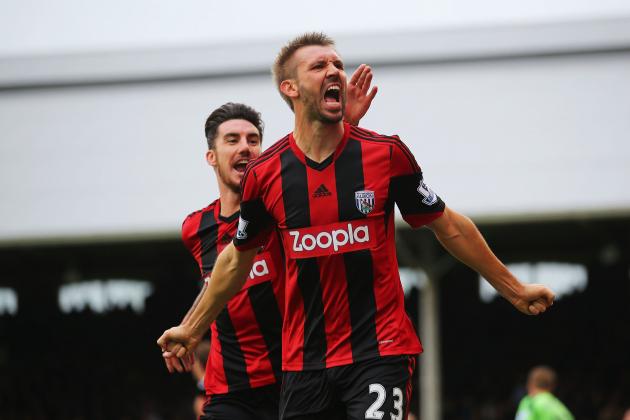 Clive Rose/Getty Images

Week 4 of the English Premier League might not have been the most memorable weekend of football, but there was still plenty to talk about.
From Everton's upset of Chelsea to Mesut Ozil's phenomenal debut, the weekend saw several notably strong performances, which in turn, led to some incredible statistics.
With Liverpool's attempt to extend its perfect start still to come in its match away at Swansea City on Monday, let's take a look at some of the standout stats from the EPL this week.
(NOTE: All statistics via Squawka and WhoScored unless stated otherwise).
Begin Slideshow

»
Michael Regan/Getty Images

Wayne Rooney might have come under plenty of pressure in the past month or so (first for his potential transfer away from United and then for his "injury"), but the England international managed to put all of that aside with a spectacular return performance from the Red Devils.
Alongside Robin van Persie, the Englishman was superb in attack.
He produced five shots in total and created a game-high four goal-scoring opportunities, as well as the second-most of touches of players on either side
His Beckham-esque free-kick score was simply icing on the cake.
Wayne Rooney: One goal, five shots, four key-passes, 78 touches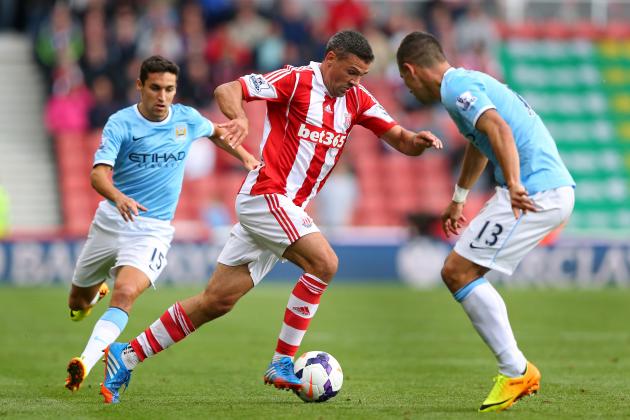 Alex Livesey/Getty Images

Manchester City might have come to the Britannia Stadium this weekend boasting a number of world-class attackers, but the truth was that they were largely out-played (and out-attacked) in their 0-0 draw.
The likes of Stevan Jovetic, Alvaro Negredo and Sergio Aguero combined to produce 10 shots in total for the Citizens. Incredibly, despite only 42 percent possession on the day, the Potters got off more shots—11 in total, and the same amount on target as the Citizens.
Total shots: Stoke City 11, Manchester City 10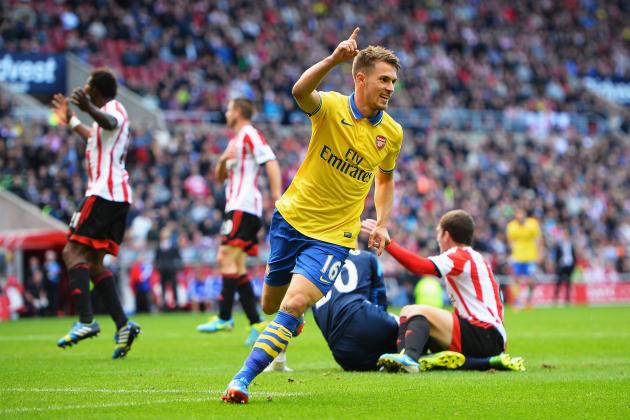 Laurence Griffiths/Getty Images

The game might have been billed as Mesut Ozil's Arsenal debut, and after watching the German display some lovely individual skill for the Gunners' opening goal, you'd be forgiven for thinking that Ozil was the biggest talking point from Arsenal's win.
However, the story was all about midfielder Aaron Ramsey instead.
Ramsey continued his superb start to the season with another top-class performance. Not only did he score a brace (that gave Arsenal all three points on the day), he had three shots in total and created a goal-scoring opportunity. He led the team with a game-high seven tackles, and completed a staggering 88 passes in total at a 92 percent completion rate as well.
Talk about stealing the show.
Aaron Ramsey: Two goals, seven tackles, 88 passes at 92 percent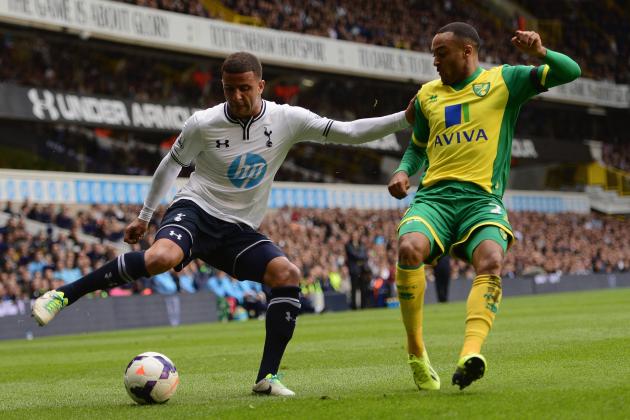 Jamie McDonald/Getty Images

Last season—thanks to the presence of Gareth Bale—Tottenham's left wing was their strength in attack.
And while the North Londoners are still capable of producing goals from down the left through Erik Lamela and others, it was their right-wing that did all the damage against Norwich City.
Left winger Gylfi Sigurdsson scored both goals on the day, but it was their right that caused havoc against the Canaries. Between Andros Townsend and right defender Kyle Walker, Spurs' right-hand side produced nine shots, created six-goal-scoring opportunities, made six dribbles and completed close to 150 passes—which was far more effective than their left-side attack.
It was the left that produced the goals, but it was the right that caused the problems. Tottenham will be tough to beat if they continue to be as prolific in attack on both wings as they were in this one.
Tottenham RW: Nine shots, six key passes, six dribbles, 147 passes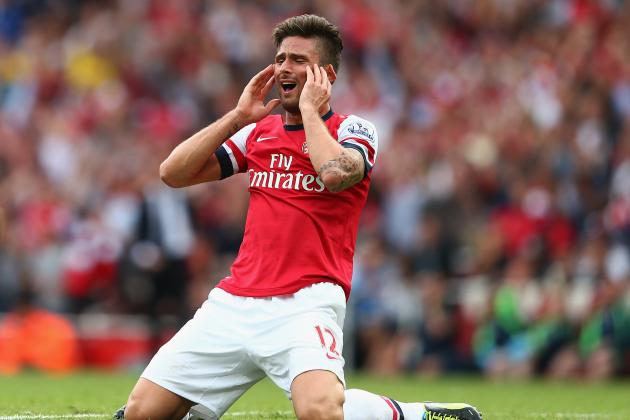 Clive Mason/Getty Images

Olivier Giroud made it four goals in four Premier League appearances this year when he tucked in another finish off Mesut Ozil's cross-field pass.
However, what was most incredible for the Frenchman is that the goal—his 15th Premier League goal for the club—was his first scored outside of greater London.
Scorer of 11 goals last year, Giroud netted all but one of his goals last year at home. His lone away goal came in Week 7 against West Ham, which is in London, and his lone away goal this season (leading into this match) came against Fulham, which is also in London.
A nice EPL monkey for Giroud to have off his back.
Olivier Giroud: 14 goals in London, one goal outside of London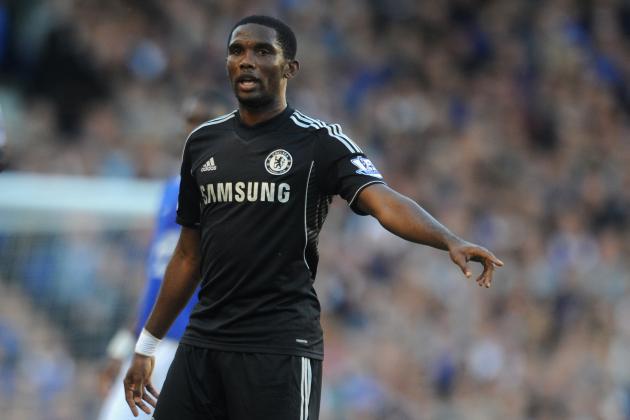 Chris Brunskill/Getty Images

The arrival of Samuel Eto'o this summer was largely the reason why Jose Mourinho was prepared to let goal-scoring Belgian international Romelu Lukaku leave on loan once more.
He might want that decision back after watching Eto'o's Chelsea debut this week.
Eto'o ranked as the worst player in Chelsea's team as they went down to Everton—with only half of his shots going on target and completing just 65 percent of his passes. Even goalkeeper Petr Cech (70 percent) managed better than that, and most of his were long-balls.
Samuel Eto'o: 50 percent shot accuracy, 65 percent pass accuracy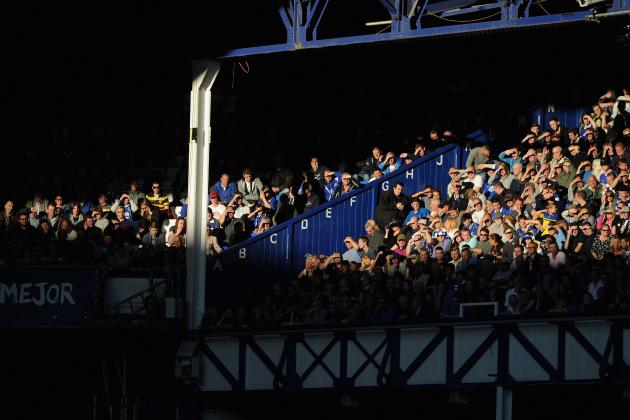 Chris Brunskill/Getty Images

Where is the most dominant regional area in the Premier League this season?
Is it Manchester, home of the Red Devils and the Citizens? Is it London, where the likes of Arsenal, Chelsea and West Ham all reside?
The answer is neither. It's Merseyside.
Through four weeks of the Premier League season, only two teams remain undefeated. Liverpool (with three wins) and Everton (one win and three draws).
Granted that could all change tomorrow when the Reds take on Swansea City, but for now, it makes q very impressive statistic indeed.
What's even more incredible is their home form in total at Merseyside. Together, they've won three of their four games and are yet to concede a goal at home.
Everton & Liverpool (combined): P7, W4, D3, L0
At Merseyside (combined): P4, W3, D1, L0 (no goals against)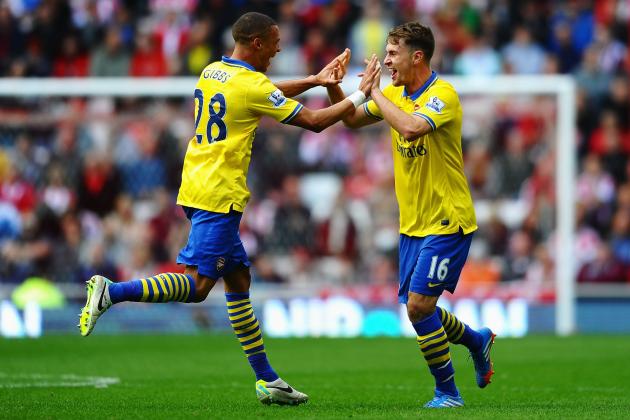 Laurence Griffiths/Getty Images

Don't look now, but the Gunners are coming. And as the statistics show, they've actually been coming for a fairly long time—since their dramatic, second-leg defeat of eventual champions Bayern Munich in the UEFA Champions League round of 16 last year.
From that win onwards, Arsenal have won nine consecutive away matches.
Across all competitions—home and away games—they've won 14 of their last 17 competitive games. They've won seven consecutive away matches in the Premier League for the first time in 11 years.
As I said, don't look now.
Arsenal: Nine consecutive away wins in all competitions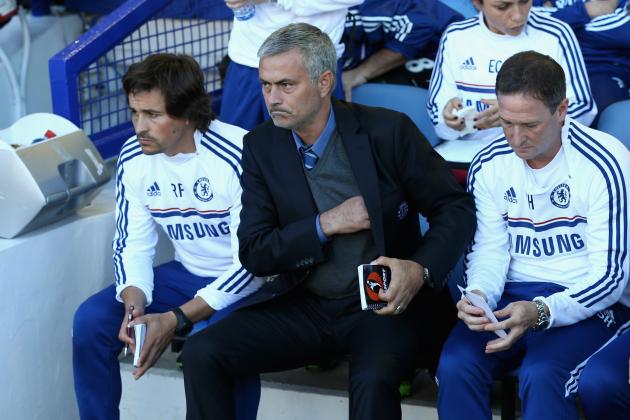 Clive Brunskill/Getty Images

As much as one London club, Arsenal, might finally be starting to fly this season, another—namely Chelsea—is struggling to get off the ground.
In their first four games, the Blues have picked up two wins, a draw and a loss.
Now that might not seem bad, especially given that their draw was 0-0 against Manchester United at Old Trafford and their defeat also came on the road to a deceptively talented Everton team. So yes, by most standards, their start would have been more than acceptable.
But this is Chelsea we're talking about, which also means Roman Abramovich.
And while Jose Mourinho's return has been largely positive for all involved, it's also given Chelsea their worst start to a season since Abramovich bought the club.
Better not alert his trigger-happy finger, Jose!!
Chelsea: Worst start to the EPL since 2003
Hit me up on Twitter for more sports goodness: Follow @dantalintyre