Mayweather Fight: Floyd's Career Earnings Will Hit $350 Million After "The One"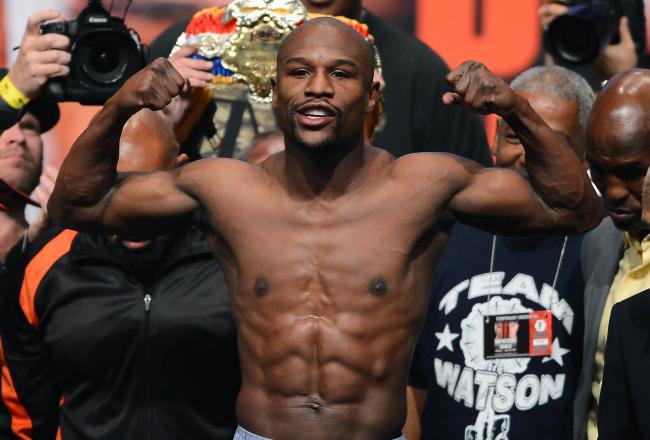 Ethan Miller/Getty Images
If you think you've had a pretty successful career and done quite well for yourself, then you clearly haven't seen Floyd Mayweather's career earnings.
According to a report by Kurt Badenhausen of Forbes.com, Floyd "Money" Mayweather will break $350 million in career earnings after fighting Canelo Alvarez in this huge fight that's being called "The One."
Clearly, Money is quite a fitting nickname for the 36-year old fighter from Grand Rapids, Mich.
Floyd will be getting another big payday from Saturday's fight. According to Dan Rafael of ESPN, Money is being guaranteed an all-time record of $41.5 million.
Mayweather's contract also filed & he's indeed getting all-time record $41.5 million. Congrats to @FloydMayweather on the record. #TheOne

— Dan Rafael (@danrafaelespn) September 11, 2013
Keep in mind, that's just the guaranteed money. Floyd will also be getting paid based upon pay-per-view sales as well. Kevin Iole from Yahoo! Sports talked to Leonard Ellerbe, CEO of Mayweather Promotions, and discovered just how much Mayweather could be making. The article says:
Ellerbe gave a brief glimpse into Mayweather's private business world, and said the $41.5 million check he'll receive on Saturday is but a mere pittance compared to what he might make if the fight breaks the all-time record of 2.5 million pay-per-view sales.

"The sky's the limit on how well this fight does," Ellerbe said. "You've got to remember we're not in no situation. We're controlling what's going on. We're dictating. We're dictating the terms. So, if it goes through the roof, then it is what it is. He stands to make a whole lot of money in this fight."

He drew out the word whole for several seconds, and arched his eyebrows and beamed as he spoke. Mayweather is not just going to add just a few million extra dollars if the pay-per-view does well, according to Ellerbe.

"Listen, if this fight goes through the roof, Floyd Mayweather could make $100 million in this fight as sure as we're standing here talking," Ellerbe said.
In case you didn't know, that's a lot of money for one night.
Mayweather has had a tremendous career, and the fights have just kept getting bigger and bigger. He's 44-0 with 26 knockouts over his career, and he's defeated the likes of Shane Mosley, Victor Ortiz, Robert Guerrero and even Oscar De La Hoya.
Perhaps the biggest fight of Floyd's career came back in 2007 against De La Hoya. The fight attracted 2.15 million pay-per-view buyers and brought in $19 million from the live gate.
This fight, against Canelo, is expected to eclipse both of those numbers. According to the Ring Magazine's Twitter account, the live gate produced more than $20 million. While there have yet to be official numbers for pay-per-view sales, the odds of this fight breaking the previous record are quite high.
Lem: Schaefer says @FloydMayweather - @caneloOficial gate record is more than $20 million, @SHOsports, @GoldenBoyBoxing, #TheOne, #boxing

— Michael, Doug or Lem (@ringmagazine) September 12, 2013
Win or lose, Mayweather is going to get paid quite an incredible amount of money. Still, he'd like to win his 45th fight and keep bringing in huge payouts like this one for the rest of his career.
This article is
What is the duplicate article?
Why is this article offensive?
Where is this article plagiarized from?
Why is this article poorly edited?